Disclosure: This blog contains affiliate links which I may earn a small commission from if you purchase through them, at no extra cost to you.
This is a guide to Australia's favourite Tuff Tray for sensory play.
Over the years tuff trays have been becoming increasingly popular to host sensory play, picnics, use as a table, and water play.
It's not hard to understand why.
The benefits of sensory play have been long advocated for.
Now it is even easier to add this valuable play into your day with a Tuff Tray.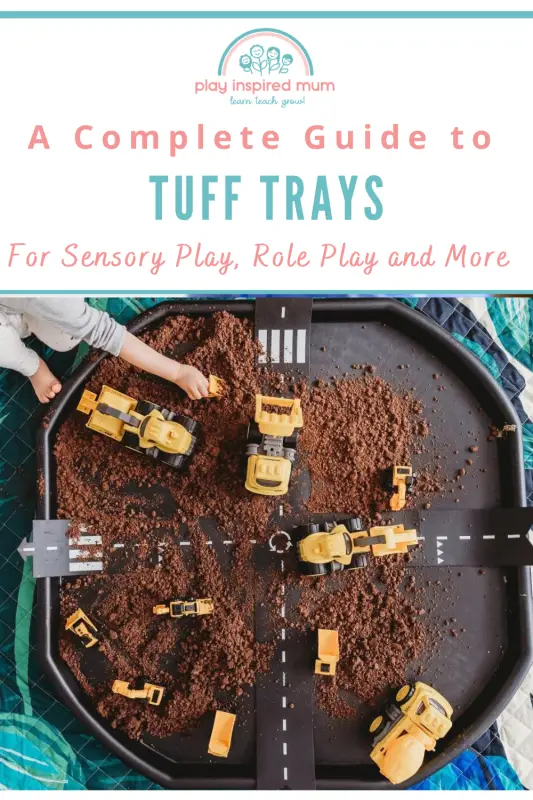 A Complete Guide to Tuff Tray Australia
There is so much research outlining the benefits of sensory play. Sensory play inspires so much learning and engages your child in meaningful play.
But the mess factor.
It is real.
Parents and early childhood educators across the globe have been loving Tuff Trays for sensory play for years.
This is why.
What is a Tuff Tray?
A tuff tray is essentially a large, shallow plastic tray.
Tuff trays allow you to set up small worlds, sensory play, painting, loose parts play and so much more.
This is, all while keeping the play contained in the tray.
Tuff Trays can also be used to create a visual boundary for the play.
One of our little sensory play sayings is "Please keep the play in the tray or it needs to go away."
Sung musically, this little poem acts as a gentle reminder during play and has encouraged my children to keep the play within the boundaries of their play trays for years.
The tray is large enough to allow children to play inside the tray or multiple children to join the play around the tray, each with their own play space.
Our humble white metal play tray is well-loved however with multiple children, it has proven difficult for all three children to have the space to play.
The Tuff Tray offers plenty of space for babies, toddlers, and older children to explore, create and play.
How big is the Tuff Tray?
The dimensions of Tuff Trays are 94cm x 94cm x 7.5cm.
What colours does the Tuff Tray come in?
Tuff Trays come in black.
What is the Tuff Tray made of?
Tuff Trays are manufactured from durable, heavy-duty plastic.
What are Tuff Trays known as around the world?
Tuff trays are known under a few different names, depending on where in the world you are.
Our friends in the United Kingdom know them as Tuff Spots, while in the USA they are known as Builders Trays.
Are Tuff Trays suitable for outdoor use?
Tuff trays can be used outdoors however they are not designed to be left in the elements outdoors.
Once your children have finished playing, the tray should be cleaned before storing indoors.
Why use a Tuff Tray?
The sheer size and depth of the Tuff Tray are perfect for setting up invitations to play for your children.
Whether you are setting up some themed play or simply unloading a collection of loose parts, these trays are just the thing to provide a space for your children to learn and explore.
They are large enough to provide plenty of play space and are super easy to clean.
They can be used indoors or outdoors making them a versatile option.
Slide the tray under a bed or stored it against a wall when not in use.
The durable plastic can hold water, oobleck, paint, taste-safe slime, taste-safe mud and so much more.
When the play is finished, they can be swept off before being wiped down and dried, ready for play another day.
Who are Tuff Trays for?
Tuff trays are readily available for parents, caregivers, teachers, and early childhood educators alike.
They can be used in a home setting, daycare, or classroom.
Sensory play parties are a hit for birthday parties and playgroups too.
If you love messy play but not so much the mess, a Tuff Tray helps contain the mess making the experience more enjoyable grown ups and kiddies.
They can be used inside or outside.
Team yours up with a waterproof Rudie Nudie play mat to level up your 'mess-reduced play'.
Rudie Nudie's play mats are super absorbent. They have a waterproof backing to help contain the wet mess that may slip out of the tray. The moisture is wicked up almost instantly and they hold a lot.
The jumbo-sized mat is perfect to team up with your Tuff Tray.
Not only does the mat capture wet mess, but it also catches dry.
Simply fold then shake it off and back into the tray to continue the play or save it for another day.
Tuff Trays can be used for creating play invitations for babies, toddlers, and older children. Adust the materials to suit your child's safety requirements and abilities.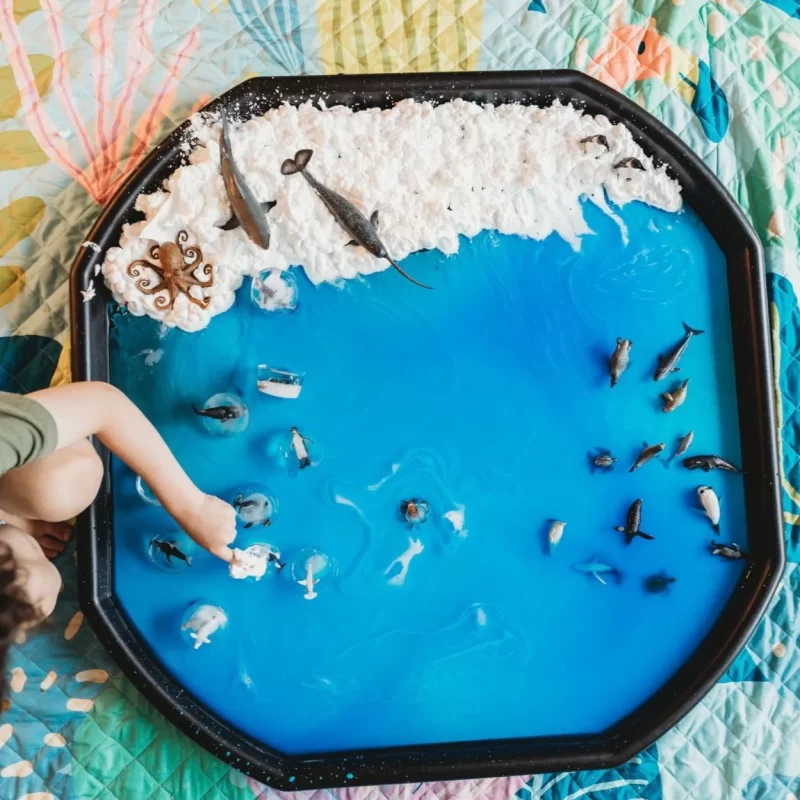 Does the Tuff Tray need a stand?
Tuff trays can be used both with and without a stand.
Before buying a stand, consider how your child plays.
For babies, having the tray on the ground supports their gross motor skills, having them crawl around and sit in the tray. It is also much safer for climbing toddlers.
In saying that, as your child grows, there are lots of benefits for standing to play rather than sitting.
Encouraging your child to stand while playing rather than sitting promotes:
Improved core strength
Increased muscle memory
Gross motor strength
Increased flexibility
Improved balance
Enhanced posture
Increased bone density
The tray can be used as a table for arts and crafts, picnics, magnetic tile builds, small worlds, and loads of other standing-height play.
Adding a stand can make the tray more versatile too.
Make your own stand from wood or PVC pipe from your hardware store.
If you are not into DIY contact your local community men's shed.
Most are very accommodating and can price on an affordable stand for your Tuff Tray.
What are Tuff Trays for?
Tuff trays are a versatile play resource for at home, in the classroom, in playgroups, or in daycare settings.
They can be used in a multitude of ways.
Set up sensory play in the tray itself or use it to catch the mess from smaller sensory bin activities.
Add water and some loose parts for simple water play activities.
Use the tray to contain lego while playing.
Add a box of odds and ends, boxes, glue, tape, and scissors for a crafting session.
Use tape on the base to create a themed lineup activity.
Apply a strip of tape across the top edge to create a trapped toy activity.
Allow your children to get messy with play in the tray.
Use the tray as a visual boundary for the play.
Use the tray upright for chalk drawing.
Tuff trays are very versatile.
What is the point of a Tuff Tray?
The purpose of a Tuff Tray is to use it as a space to create hands-on play, crafts, and activities while acting as a visual boundary for the play. These sturdy plastic trays are durable and hard-wearing. They can be easily cleaned and are great at containing messy play.
Invitations to play can be made for babies, toddlers, and older children alike.
They are big enough to allow children to play together which is great for families with multiple children and needs.
They can be used at ground level and standing height.
Wet play is no problem. They can hold water and are super simple to clean off after messy play.
Tuff trays can be used to expand your children's interests or to introduce new concepts and development opportunities.
Why are Tuff Trays good for children?
Tuff trays are a vessel for learning. When used correctly a Tuff Tray can be set up to inspire
Creativity
Exploration
Mathematical concepts
Communication and language development
Fine motor skills development
Gross motor development
Hand-eye coordination
Comprehension
Critical thinking
Cognitive development
Vocabulary Building
Tuff trays can be used to engage children in so many types of play.
Incidental and intentional learning can be had while exploring role play, sensory play, bookish play, experimental play and so much more, on a Tuff Tray.
Play to your child's interests or introduce new ideas.
Extend the story from a favourite book or a recent experience to further enhance the learning and comprehension of the event.
It does not need to be Insta-worthy or perfect. There are countless ways to use a Tuff Tray to inspire a meaningful learning experience for your child.
How can I clean a Tuff Tray
Cleaning your Tuff Tray is really easy when done straight after play.
Simple remove the bulk of what your children have been playing with, sweep out and then wipe with a cloth or easier yet hose off in the garden (depending on what you have been using. Don't go adding sea salt to your garden beds).
When removing water, scoop out or siphon out as much as you can before lifting the tray to pour. This can be an activity in itself that your children can help with. Squeezing our sponges and hand towels is a great exercise for fine motor strength.
For messy sensory play, clean the tray with some warm soapy water before rinsing and drying.
Kids love washing with soapy water. Add their outdoor toys to the cleaning lineup for more wet water play.
How do you fix a warped Tuff Tray?
It can be normal for your Tuff Tray to arrive with a slight bend in the middle.
To fix a warped Tuff Tray, simply place the tray in the sun-filled with water for a few hours.
How to use a Tuff Tray
Tuff trays are so versatile. There are so many ways to use them and the play ideas really are limitless.
There are so many different ways that you can use your tray.
You can make the play invitation as simple or detailed as you like.
The tray can be used to expand interests or experiences your child has had before or introduce new ideas and knowledge.
Use what you have around the home. It doesn't need to be complicated for your child to be engaged in a meaningful experience.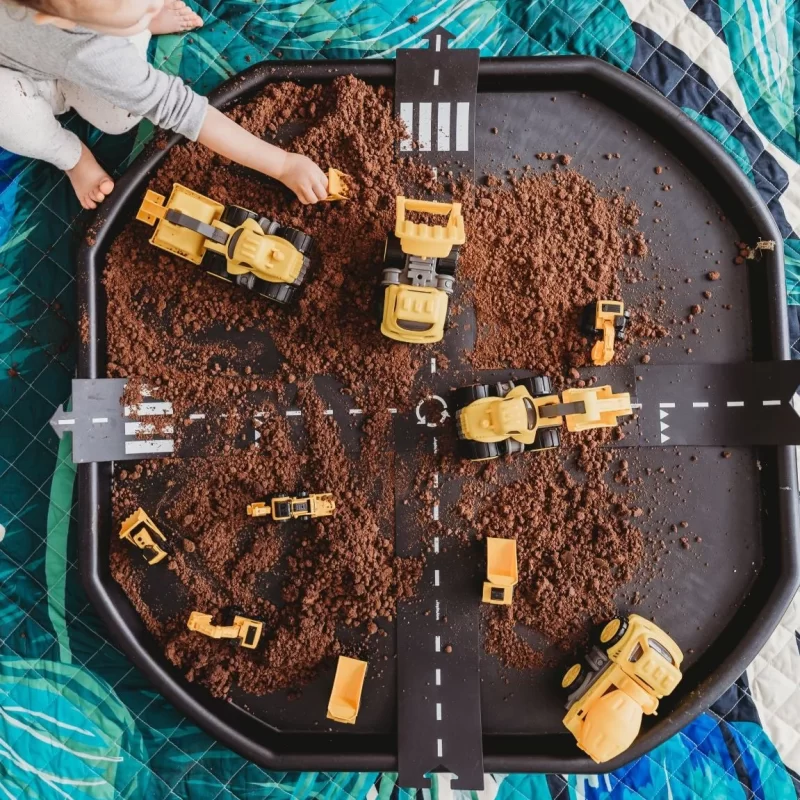 55 Tuff Tray Messy Play Ideas
Messy play is a great way to engage your child in explorative learning. Kids and mess go so well together. So why not channel this into something positive (and contained space) for some messy play?
Here is a list of some messy play mediums that can be introduced into your tray for some fun messy play learning.
Most can be kept and reused for play another day. This is a great way to use up stale cereal too. Waste not, want not.
Store dry materials in ziplock bags.
Remember to bake flour in taste-safe mud, oobleck, and sand to kill bacteria before play to make them taste safe.
Rice
Dried Chickpeas
Cotton Balls
Ice Cubes
Shaved Ice
Coloured Water
Real Mud
Shaving Foam
Whipped Cream
Dried Pasta
Coloured Spaghetti
Coloured Sand
Kinetic Sand
Leaves
Gumnuts
Flowers
Water Beads
Dried Black Beans
Frozen Peas
Frozen Pom Poms
Gravel
River Stones
Wood Chips
Polenta
Rice Bubbles
Corn Flakes
Oats
Weetbix
Jelly
Flour
Desiccated Coconut
Grass
Dried Mung Beans
Citrus Slices
Dried Corn Kernels
Dried Barlotti Beans
Baked Beans
Yogurt
Oobleck
Fake Snow
Coloured Ice
63 Materials to use in Tuff Trays
Chalk markers
Sidewalk Chalk
Playdough
Buttons
Beads
Mandala pieces
Dinosaur figurines
Construction vehicles
Magnetic Tiles
Wooden Blocks
Duplo
Lego
Mega blocks
Fake grass
Florist grass
Fairy garden ornaments
Zoo animal figurines
Space figurines
Styrofoam
Natural branches
Minibeast figurines
Ocean animal figurines
Dolls
Pouring Scoops
Funnels
Bowls
Kitchen utensils
Nail brush
Cups
Spoons
Sieve
Collander
Cardboard tubes
Cereal boxes
Balls
Toy Cars
Fabric squares
String
Wool
Shredded paper
Cellophane
Alfoil
Stickers
Painters tape
Electrical tape
Pinecones
Squeegee
Spray bottle
Bottle tops
Pipettes
Egg cups
Egg carton
Marbles
Felt
Felt balls
Glass pebbles
Cookie cutters
Patty cases
Pom poms
Pipe cleaners
Silk flowers
Foam shapes
16 Tuff Tray Play Ideas for Kids
Here are some Tuff Tray play ideas from some amazing bloggers to inspire your next invitation to play
Where to buy Tuff Trays from in Australia
Previously Tuff Trays had been challenging to get your hands on.
They are now available with super affordable Australia-wide shipping from The Creative Toy Shop.
Tuff trays really are a valuable resource to inspire creative play and learning for children.
They are so very versatile, easy to use, and clean.
Whether you are a parent setting up some play at home or an early childhood educator in a formal learning environment, a Tuff Tray can be the perfect resource to set up meaningful play invitations for your children.