Disclosure: This blog contains affiliate links which I may earn a small commission from if you purchase through them, at no extra cost to you.
So, you are looking at toddler trikes.
Getting their first bike is such a memorable moment in a little person's life. Closing your eyes, I'm sure you can just imagine the huge smile reaching across their face as they see their new wheels for the first time. Then there is the first time they sit in the seat proudly, reaching for the rubber grips on their shiny handlebars.
It is a proud moment for your toddler as well as a huge moment for us parents too!
Best Toddler Trikes
Learning to ride their bike is even more special. Something that previously, only the bigger kids could have done. Something that your child may have watched others doing but not been able to participate in. Learning to ride a bike is a pivotal moment of independence when all of a sudden, they are a big kid too.
Before you get some pedal power for your toddler, there are a few factors to consider.
Getting ready to choose your first tricycle
To ensure your toddler has a great experience when getting their first bike, it is so important to ensure they have one that is suited to their individual needs and abilities.
Riding a bike takes skill, coordination, patience, and practice. Toddlers are rather notorious for certainly having the foundation to build on these factors, however, the actual pudding is usually developing and limited.
We wish for our special people to love riding their trike. With every ride, their skills will continue to develop, muscle memory will start to overtake conscious actions. Our toddlers will get the confidence to further develop incremental skills towards riding a big kid, two-wheel bicycle.
While tricycles of today still have handlebars and three wheels, they have come a long way since our generation was riding them.
There are so many choices and different features available on the trikes of today.
To keep your busy toddler moving safely with their new ride, we parents need to consider a few factors when shopping for their first wheels.
Why is a tricycle good for a toddler?
Tricycles are a great choice as a first bike for helping your toddler develop the confidence and skills necessary for riding. They help your toddler develop fundamental physical and cognitive skills that can transfer to so many areas in their life.
This along with a sense of independence, resilience, and confidence, your toddler's first trike is so much more than just a toy. While improving their balance and coordination, tricycles support your child's incremental development.
Come two years of age, toddlers love taking control of situations and doing things their way. The sense of freedom that comes on three wheels is undeniably thrilling!
How old does your toddler need to be before riding a trike
This question has much the same answer as 'when will my baby walk?'.
They will when they are ready.
Age doesn't really come into it.
Yes, there is a scope, a range of ages that somewhere in between, it would be expected for your child to have the required abilities. However, not so much a definite age you can be expecting your toddler to have developed the skill and coordination to ride a bike.
Typically a child under three can not be expected to have the balance, coordination skills, and strength to pedal and control a tricycle. It's not all about the up-and-go! The ability to steer and stop safely also needs to be considered too.
Remember your child is on their own learning journey. Embrace each day as there will be one that comes along when you will look back and question why they had to grow up so quickly. Before you know it, their next set of wheels will be parked in the driveway sporting a set of P plates.
If you are concerned about your child's development, please have a chat with your health care professional. For your own peace of mind as much as your child's best interests. You deserve not to be up all hours of the night wondering. If there is a delay, early intervention can have such a huge impact. If there is nothing to be concerned about, you can rest assured knowing just that.
When is best to buy a trike for your toddler
The best time to buy your toddler their first tricycle is when they are developmentally ready and capable of taking it for a spin. They should be able to sit up, have head control and support their own weight.
Another huge determining factor is balance. They need to be able to balance themselves. Riding a bike, even a tricycle, requires a lot of coordination and the use of many skills simultaneously.
Even tasks such as getting on and off their toddler trikes, starting the motion of movement, steering, and stopping require specific actions.
Hand eye coordination
Gross motor skills
Motor planning
Body awareness
Sequencing events
Bilateral coordination
Just like you wouldn't expect your toddler do your taxes, they cannot be expected to be able to ride a bike if they haven't got the skills – yet. Waiting for them to be ready will allow them to have a foundation of skills to be able to actually enjoy learning to ride a tricycle.
Once they are ready though, look out! Those little legs will be pumping those pedals and your little one will be off on an adventure in no time!
Types of Toddler Trikes
There are four main types of toddler tricycles.
Each has its own qualities and place
Ride On Tricycle – Typically made of a sturdy plastic, these toddler trikes are usually low to the ground, light and powered by feet pushing off against the ground. The low centre of gravity combined with wider wheels, makes these trikes balancing easier when first starting out.
Parental Push Tricycle – This tricycle comes with a handle that parents can use to manoeuvre the bike independent of what their little one is doing. If your child doesn't yet have the ability to navigate their bike or they simply are preferring to go left rather than right, Mum and Dad are the ones who control the direction. Some designs are basic, then others have incremental steps to give your child independence once their skills develop.
Big Wheel Tricycle – This trike style has the rider positioned low to the ground and typically has an oversized front wheel.
Multi-Purpose Tricycle — Multi purpose tricycles typically come as either two-in-one or three-in-one designs. They are usually designed with the focus of using them to transport younger toddlers. With this in mind, the multi purpose trike will have features to support your child, acting more of a stroller. The thought is that as your child gets older, they can be transformed to give little more control. Many parents find these bikes to be of best value as their child is able to use their bike for much longer before needing to upgrade. However, this being said, keep in mind safety guidelines. While multi purpose trikes are theoretically a great idea, there are quite a few that do not meet the minimum safety guidelines.
Toddler Trikes Buying Guide
If you have started to search for a toddler trike, I'm sure you have come to find there are so many different types, styles, models… it can be overwhelming! Just when you thought you have chosen the perfect trike, another pops up and you question yourself again.
Here is a list of factors to consider when searching for toddler trikes.
It does come down to personal choice and what you value in a tricycle for your child. Determining a balance between a secure, functional, and safe option with one that is aesthetically pleasing is important for most parents.
Here are some points to consider when researching toddler trikes:
How will your toddler use their trike
What do you have in mind when you envisioned your toddler on their trike? Are they going to be scuttling about in the backyard or beaten paths down at the park?
How robust does your tricycle need to be? Is your toddler a boisterous, rough and tumble sort of child? Do you foresee speedy corners being taken? Perhaps something lower to the ground would be better, making tripping more challenging.
What type of accessories will they need? Would your toddler like to bring Teddy along for a ride? Perhaps a tandem tricycle would be more suitable.
Are you wanting something for now or something that can be adapted for later too?
Remember there are some awesome options that can be converted as your child develops and becomes a more capable rider. Trike to balance bike is a popular option!
Check Specifications
What is the minimum height recommendation? Will your toddler's little legs be long enough to reach the ground and pedals?
What's the maximum weight recommendation? How long do you think your toddler will be within this safe range?
How compact is the trike? Do you need to take your trike in the car? Will it fit? How would you feel about carrying the trike home when your child is having one of THOSE days?

Does the tricycle need to be assembled? How handy are you at building? Or how willing maybe a better question!
Make your best judgment with age recommendations
By law, there needs to be an age recommendation shown on tricycles. This being said, please use your best judgment!

Perhaps your toddler is a little shorter than the average child of the same age and their legs won't reach the ground. Perhaps they are taller and will be bumping their knees on the handlebars.
Your child may be 3 years old however do they have the coordination to ride a bike recommended for that age?
Remember to match a child's capabilities. It can be normal for these to develop in their own time, not so much on a strict age-based timeline.
Yes, your 2-year-old toddler may be as tall as their 3-year-old friend, but do they have the skills to be able to ride a bike recommended for an older child.
Materials are important
There are so many different materials used to make toddler trikes.
Frames can be made of
Metal (Steel, aluminium)
Plastic
Wood
There are tricycles that are made to bear resemblance to being toys more than a tricycle. These may be made from materials that have fun as a priority over durability.
Whilst in the moment, most toddlers will launch themselves in and out of the seat of their trikes.
Is the seat of durable quality to handle being used in a rowdy manner?
How is it secured to the frame?
Will it live up to your high-spirited child jumping on and off?
How sturdy are the handlebars?
Will the tricycle handle your toddler's tight turning circle or tip over?
Are the handle grips rubber or plastic?
Do the handle grips slide off easily or are they tight to the handlebars?
Like with most materials, there is always variety in quality. Most of the time, you pay for what you get. Assess what aligns with your expectations and what you value as important in a tricycle for your little one.
Safety Validation
 One little message that I hope to ingrain into my children is safety first.

Whether it is at home, in the car, or at the park on their bikes, safety should always be a priority.
You would assume that to be sold, all bikes would meet basic safety standards. You would really hope so wouldn't you?
Sadly this isn't always the case. So how do you find out how safe your tricycle is?
Check the guidelines
Cross reference these with the specifications of your potential tricycle
Read product reviews 
What is the best trike for 2 year olds
Tricycles are great for improving your child's balance and coordination. At age two, the best trike would be one powered by feet rather than pedals! Ride-on-trikes are a great introduction to riding a bike. They are developmentally appropriate and come in many different styles.
The Trybike is the first two in one tricycle balance bike!
Make with super sleek steel and featuring pneumatic tires, the Trybike is stylish, supportive, and functional.
Recommended for children from 18 months to 6 years of age.
With an ergonomic design and extra-wide base, the Kinderfeets Tiny Tots is another great option.
Made with lacquered bamboo wood and EVA airless biodegradable tires, this tricycle offers a smooth ride for your toddler and the environment.
Recommended for children from 12 months to 2 years of age.
The Radio Flyer is a dual-decked trike with a controlled turning radius to prevent tipping.
It sports an all-steel frame, spoked wheels, and rubber tires. Chrome handlebars and fender add to the classic style design.
The Radio Flyer is recommended for children from 2 1/2 years to five years of age.
Italtrikes are a classic design toddler trike, claiming to have such high quality they affirm to be unbreakable.
They feature a metal frame with chrome handle bars and rubber wheels.
Italtrikes are recommended for children from 2 – 5 years of age.
What is the best trike for 3 year olds
Typically, the average three-year-old has the skills and balance to coordinate pedals. These bikes generally have the rider sitting higher too.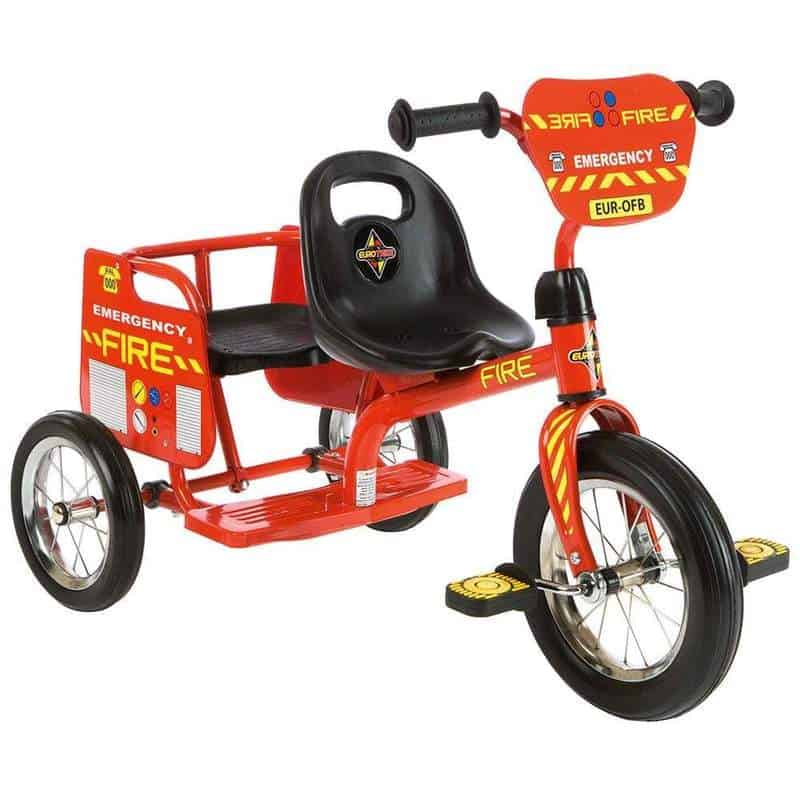 This Eurotrike is a tricycle that hits home for us. This was Miss 7s first bike when she was a toddler. We went for the princess design and left with a fire engine. Still today, almost five years later, this bike still gets plenty of game time.
The Eurotrike Tandem Trike has an all-steel frame and EVA tires. It's solid and sturdy!
Recommended for children 3 years and older ( plus teddy).
The Globber Explorer can be transformed from trike to balance bike, with no tools required! Its ergonomic, non-slip handlebars are built for ease of use and comfort.
The Globber has an aluminum frame with EVA foam wheels for a smooth ride.
This toddler trike is recommended from 2 to 5 years of age.
What is the best bike for 4 year olds
By four your child may be a master of riding their trike and be ready for a balance bike. Balance bikes are a bicycle without pedals! This is a stepping stone from trike to bike – minus the training wheels! rather than relying on the cushioning of training wheels, your child will develop the ability to balance on two wheels independently!
The Hape balance bike is perfect for learning to ride a bike without the need for training wheels.
Constructed from wood, its aesthetically pleasing and while still remaining practical.
Recommended for children from 3 years of age.
Practical and fun Mocka have designed a bike that is perfect for getting up and racing with just two wheels.
The sturdy steel frame is built for endurance and for adventures for years.
Recommended for children from 3 years of age.
That being said there are some very cool tricycles available for bigger kids – even adults! Big wheel trikes are often a popular choice
What is the best trike for older kids?
Tricycles are so much fun – even for bigger kids! Sleek designs and low riding drifting tricycles offer an entirely different experience to riding a bicycle.
The Sullivan Junior Big Wheel Slider's wide-set smooth rear wheels are perfect for drifting while remaining stable.
Its frame is constructed of hi-tensile steel and features a front v- brake system for plenty of stopping power.
Recommended for 7 -12 years of age.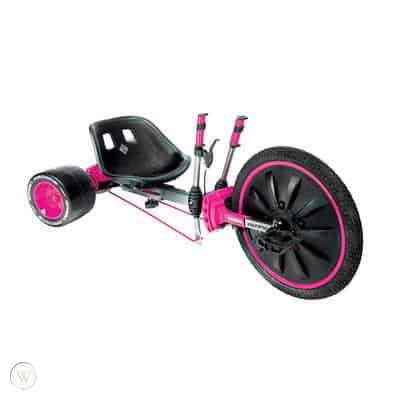 Built super wide, super slick, and with a wide pivot for fast spinning action. The Green Machine is designed for speed, fun, and supportive safe riding.
Constructed with a durable steel frame, the green machine is engineered for speed.
Recommended for children 8 years and older.
Helmets while riding toddler trikes
Yes! Yes! Without any doubt -YES!

Toddlers are physically disproportionate. By age two, their brains are 75% of that an adult brain. That's a big head for a short little person.
They can be top-heavy with their great big heads and teamed up with developing coordination skills, they really can be accidents just waiting to happen.
Add to the mix wheels and speed, and you really have a cocktail of potential accidents waiting to happen.
Toddler trikes are a vehicle and by Australian law, riders are legally are required to wear a helmet.
Fitting your toddler's helmet
Include your toddler in choosing their helmet. Having them as part of the process will increase the likeliness of them wearing it.
Measure the circumference of your child's head to determine what size helmet is suitable. This measurement should be taken around your child's head approximately 3cm above their eyebrows. Use this measurement to roughly determine which helmet to choose.
From here, try helmets on your child, asking them which they find most comfortable.
When fitted correctly, the straps should form a v-shape under your child's ears, fit snuggly under their chin and the helmet should be sitting approximately 2-3cm above their eyebrows.
If the helmet is too small, it will be uncomfortable and may leave a red line on your child's head.
If too big, the helmet will move about on your child's head.
A comfortable, properly fitted helmet will protect your child's head from head injuries and potential brain damage if they have a tumble from the bike.
How to get your child to wear a helmet
Encouraging your child to wear their helmet can be challenging.
Lead by example. Parents should always wear their helmet too. This can be one of the most influencial factors that encourages a toddler to wear a helmet.
Start young. Develop healthy habits from the very get go. Wearing a helmet will become a natural association to riding a bike for a lifetime.
Explain why wearing a helmet is important. Talking to your toddler about the natural consequences of wearing a helmet will empower your child to make a choice to protect themselves. Keep it short, repedative and consequences directed at your child.
No helmet, no riding. Being consistent. Head injuries are a risk each time your toddler gets on their bike. If you let them ride without a helmet here and there, this important message will be lost. Explain to your child that if they refuse to wear their helmet, they will need to find another way to play.
Positive reinforcement. Praise your child for making steps to keep themself safe on their bikes, especially if they have done so without being prompted.
Accessories for toddler trikes
Pimping your toddler trike with accessories adds to the functionality and fun of the bike!
I hope this guide to toddler trikes helps you make an informed choice for your toddler's first bike. Happy bike shopping!
Dani D x