Disclosure: This blog contains affiliate links which I may earn a small commission from if you purchase through them, at no extra cost to you.
I was recently approached by Bright Star Kids with the opportunity to review their back-to-school name labels. With the new school year looming and a box full of resources needing to be name labeled, I accepted the offer with no reservations. This is our Bright Star Kids name label review.
While I was gifted this pack of name labels, my opinions of them are honest and my own.
Edit: Fast forward to October 2021 and 2 years later. We still love our Bright Star Kids name labels. Miss 7 still has the very same label from 2019 on her Planetbox lunchbox. Just quietly going to add that we love that too!
We have used the same labels for Miss 4s first year at kindy and were even able to get some cool designs for Mr 13's first year at high school. Bright Star Kids labels all the way!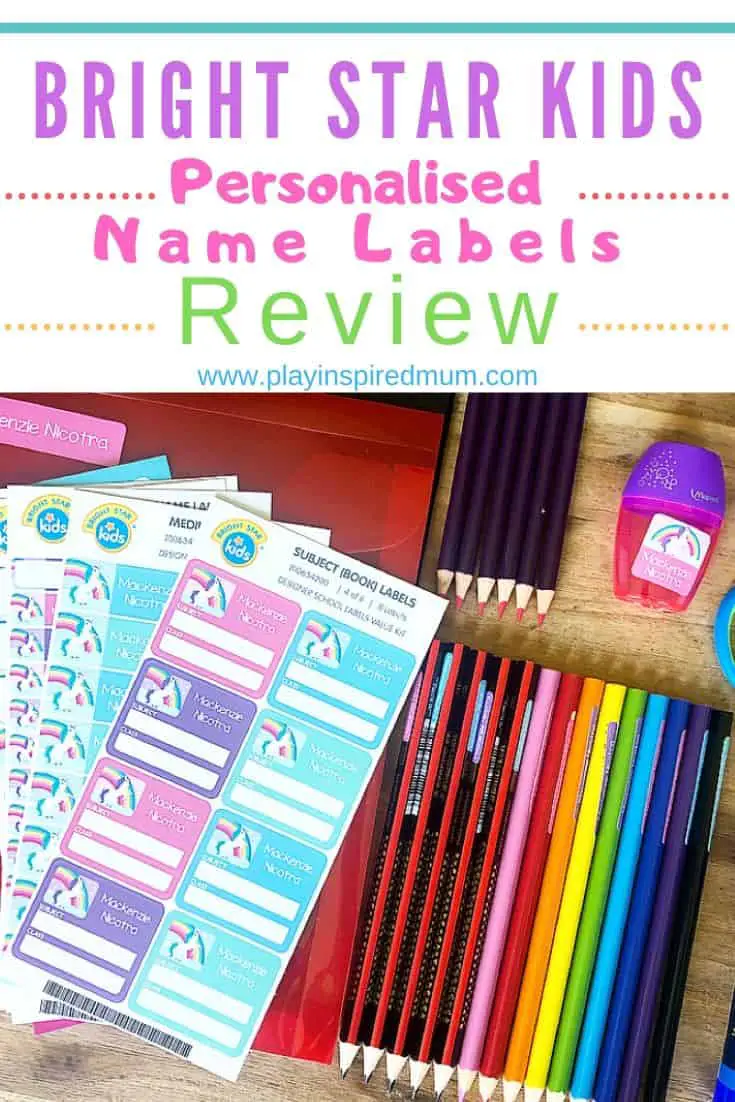 Bright Star Kids Name Labels Review
Disclosure: This blog does contain affiliate links which I may earn a small commission from if you purchase through them, at no extra cost to you
Ordering our name labels
Labeling the kid's school supplies was always a bittersweet practice for me.
I loved having everything organised, fresh and new for the new school year, however, previously, it meant a long night of writing out their names on a piece of paper, cutting out each individual name and adhering them on with some clear sticky tape.
Fast forward to 2020 and we have beautiful, personalised designs, that arrive within days of ordering, all ready to peel and stick – hooray, snaps for Bright Star Kids *click, click, click!*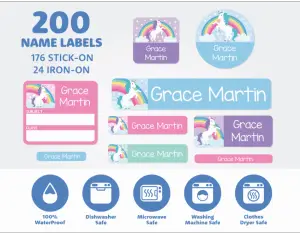 Personalised Name Labels
I invited Miss 5 to create her own personalised name labels for school. Guiding her through the ordering process was a breeze.
With instant preview available at every step, visualizing what the labels would look like was easy.
Miss 5 had chosen her design, and font, typed her name and placed her order within about 10 minutes.
She loved scrolling through the options before making a decision.
I received an email confirmation of our order instantly and was assured our order would be on the way shortly.
Within days, we received our name labels.
The name labels were packaged securely and clearly labeled.
I had the order addressed to Miss 5. She loves receiving mail and opening the letterbox to discover the little parcel inside marked with her name, which really added to the excitement.
What was in the pack
We had ordered the Designer Labels Value Kit.
This jam-packed label pack really does have labels to suit all our school needs!
I was delighted to see the range of shapes and sizes that the pack was made up of.
Nothing worse than having labels too big or too small!
Name labels included
Within the pack came a whopping total of 200 name labels:
8 x Large Name Labels
16 x Medium Name Labels
8 x Round Shoe Labels plus clear protective stickers
24 x Small Name Labels
18 x Small Square Stick on Labels
8 x Subject Labels
40 x Tiny Pencil Labels
54 x Mini Name Labels
24 x Small Iron On Clothing Labels
All the personalised name stickers were beautifully finished, with name centered and spelled perfectly.
The gorgeous designs were brightly coloured and free of any pixelation.
Miss 5 loved seeing her favourite unicorns splashed across the sheets.
The durable labels are waterproof and dishwasher, washing machine, and drier safe.
Using our name labels
The name labels were simply removed from the sheet and were easy to apply to our resources.
They are rigid enough not to fold back on themselves while being flexible enough to manipulate around the round curves and contours of pencils and markers.
Miss 5 loved helping get herself ready for back to school by labeling her school items.
Previously, I would have spent all night labeling our back-to-school gear. With our beautiful labels, we had the chore completed within about half an hour – winning!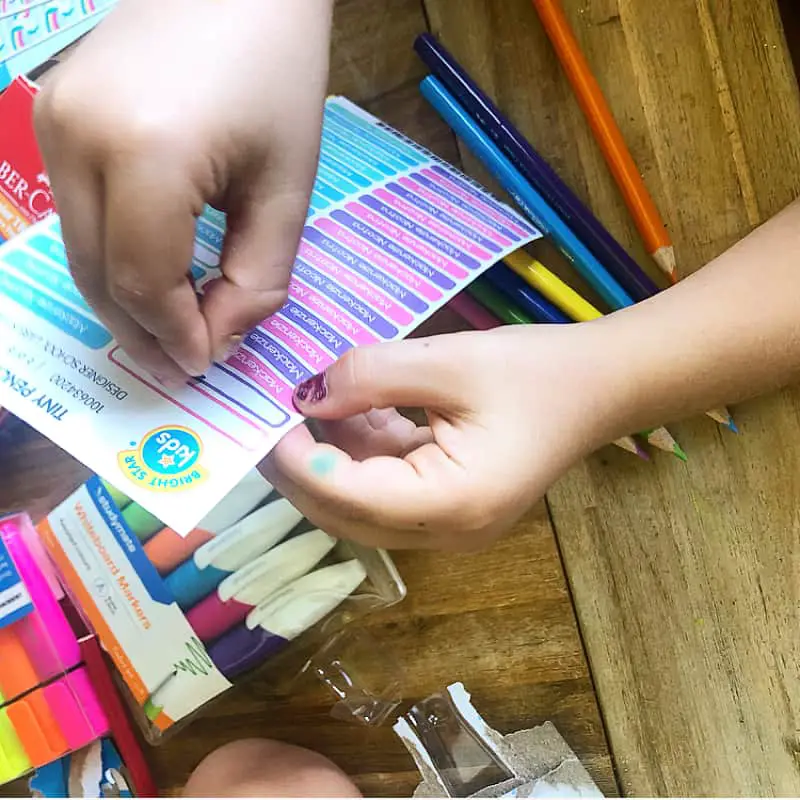 About Bright Star Kids
I was feeling a bit nosey so I thought I would snoop around the deeper ends of the Bright Star Kids website and discovered a few interesting things.
Did you know the company started as a university project in Woolongong, NSW, Australia? While this is not the typical way to start a business, it turns out to be the beginning of a great story and Aussie business!
Bright Star Kids offer School/ Daycare fundraising opportunities! What a great idea hey?! This could be something worth checking out if you are looking at raising money for your school's P&C, school camp, or daycare resources.
All in all, we are 100% satisfied with our experience with Bright Star Kids!
I have found my go-to for labels and can't be happier!