Disclosure: This blog contains affiliate links which I may earn a small commission from if you purchase through them, at no extra cost to you.
Save time pinning ideas with these ready made printable bookish play packs! Expand on your toddler's favourite books with these book themed printable activity packs that are bursting with learning opportunities!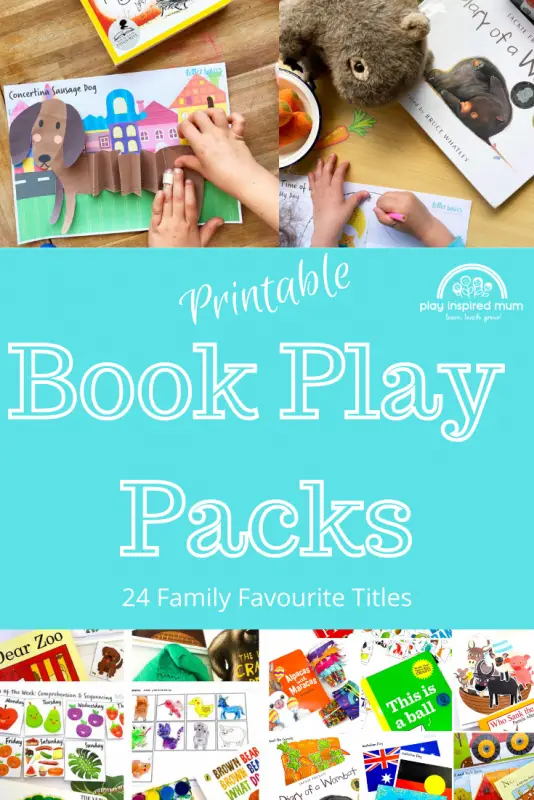 Printable Bookish Play Packs for Toddler and Preschoolers
So you have been stuck in the Pinterest rabbit hole, looking for inspiration to add extra value to your child's play.
I hear you entirely!
You want to provide your toddler with activities that mean something more than just entertaining. Activities that are hands-on and inspire learning through play.
With so much inspiration, finding a starting point can be overwhelming.
Well, let me introduce you to an amazing collection of printable bookish play packs designed around some of Australia's favourite childrens books.
What is bookish play?
So scrolling through Instagram, you may have seen the term 'Bookish Play' on your feed.
Bookish play is basically any play-based activities that are centered around a book.
Generally speaking, bookish play may focus on the content of the book or further expand on the concepts introduced in the story.
Why bookish play?
Bookish play offers so many benefits for children.
Comprehension Skills
Comprehension is the manner in which your child will construct meaning and acquire information or knowledge from a text.
Through interaction with bookish play activities, your child will develop a deeper understanding and comprehension of the story. Interacting with activities linked to the books, your child will have opportunities to further develop important critical thinking and comprehension skills.
These include the ability to:
Identify: key details, primary essence, and main ideas
Sequence: Sequence events in order of which they present, identify the beginning, middle, and end of the story
Answer: Recall events, answer direct questions based on the text, accurately describe visualisation of text
Predict: Make assumptions on what would happen next, predict where the story may go
Ask: Be able to isolate unknown words and ask for a meaning
Vocabulary
Learning new words while reading is much easier and done more efficiently as the words are being used contextually.
New words will be supported by familiar ones, along with the corresponding illustrations.
Repetition of known words will only deepen comprehension of them.
Reading to children exposures them to new words outside of the ones we use in everyday language.
Each of these factors will, in turn, increase our children's vocabulary through reading books and interacting in bookish play.
Engagement in Reading
The average toddler or preschooler is not designed to sit still for long.
Bookish play activities are a great way of increasing the engagement of active children.
Set up fun activities in different stations to facilitate full-body movement.
Make use of vertical surfaces or floor spaces to complete the fun activities.
Keep the formal session short and enjoyable. Regular breaks to allow children to be active have been linked to more efficient learning. Read about the links between active play and academic success here
What are printable Book Play Packs?
Little Wooden Toybox's Book Play Packs have been designed with your child's learning and development as a primary goal.
Developed and designed by Australia's own Tash Kritter, Bachelor of Education ( K-7), and years of experience collaborating with Paediatric Occupational Therapists and Paediatric Speech Pathologists.
Each activity has been specifically designed with a well-defined learning outcome in mind.
Respectively, each themed Book Play Pack has five interactive and highly engaging activities based on the favourite children's picture book.
The activities are designed to equip your child with life, motor, and educational skills across a wide range of learning areas:
Fine Motor
Gross Motor
Play
Literacy
Maths
Science
Social
Health
HASS (Humanities, arts, and social science)
Picture Book Play Packs originated as a great way for parents and teachers to 
confidently build comprehension and literacy skills
keep children engaged and learning through play
foster a love of reading with your child or class
confidently teach educational and life skill concepts
develop fine motor control 
equip children with the skills to succeed at school
Meet the printable bookish play titles
The Book Play Pack series consists of themed activity packs based on 24 favourite children's story books.
Simply add to the cart, go through checkout, and download instantly. Save to be printed again and again!
Featured Bookish Play Titles
Possum Magic
Dear Zoo
Each Peach Pear Plum
The Very Hungry Caterpillar
Moo Moo Brown Cow
Where is the Green Sheep
Guess How Much I Love You
The Very Cranky Bear
Brown Bear What do You See
The Gruffalo
Wombat Stew
Wonky Donkey
Hairy Maclary
Where's Spot
The Jolly Postman
Noisy Farm
Who Sank the Boat
Going on a Bear Hunt
I'm Australian Too
This is a Ball
Piranhas Don't Eat Bananas
Diary of a Wombat
Alpacas with Maracas
Pig the Pug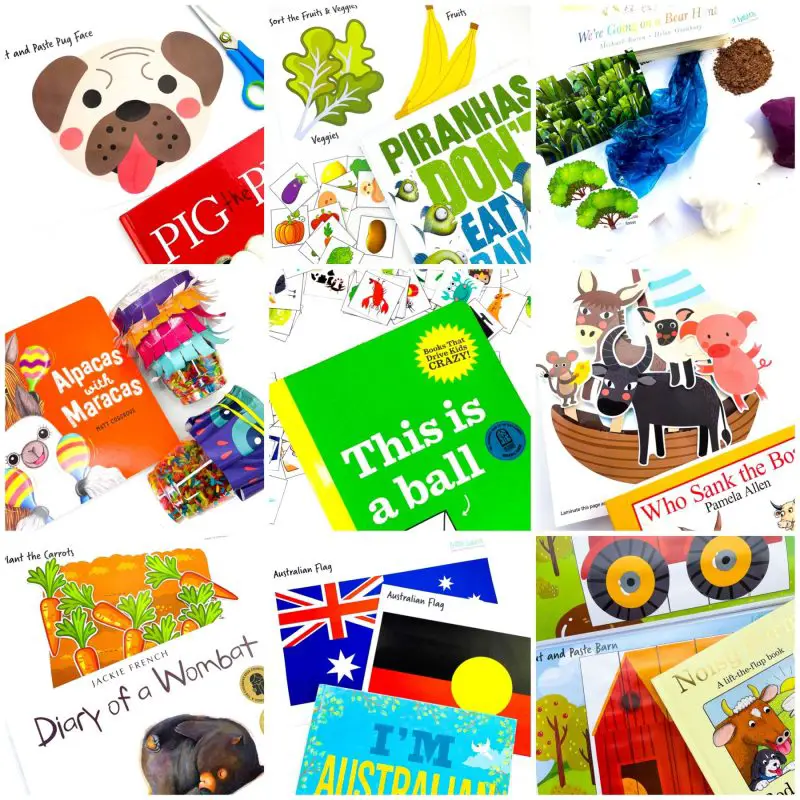 Each Book Play Pack includes: 
5 brightly coloured interactive activities
designed to build comprehension and literacy skills confidently
jam-packed with multi-sensory learning
an outline of the educational benefits
detailed instructions
demo videos showing how to get the most out of each pack
loads of play ideas
foster a love of reading with your child or class
have fun developing fine motor control
all through play-based learning
How to play with your printable bookish play pack
Walk through: Before reading the book, take time to discuss the illustrations with your child. Flip through the pages together. While doing this, ask them what they think may be happening in the story, who the main characters might be, and what might be the likely outcome.
Read the book: Read the story together, linking the text to the illustrations
Complete the activities: These may be completed in one sitting or spread out over a few days.
Revisiting the book for further walk-throughs or rereading is hugely beneficial to comprehension. Even when reading your child's book for the hundredth time, be assured that your child is thriving with this connection with both you and literature.
Our Book Play Pack Reviews
One of my goals as a parent is to engrain a love of reading and books in my children.
As soon as I had the opportunity to incorporate these bookish play packs into our play, I jumped at the chance. Since then, we have enjoyed so many of our family's favourite books with fresh play ideas.
These activities have become a special something that in particular, Miss 4 and I do together.
Hairy Maclary
Lynley Dodd's Hairy Maclary has been a long-time favourite storybook in our house. I have many memories of reading our Hairy Maclary Treasury over and over to Miss 7 while Miss 4 was nursing as a newborn. Each time I set eyes upon that book, so many memories come flooding back.
Learning that Hairy was featured in the Book Play Pack series was exciting.
Activity 1: Sequencing and Retelling
Using the printable cards in the play pack, Miss 4 sorted the dogs in the order in which they appeared in the story.
Identifying which card matched which character involved her comparing similar attributes between the two. Using size, colouring, and a process of elimination, she was able to match each of the cards to a character in the book.
She then sorted each card in the order in which they appeared in the book. While she was eager to check off as she went by referring to the book. I encouraged her to try to recall them without doing so. Miss 4 was able to position each character card in order, self-correcting as she went.
We then reread the book, checking each dog off as we went.
Activity 2: Sorting by Size
From here, she sorted the dogs by size. This little segment of our play proved to be open to interpretation. Discussions were had surrounding what was meant by size; height, width, and weight.
Activity 3: Identifying and Matching Rhyme
When matching the dog's character cards with the rhyme cards, we used a sequence of steps. Together we recited the dog's name, and from then I paused leaving Miss 4 to complete the rhyme.
For example, I would say, "Muffin Mclay, like a…". Miss 4 would then reply, "bundle of hay" before finding the card that resembled the hay. We would then identify the rhyming words as she positioned the card next to the corresponding dog.
Activity 4: Concertina Sausage Dog
Creating her sausage dog took patience, following step-by-step instruction's and precision.
I showed Miss 4 how to fold the body once before asking if she would like to try. With some perseverance, she was able to complete the entire body before gluing each of the elements to build her sausage dog.
Activity 5: Treasure Hunt
We love a scavenger hunt on any day and our Hairy themed hunt was no exception.
As we went for a walk through our community, towards the park, both Miss 4 and Miss 7 were much more aware of their surroundings. They loved ticking off each element.
We ran into one of Miss 7s classmates at the park. She loved joining in too!
Between the three girls, we got all except a couple of the elements marked off the list!
Learning benefits
Sorting by attributes
Counting by correspondence
Identifying rhyming words
Sequencing events
Memory Recall
Self Correction
Fine motor skills
Hand-eye coordination
Sequencing events
Following oral instruction
One of the best gifts you can give a child is the love of reading.