Disclosure: This blog contains affiliate links which I may earn a small commission from if you purchase through them, at no extra cost to you.
Hush Possum and Grandma Poss have been favourite characters amongst Australian families for as long as I can remember. We are featuring Possum Magic activities in this week's play.
Extend your child's reading time with some bookish play!
Showcasing popular titles, a new picture book play pack is here!
We are lucky enough to get our hands on the unit in the collection – Possum Magic.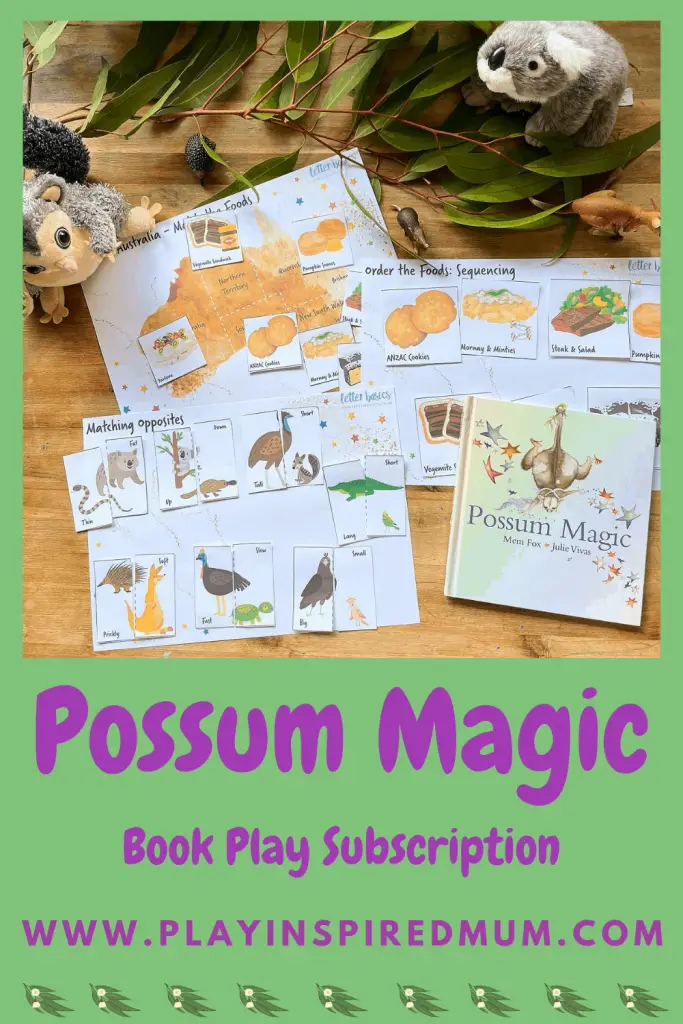 Possum Magic – Picture Book Play Pack
Bookish play has long been a popular venture in our day. Enjoy reading a book before extending the topics in play. To be honest, while I enjoy coming up with activity ideas to extend stories we read together, there are times when I fall into a rut or simply don't have time with a new baby.
Learning about this Homeschool Play Pack initiated a wave of emotions. So excited and relieved to be able to provide meaningful play opportunities within minutes of printing. These activities are going to add so much value to parents, carers, early childhood educators, early childhood professionals, and our dear children.
How it works
Read your book, play, and discover! There is a good chance you may have some of these popular titles in your personal collection. If not, why not check out your local library? Ours happily transfers books between other libraries in the shire if they don't have the requested title on site.
If you love it so much, may I please recommend Book Depository? They have great prices and fast, free worldwide shipping too!
Once you have your book, start off with a walkthrough. Ask your child to interpret the illustrations and question what the book may be about. Read the book, taking time to answer questions your little one may have along the way. Finally, extend your child's understanding of the book by completing printable activities that further develop comprehension of the literature and other learning areas through play too.
Week Zero: Possum Magic
Possum Magic has been a popular Australian children's book for as long as I can remember. Now I am not prepared to disclose how many years have passed since I first read Possum Magic as a child but let us just say it has been over 30 years since I joined precious Hush on her journey with Grandma Poss. The venture is certainly one I would like to imprint in my own children's childhood memories.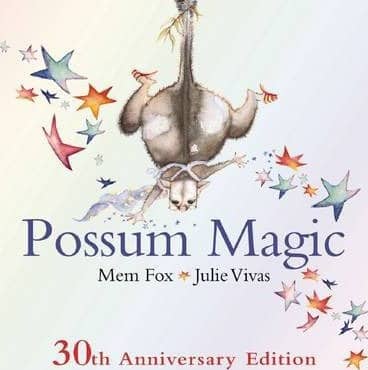 Setting up
Coincidently, we needed to get some eucalyptus leaves for our stick insects the same day we received the printables. Before sharing them with our six-legged friends, we added them to our Possum Magic Play!
During our walkthrough of the book, the girls named the different animals they recognised before collecting their toy counterparts from around the house. Very quickly, a koala, wombat, possum, kangaroo, bilby, and echidna joined the branch of eucalyptus leaves.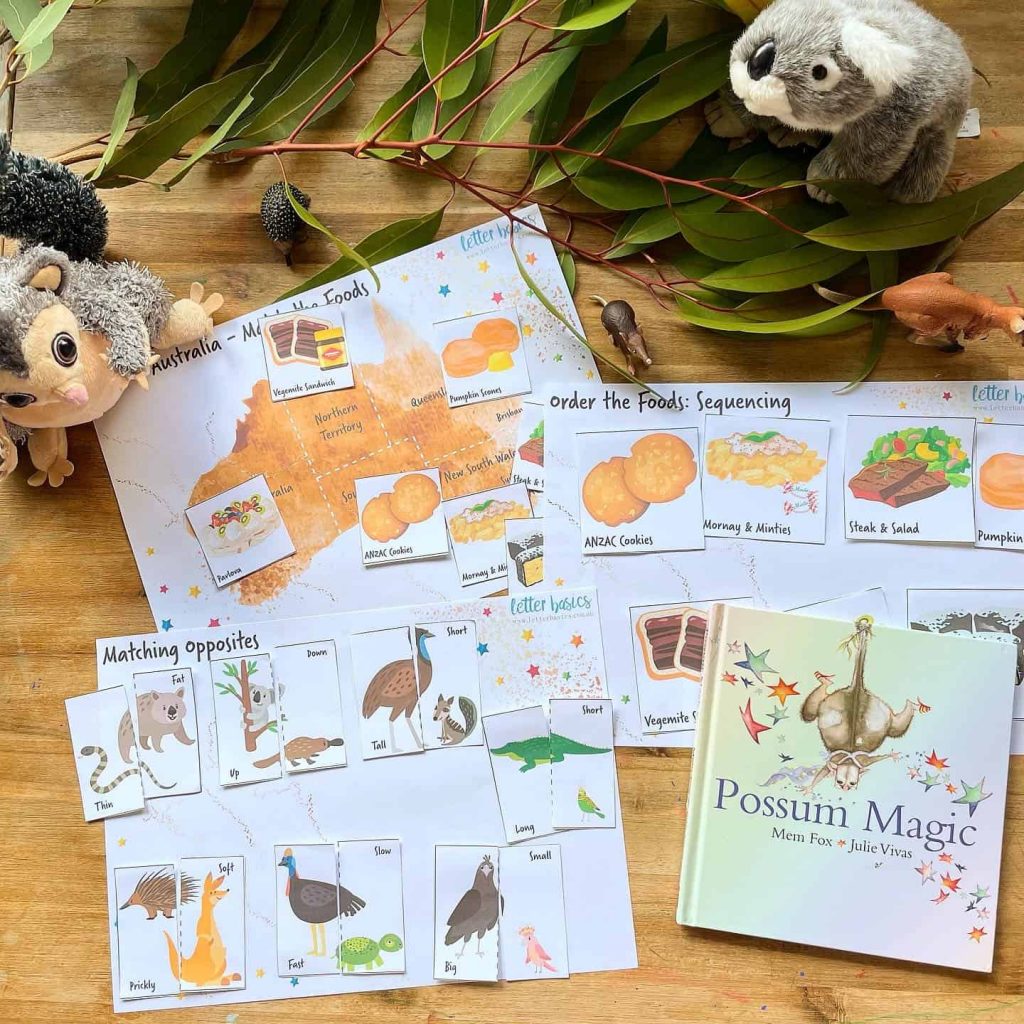 The Activities
This week's activities include the following:
Map of Australia
Match the Foods with the Capital Cities
Ordering the Foods: Sequencing
Draw the Journey on the Map
Matching Opposites with Australian Animals
Emotions Play Dough Mat
Lamingtons Recipe – yummy!
With cake on the itinerary, there was no moving forward until it was soundly in the oven. Miss 3 has been nicknamed the Cake Muncher in our house. She will take to any cake, any place any time! Thank goodness for our favourite Zucchini Brownie – she gets to eat cake and this Mumma can chill knowing she is getting a decent serving of veg at the same time!
Miss 6 worked her way through the recipe while I supervised from the background. Miss 3 followed her sister's instructions beautifully. It wasn't until I pulled it out of the oven that I questioned the flour they used – plain instead of self-raising! Mistakes are made for learning and so that is what we did! The flavour is all there so we are going to keep pushing through to the icing step after the cake cools.
While the cake for their lamingtons was baking away, the girls took turns completing the puzzles, sequencing, mapping the journey, and playdough mat activities. When I got back from checking the cake, they had set up a 'classroom' and were taking turns being teachers and students, using the resources.
Our first week of book play was a hit! I have put the printables into a display folder so they may flip through and complete the activities again at their own leisure. If Possum Magic is anything to go by, I can see this book play subscription being an amazing addition to our day-to-day play, especially on those days when my creative brain is on vacation!
I would love to see your family enjoying this Picture Book Play Pack! Please feel welcome to come to join our Play Inspired Mum Facebook Community and share your play!
Dani D x