Disclosure: This blog contains affiliate links which I may earn a small commission from if you purchase through them, at no extra cost to you.
gtag('config', 'UA-136794034-1');


Scanning and searching for patterns, symbols and objects are known as a great pre-reading exercise. These Discovery Bags make learning so interesting and fun!
While I feel Miss 18m is well and truly not ready to pick up a book and interpret the words on its pages, there are some pre-literacy skills that I feel she would be competent in achieving. Practising these will help her in the lead up to that exciting chapter in her learning journey.
Visual scanning from left to right, from top to bottom is a vital part of reading. When having storytime with your child you can point to where/ what you are reading and move your finger across the page to show them the direction of which our eyes travel when reading.
Through repetition this will become a habit but what else can we do it make it a bit more fun?
Squishy Discovery Bags
It's cold, it's slippery and gooey and so easy to make!
What you need to make Squishy Discovery Bags
All you need is
2 cups of plain flour
500ml water
Food Colouring
Ziplock Bag
An optional extra is something to scan in the bag. Scroll down for some amazing print-at-home resources that are available now!
How to make your Squishy Discovery Bag
Measure out your flour into a bowl. Pour your water in and stir until smooth. I left a few lumps in ours. Miss 18m was getting impatient and I didn't think a couple of lumps would hurt anyways.
Once the mix was smooth, pour it into a large zip lock bag and add a couple of drops of your favourite colour.
You could add all sorts of things to your bag. Beads, glitter and little gems would all make great additions for an added sensory element.
The next step is quite important. You really need to try and get as much of the air out of the bag as possible. I rested the weight of the mix in the bottom of the bag, and slowly lowered the front and back sides of the bag against each other on the bench before sealing the back 3/4 the way. Then push out as much air as possible before finally sealing it all the way.
How to play with your Squishy Discovery Bag
Miss 18m quickly got to work mixing the colour into the wet flour mixture. While her first instinct was to open the bag, it didn't take her long to understand the other opportunities her squishy discovery bag held for her.
Watching her explore her little bag of goo, was really rewarding. Her busy hands were working the colour and then I showed her how to 'pop' the balls of flour and work them into the colour.
This is a great sensory activity for children who will typically avoid sensory play if they don't like getting their hands dirty.
The bag is cool to touch and it's easy to get lost in thought while moving the mixture around in the bag. Once Miss 18m attentions started to drift from the task at hand, I added another element that I just knew would capture her interest.
A farm.
Play to your child's interests
What are your child's passions? Use their passions against them to engage them in play! (If you have sung 'Old MacDonald' 20 times a day, you have every right to exploit farming in every activity to attract your child's attention)
Miss 18m is obsessed with roosters and pigeons at the moment so I slipped in our Spotto Mat into the Squishy Bag and presto! A Squishy Farm Search Bag!
Our Spotto Mat is literally paper-thin plastic stock so we didn't need to treat it before placing it into the mix.
If you get the print at home version, I would suggest laminating your printed paper before putting it into the mix. Failing to do this, would likely see your paper go to mush.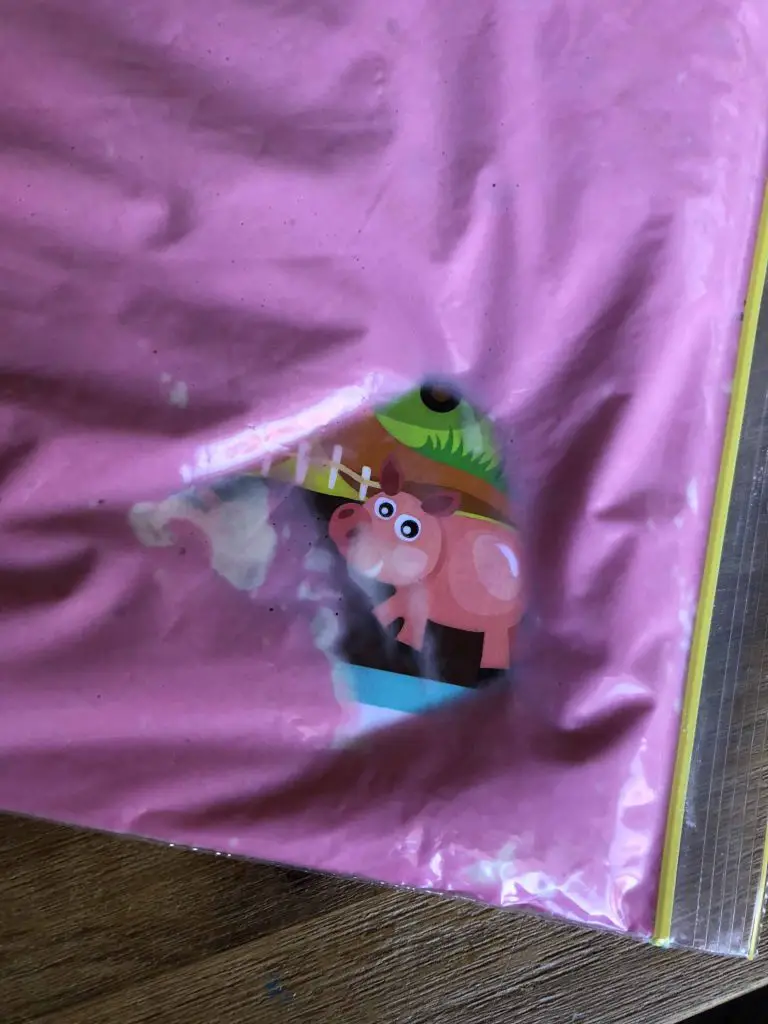 The addition of the Spotto Mat definitely caught her interest! We were searching for different animals and farm equipment, making animal sounds and even turned it into a little memory game.
Miss 18m was able to manipulate the pink mixture quite easily after a few minutes of practice and watching me – monkey see, monkey do!
We started at the top left corner of the mat and started to work our way across to the right before coming down a little way and starting our left to right action again.
Educational Benefits
Not only were we building a foundation for reading skills later down the track but we were establishing other life skills too!
Fine Motor Skills
Hand-Eye Coordination
Cause and Effect
Bilateral Coordination
Language and Speech development
Cognitive Thinking
Learning through play- it's so much more than just having fun!
Check out these fun Spotto Mats! They are available in the plastic stock (Australia only) or as a digital download (worldwide)!
I'm excited for Miss 4 to come home from school to try out a squishy bag letter formation activity. Stay tuned for that one!
Dani D x
Disclosure: This blog does contain affiliate links which I may earn a small commission from if you purchase through them, at no extra cost to you.