Disclosure: This blog contains affiliate links which I may earn a small commission from if you purchase through them, at no extra cost to you.
Taste safe aquafaba play foam is such an amazing foam for toddler and baby sensory play.
I have inherited a little saying from my dear, lovely Grandma – 'Waste not, want not,'.
When I heard about the numerous ways to use this amazing substance, I was thrilled to be able to use this product rather than pour it down the drain.
Have you heard of Aquafaba?
If not, you are about too! If you have, I'm sure you will agree that it really is amazing!
Today we used this wonder liquid to make our own Taste Safe Sensory Aquafaba Foam.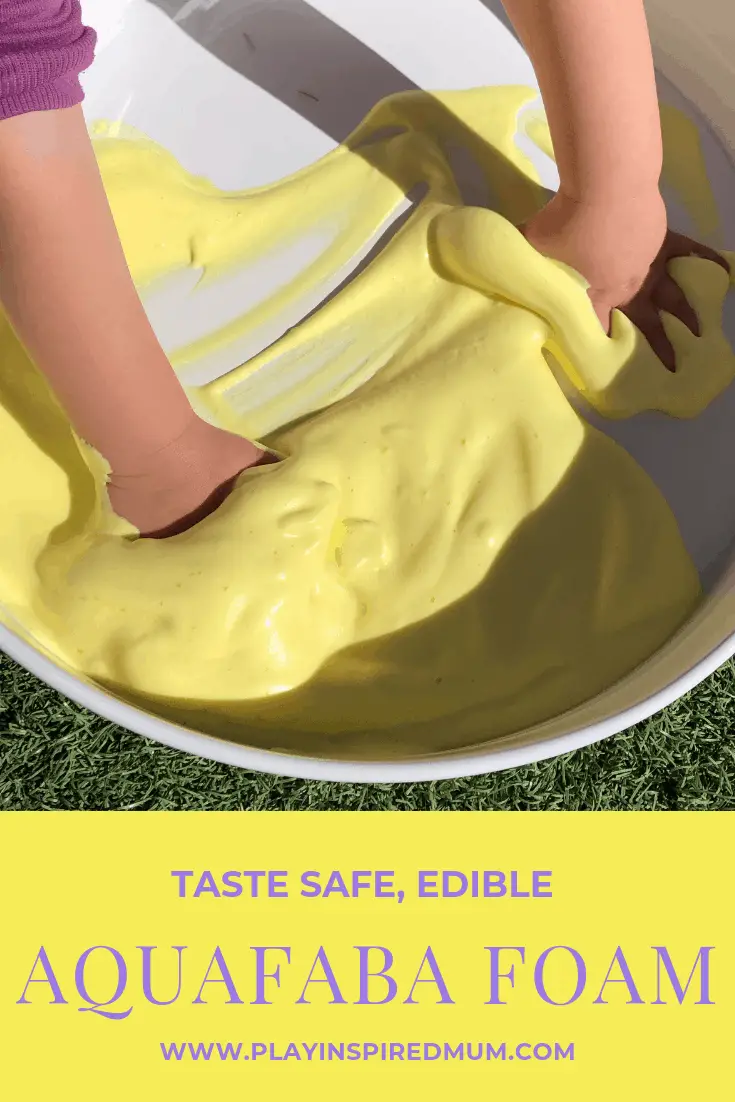 Taste Safe Sensory Aquafaba Foam
When setting up our sensory play activities, I am forever conscious of keeping the substances taste safe, or better yet, edible. Miss 2 is still mouthing everything and will take any opportunity to put things into her mouth (except for her dinner – feeding her as baby was sooo much easier!).
We had an hour before school pick up today, the winter sun was fabulous and the moment was screaming for some messy, sensory play outside. Earlier during the day we had baked some yummy chickpea cookies.
Rather than pour the liquid from the can of chickpeas down the drain, we poured it into a bowl.
Did you know this 'chickpea juice' has a name?
It's called aquafaba.
We have been using chickpea liquid, aquafaba, as an egg substitute in our cake baking the last few months and have been super happy with the results – yummy and when feeding a family of 5, saving eggs is a bonus!
Today, however, I had other plans for this luscious chickpea liquid.
Miss 2 loves our Rainbow Foam however constantly needs to be reminded not to put the dishwashing soap bubbles into her mouth.
Using the chickpea juice, we made a sensory play foam that is fluffy, light and totally taste safe!
What you need to make Edible Sensory Aquafaba Foam
1 portion of Aquafaba (the liquid drained from one 400g can of chickpeas)
1/4 teaspoon Cream of Tartar
Food colouring (optional)
Yes, thats it! Three little ingredients to create a whole heap of messy, taste safe fun chickpea foam sensory play for your baby and toddler!
How to make play foam with chickpea juice
All you need to do is throw the ingredients into a bowl and beat away with some electric beaters until stiff peaks form.
We used the Thermomix.
It took about one minute on speed four with the butterfly in place.
The mixture was silky, glossy and super smooth!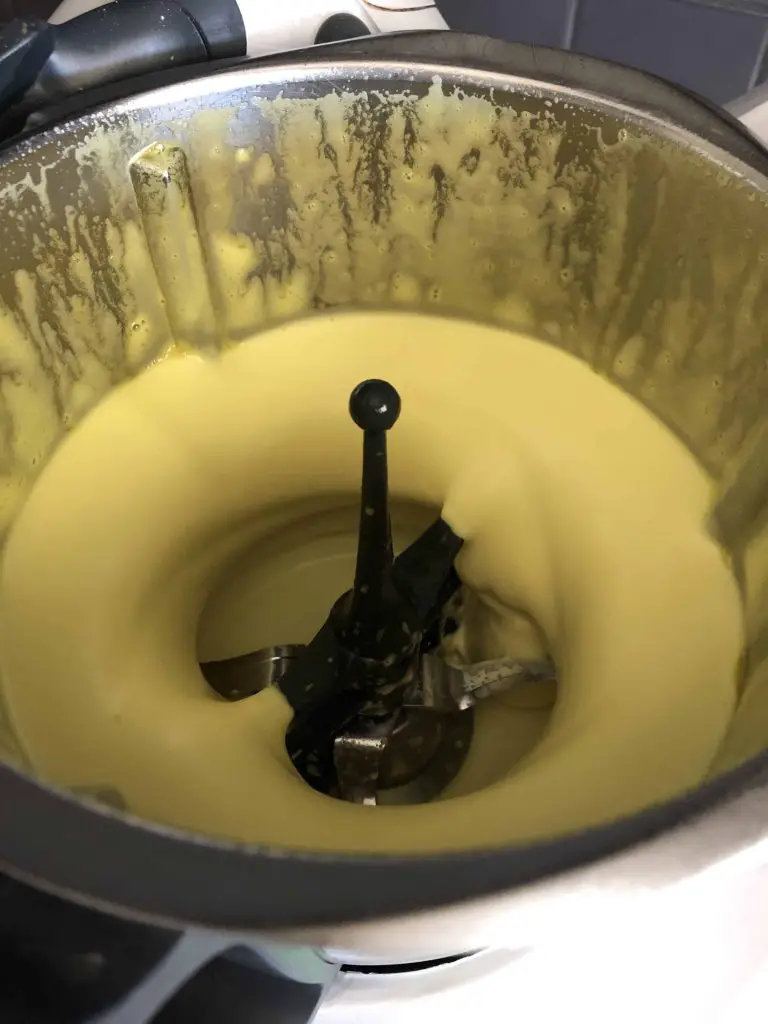 Does aquafaba play foam need cream of tartar?
The cream of tartar in the aquafaba recipe is not 100% necessary. You can make a beautiful play foam without adding the cream of tartar. However, without the cream of tartar the foam will reduce to a liquid much faster than if the cream of tartar had been added.
Can Aquafaba Sensory Play Foam be made ahead of time?
Aquafaba play foam is best made right before use. While the cream of tartar does help to stabilise the tiny bubbles that make up the foam, they do start to break down and turn back into a liquid after being made.
How long does aquafaba play foam last?
We have spent the better part of an hour with our play foam before hosing down our play area.
Watch this space!
We will do an experiment to see exactly how long it could last.
Are you a bit overwhelmed with the idea of sensory play or not sure where to start?
Sensory play offers so much value to a toddler, preschooler and even school aged children.
Kids are hardwired to learn through experiences and interaction with their environment. With every touch, sight, smell, sound and taste their brains are firing off new connections and growing.
With so much advertising presented to parents surrounding toys with all the bells and whistles, pulling back and embracing simple sensory play activities can be daunting for parents. We are constantly being exposed to toys that teach ABCs and 123s that we see these skills as being vital to our children's development.
Mums, Dads, your one year old does not need to be able to recite the alphabet.
Your two year old does not need to be able to write their own name. Science says they shouldn't be expected to even coordinate a pencil and write clearly until aged four.
That being said, from an early age you can help your child develop the foundational skills required to complete these tasks – through engagement in sensory play.
If you are interested in learning about sensory play, this Beginners Sensory Play Course could be just the thing to give you the confidence, recipes, play ideas and resources to provide meaningful play experiences for your toddler and preschool aged children.
How to play with Edible Sensory Foam
With only an hour free for us to play, we kept our play simple. Using our silicone spatula, we scrapped as much of our sensory aquafaba foam into our play tray. I asked Miss 2 to choose some animals to play with and set the tray outside while she collected her latest favourites.
We lined them up and then let the play begin! Miss 2 explored with a curious, poking finger to start with. A single finger tip broke through the surface and moved back and forth before a smile of satisfaction brimmed across her face. From there, two hands delved to the depths of the tray and the real fun began. I love those first few moments when presenting something new to our little ones. They are so transparent and honest. It is refreshing compared to the politically correct world of being a grown up.
Her carefully selected animals soon joined in on the fun. As she picked each one up, I asked her the name and colour of the animal and what she was planning on doing with them. There was foam on everything!
Soon Miss 2 was asking to take off her shoes and socks. Apparently she was concerned they would get dirty… LIES! Our cheeky, sensory seeking little miss was super keen to get those toes amongst the foam too!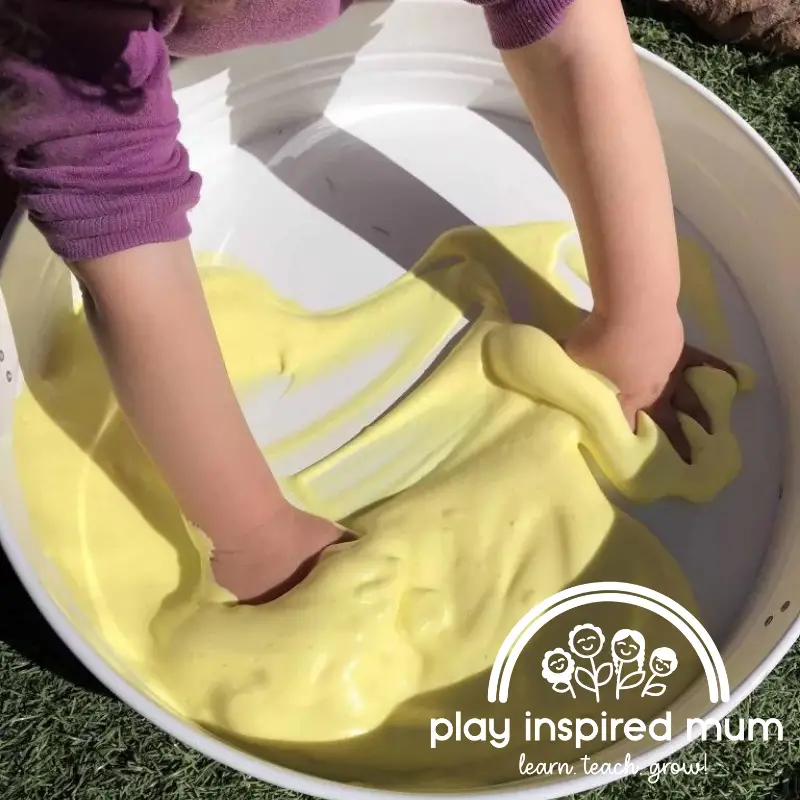 Comprehension questions
Asking questions while your child plays not only leads them to new areas of discovery but allows them to build a better understanding of their present environment and experiences. Here are some questions that you can ask to help build comprehension with your aquafaba foam:
How does the foam feel?
What do you think would happen if you lifted one side on the tray?
What does the foam smell like?
Have you felt anything like this before?
Without tasting it, what do you think the foam would taste like?
How long do you think it will take before all the bubbles pop?
Who do you think would enjoy playing with this foam?
If you could name this foam, what would you name it?
What other activities do you think we could use the foam in?
Educational Benefits
Exploring and discovering with sensory play offers so many learning opportunities for growing minds. Sensory play activates the five senses: touch, smell, sight, taste and hearing. Its is through the stimulus of the senses that the brain receives information and is able to build neuro connections. Pretty fancy isn't it?
There are so many other benefits too! These include:
Fine and gross motor skills
Cause and effect
Experimental play
Cognitive development
Enhances memory
Problem solving
Logical thinking
Builds vocabulary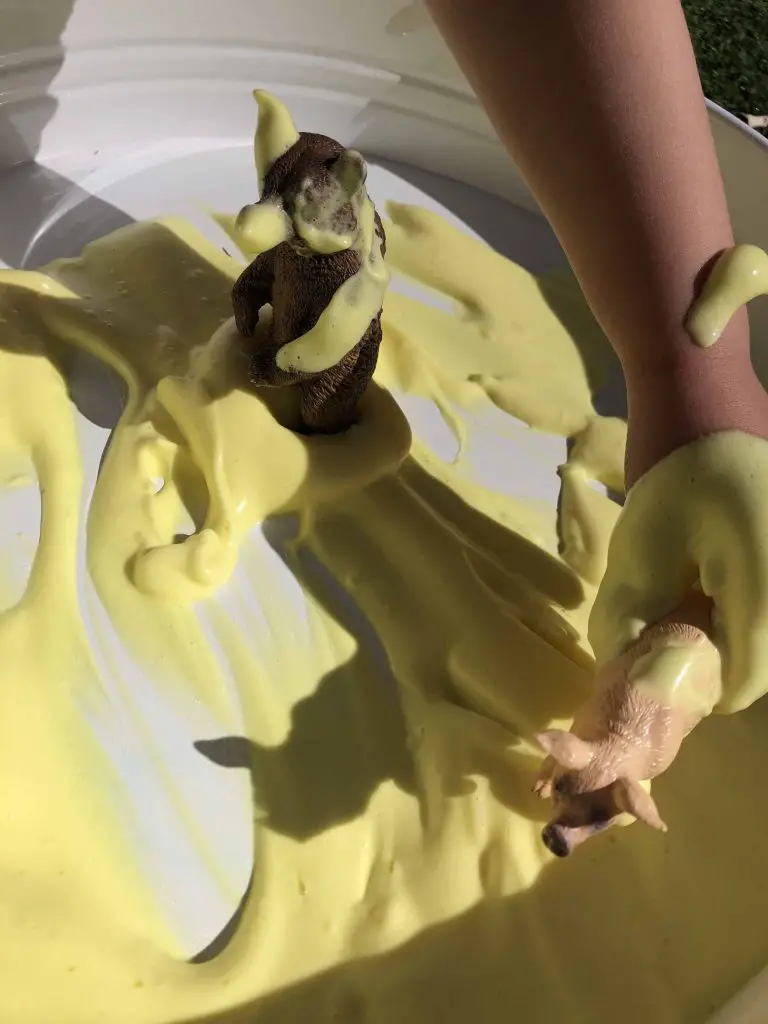 Aquafaba foam really does tick all the boxes. It was really enjoyable to sit back and just enjoying watching Miss 2 explore, learning and discover. Without the pressure of keeping things out of her mouth, I was able to be present at a more valuable level. Taste safe, multi sensory and fabulous messy fun!