Disclosure: This blog contains affiliate links which I may earn a small commission from if you purchase through them, at no extra cost to you.
Create something beautiful with your child's nature finds with this simple DIY sticky nature collage.
The frame is super simple to put together and the designs are only limited by your imagination. This is a beautiful way of celebrating those sticks, leaves, and flowers collected along walks and nature adventures.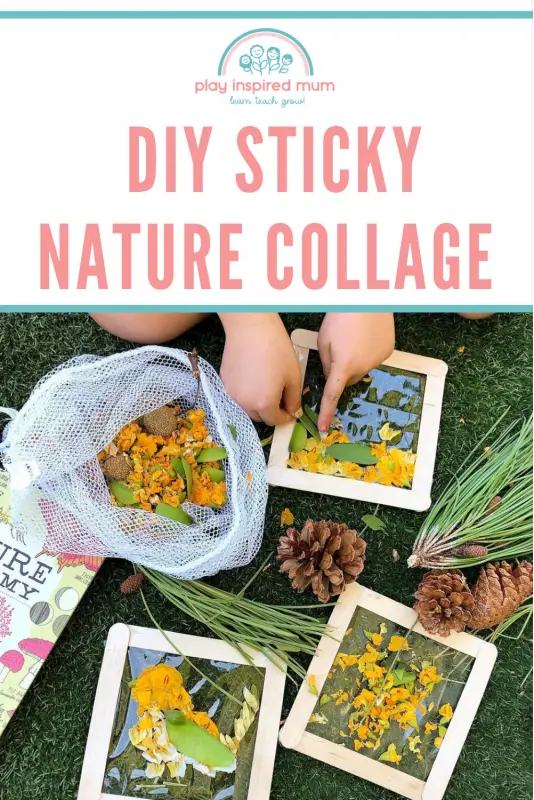 DIY Sticky Nature Collage
Does your little one collect nature items? My bag and pram are often carrying tiny treasures collected by my children. They see the sparkle in a stone, the texture of a twig, and colours in leaves and insist on bringing them home to cherish forever.
Truth be told, more often than not once they enter the car, they don't come out again until car clean day however we do love to use these amazing resources for more than decorating the floor of the car.
Check out some more nature item activities here!
While visiting a park to do some bird watching and observations, we noticed trees dropping gorgeous yellow flowers across the ground. The colours were so intense. Even the leaves were unusual. We collected our samples before heading home. Within a few minutes, we had some frames put together. From there it was all imagination!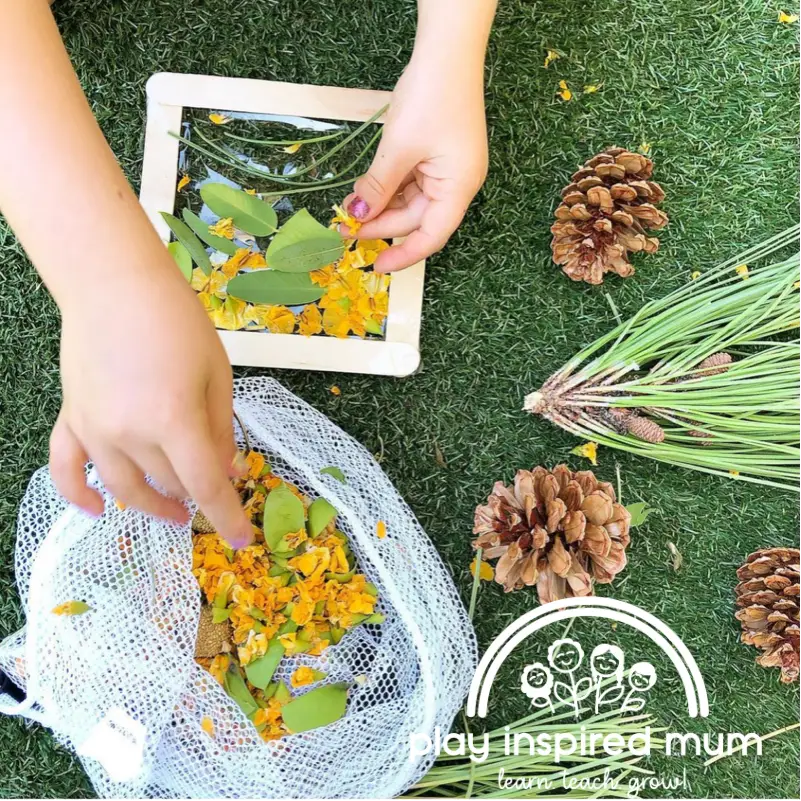 What you need to create DIY Sticky Nature Collages
Pop Sticks
Clear Packing Tape
Nature Items
I had originally planned on using clear contact paper to create the sticky window. This would also work beautifully.
If you don't have pop sticks, there are lots of alternative materials that you could use instead.
Paper
Cardboard (think cereal boxes)
Twigs
Old photo frames (glass removed)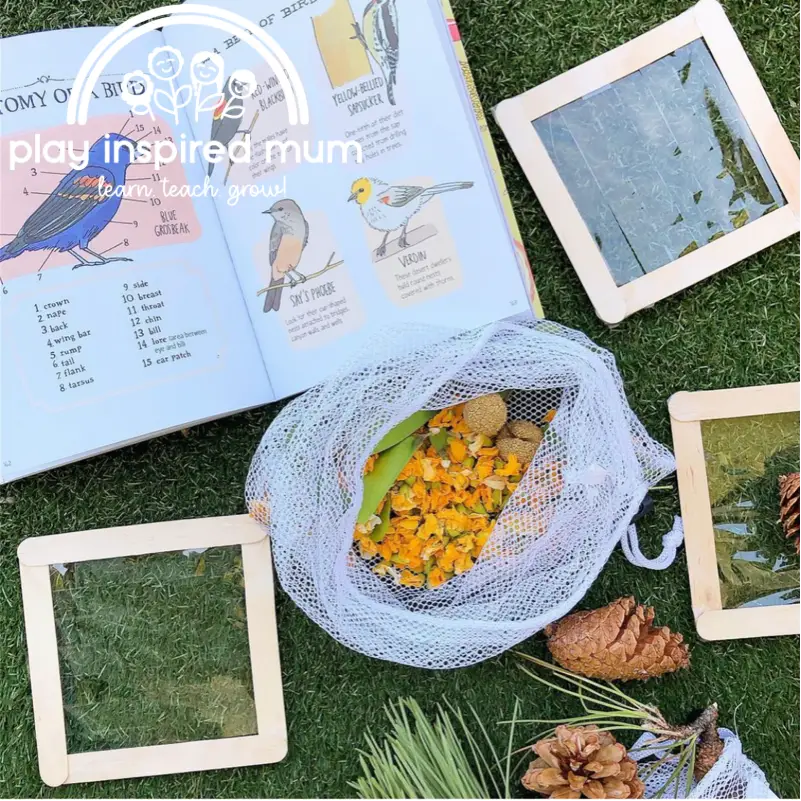 How to set up a DIY Sticky Nature Collage
Create the frame. Construct a square by overlapping four pop sticks and securing them with the tape. You could create other shapes to expose your child to a variety of designs.
Add the sticky backing. Apply strips of packing tape with the sticky side facing the right side up to the frame.
Create your design!
Your imagination holds the limits to your own creativity here. There are no rights or wrongs. Enjoy the process.
Perhaps use a theme as inspiration or just freelance and let be what will be.
With our bird watching fresh in our minds, I crafted a little bird from our nature finds. Identifying attributes to construct our little bird from our book, Nature's Anatomy by Julia Rothman, we were able to choose leaves, petals, and stems to suit the task.
We left the collages uncovered to dry the nature items.
Previously, we had secured the design with a second layer of contact however moisture released by the nature items turned the entire project a bit funky and had to be discarded.
Dry pressing the nature items is another way of preserving the flowers and leaves. It takes time however well worth the wait!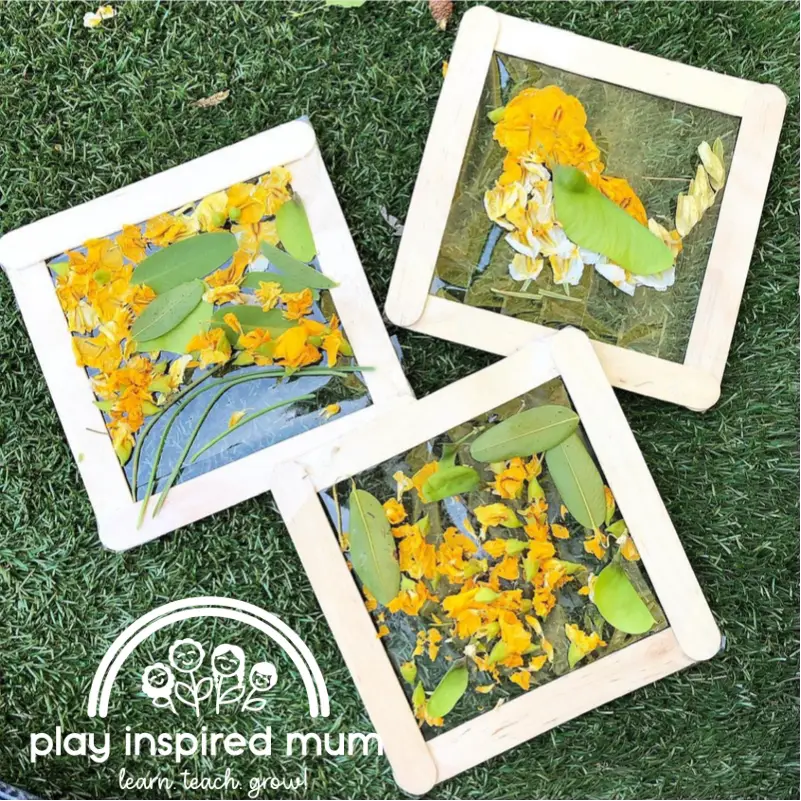 Educational Benefits
This nature activity encourages imagination, creativity, and self-expression.
Using natural manipulatives to create a work of art supports the development of imagination and thinking process development. Using objects outside of their usual use involves critical thinking and refined communication skills. This is while allowing children to experience their world from different perspectives.
Other areas for development that can be developed and refined with this nature collage activity include
Fine Motor Skills
Hand-Eye Coordination
Problem Solving
Social Skills
Sequencing events