Disclosure: This blog contains affiliate links which I may earn a small commission from if you purchase through them, at no extra cost to you.
Your kids will love this quick, simple DIY homemade, taste-safe chalk paint.
Let us face reality. Kids love mess. It is a bonus that so much organic learning happens through interaction with messy play. Sometimes we parents just need to embrace the chaos and paint a rainbow!
What better way to canoodle the turmoil than to do so with some beautiful homemade chalk paint?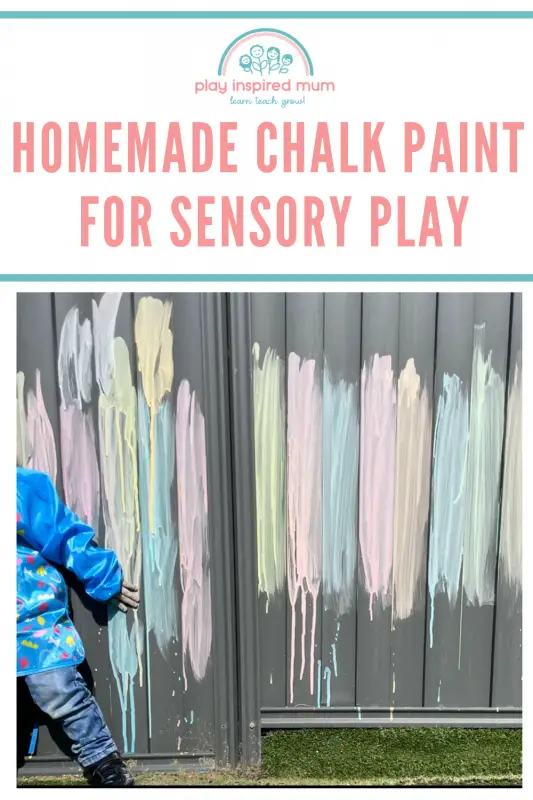 DIY Homemade Taste Safe Sidewalk Chalk Paint
There is something magical about this chalk paint recipe for sensory play. It is perfectly safe for mouthing babies (as long as you bake your flour – reasons why to follow) and this is a great activity to set up for kids of all ages.
It paints on water thin and barely there. As it dries, the colour intensifies and gives a beautiful matte finish.
What's better yet is that you probably have all you need to make this taste-safe homemade chalk paint in your pantry already. Older children can easily make this themselves too!
DIY Homemade Taste Safe Sidewalk Chalk Paint Recipe
1 cup Corn Flour
1 Cup of Water
Food Colouring (optional but so worth it!)
This is a super simple recipe to throw together and alter amounts.
Basically, you just need equal amounts of corn flour and water then add colour.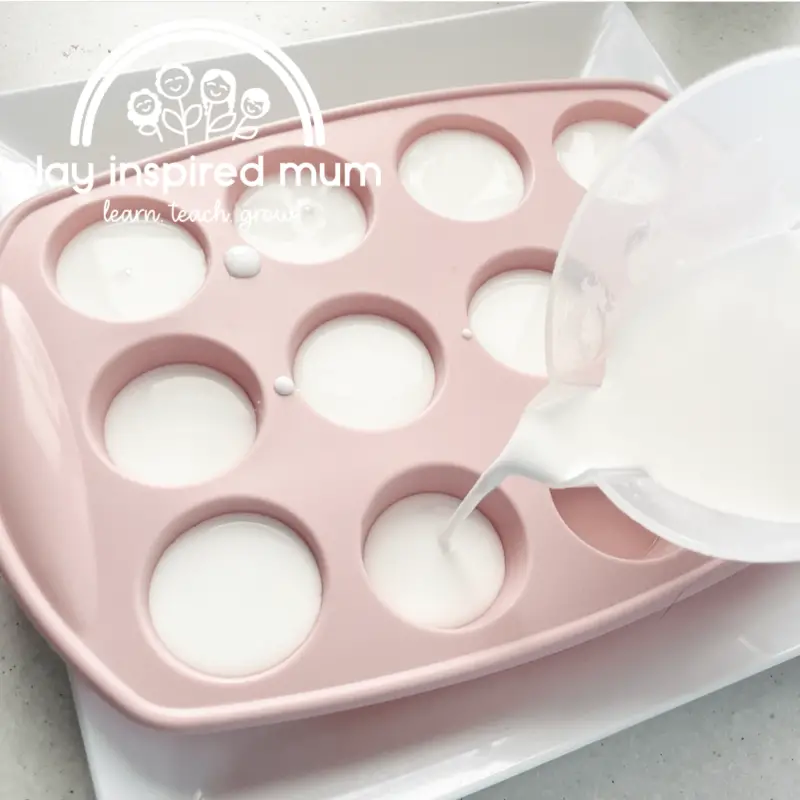 How to make the homemade sidewalk chalk paint taste safe
If you have mouthing babies or toddlers who still enjoy sampling their materials, this extra step is a must. Flour is a raw product. More often than not grains are milled with no prior treatment resulting in bacteria being present in the flour.
It is common for crops to be grown in soil that has previously hosted livestock. This allows for the opportunity for essential nutrients to support a healthy crop yield as a result of nutrients excreted by the animals. Unfortunately, it also can support the contamination of harmful bacteria such as Salmonella and Escherichia coli (E. coli).
Raw flour can have these bacteria present however treating your flour for taste-safe play is really very simple.
Spread your flour onto a baking tray and bake for 5 minutes at 180°C (350°F) before allowing it to cool for play. This destroys the bacteria making it taste safe for sensory play recipes such as
Is corn flour the same as corn starch?
Corn flour and corn starch are very similar. They can be used interchangeably for this recipe.
Corn flour is made by grinding the entire kernel or grain whereas corn starch is made by grinding the endosperm of the grain alone.
How to make DIY Taste Safe Homemade Sidewalk Chalk Paint for toddlers
Creating your own homemade paint cannot get much simpler than this.
Simply mix the corn flour and water together until smooth
Add colour
Time to paint and play!
I made the chalk base paint in a jug before pouring the crisp white paint into a muffin baking tray. From here I added the food colouring to create a palette of different colours.
Red + Yellow = Orange
Blue + Yellow = Green
Red + Blue = Purple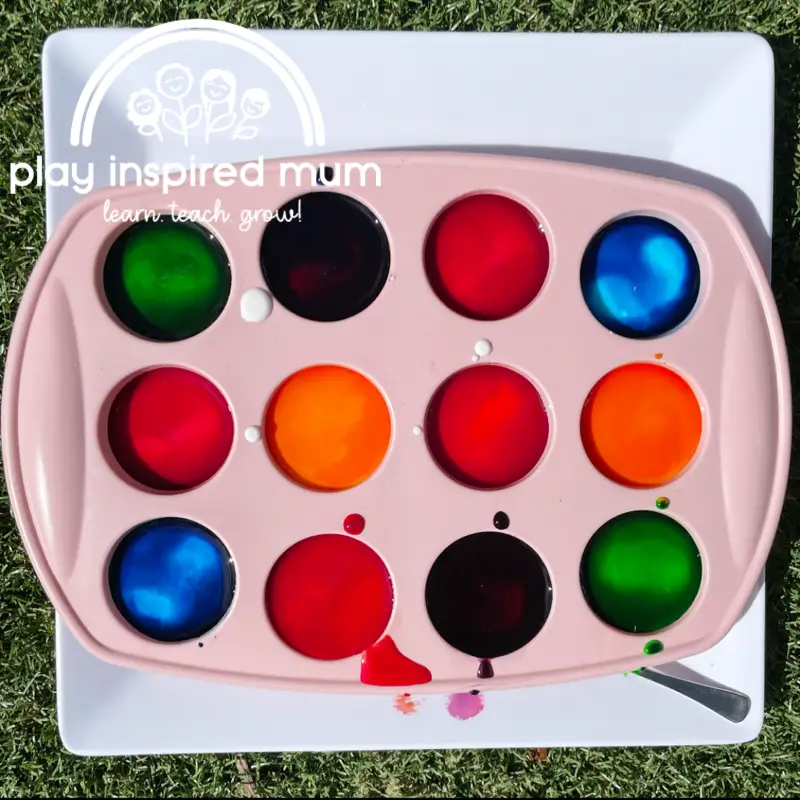 How to use your DIY Homemade Taste Safe Sidewalk Chalk Paint
Allow your children's imagination to hold the limits!
This paint goes on quite sheer however dries quickly and this is when the beautiful matte result shows.
To encourage Mr 22m to develop his gross motor skills, I presented him with his palette next to our colourbond fence.
I teamed the DIY chalk paint up with a small spoon and some chunky paint brushes. These paint brushes are perfect for developing a toddler's hands. The chunkier the better!
The goal was to paint the fence. He did take more of a liking to mixing the colours and painting the grass before turning his attention to my attempts of artistry on the fence.
This homemade sidewalk chalk paint work beautifully on pavement, bricks, and concrete too. It does work better on vertical surfaces as the paint is thin and will run.
Please check for colour fastness and staining first to prevent a bad day.
We have always found the paint to wash off easily with a bit of clean water from the hose.
Taste Safe Chalk Paint for Babies
This taste-safe chalk paint recipe can be a great medium for baby sensory play. Pour different colours into a shallow cookie tray for tummy time or into a deeper tray for sitting babies to play.
Watching the colours combine is a great reward for moving their hands or feet through the brightly coloured liquids.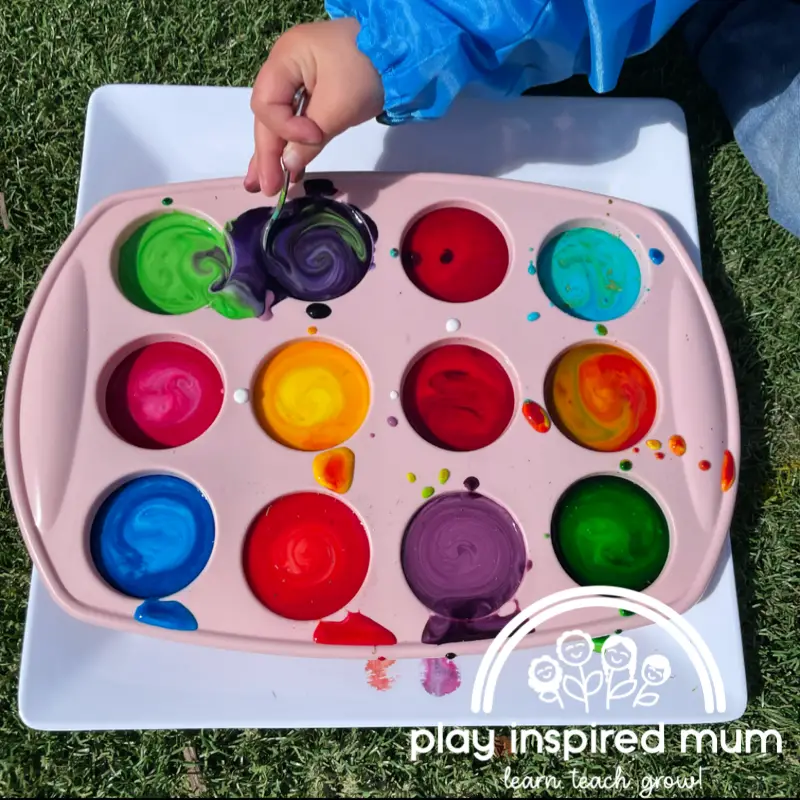 Chalk Paint and Nature
Keeping with the simple play idea theme, another way to use your chalk paint is to paint nature.
Nature items such as
Sticks
Stones
Logs
Tree Trunks
Leaves
These can all be transformed into unique works of art with little effect on the environment.
This chalk paint recipe is free of harmful chemicals so can be rinsed off in the garden with no concerns for runoff into streams or waterways.
Can the paint be made ahead of time?
Yes, you can prepare the paint a day before use. Simply store the paint in an airtight container or jar. A quick shake before use will have it ready for painting in seconds.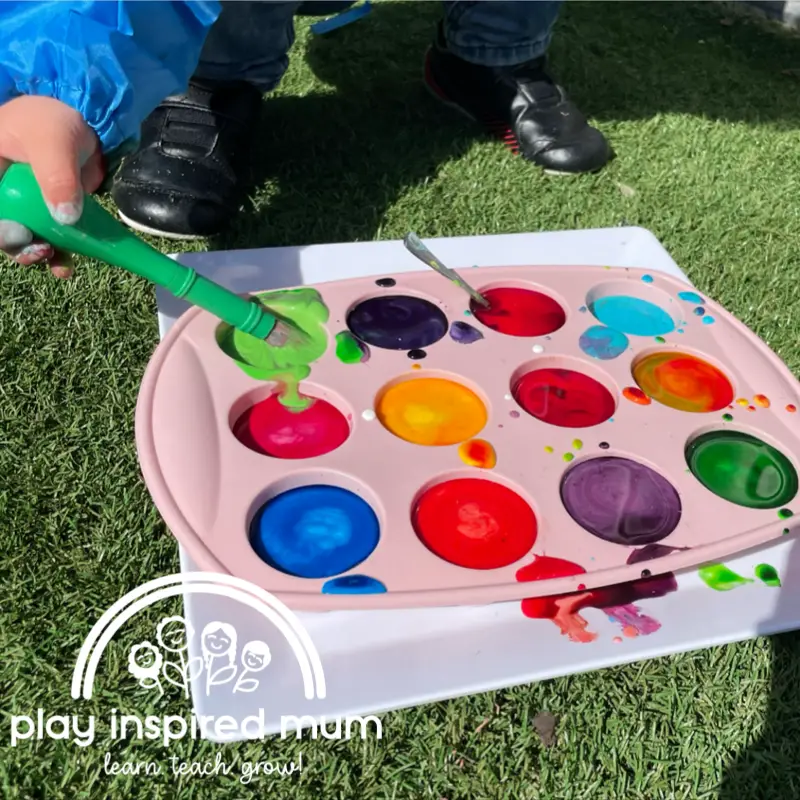 How do you make washable chalk paint for toddlers and babies?
This chalk paint recipe is totally washable!
A word of warning though. If you add too much food colouring, it may stain.
Go light on the food colouring and you can still have beautiful chalk paint without the risk of staining.
Is painting a good sensory play activity for children?
Painting is a great activity for children and adults alike!
This paint offers so many stimuli for a developing brain and there is so much to gain for a child through interaction with this fun homemade paint.
For our children, it is a way for them to explore
different textures
effects of altering pressure
blending colours
self-expression
creating patterns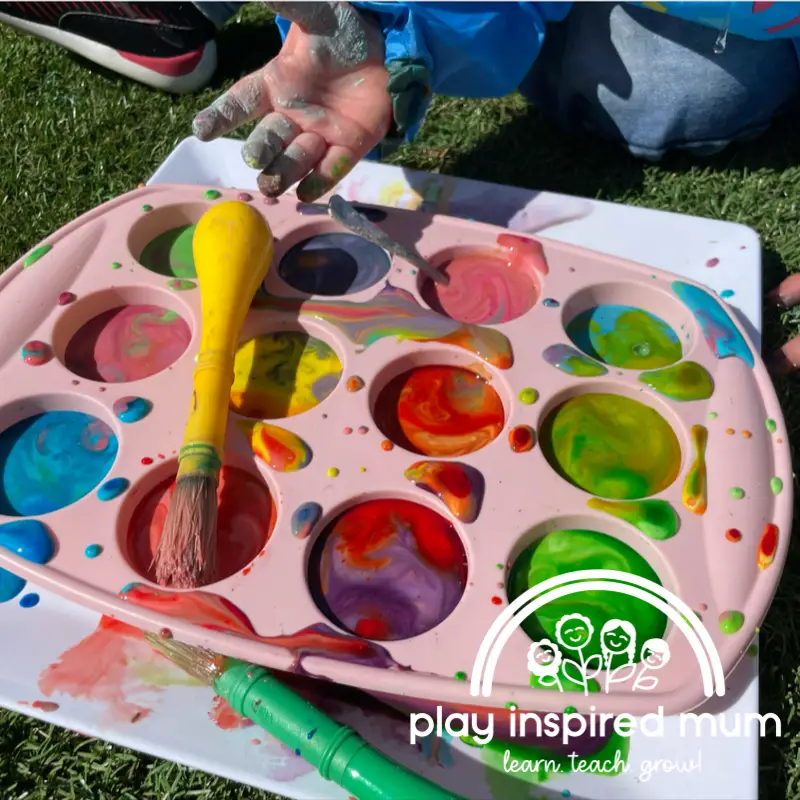 Educational benefits associated with painting
There is so much more to learning than ABCs and 123s.
Here are some of the developmental skills that your child can develop and refine through play with this taste-safe chalk paint recipe
Fine motor skills
Logical thinking
Creative thinking
Gross motor skills
Object permanence
Experimental play
Crossing the midline
Hand-eye coordination
Why is messy play important?
Messy play strengthens curiosity, imagination, and exploration.
The open-ended messy play offers a multi-sensory learning experience that promotes much awareness and learning about their environment and surroundings. That is, directly and how they fit into their surroundings and affect their surroundings.
By engaging a child's senses of touch, sight, smell, taste, and hearing, they are able to access so much information to learn about the world we live in.
Children are born curious allowing them to learn. Messy play fuels this vital pathway for your child to become a lifelong learner.