Today was our first super sunny day of spring. Super sunny makes water play a must!
I asked Miss 19m if she would like to play in some water and her reaction was priceless! Her eyes sparkled as she yelled, "Bubbles! Bubbles!"
That isn't initially what I had in mind however it sounded great! The first association with bubbles that jumped into my mind was dirty children (needing a bubble bath).
Something needed to get messy so we made taste safe mud!
It's easy!
2 cups plain flour (toasted to kill bacteria – learn how here!)
1 tablespoon cocoa
2 cups of water
Throw it all into a bowl, mix it and you are done! I left some little lumps in it for the kids to pinch and pop.
Two vessels set up, a tray with our 'mud' and a bucket with bubbles, and we are good to go!
I added some animals that use mud to protect themselves from the sun. It was a great conversation starter. And tied in nicely with our plans on visiting our local zoo during the week.
Both the girls were a little hesitant to get started however once they got started, they enjoyed exploring the mud.
They watched how it ran over their fingers, squished and squeezed the mixture, rolled the animals and smooshed the floury lumps. Even Dad got involved by poking his big toe into the mix!
Once the girls were a bit messy, I explained the second element of this messy play – the clean up! The second bucket was simply warm water with a little squeeze of dishwashing liquid.
At this point Miss 4 washes the mud off her hands and ran off to play with her Dad and brother who were throwing a ball around. Miss 19 months however seemed to enjoy the bubbles more than the mud! She attentively scrubbed her little Rhino friend before dumping him back into the mud.
She was fascinated by the bubbles. Lifting her hands in and out of the water, watching the bubbles slide off her hands before splashing them down back in the water again.
After ten minutes or so Miss 19m started to combine the two elements. We had mud and bubbles going everywhere! The water sat on top of the mud in little pools.
We spokes about the different densities of the liquids and busily agitated the mud to mix the pools of bubbles within the sloppy mess.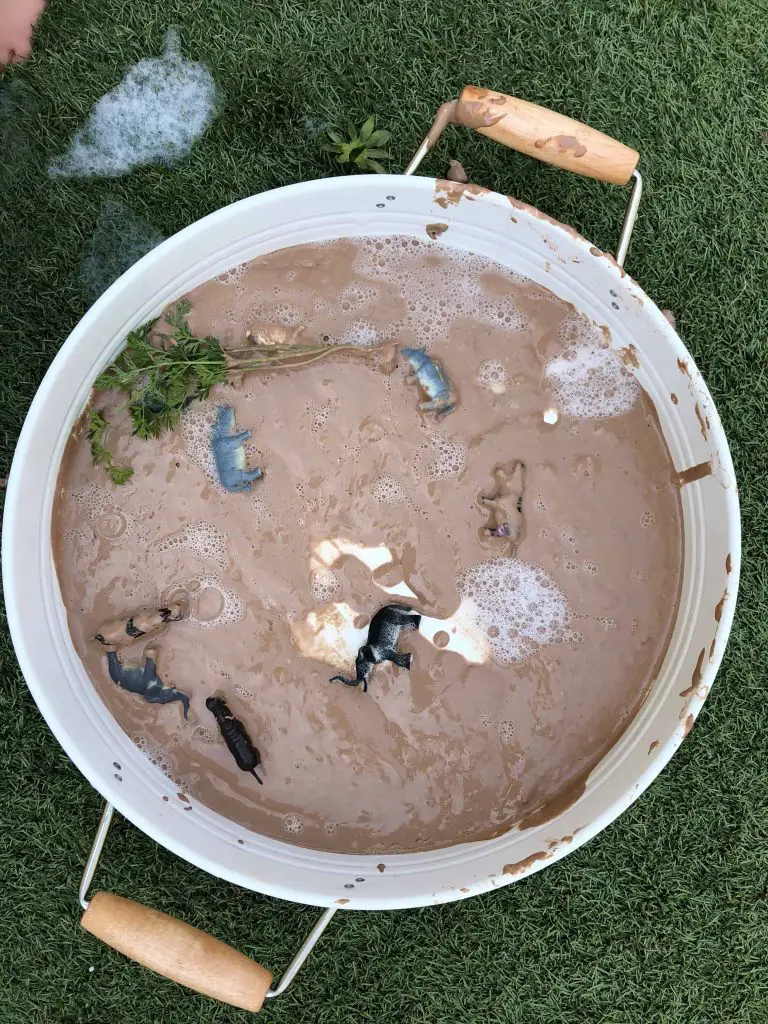 While it didn't really hold Miss 4s attention, Miss 19m had a great time with this messy activity.
What learning opportunities did our mud fun offer?
Fine motor skills
Science
Building vocabulary
Cause and effect
Bilateral coordination
Sequencing events
Turn taking
Social skills
Once school goes back, I think we will redo this activity with dinosaurs! What would your little one like to cover with mud?
Dani D x
Disclosure: This Blog does contain affiliate links which I may earn a small commission from if you purchase through them, at no extra cost to you.