Disclosure: This blog contains affiliate links which I may earn a small commission from if you purchase through them, at no extra cost to you.

Taste safe mud is a must have sensory play experience.
While I am all up for a good splash about in the real deal, being able to provide a taste safe option for mouthing babies and toddlers is a good compromise for play at home. There are so many learning benefits associated with sensory play. Creating a taste safe mud recipe was a must to add to our play tray!
Taste Safe Mud Recipe
What is edible mud?
Edible mud is a play medium that is safe for your baby or toddler to eat.
While this recipe is taste safe, I would not suggest that it is edible as such. Sure, once made and ensuring the flour is not raw, there is no harm to come from a little taste here and there throughout the play. Eating it though… I wouldn't say that's ideal.
Check out our round up of tasty homemade snack ideas as an alternative!
What you need for our taste safe mud recipe
2 cups plain flour (toasted to kill bacteria – learn how here!)
1 tablespoon cocoa
2 cups of water
This recipe is super flexible. if you don't have plain flour, swap it out for self raising or wholemeal flours. Corn flour (or corn starch depending on where in the world you are) can make for a suitable substitute too however the end result will be different. See the end result we created with our Muddy Pig play.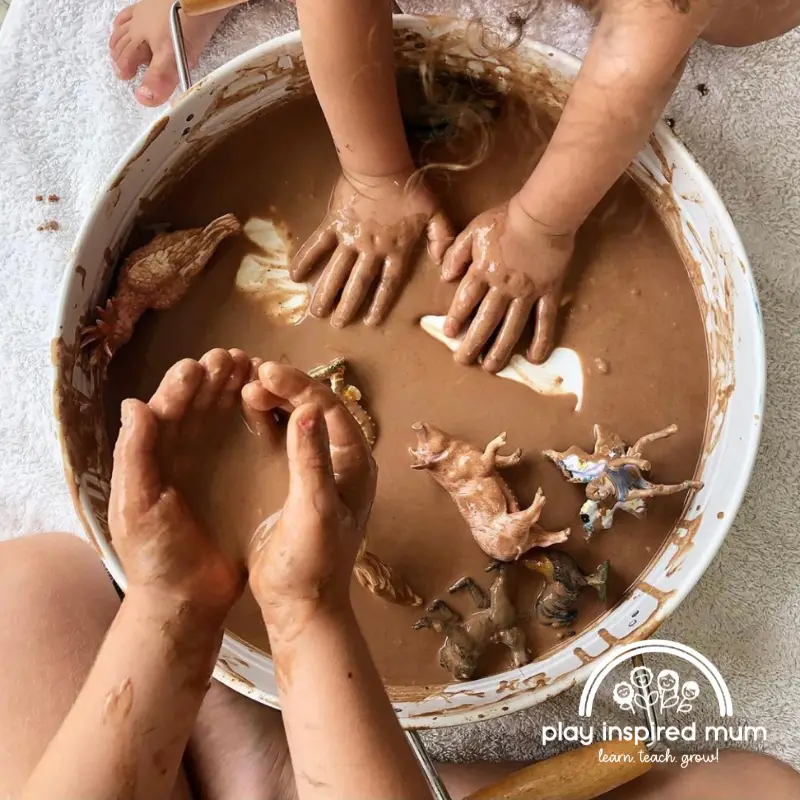 How to ensure your mud is taste safe
The key to creating taste safe sensory play with any recipe involving flour, is to toast the flour first.
Lets just take a moment to discuss this a bit further as it is so important if you are truly wanting to create a taste safe mud.
Flour is milled wheat. The grains are not heat treated prior to milling. The grains are simply (probably not the right word but for the shorter version of the tale, I'm rolling with it) harvested and milled with minimal processing.
Now, the wheat grows in a field. A field with soil full on nutrients to ensure a fabulous crop.
What makes good soil? Poop. Yup, good old fashioned manure. Sheep or cow, Im not sure which is better or worse but poop is poop. While poop makes for growing a successful harvest, it does contain bacteria. Harmful bacterias such as Salmonella and Escherichia coli (E. coli) have been found in raw flour.
So long story short, poop from the soil the wheat was grown in, may be present on the grains when milled and in turn, be present in your flour.
How to make taste safe fake mud for sensory play
This taste safe mud recipe os so simple – your toddler could even make it!
Literally put all the ingredients into a bowl and mix.
You can choose to mix it smooth or leave lumps for curious fingers to pop.
These quantities will give you a gooey gooey mud to play with.
If you prefer a mud that is more robust, simply sift the cocoa into the flour until blended and reduce the amount of water.
Easy!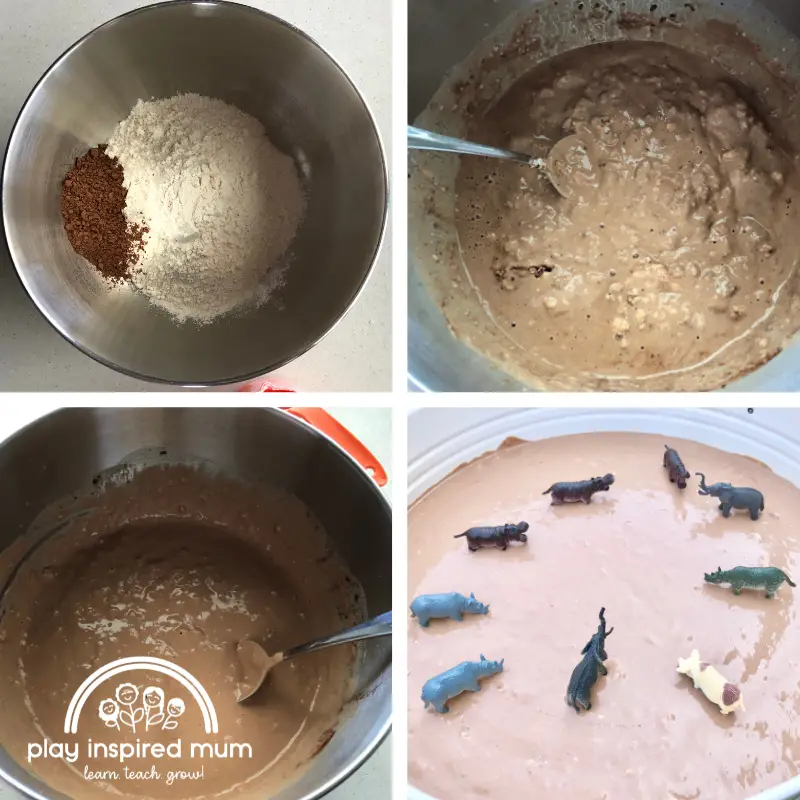 How to play with taste safe mud
This sensory play must is such a versatile recipe.
It can be used alone or accompany other materials to create a small world scene.
It can be teamed up with
Animals
Dinosaurs
Trucks and Cars
Fossils
Stones and Pebbles
Leaves and Gumnuts
Mud and Bubbles
Something needed to get messy so we made taste safe mud!
I asked Miss 19m if she would like to play in some water and her reaction was priceless! Her eyes sparkled as she yelled, "Bubbles! Bubbles!"
That isn't initially what I had in mind however it sounded great! The first association with bubbles that jumped into my mind was dirty children (needing a bubble bath).
A tray of taste safe mud and a bucket with bubbles later and we are good to go!
I added some animals that use mud to protect themselves from the sun. It was a great conversation starter. And tied in nicely with our plans on visiting our local zoo during the week.
The girls watched how the mud ran over their fingers. They squished and squeezed the mixture, rolled the animals and smooshed the floury lumps.
Once the girls were a bit messy, I explained the second element of this messy play – the clean up! The second bucket was simply warm water with a little squeeze of dishwashing liquid.
Miss 19 months however seemed to enjoy the bubbles more than the mud! She attentively scrubbed her little Rhino friend before dumping him back into the mud.
She was fascinated by the bubbles. Lifting her hands in and out of the water, watching the bubbles slide off her hands before splashing them down back in the water again.
After ten minutes or so Miss 19m started to combine the two elements. We had mud and bubbles going everywhere! The water sat on top of the mud in little pools.
We spoke about the different densities of the liquids and busily agitated the mud to mix the pools of bubbles within the sloppy mess.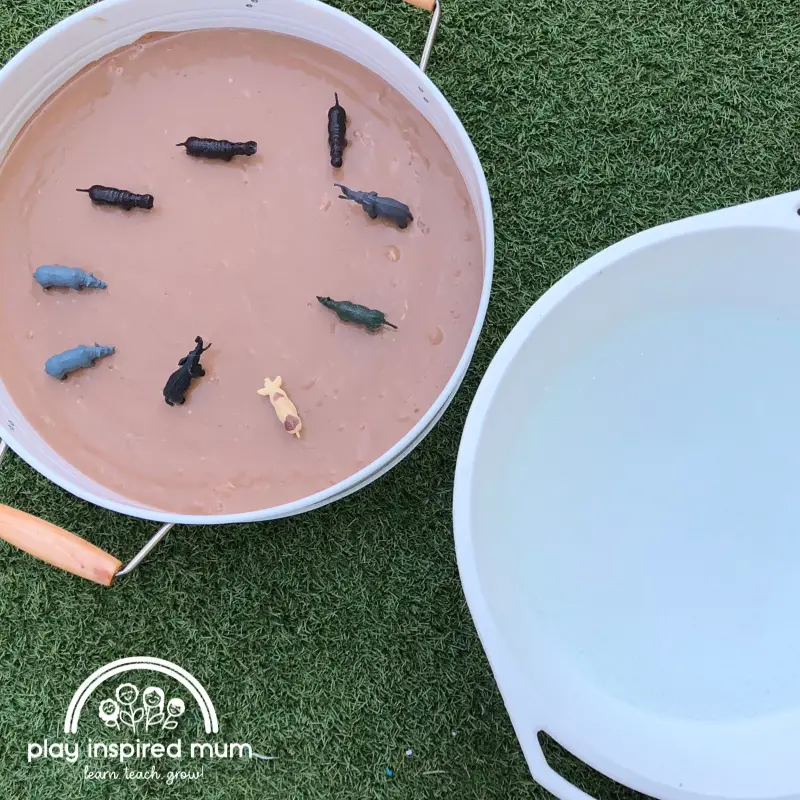 Dinosaur Mud Puddle
A batch of our taste safe mud and a handful of dinosaurs is all it takes for a fabulous afternoon of messy play!
Embrace the mess and be confident that your child is learning, discovering and thriving in meaningful play!
For the clean up, we used an old toothbrush to remove the mud from the dinosaurs scales!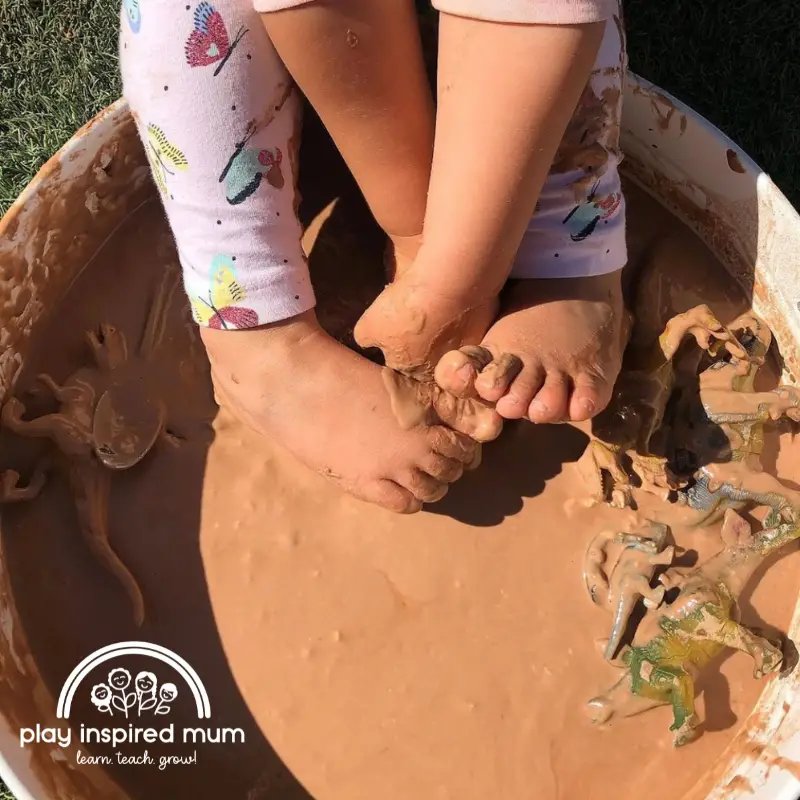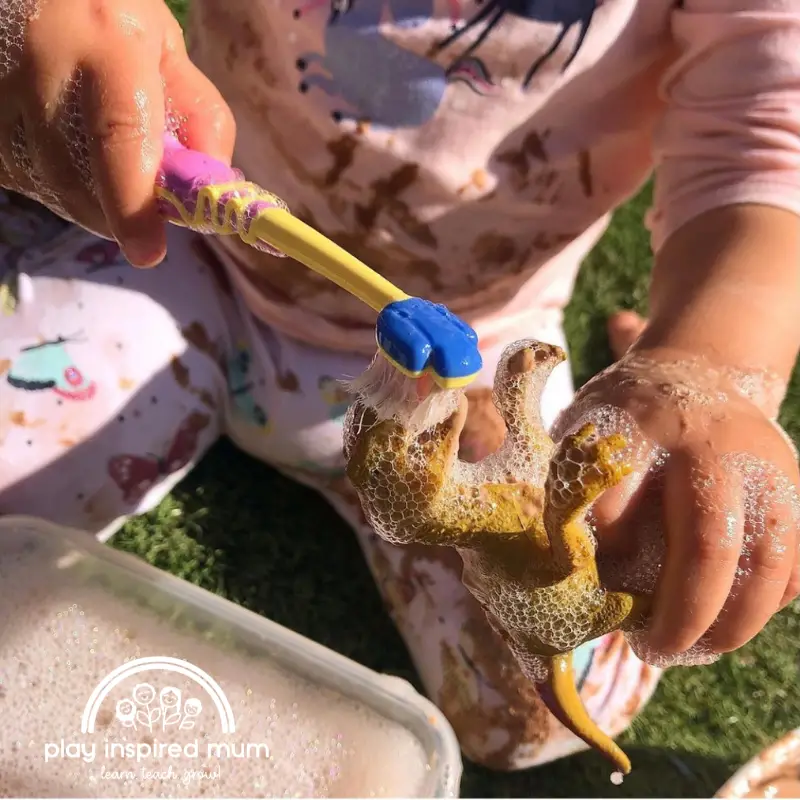 Dinos and Trucks Muddy Play
Another super simple but engaging and meaningful play experience! Dinosaurs and dump trucks were the perfect inspiration for some creative sensory play.
This messy play tray is perfect to allow children to explore their own personal creativity. You provide the materials and they will take themselves on their own self led journey.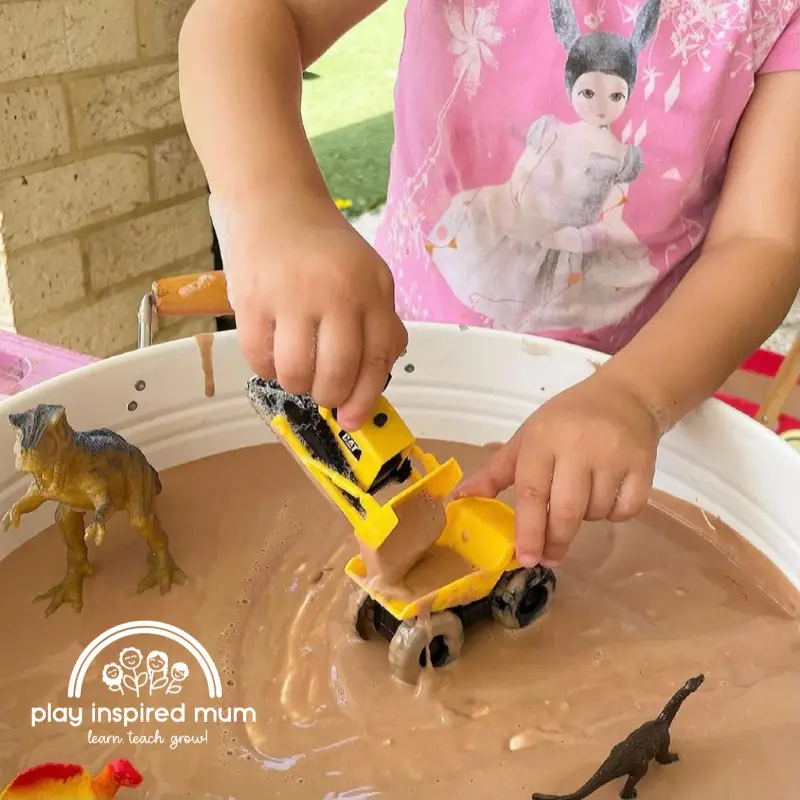 What learning opportunities did our taste safe sensory play mud fun offer?
Fine motor skills
Science
Building vocabulary
Cause and effect
Bilateral coordination
Sequencing events
Turn taking
Social skills