Disclosure: This blog contains affiliate links which I may earn a small commission from if you purchase through them, at no extra cost to you.
Muddy pigs sensory play is so much fun!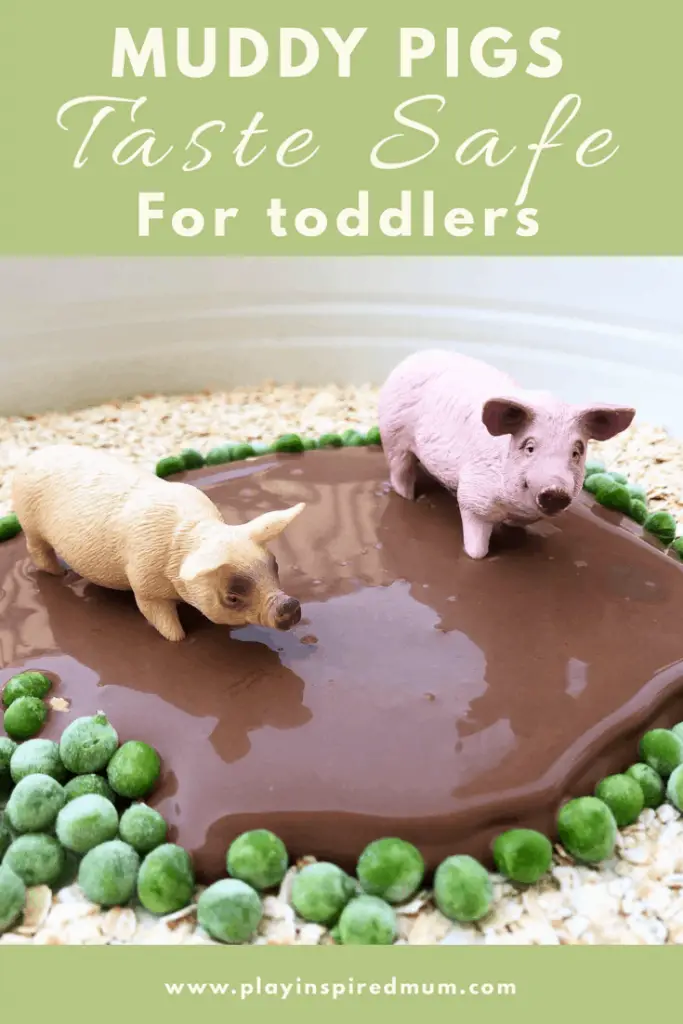 Muddy Pigs Small World Sensory Play
Miss 2 decided to skip her nap today. To fill in the hour and a bit that she would usually be sleeping, we had some sensory play fun! Our animal figurines were out on show after a zoo set up before school this morning. Hello, small world inspiration! With a fresh bag of cornflower on the bench, it just had to be oobleck!
Have you read about the science behind oobleck? Read about it here!
How to make your Taste Safe Mud aka Chocolate Oobleck for Muddy Pig Play
Typically, we make out oobleck quite wet however this can prove rather challenging for Miss 2 to navigate. For this reason, we made our chocolate oobleck mud quite thick.
What you need to make chocolate oobleck
1 cup Corn Flour (bake your flour to make it taste safe- learn how here!)
2 Tablespoons Cocoa / Cacao
3/4 cup Water
Bowl
Spoon
Meet one of our favourite Muddy Pigs – Portly Pig!
Portly is a humble fellow. A fellow longing for some muddy play too!
This book is full of Axel Schefflers trademark style of writing.
The rhythmic beat of this tale is a joy to read and my kids love this book!
They can certainly relate to dear Portly and his need to be messy!
If you are looking for bookish play inspiration, Portly Pig really ties in perfectly with our Muddy Pig activities!
Other Pig themed children's books
How to make chocolate oobleck for Muddy Pigs play
Chocolate Oobleck is so easy to make. Simply throw all the ingredients into a bowl and mix until smooth. Yup – that's it! Reckon you could do it? Of course, you can!
Setting up your Muddy Pig Small World Sensory Play
This small world is being kept taste safe. Miss 2 is still putting everything in her mouth. I just cannot risk her putting commercial slimes in her mouth which is one of the reasons why we just love creating our own at home. With our mud made, we kept the rest of the scene taste safe too!
What we used to create a Muddy Pig Small World
Play tray (this one is from Kmart)
Rolled oats
Frozen Peas
Pigs ( Miss Pink Piggy is Scheich, Miss Peachy Pig was in a farm tube from Big W)
To set up your small word, simply scatter your oats around the outer edge of your tray. Pour the oobleck in the middle of the tray. Sprinkle your frozen peas around the edge of your oobleck. Position your pigs and you are ready to play!
Exploring your Muddy Pig Small World Sensory Play
I presented Miss 2 will this play tray for her the lead her own play. When she saw the scene, her fingers started twitching to scoop their way through the mud almost straight away!
After a gentle poke here and there, it didn't take her long to delve in with open hands. While she was playing, I was commentating her play and asking her questions
Why are you doing that?
What do you think will happen when you do that?
Have you done anything like this before?
Who else do you think might enjoy sharing this with you?
Asking her these questions encourages her to consider the different ideas, build her play and develop her comprehension of what she is doing. Not to mention affirming her and building our bond and lasting memories!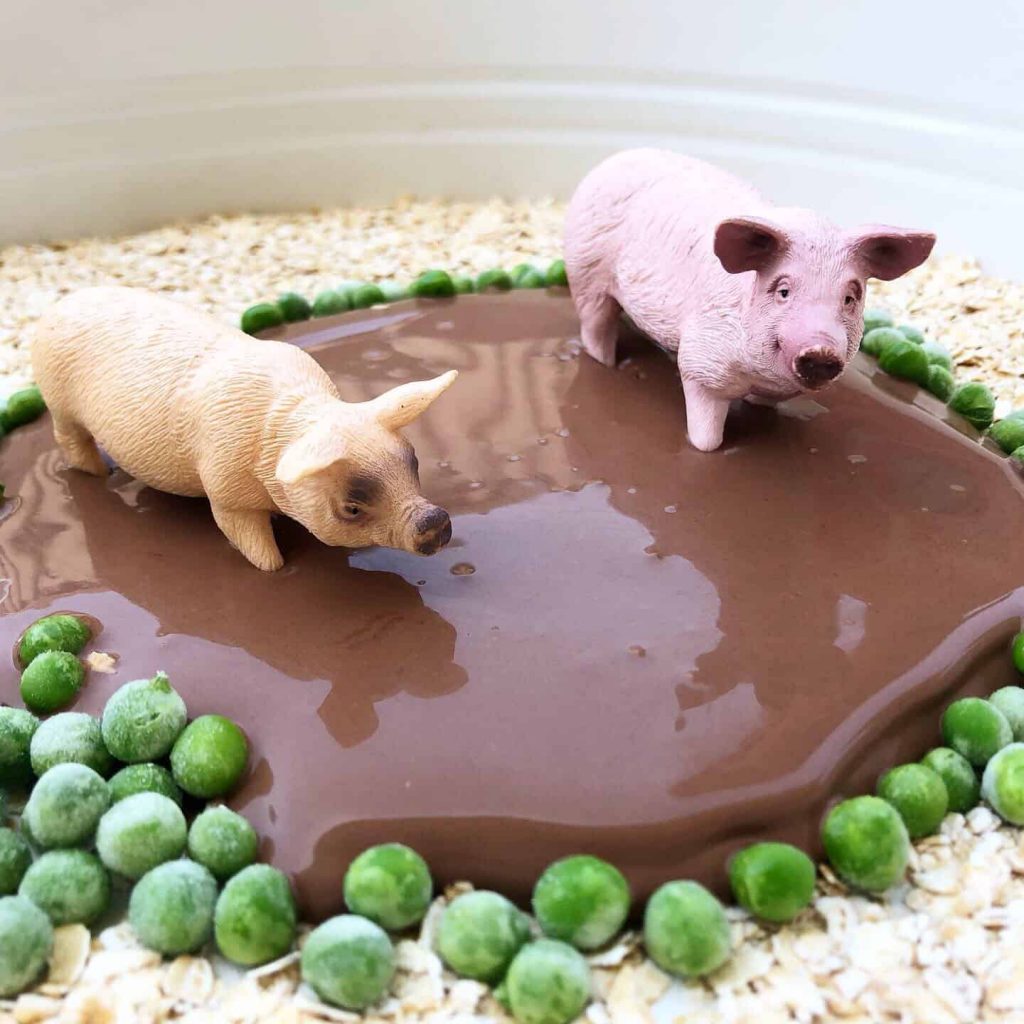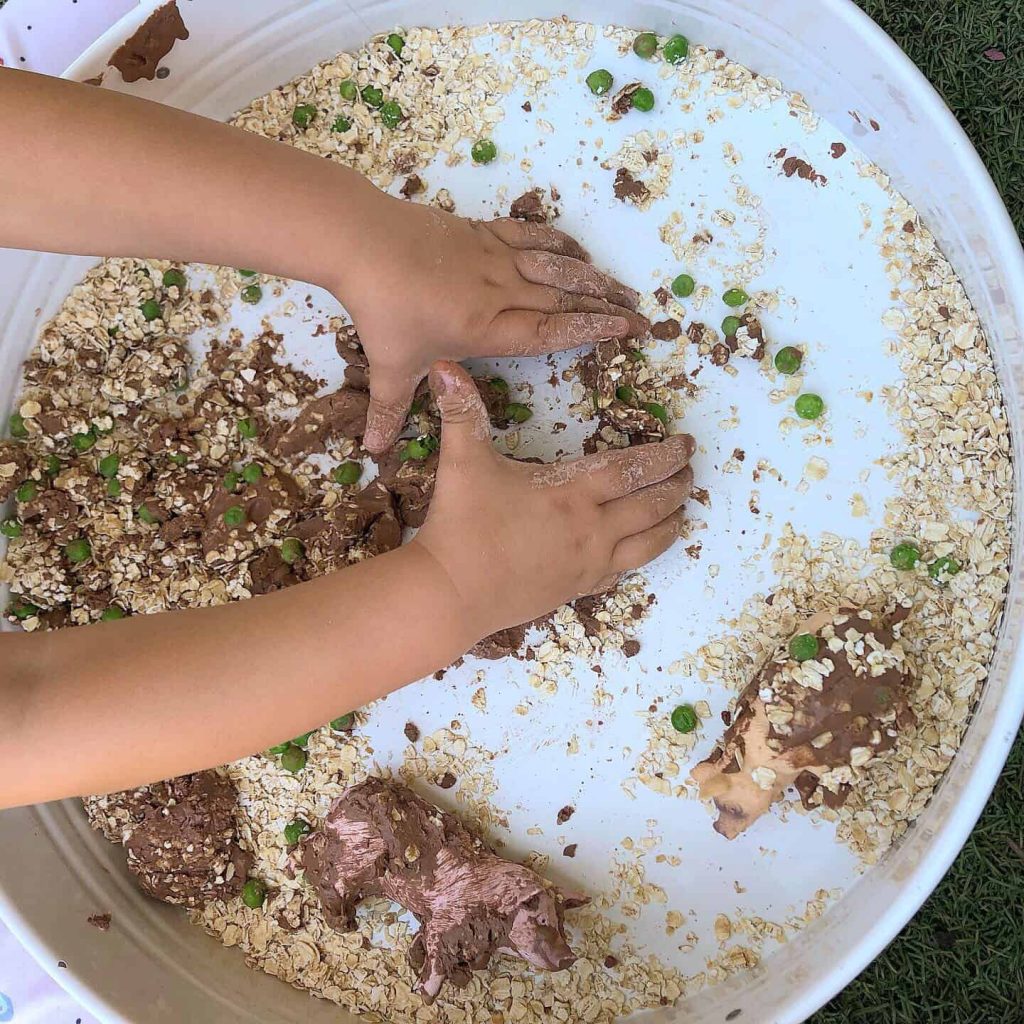 What is messy sensory play
Sensory play is always a hit at our house.
Stimulation via the five senses; hearing, sight, smell, taste, touch, provides so much information for a developing brain.
This being said, the sensory play doesn't have to be complicated. Our muddy pig sensory play tray is proof that sensory play can be easily set up and a fun way to engage your child in meaningful play!
Messy play is about the child taking the lead in their play and being given the opportunity to explore with their whole bodies. While primarily messy sensory play begins with their hands, more often than not, their entire body gets involved. This truly creates such an incredible learning experience.
Blooper aka Poopers
Truth be told I was a little hesitant in sharing these few moments of our play. In the name of transparency… here is Miss 2's 'log'. Insert facepalm, please!
She has been practising her recently discovered the skill of rolling 'sausages' and was thrilled when she realised that the mud could be rolled and moulded similar to play-dough. This brown sausage was a tail, a log that the pigs took turns jumping over and a wall for them to balance upon.
I don't know how toilet humour didn't come into play, but all while she was playing, I was wondering what tricks I could use her sculpture in to have a bit of fun with Mr 11 who would find it hilarious.
Fun filled clean up
What is better than making a mess?
Loads of bubbles to clean it up with!
A tub of warm water with a squirt of dishwashing liquid made the perfect clean up station for our pigs.
Miss 2 wiped them clean with her fingers, dunking them under the bubbles, examining them and then dropping her back under again!
Then, again the explorative play continued!
Water was splashed everywhere.
The tray was filled and within no time, our muddy puddle was a sludgy, gooey, squelchy wallow!
Miss 2 loved it!
Our muddy pigs were a huge hit! Miss 2 was disappointed when her play was cut short for school pick up. I think we are going to be revisiting this activity again and again.
Have you given it a shot? Feel welcome to share your recreation in our Facebook group – we would love to see your play too! I hope your family has as much as we have had!
More Muddy Pig Activities for toddlers and preschoolers
Muddy pig activities are so popular because kids just love them!
There is something relatable with just being dirty! Just quietly I don't mind splashing about in the mud myself, so I can't say I blame them!
Are you looking to further expand on the muddy pig theme?
Here are some more fabulous muddy pig activities!
Muddy Pigs Shaving Foam Painting
This muddy pig toddler sensory art activity is perfect for children who would really like to join in but prefer to keep their hands clean. The thin plastic of the ziplock bag is perfect at keeping their mittens tidy while busy hands still manipulate the colours and experiment with the shaving foam.
Who knows, this could be a stepping stone to having the confidence to slip a finger into the foam!
This muddy pig shaving foam activity is a great no-pressure, low confrontational way of including a sensory avoider into sensory play.
What you need for Muddy Pig Shaving Foam Painting
Paper pig (grab the free download!)
Scissors
Ziplock bag
Shaving foam
Pink paint
Brown paint
Ruler (optional)
How to set up your Muddy Pig Shaving Foam Painting Activity
Cut out the paper pig using your scissors
Place the pig into the ziplock bag
Squirt some shavign foam, pink paint and brown paint into the bag
Seal the bag and you are ready to explore!
While mixing the mixture together in the bag, your child will be having such a multi-sensory experience!
The shaving foam feels cool within their grasp, the colours blend before their eyes, the crinkle of the bag will fill their ears and the scent of the foam will trigger memories of this moment long after they have finished.
Once satisfied that the paper pig is covered in mud aka paint, open the bag and gently remove the pig.
This is when the ruler can be useful. Securing the kid with one hand, use the ruler in the other to gently scrape away the excess shaving foam and paint to reveal the pattern underneath.
Alternatively, simply leave the pig to dry with the foam.
Muddy Pig Finger Painting
Finger painting is so much fun! Teaming up this classic fine motor activity with a fun little pig is a great way to expand your play from the Muddy Pig Small World.
What you need for Muddy Pig Finger Painting
Paper Pig (get the free download above)
Scissors
Brown Paint
This is a super easy activity for your toddler or preschooler. Print your pig onto pink paper or add the extra fun of colouring your pig first!
How to set up your Muddy Pig Finger Painting Activity
Cut out the paper pig using scissors
Start finger painting!
Yup, two little steps and so much fun! Don't you just love these activities?
Meaningful, hands-on learning made fun!
With every poke of a finger, your child is strengthening their fine motor skills, refining their hand-eye coordination and sequencing events.
These are all vital life skills!
Not only are they valuable for school readiness, but they are also setting up your child with a great foundation to build other important lifelong skills.
Muddy Pig Clean Up
Cleaning up after getting your pig all messy can be just as much fun with bubbles!
Your child can have fun playing with their toy pig in some
real mud in the garden
taste safe mud in their play tray
chocolate oobleck recipe at the beginning of this article
Once the pig is all messy, it's time to get them squeaky clean again!
What you need for a Muddy Pig Clean Up
Muddy Pig
Shallow container or tray
Warm water
Dishwahing liquid, hand soap or bubble bath
Old toothbrush
Fash Washer
Hand Towel
How to set up a Muddy Pig Clean Up
Pour the warm water into the play tray or container.
Add the soap and agitate to make bubbles!
SImply provide your child with the tools and their pig for a clean up!
Once pig is clean, pat dry with the hand towel.
There are so many learning opportunities within this seemingly basic activity. Not only is your child learning practical life skills, they are also improving their coordination skills, cognitive thinking and motor skills to name a few.
Fine motor skills
Bilateral coordination
Hand eye coordination
Sequencing events
Logical thinking
Resilience
Experimental play
Muddy Pig Paper Craft
There is something exciting to toddlers about using glue. I mean, what could be better for a toddler than a tube of stickiness? That being said, it is so rewarding for them and us as parents to create art. Not only is art a form of self-expression, but there is also lots of learning happening too.
What you need for your Muddy Pig Paper Craft activity
Paper pig (get the free download above)
Pink paper
Brown paper
Scissors
Glue
Pink paper is totally optional. Use pink paper if you would like a pink pig. Pigs come in so many different colours. This could be a great way to introduce this fact to your child. Perhaps they would like a black pig, white pig, fawn pig or spotty pig!
How to set up your Muddy Pig Paper Craft activity
Cut the paper into small pieces. These can be uniformed shapes to expose your toddler to a shape of the day, or simply odds and ends to create a puzzle of different shapes to use.
Glue the 'pig colour' pieces onto the paper pig first.
Once the pig is 'coloured in', time to make pig muddy by gluing on the brown paper pieces!
This activity can be used as a strategic way to encourage your toddler to cross their midline. That is moving a limb from one side of their body, across the middle of their body to the opposite side.
Yes, this is a skill that needs practising.
Play and crafts such as these ones are a great way of presenting an opportunity for your child to practise this skill.
Simply position the paper pieces on the side opposite to your child's dominant hand. So a right-handed child would have the paper positioned on their left side. A left-handed child would have the paper pieces positioned on their right side. Such a simple adjustment can have huge benefits to your child's learning!
Muddy Pig Wipe Up Station
Every adult knows that wiping up is a daily task… oh don't we know it!
Our toddlers can get hands-on experience with this practical life skill by helping out at home.
Toddlers love helping out like big people!
They get so much satisfaction from a task that us adults… well… excited isn't the exact word I would use.
We have created another activity to further encourage the development of the art of wiping up. It takes a few minutes to set up and the same board can be used over and over again!
What you need for a Muddy Pig Wipe Up Station
Paper pig (get the free download above)
Scissors
Piece of thick cardboard
Packing tape
Mud
Cloth
Dish of warm water
Crayons (optional)
This is a versatile activity. Basically what we are doing is making our pig muddy so piggy can be wiped clean. With what your pig gets muddy with, well that's up to you. Some things you could be inspired to use include
chocolate oobleck
washable brown marker
real mud
paint
chocolate custard / pudding
How to set up your Muddy Pig Wipe Up Station
Decorate your pig. Using the crayons, your toddler can colour in their pig to their liking. Getting kids involved in the set up of an activity gives them the opportunity to invest in it. This investment is going to increase the likiness of the activities success.
Position the pig to the centre of the piece of cardbaord
Cover the cardboard with tape, wrapping the tape around the side of the board as well as the front.
Apply your mud of choice or better yet, have your toddler do it!
Time to clean up our pig! Using warm water and cloth, wipe the pig clean.
There are a couple of approaches you could take with this activity.
Either demonstrate to your toddler how to wipe up the mud from the pig or alternatively simply ask them to and let them experiment to see what works for them.
There is value with both approaches.
Different children will respond to each scenario differently.
Choose a method that will appeal to your child's interests, ability and learning style.
The beauty of this activity is it is so quick and simple to set up, is engaging and fun and reusable. once the wipe-clean board has been made, it can be reused over and over again!