Sensory play is always a hit at our house. Stimulation via the five senses; hearing, sight, smell, taste, touch, provides so much information for a developing brain. This being said, sensory play doesn't have to be complicated. Here is an easy set up, fun way to engage your child in meaningful play!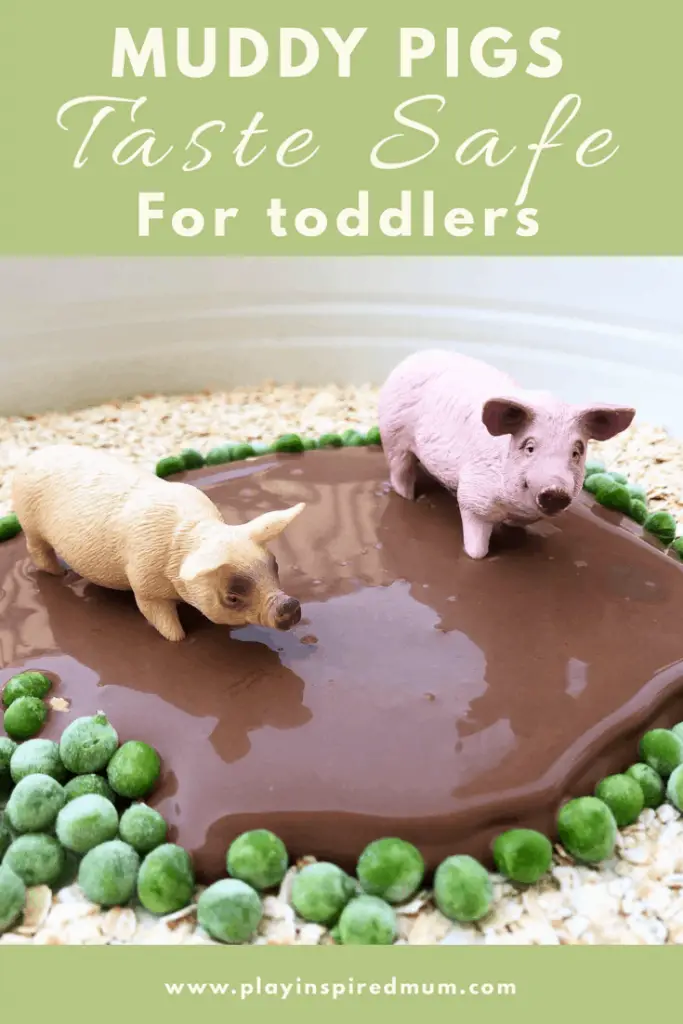 Muddy Pigs Small World Sensory Play
Miss 2 decided to skip her nap today. To fill in the hour and a bit that she would usually be sleeping, we had some sensory play fun! Our animal figurines were out on show after a zoo set up before school this morning. Hello, small world inspiration! With a fresh bag of cornflower on the bench, it just had to be oobleck!
Have you read about the science behind oobleck? Read about it here!
How to make your Taste Safe Mud aka Chocolate Oobleck
Typically, we make out oobleck quite wet however this can prove rather challenging for Miss 2 to navigate. For this reason, we made our chocolate oobleck mud quite thick.
What you need is
1 cup Corn Flour (bake your flour to make it taste safe- learn how here!)
2 Tablespoons Cocoa / Cacao
3/4 cup Water
Bowl
Spoon
Chocolate Oobleck is so easy to make. Simply throw all the ingredients into a bowl and mix until smooth. Yup – thats it! Reckon you could do it?
Setting up your Muddy Pig Small World Sensory Play
This small world is being kept taste safe. Miss 2 is still putting everything in her mouth. I just cannot risk her putting commercial slimes in her mouth which is one of the reasons why we just love creating our own at home. With our mud made, we kept the rest of the scene taste safe too!
What we used:
Play tray (this one is from Kmart)
Rolled oats
Frozen Peas
Pigs ( Miss Pink Piggy is Scheich, Miss Peachy Pig was in a farm tube from Big W)
To set up your small word, simply scatter your oats around the outer edge of your tray. Pour the oobleck in the middle of the tray. Sprinkle your frozen peas around the edge of your oobleck. Position your pigs and you are ready to play!
Exploring your Muddy Pig Small World Sensory Play
I presented Miss 2 will this play tray for her the lead her own play. When she saw the scene, her fingers started twitching to scoop their way through the mud almost straight away!
After a gentle poke here and there, it didn't take her long to delve in with open hands. While she was playing, I was commentating her play and asking her questions
Why are you doing that?
What do you think will happen when you do that?
Have you done anything like this before?
Who else do you think might enjoy sharing this with you?
Asking her these questions encourages her to consider different idea, build her play and develop her comprehension of what she is doing. Not to mention affirming her and building our bond and lasting memories!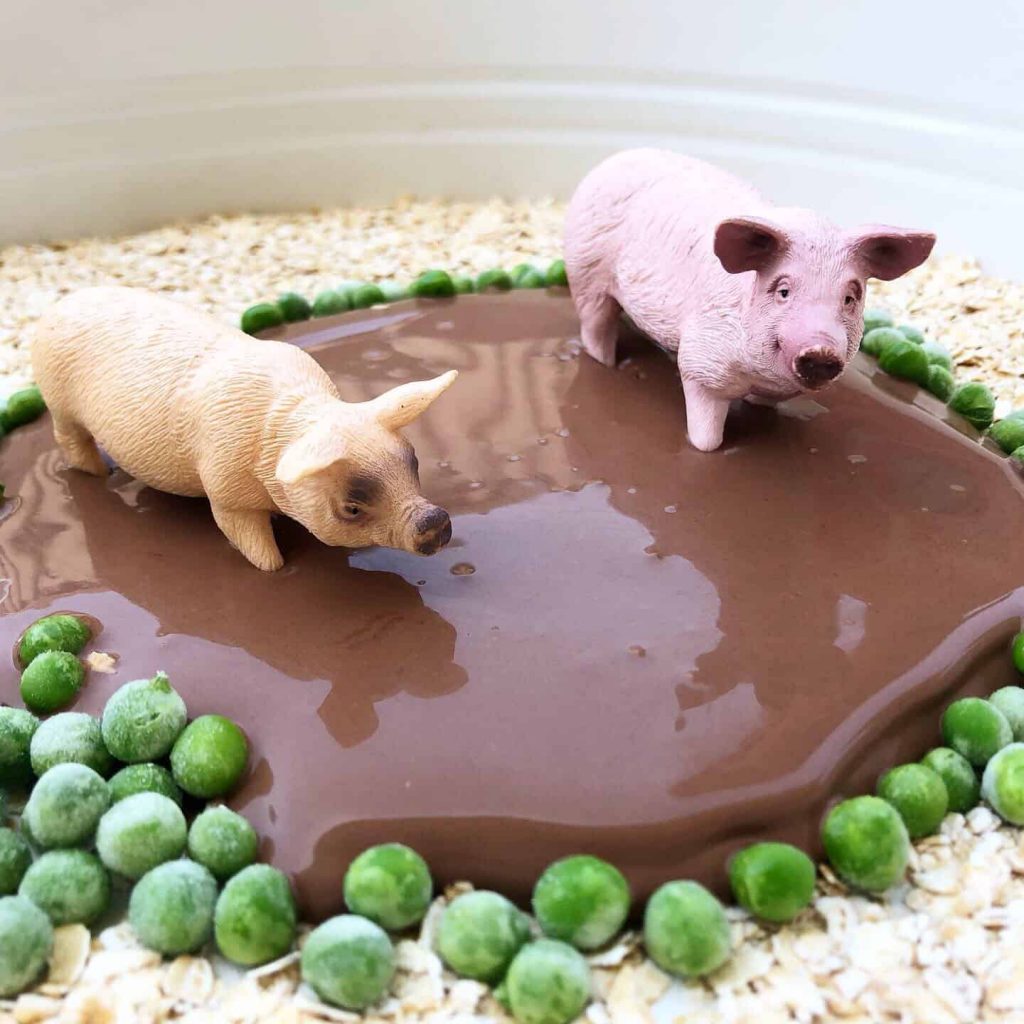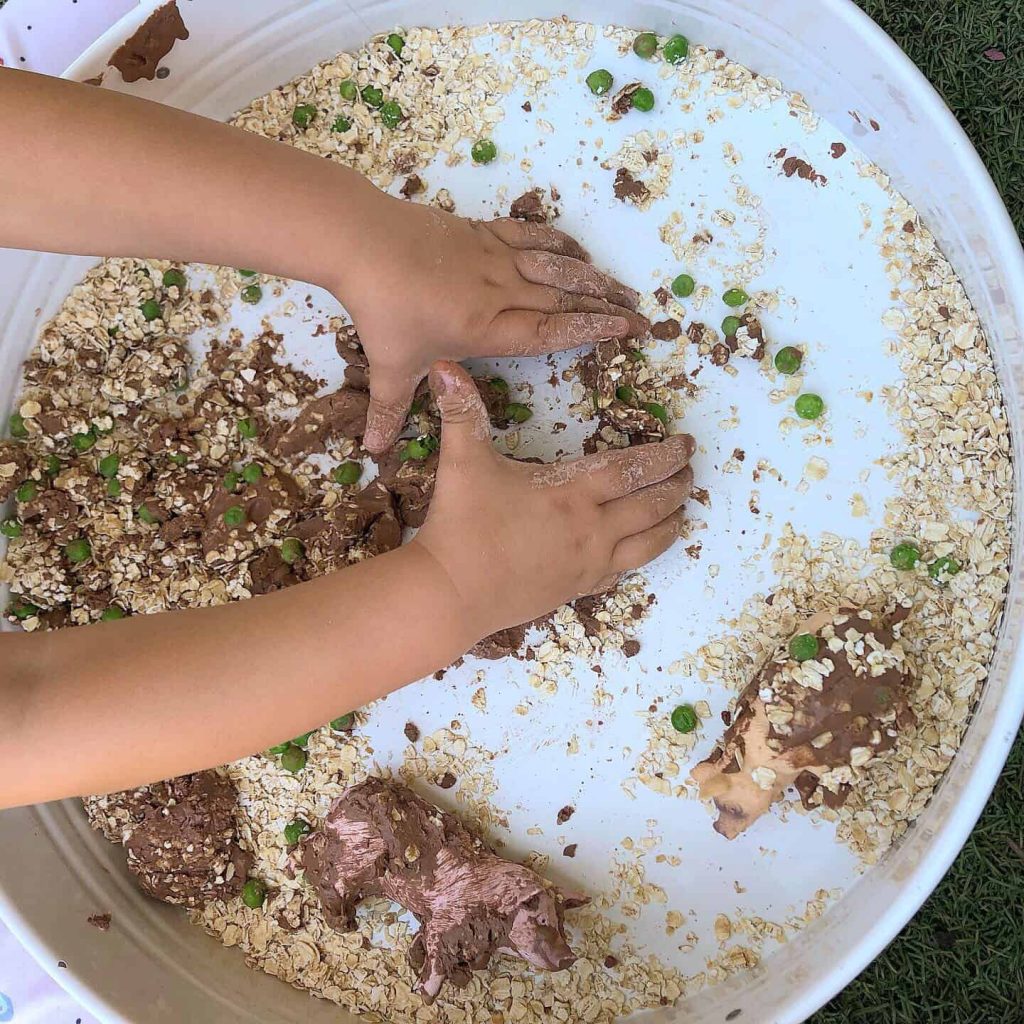 Blooper aka Poopers
Truth be told I was a little hesitant in sharing these few moments of our play. It the name of transparency… here is Miss 2's 'log'. Insert facepalm, please! She has been practising her recently discovered skill of rolling 'sausages' and was thrilled when she realised that the mud could be rolled and moulded similar to a play dough. This brown sausage was a tail, a log that the pigs took turns jumping over and a wall for them to balance upon.
I dont know how toilet humour didn't come into play, but all while she was playing, I was wondering what tricks i could use her sculpture in to have a bit of fun with Mr 11 who would find it hilarious.
Fun filled clean up
What is better than making a mess? Loads of bubbles to clean it up with! A tub of warm water with a squirt of dishwashing liquid made the perfect clean up station for our pigs. Miss 2 wiped them clean with her fingers, dunking them under the bubbles, examining them and then dropping her back under again!
Then, again the explorative play continued! Water was splashed everywhere. The tray was filled and within no time, our muddy puddle was a sludgy, gooey, squelchy wallow! Miss 2 loved it!
Our muddy pigs were a huge hit! Miss 2 was disappointed when her play was cut short for school pick up. I thin we are going to be revisiting this activity again and again.
Have you given it a shot? Feel welcome to share your recreation in our Facebook group – we would love to see your play too! I hope your family has as much as we have had!
Dani D x
Disclosure: This Blog does contain affiliate links which I may earn a small commission from if you purchase through them, at no extra cost to you.