Disclosure: This blog contains affiliate links which I may earn a small commission from if you purchase through them, at no extra cost to you.
A DIY ball run is a great way to entertain your little ones.
Hands up if you have some toilet rolls lurking around the house somewhere *raises hand*. Our house certainly presents the opportunity for a DIY toilet roll play idea pretty regularly! This play hack is so simple to set up and can put those tubes to good use!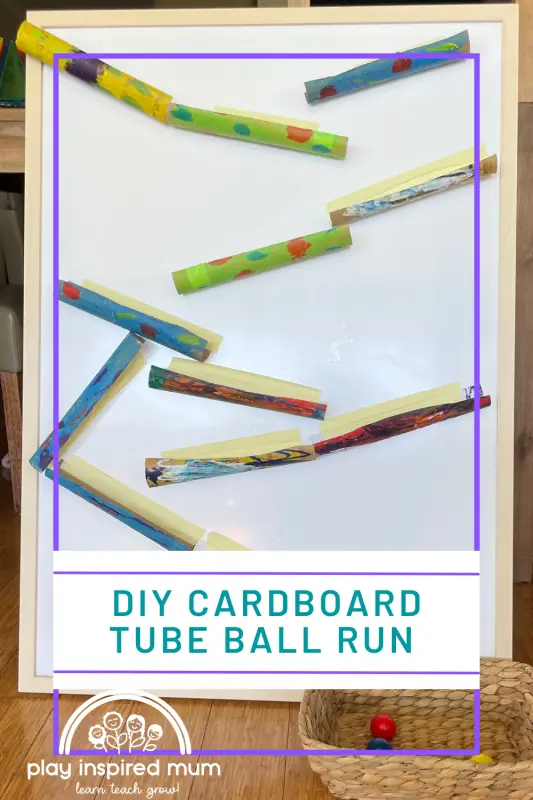 DIY Cardboard Tube Ball Run
Toddlers thrive with creative play time! using basic household items into a fun play idea, encourages your child to think outside the box. Creative play inspires imagination, ingenuity, problem solving skills and resourcefulness!
Building a DIY ball run with your kids is easy, and it will give them hours of entertainment.
What is a ball run?
This DIY ball run uses cardboard tubes and masking tape to create an obstacle course that they can drop their ball into and watch it travel from one tube to the next.
DIY ball runs are amongst our favourite play ideas because they don't require any tools or glue. One of the highlights of this toddler play idea is that it can be built and ready to play within minutes without any fancy resources needed!
You don't even need a ball! A scrunched up piece of paper or a pebble can be used to make one if you are short! As long as it rolls and fits, you're good to go!
DIY ball runs are DIY, which means do it yourself. This one is so easy to set up, you can definitely include your child in the set up! Memories ready for the making!
Where to buy ball runs?
Not into DIY? That is totally okay. There are so many ball run type resources available to still enjoy and benefit from in your home. These all make for great gift ideas – especially from two upwards!
Here are our top favourites that can be delivered right to your door!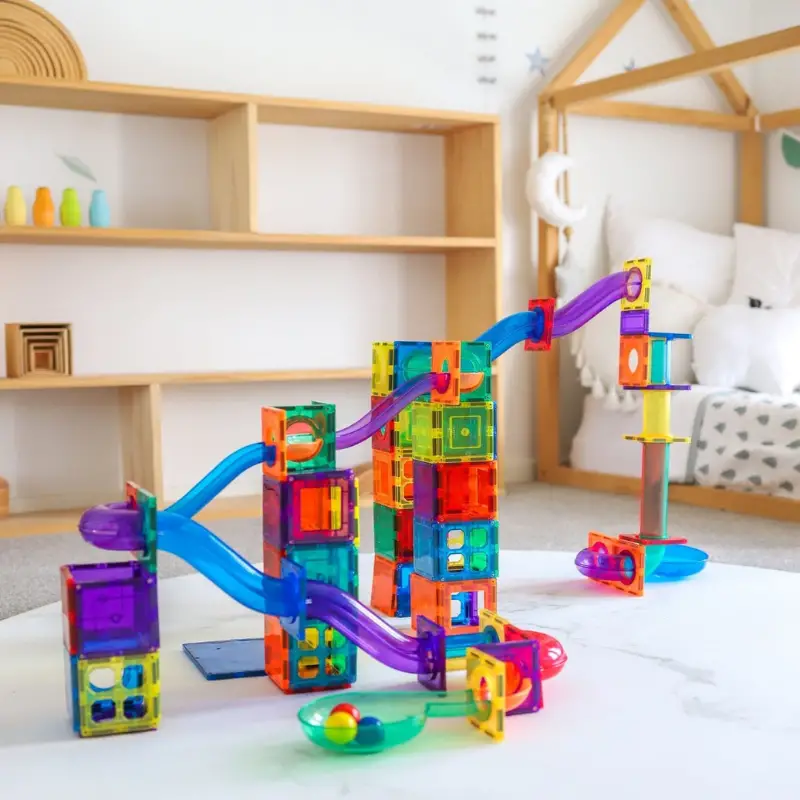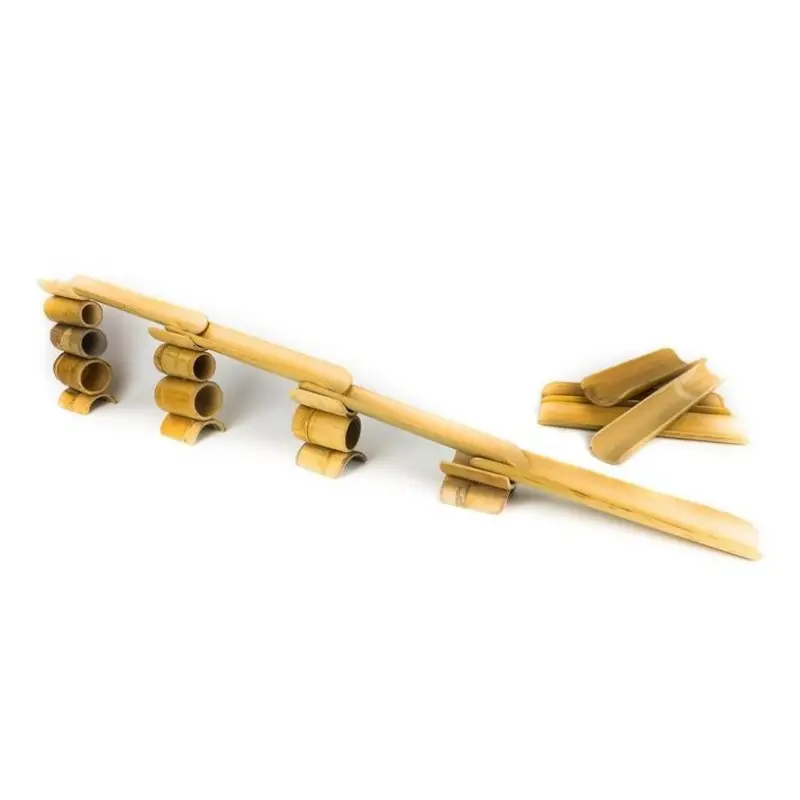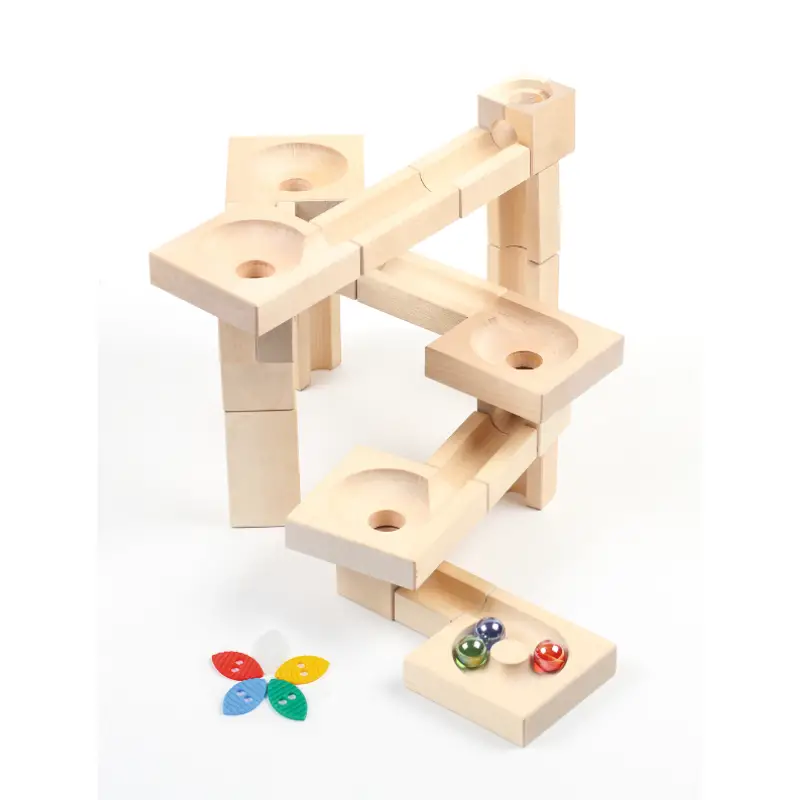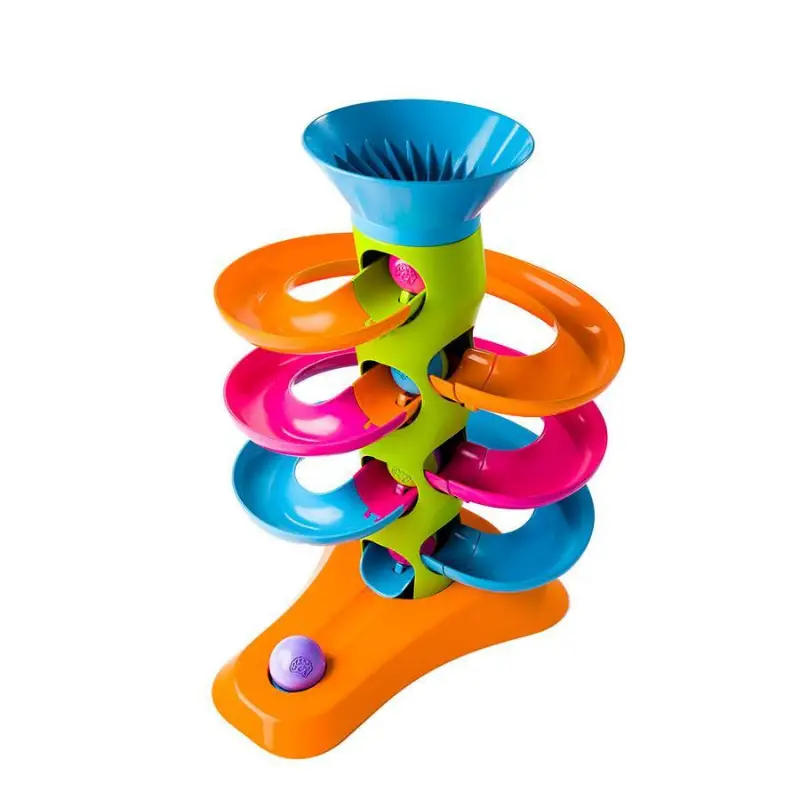 Our pick would be the Learn & Grow Magnetic Ball Run
The Learn & Grow Magnetic Ball run has been a solid favourite in our play space since it was launched. We spend hours every week building together. The older kids love creating elaborate designs and Mr 16 months loves watching the ball rolling along the tubes before he destroys runs – oops!
Just writing this takes me back to when Mr was only a wee lad, just beginning to grasp onto things. Miss 6 made him a little ball rattle for him to play with. He loved it! It was like Saturn with balls rolling inside the rings. Its memories like that, which make these toys so special – that is not to mention all the other benefits. That however, is a story for another day.
In short the reasons why we love it are
Strong Magnets
Easy clip in ball run tubes
Variety of tube styles
Brightly coloured tubes (who doesn't love a rainbow?)
So versatile!
How do you make a ball run at home?
You can make DIY ball runs out of boxes, paper towel tubes or any other cylindrical objects.
These DIY run ideas will give your toddlers endless fun! Just find not to leave the paper towel within reach. If yours are anything like mine, they will become so 'helpful', mopping up skills or cleaning windows, purely to access the tube within!
Getting kids involved in the setting up process is a great way of having them invest their interest in the project. They are more likely to take ownership and engage with the end result.
Let them decorate the bottom of the box with markers, crayons or stickers if they'd like too. Paint sticks are one of our favourite to use. The colour pay off is incredible, they dry super fast, super simple to clean up after and its pretty challenging to mix colours. Mummas, you hear me on the one there, right? Hashtag, save the colours!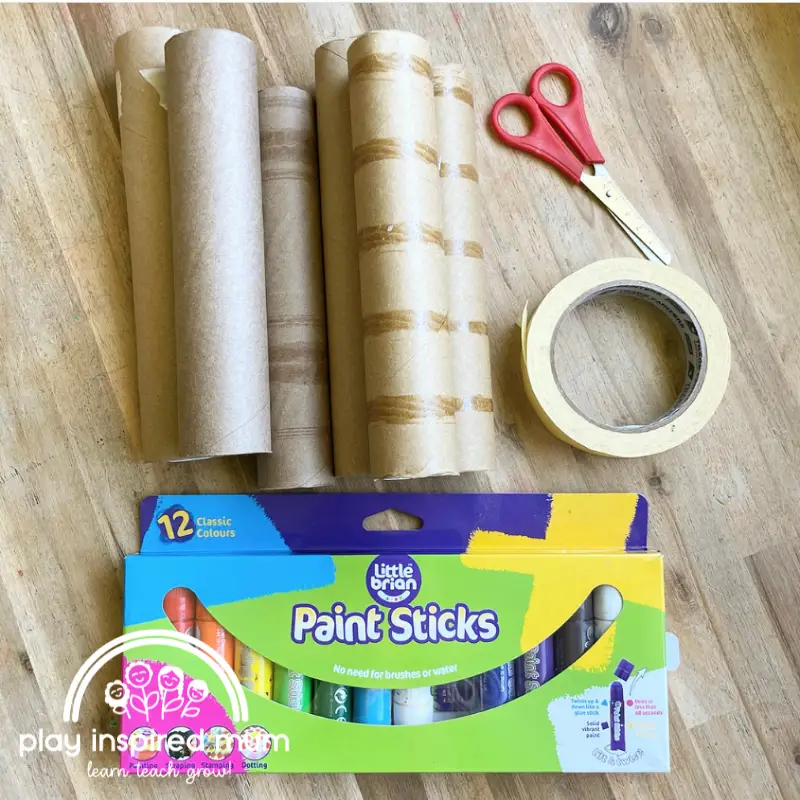 What do you need to make a ball run?
DIY ball run DIY is not hard, you just need some painters tape and cardboard tubes or paper towel rolls or cylindrical objects.
Adding additional sensory elements such as coloured rice or chickpeas can also be used in your ball run. Listening to the grains, watching them fall can be grounding and so satisfying to observe.
To create our ball run, we used:
cardboard tubes
scissors
masking tape
balls
paint sticks (optional)
We used the balls from our Learn & Grow Ball Run. That being said, the girls loved experimenting with other items they could find in the play space. They tried balls of different sizes, wooden toy fruit, cars and wooden blocks.
To make our ball run portable, we fastened ours onto a perspex poster frame. This number is just a cheap from Kmart and has been awesome for vertical learning activities such as this.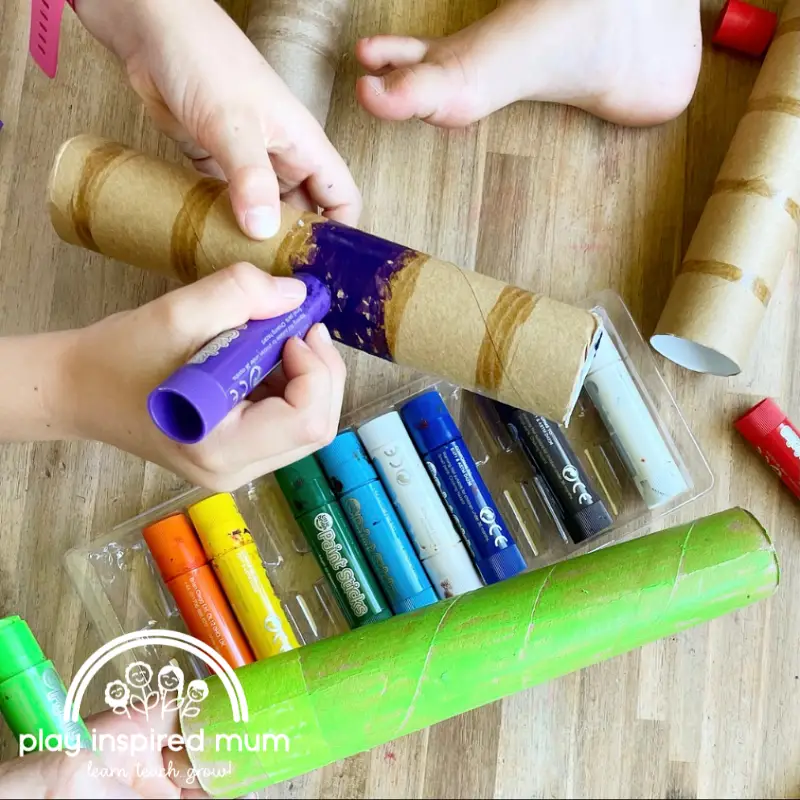 How to make a cardboard tube ball run
Decorate your tubes: We used paint stick to decorate our tubes. They are amazing! We use paint sticks for so many projects. our tubes were ready to cut within a few minutes- that's how fast the paint sticks dry
Cut the tube in half: Cut the length of the cardboard tube in a straight line so have two equal lengths. Gently press them back into shape if they have flattened while being cut.
Assemble: Using the masking tape position the tubes so that the balls drop from one to another, from top to bottom.
Ready for play!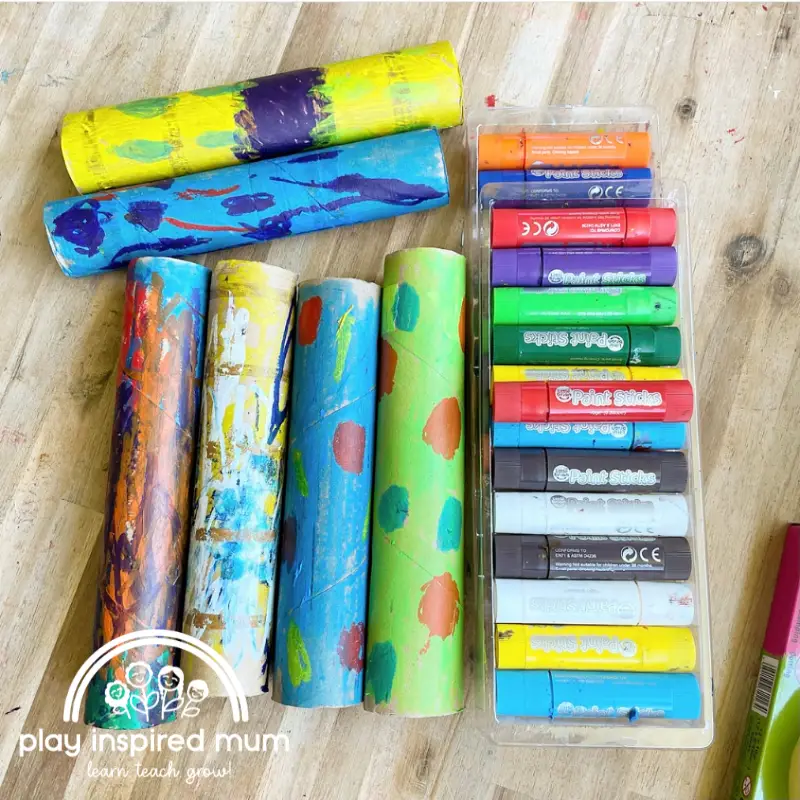 If you are choosing to decorate your cardboard tubes, do this before cutting them. This helps the tubes retain their roundness. I found the tubes that we have cut before decorating seemed to get pressed flat. This isn't a huge problem as they can be pressed back into shape.
Assembling the ball takes a lot of trial and error. Start from the top and test as you go, making adjustments as need be.
Miss 7 was in her element setting up our ball run. Her and Miss 4 were completely engrossed in setting up the ball run for Mr 16m whilst he was having a nap. They communicated ,amicably, worked through some hiccups and really got excited with each tube that worked out!
When he woke up, Mr 16m watched his sisters have a few turns before joining in himself. He loved watching the ball. His tracking skills visibly improved with only a few drops of the ball. The predictability of the activity seemed to assist with his tracking skills.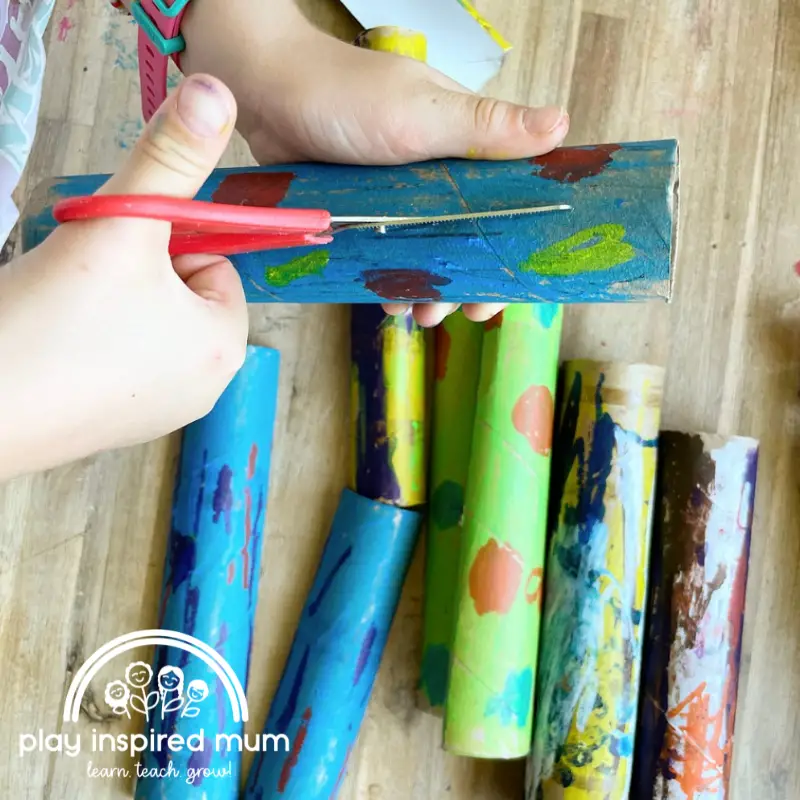 What can I use instead of a marble ball?
You don't even have to use balls either. Other than the fill ins mentioned above, there are other items around the house you could use too!
If your toddler loves trucks, you can line up toy cars of all different sizes so it looks like they're ready to drive through the tunnels. Toddlers love using their cars in ball runs because they feel like actual race tracks that will carry them speedily across the finish line each time they play.
Traditionally, the ball of a ball run is typically much like a marble. Due to the risks, I personally would not be comfortable giving my toddler a marble aka potential hazard, to play with. There are so many safer alternatives! That being said, supervision is still always a must!
Other things you can use instead of a ball include:
Ping pong ball
Grapes, blueberries
Rock or pebble
Gumnuts
Beads
DIY Corn Flour Clay Balls
If it rolls and fits, sounds like it will be perfect for you ball run.
Better yet, why not try a few different 'balls'. This could easily be turned into a little experiment! What goes down quicker, the ball or rock? Make a predication, test the theory and then reflect on the findings.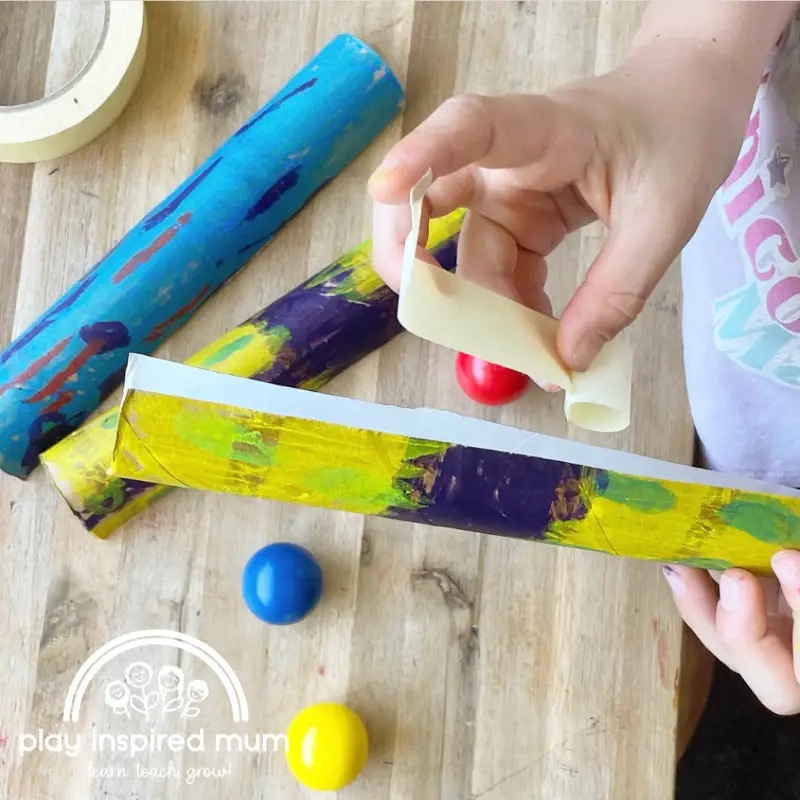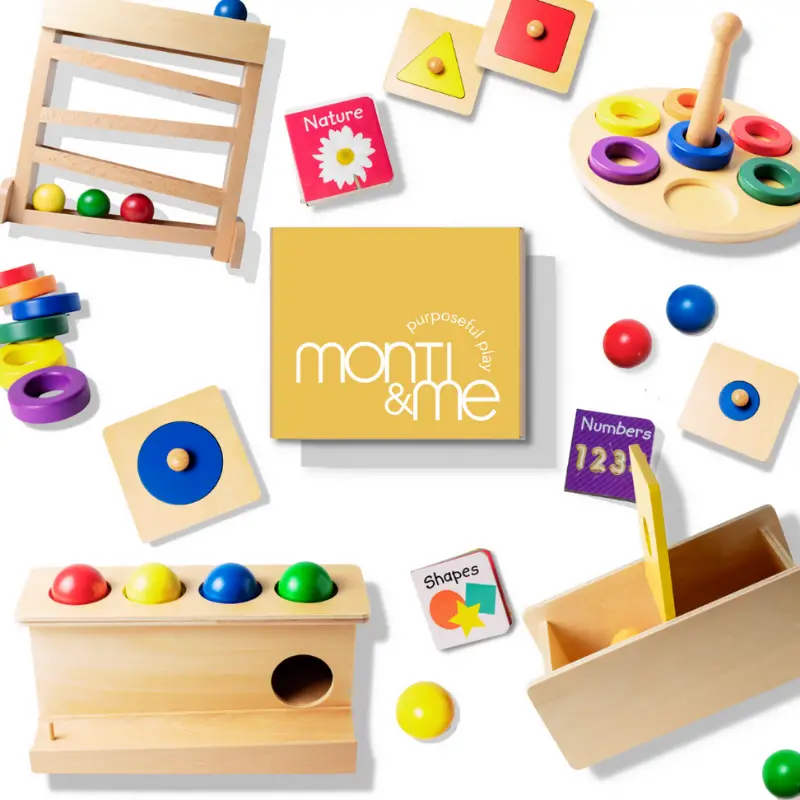 Why kids love playing with ball runs
"They are really fun to play with. Building it before you put the ball in. Listening to the ball go down- it's exciting. Watching the ball go down the ball run, wondering if the ball will make it all the way down without falling off."

– Miss 7, Learn & Grow Magnetic Ball Run Lover
Benefits of play with ball run for toddlers
Toddlers who play with DIY ball runs will be presented with the opportunity to develop and refine the following benefits:
improved hand-eye coordination
increased physical activity
cause and effect learning
improved visual tracking
opportunity to explore their creative side
strengthened problem solving skills
increased visual tracking skills
constructive communication
increased resilience
This really is play based learning amongst the best of learning experiences! Engaging your child in meaningful play experiences such as this easy play idea, is a sure way of concreting so much learning.
Kids thrive when they are doing something they enjoy. My two bigger kids loved being able to make something (and enjoy the process) for their little brother.
These ball runs can be made within minutes and really are so much fun for all age groups!