Disclosure: This blog contains affiliate links which I may earn a small commission from if you purchase through them, at no extra cost to you.
Colour matching pop stick posting is a fun little activity that presents many learning opportunities for your toddler!
Toddlers love poking things into all sorts. This is a fun way to harness this milestone skill with added learning too!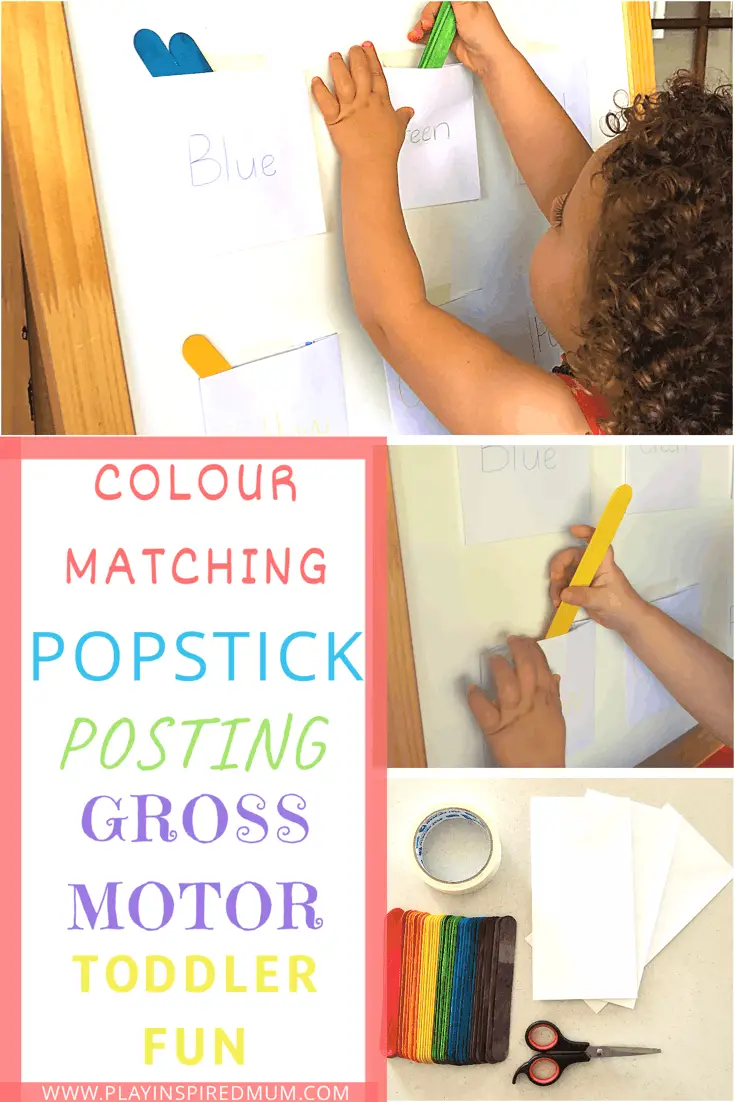 Colour Matching Popstick Posting Toddler Fun
So the other day, I was wondering what type of activity to set up for Miss 2 before her nap.
We didn't have much time before her routine nap time so I was needing something quick to set up and engaging enough to keep her interested with her shorter attention span after being up since the crack (oh I'm not even kidding) of dawn.
My first thought was pom pom posting but we have done quite a lot with pom poms lately so we came up with a new take on a long-time favourite.
Typically we would pop pom poms into bottles, egg cartons, a hole in a box – practically anything! Miss 2 loves posting activities!
After our popular Vertical Tape Rescue, I thought we would take our posting activity to new heights too!
The brief is seemingly simple. Put the coloured pop stick into the corresponding pocket.
For us adults this asks may seem quite basic.
For our toddlers, there are a few steps that need to be performed in order to complete this task which is not as much of a second nature for them as it is for us oldies.
What you need to set up Colour Matching Pop Stick Activity
One of the perks of this activity is that you probably already have all you need right at home. We used:
3 Envelopes
6 different coloured popsticks ( sourced craft store or colour in your own)
Scissors
Masking Tape
Coloured Pencils / Textas
How to Set Up Your Colour Matching Popstick Posting Toddler Fun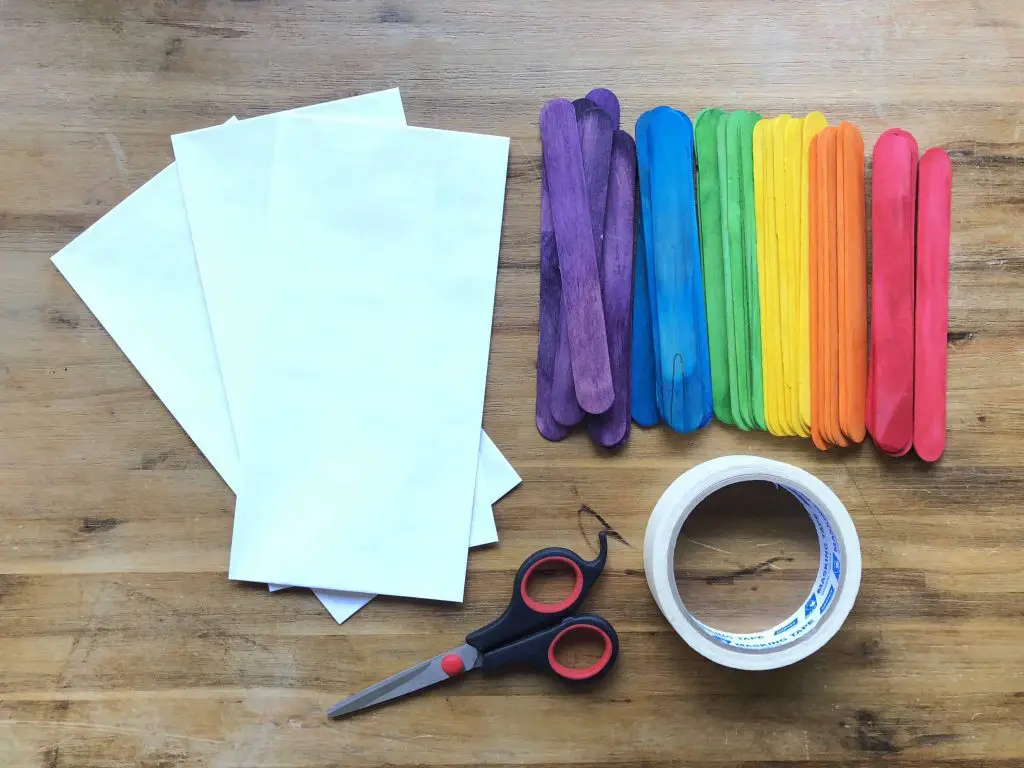 Getting Started
The child needs to:
Pick a popstick
Identify the colour
Locate and Identify the corresponding pocket
Post the popstick into the pocket
To start with we sealed the envelopes (ours are self-adhering otherwise just use some tape) and then snipped them in half to create 6 pockets.
We then used our masking tape to stick them onto the surface of our easel and then wrote each of the names of the coloured pop sticks using that colour pencil. Eg. The pocket intended for the red pop sticks had 'Red' written on it with a red pencil.
We stuck ours onto our easel however you could use any vertical surface. Be mindful of paint and surface finishes before applying the tape. We use our glass sliding door for vertical activities as it's so easy to clean up afterward.
Benefits of vertical play
Why did we stick them onto a vertical surface?
Well, the intention was to create a little upper body exercise and gross motor workout while playing.
As the child is raising their arms they will be using different muscle groups and motions compared to those they would be engaging in if the same activity was performed on a tabletop surface.
Gross motor skills can have a large impact on the development of other skills. Pretty cool isn't it?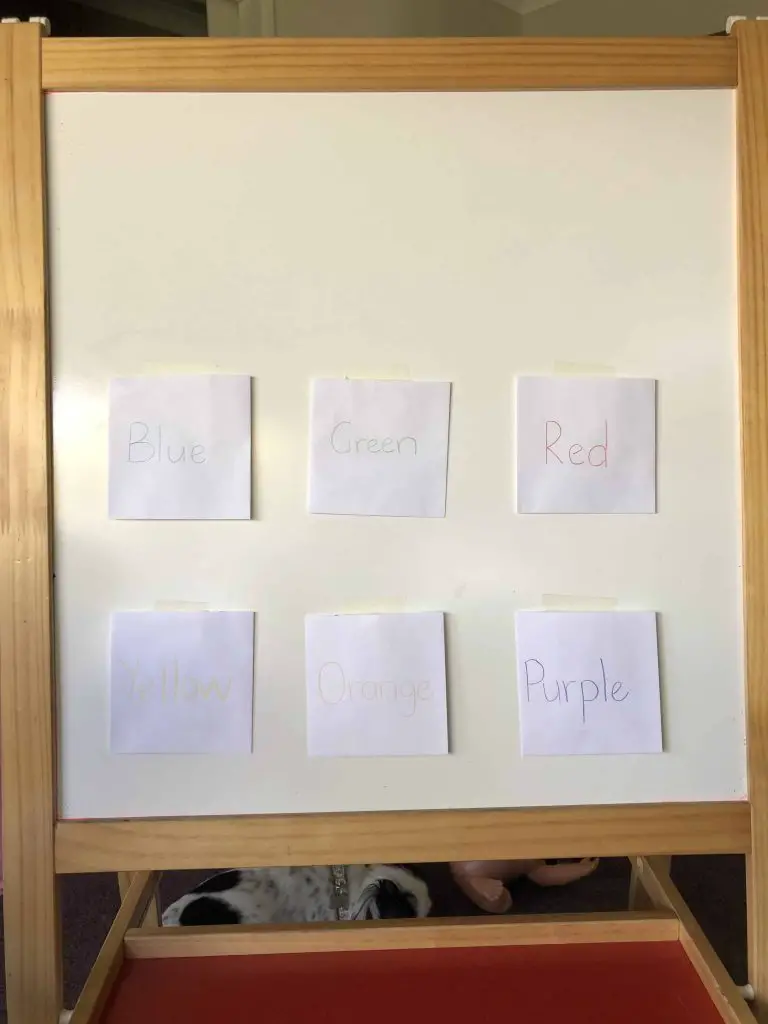 How to Play Your Colour Matching Popstick Posting Toddler Activity
Miss 2 had watched me set up this activity.
Throughout the setup, we were talking about what the goal of the activity was, and what colours we were using as I was writing the names on the envelopes and she helped to tape them to the board.
When it was time for her to choose her first pop stick, she was so excited!
I truly love the excitement these tasks bring to this age.
We adults can learn so much about gratitude from children – just thought I would throw that out there.
Her fingers were twitching and she was so pumped to get started!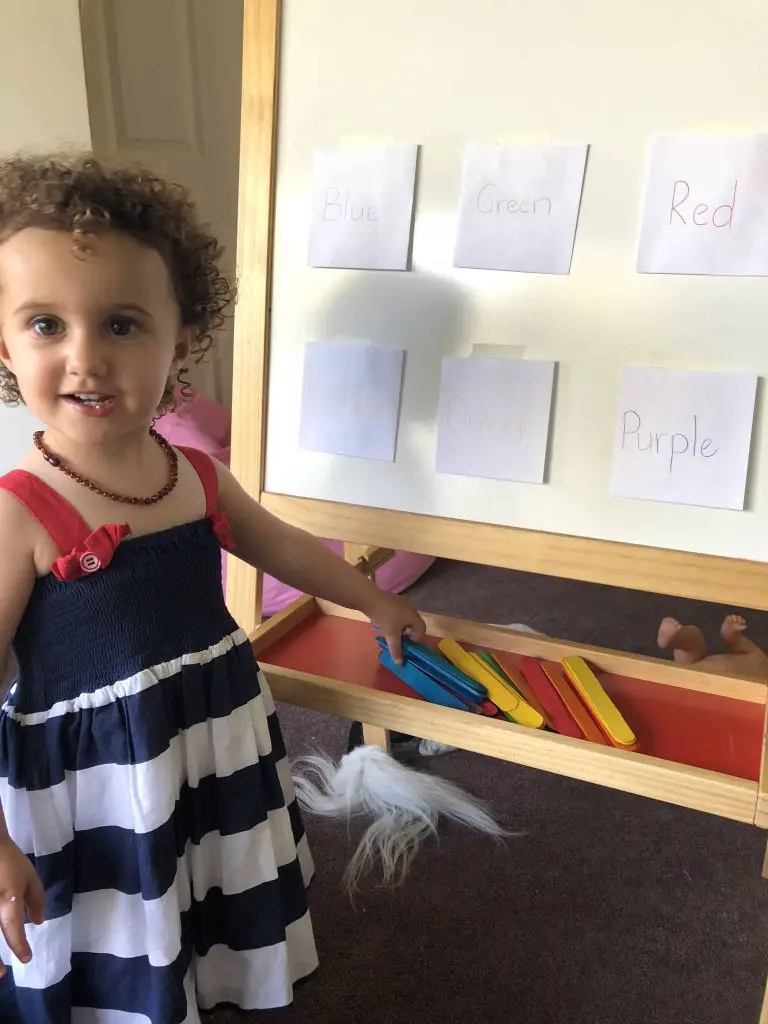 Before Play
Before letting her loose, we pointed to each set of coloured pop sticks and named them. Firstly I told her what colour they were and then she mimicked what I had said. Once we had run over the colours of the pop sticks, we did the same with the pockets.
As her hand grasped that first pop stick, she lifted it up towards the first pocket with the most adorable smile on her face.
Before slipping the pop stick into the opening, she looked at me for reassurance about her choice. Once her selection was confirmed to be correct, she dropped the blue pop stick into the pocket labeled blue.
From there she powered through the pop sticks – popping them into the pockets with a giggle and then looking over to me for praise and affirmation. She loved it!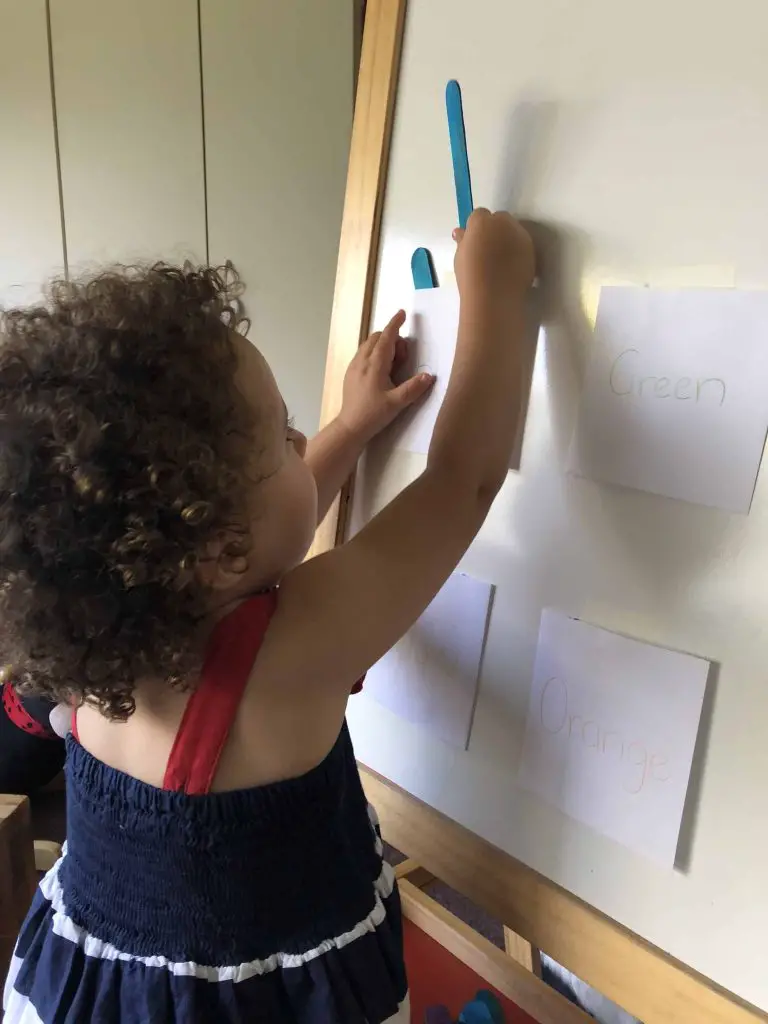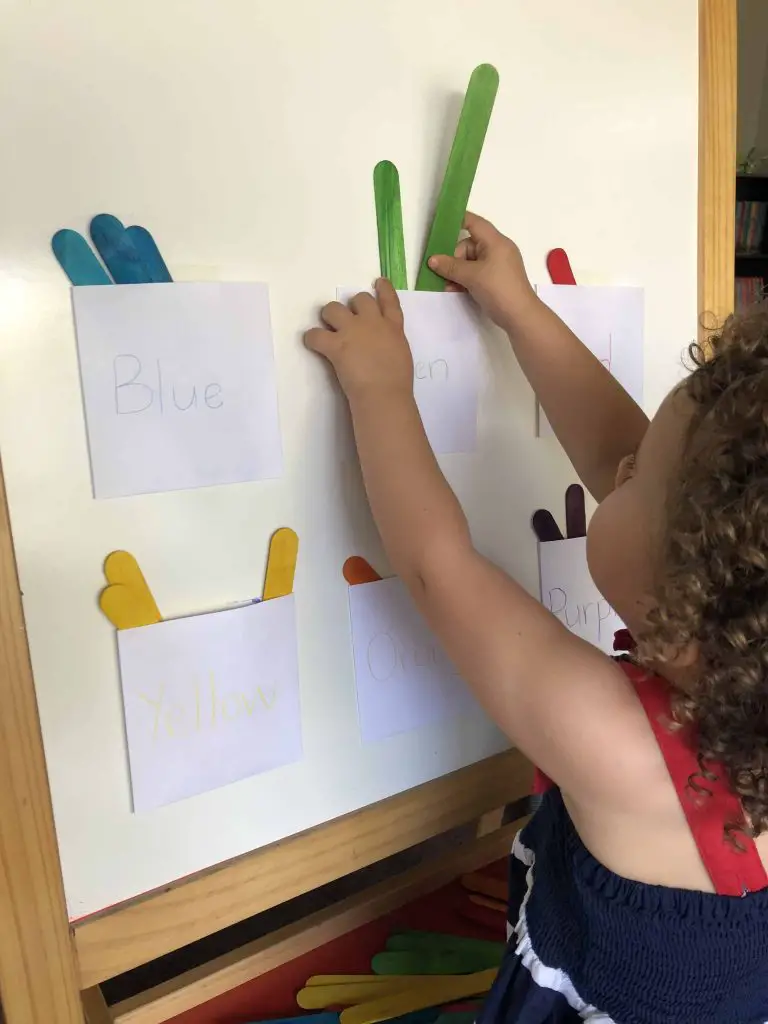 Matching the coloured pop sticks with the writing on the pockets kept her attention long enough for her to post most of the pop sticks.
Come close to the end of the activity, she switched roles with me and took on being the mentor, testing me by slipping pop stick into the incorrect pockets. With a cheeky look on her face, she would ask me if "This right mummy?" before laughing and placing the offending pop stick into the correct pocket.
Educational Benefits
While the main objective of this activity was to match the colours, there were other areas of learning that came to light too.
Hand Eye Coordination
Gross Motor Skills
Grasping
Logical Thinking
Bilateral Coordination
Ordering Events
Conversation Starters
While posting, we discussed:
Names of the colours
What else is blue (etc) in the room?
How many blue popsticks are in the pocket now?
Which pocket has the most popsticks?
Which pocket do you think we will finish first?
How does the popstick feel?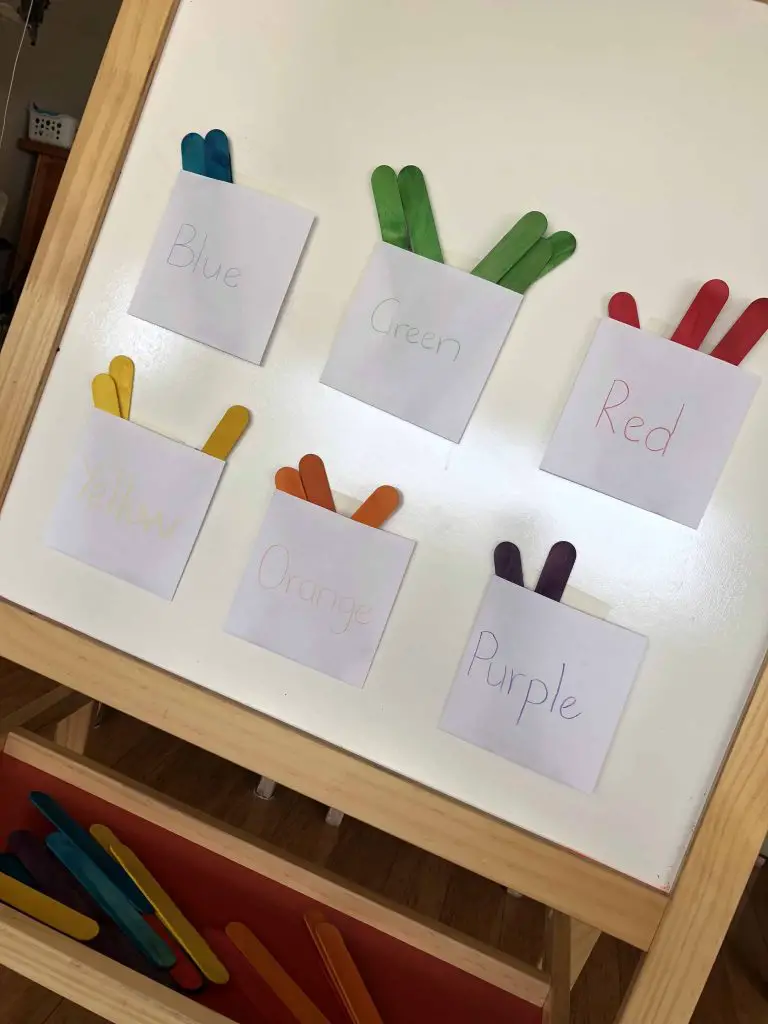 As an activity to fill the time before a nap, this was a hit! Even once Miss 5 came home from school that day, she jumped at the chance to have a go herself. Not bad for a couple of envelopes and some coloured pop sticks.
Feel welcome to share your experience with this fun activity in our Play Inspired Mum Facebook Group!
I cant wait to see your interpretation of this fun learning activity!
Keep the Colour themed conversations flowing with these fun books about Colours!