Disclosure: This blog contains affiliate links which I may earn a small commission from if you purchase through them, at no extra cost to you.
Have you been considering a soft touch Relax Mat tatami rug for your child's play space?
Here is our comprehensive Relax Mat by Muscle Mat review to show you why our Relax Mat has quickly become such a valued addition to our play area. In this review, learn what a tatami mat is and all the benefits that it can bring to your home.
Muscle Mat Relax Mat Australia Review
We were kindly gifted a Relax Mat by Muscle Mat for the purpose of our review. All opinions expressed are our own and based upon our experience with the Relax Mat, and Muscle Mat customer service team.
There are many factors that come into play when choosing a mat for your playroom. A few that were important for me are functionality, cleanability, and safety. 
High priority attributes for a play mat included protection for both the children and the carpet (yes, game to have carpet in a playroom), a surface easy to clean up crumbs, spills, and pet fluff (cat, bunny, and guinea pig fluff to be exact) and lastly something sturdy that does what it claims to do. Oh, and the play mat needs to look good in the space too.
I had seen soft-touch tatami mats on social media and instantly they had my attention. With a young toddler and two older children who love tumble play, the soft mats seemed to offer loads of potential for our play space.
When given the opportunity to try a Relax Mat, I am so glad that we did. I honestly can not imagine our playspace without it now. It ticked all the boxes and so much more.
What is a Muscle Mat Relax Mat?
A Relax Mat is a soft touch tatami mat made by Muscle Mat.
Muscle Mat is renowned for providing comfort and relaxation through its products. The Relax Mat does just that. This mat brings comfort to any area that is functional and stylish.
The inner rebound memory foam is luscious and teamed with the super-soft outer, laying on the relax mat is like getting a warm hug. It feels so good! I will often catch the kids, and myself, stroking the pile back and forth. It is so rewarding and creates such a calming sensory experience.
What is a soft touch tatami mat?
A soft touch tatami mat is a soft floor covering.
That is a soft floor covering that is so super soft, comfortable and so much more.
They can turn any area into a welcoming, cozy space to play or lay down.
Soft-touch tatami mats
are versatile (floor mat or cubby)
feel amazing (so soft and cozy)
reduce noise (minimise the concussion of feet and toys against a hard floor)
help prevent cold coming up from cold, hard floors
What is a soft-touch tatami rug?
Soft-touch tatami rugs and soft-touch tatami mats are much the same things.
In this instance, the terms rug and mat are interchangeable.
What size are Muscle Mat Relax Mats available in?
Relax Mats are available in four different sizes to suit a variety of spaces in your home.
1m x 1.5m
1.5m x 2m
2m x 3m
2m x 4m
During conversations with customer service, Muscle Mat indicated that the 2m x 3m was their most popular size.
This is the size that I chose for our play space and it is perfect!
The mat is large enough that the children can roll around and play, incorporate it into play couch builds, and comfortable lay across the mat without it dominating the space.
What colours are Muscle Mat Relax Mats available in?
Relax Mats are designed to be used in living spaces. With five colours to choose from, there is a colour that would complement the tone of your zone.
Relax Mat colours include:
Dove Grey
Berry Blue
Sky Blue
Charcoal Grey
Buttermilk Beige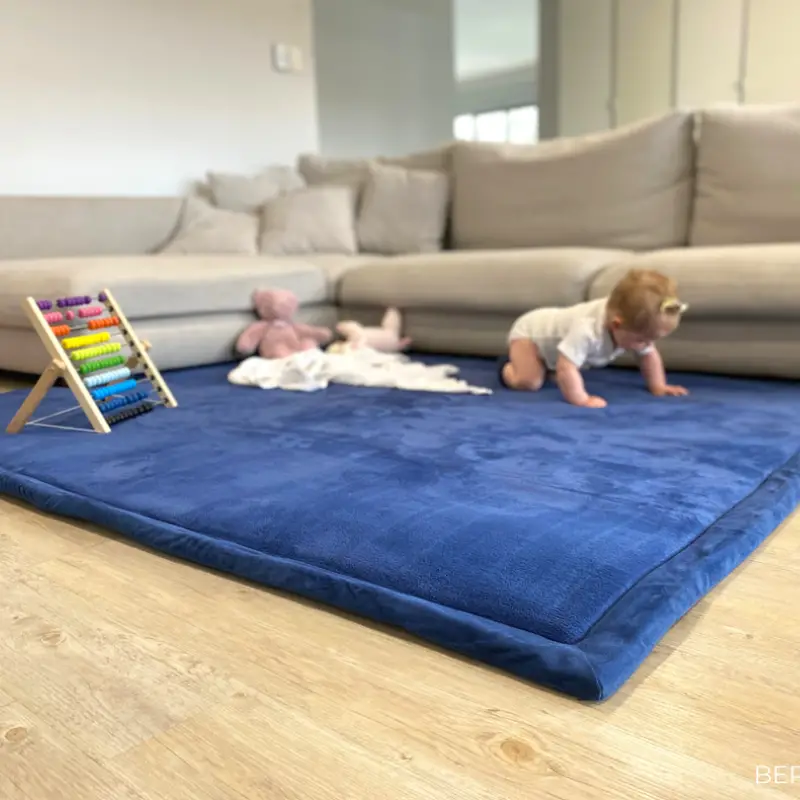 What materials are Muscle Mat Relax Mats made from?
Relax Mats are manufactured using a polyester outer. The texture of the mat is different from that of the border which adds aesthetically pleasing contrast.
The rebound memory foam inner measures 30mm thick in the middle of the rug.
The underside of the mat features a non-slip bottom. Tiny black dots provide the mat with a base that keeps the mat in place.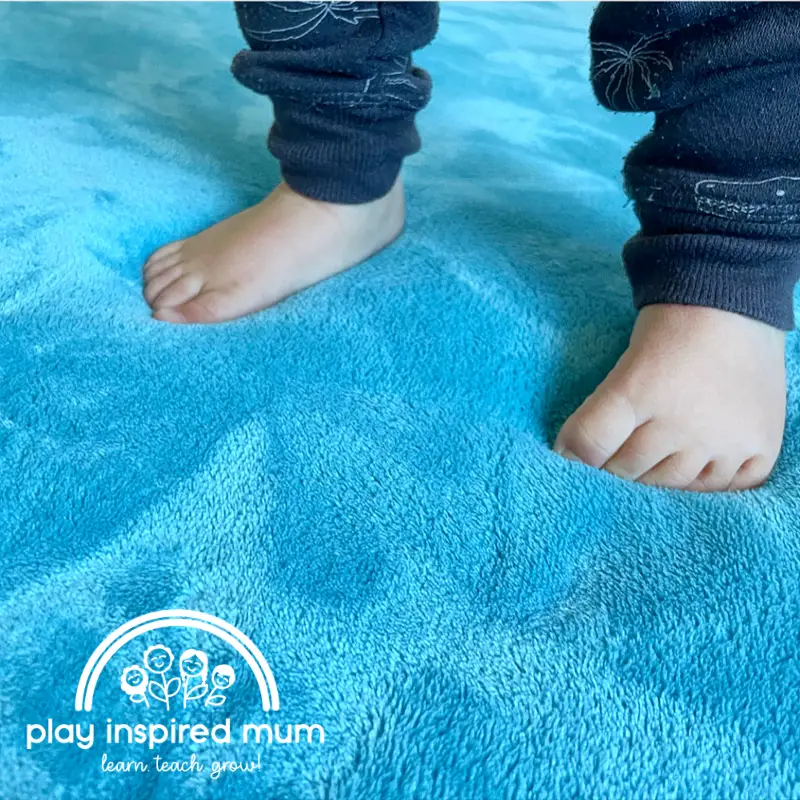 How heavy are Muscle Mat Relax Mats?
The mat itself is really lightweight.
I was really surprised with how lightweight the mat is considering how large it is. There is really minimal hassle moving the mat to give the floor a vacuum underneath before repositioning back in place.
Even Miss 5 can carry the mat easily. 
The only trouble and I use that term very loosely here, I have with moving the mat is that the non-slip bottom really does grip onto the carpet well. This being said, I would suggest lifting and moving the mat, instead of expecting it to slide by being pulled. Those little dots really do what they are supposed to do well.
Are Muscle Mat Relax Mats non-slip?
Yes! Relax Mats are non-slip. The underside of the mat has non-slip dots to prevent slippage.
Whether you position your mat on carpet, hardwood, or tiles, where you put the mat is where the mat will stay. That is with no underlay required.
My children roll and tumble on the mat with no movement of the mat at all. Our previous mat would bunch up however that has never been the case with the Relax Mat. That says a lot standing up against my kids too!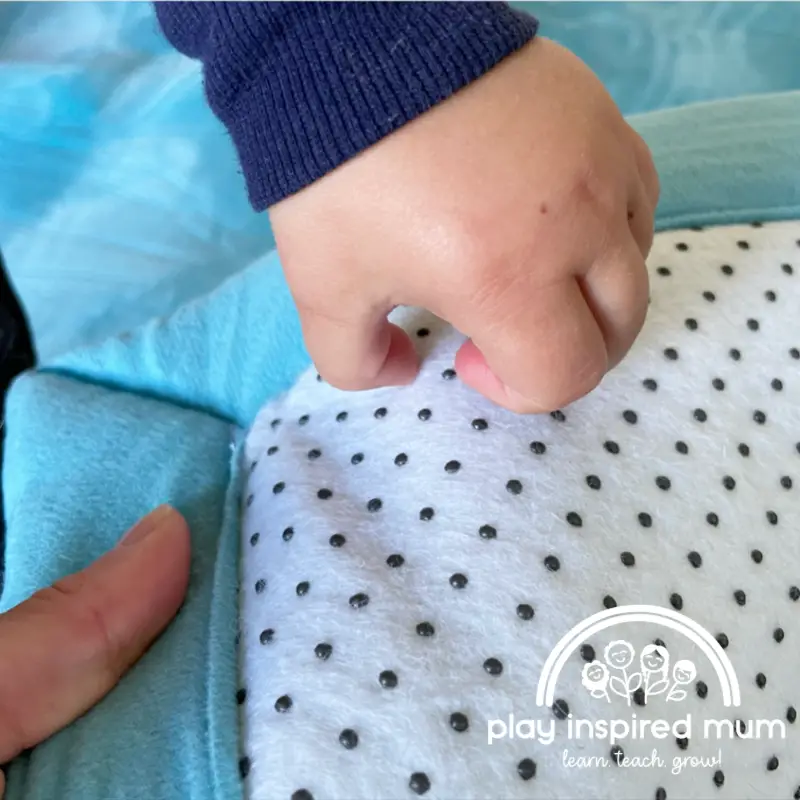 How to expand your Muscle Mat Relax Mat
The mat is compressed for shipping.
Upon opening the plastic and spreading the mat out, please do not be in dismay!
There will be wrinkles, creases, and buckles in the foam. This is completely normal and expected.
Muscle Mat suggests leaving the mat flat for 1 – 6 hours, before using a steamer or iron on the minimum heat and maximum steam setting to iron out the folds. Read all the finer details on getting the foam to plump back quickly here.
It can be expected to take 7 – 14 days for the mat to fully expand to its full size.
I don't iron. I have an iron, however, it is one of those appliances that is used more sparingly than I should admit.
Upon receiving our Relax Mat we opened the parcel promptly. Upon laying the mat flat, we left the mat for a few hours to expand before playing on it.
There was a slight smell however the smell was not offensive or bad. Simply a scent that was noticed. It passed quickly and has not persisted.
Toes were twitching to get onto it!
The mat was noticeably smaller than what we had ordered.
Within a week there were minimal creases and buckling of the foam.
From there, within a few weeks, the mat expanded to its full size.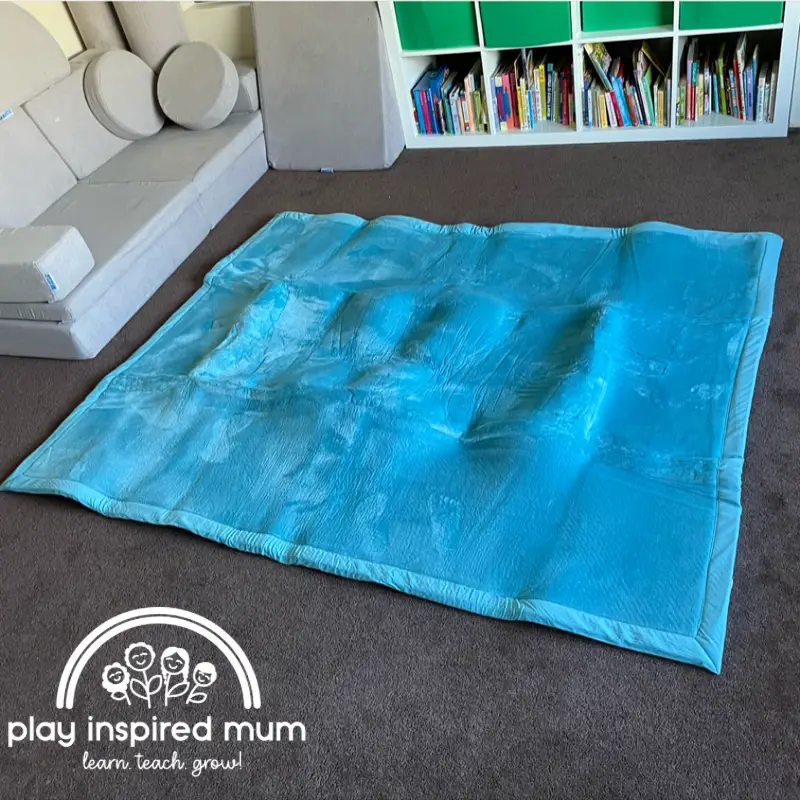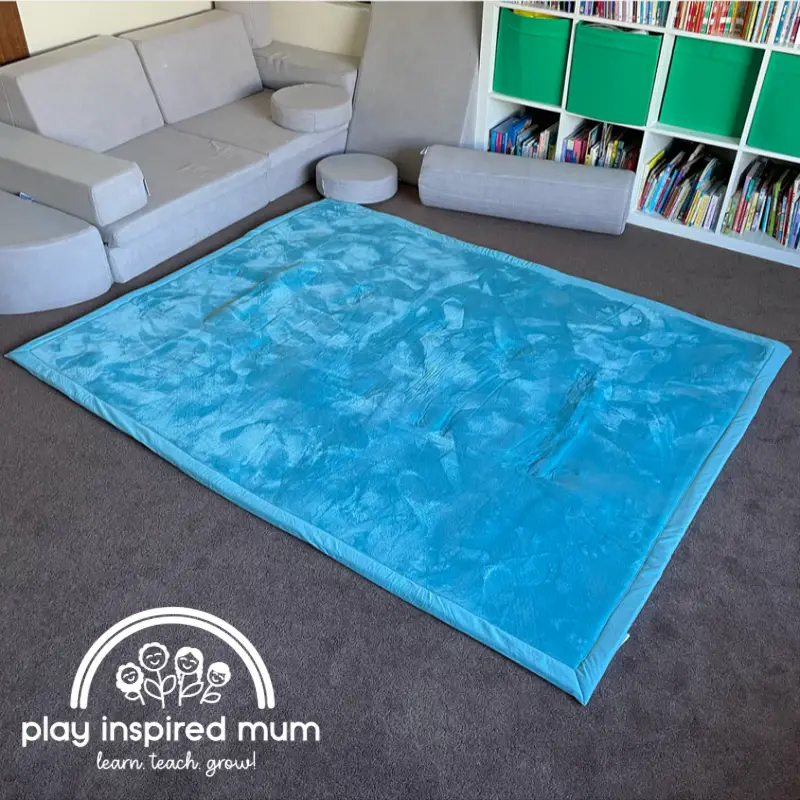 How do you use a soft tatami rug?
Imagination holds the limits.
The mats are so versatile.
So versatile in fact everyone in the family will love them.
The memory foam would offer protection for babies from bumps as they begin to learn to walk.
Set up obstacle courses for busy toddlers to climb over knowing that when they slip and tumble, they will be cushioned by the mat. 
Preschoolers can lounge across the floor in comfort while playing board games and tweens can laze leisurely as they draw in their journals.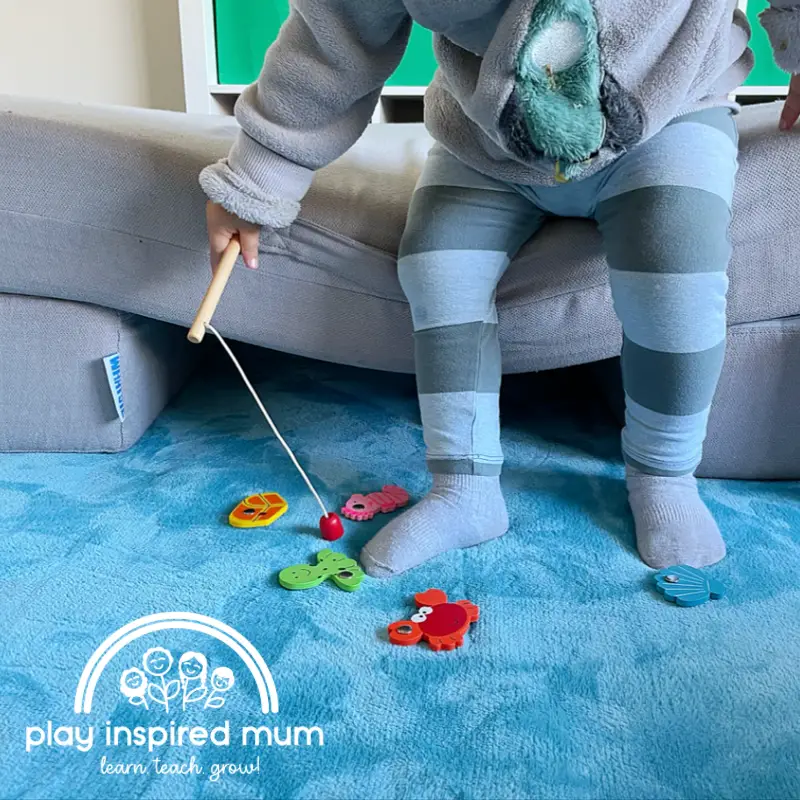 What are traditional tatami rugs for?
Traditionally tatami mats are rush-covered straw mats with the ends covered with cloth. 
They are a traditional Japanese floor covering utilising air to provide thermal insulation. 
The trapped air within the fibres of the material has low thermal conductivity, thus preventing the cold from becoming up from under the floor.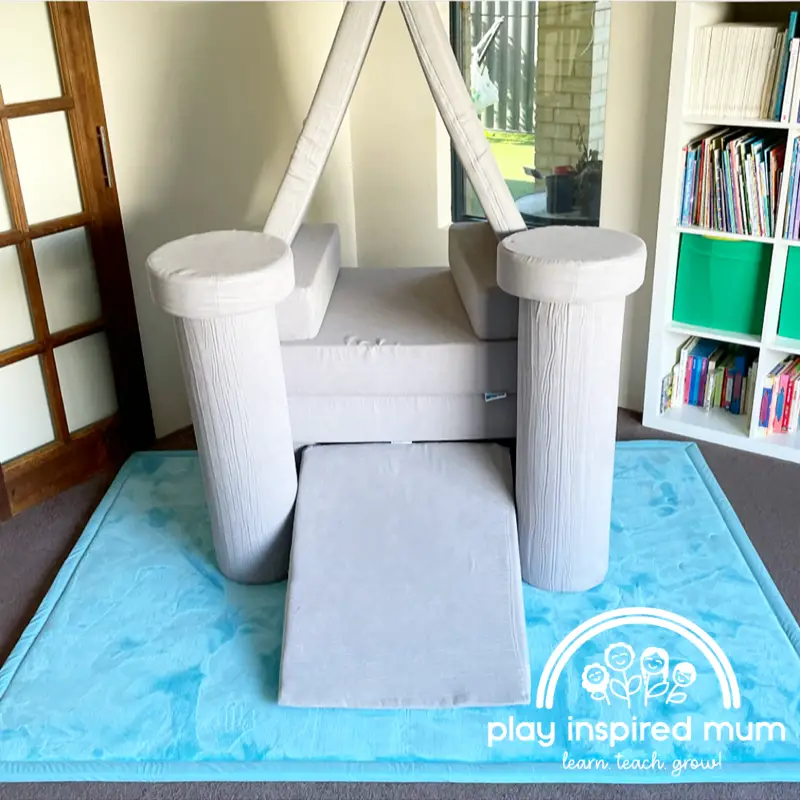 Who is a Muscle Mat Relax Mat suitable for?
Relax Mats are suitable for the entire family!
From tummy time to yoga, the Relax Mat is perfect for any situation that calls for comfortable floor time.
Muscle Mat Relax Mats for children
Relax Mats can transform your play space into a cozy place to snuggle up with a book or roll around for some rough and tumble play. They are super soft and provide sensory stimulation that is soothing to touch.
The finish on our Sky Blue has been used as a deep ocean for mermaids to swim.
Gently brushing the pile against the grain has given the illusion of depth in the sea for some pretend play.
The mats offer a safer space to practice handstands, providing a cushion for tumbling bodies.
Any handstand tips would be appreciated.
Children have been turned into sausage rolls.
The mat has been thrown over a play couch built to create a roof.
So many books have been spread between sprawled bodies as we have been taken on adventures snuggled up together on cold mornings.
Our Relax Mat quickly became a really valued piece of equipment. There hasn't been a day that the mat hasn't been used since its arrival.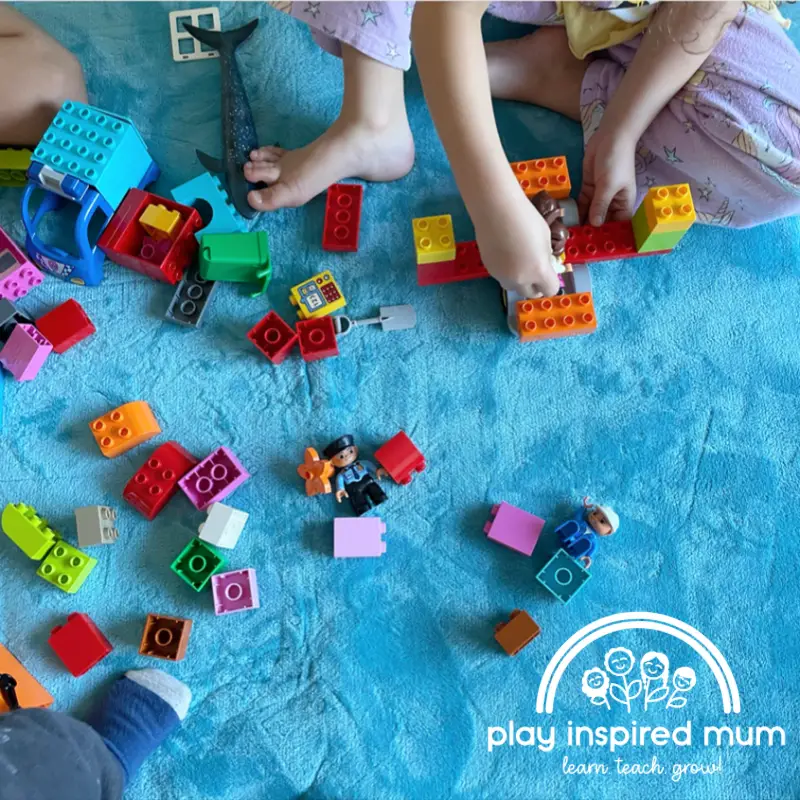 Muscle Mat Relax Mats for pets
Relax mats are great for pets too!
They offer a comfortable resting place for your pets without needing to have pet beds everywhere.
Our cat loves sprawling out on the mat. He is a fluffy fellow however his hair has never been an issue to remove from the mat.
The soft memory foam mat would make a gentle soft space for your dog to be off the cold floor and comfortable.
Muscle Mat Relax Mats for living areas
Adding a soft touch to your hard floors is so easy with a Relax Mat. You can transform any living space or bedroom with the addition of a mat to suit the aesthetics of your room.
Sliding out of bed to have your toes greeted by the super-soft memory foam is amazing!
Can you get soft-touch tatami mats in Australia?
Yes! Muscle Mat Australia is based in Sydney, New South Wales.
What is even better is Muscle Mat offers free standard shipping Australia-wide! Their central location ensures that once dispatched your mat should arrive promptly.
Founders, Maddie and Hunter, were in search of a remedy for muscle soreness and back pain. After researching natural remedies and investigation, they developed their Muscle Mat.
This range has evolved to include a multitude of relaxation and pain relief equipment including
Muscle Mat
Relax Mat
Weighted Blankets
Mattress Toppers
Mega Blanket
How do you clean a Relax Mat?
When adding a play mat into your child's play space, cleanability is a huge factor. 
My children have kindly presented me with opportunities to test exactly how stain-free and cleanable the Relax Mat really is. 
There is the weekend of the chocolate chickpea cookie. The soft cake-like cookie was nibbled on across the mat before someone stomped their way over the crumbs. I cringed. However, all it took to clean off was a wipe of a damp cloth. Yup, that's all!
Then there was the time Mr was scooping coloured rice with so much concentration his dribble wet the rice causing the food colouring to leach onto the mat. Not only did the colour run onto the shinier poly but the outer border fabric too. Again, it was simply wiped clean from both fabrics. That time, I really was expecting a mark of some type however the mat still remains as new.
Our mat gets vacuumed and it easily gives up any debris. Just quietly, it is so satisfying vacuuming the pile one way and then the other. I take the vacuum head off to get any debris from between the inner mat and the border. 
Our long hair cat loves hanging out with us in the playroom. Vacuuming his hair off the darker carpet can be a tedious daily job however his fluff has never been an issue to remove from the Relax Mat.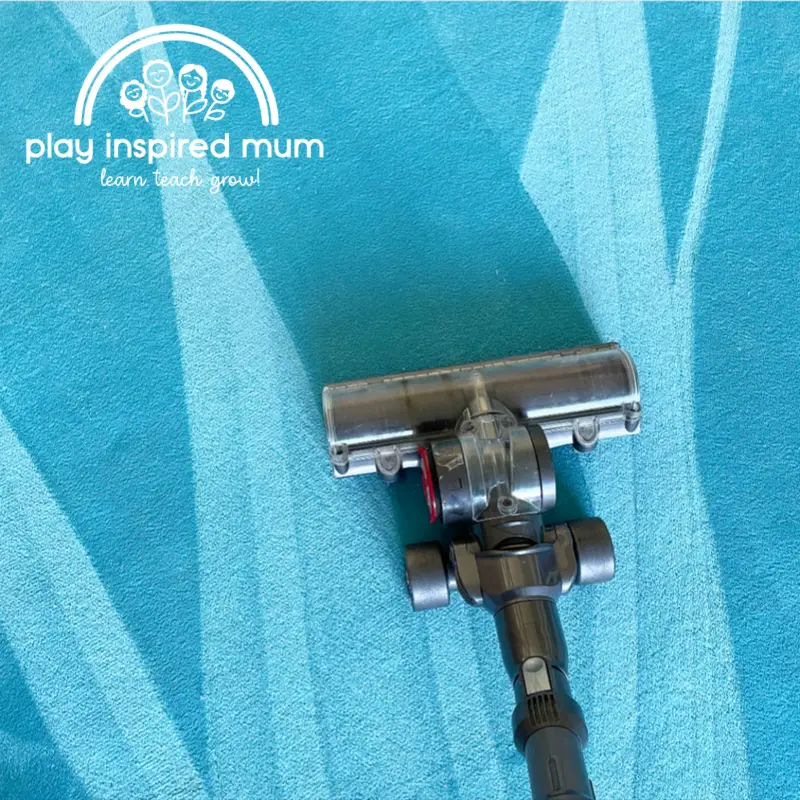 How much is Muscle Mat Relax Mats shipping?
Muscle Mat offers free standard shipping Australia-wide!
They ship out daily from Sydney with Australia Post.
They expect delivery to be made between 1-5 days for metro areas and 3-10 days for non-metro areas.
Read more about shipping and pre-order shipping policies here.
Our customer service experience with Muscle Mat
When Muscle Mat approached me with the opportunity to review their Relax Mat, I graciously accepted the offer after reading positive reviews online and feedback from happy customers on social media.
Every step of the way team at Muscle Mat has been so thorough, transparent, honest, and responsive to my inquiries and the progress of our order. I was automatically notified of the dates our requested colour would be available to be shipped out, and when the order was despatched. This is without any follow-ups on my behalf.
I have no reservations in contacting Muscle Mat with any inquiries. Consequently, I have every confidence that I will be greeted with amazing customer service from a team who are genuinely motivated to provide a positive experience for their customers.
What satisfaction guarantees does Muscle Mat offer for their Relax Mats?
The team at Muscle Mat is so confident that you will love their Relax Mat they have an incredible 30 Day Satisfaction Guarantee!
Is a Muscle Mat Relax Mat worth it?
Our Relax Mat has bought so much value into our home.
I have peace of mind when the older kids are practicing handstands – knowing they have a soft, cushioned landing. Much the same as when Mr 21 months is climbing up a play couch build or testing his capabilities spinning on the Pronto.
We have embarked on so many adventures together, in literacy and play while sprawled comfortably across the floor.
Cubby houses are taken to whole new levels when the mat becomes an epic roof across our bear cave.
This mat has been a safe, sensory soothing place for emotional regulation after a challenging day. It is soft, warm and so cozy. It's a safe landing from big emotions.
I could not imagine our play space without a Relax Mat in it now. It gets used every single day.
Yes, a Muscle Mat Relax Mat is definitely worth having in your home.