Disclosure: This blog contains affiliate links which I may earn a small commission from if you purchase through them, at no extra cost to you.
Taste-safe or edible water beads are a great alternative to traditional water beads for safe sensory play for your baby and toddler!
Tapioca pearls offer the same sensory opportunities as water beads while being completely edible!
Parents can relax a little more knowing they provide their babies and toddlers with a great sensory play learning experience. They feel great, can be coloured easily, and are fun!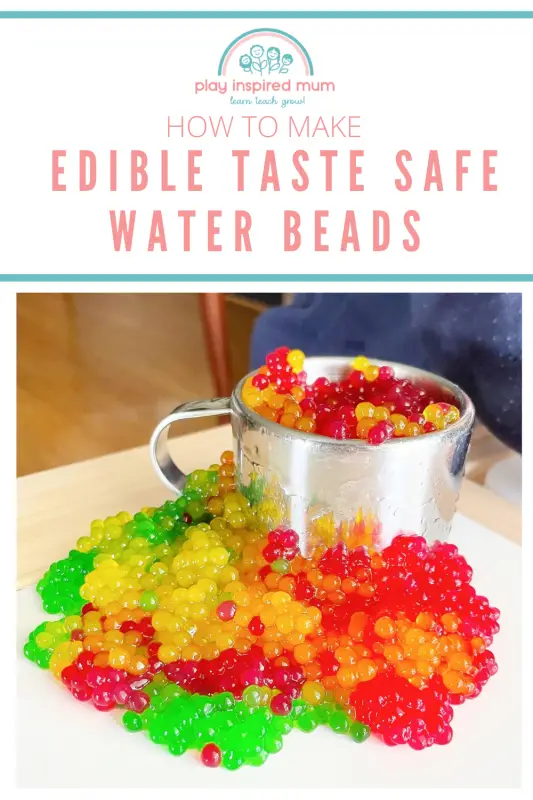 Taste Safe Water Beads for Sensory Play
Water beads have been a questionable resource for sensory play for years. While most are non-toxic, there is the risk of the traditional water beads swelling if consumed resulting in dangerous blockages.
Personally, we have used traditional water beads in our play with the older kids however the truth is told, all while I am watching like a hawk. Water beads feel amazing, are so exciting and inviting and so versatile. That being said, kids are so quick and while generally, they stick within the set boundaries, the temptation can be overwhelming for them. They are only human after all.
Tapioca pearls have been a welcomed alternative that we have used for years. They are super affordable and totally taste safe in case they are consumed. They are even edible! Mix them with your favourite fruit puree for an easy dessert.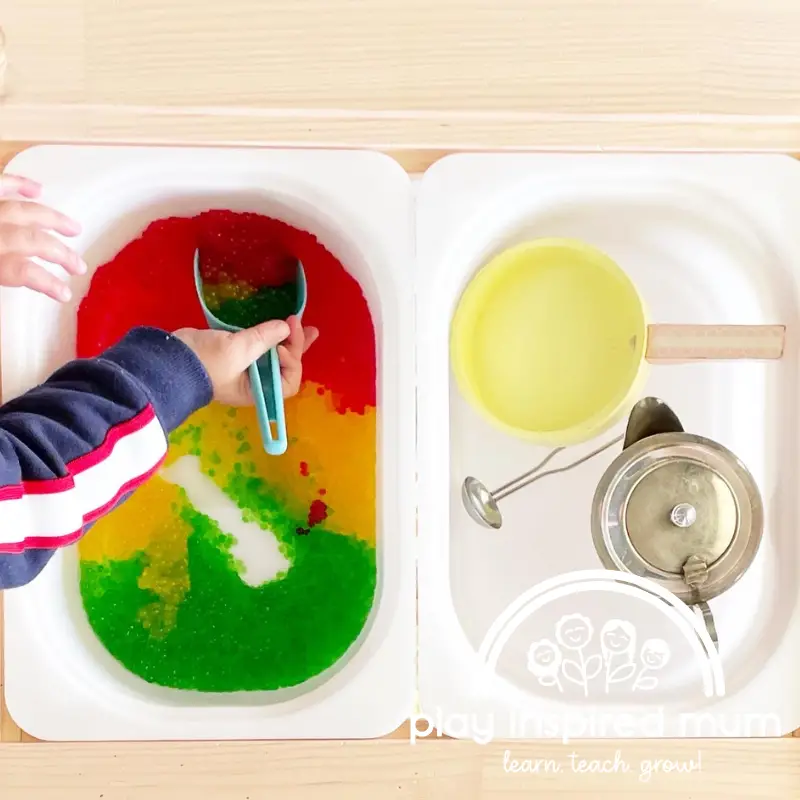 What you need to make taste-safe water beads
1 Cup of Tapioca Pearls
10 Cups of Water
Medium-sized saucepan
Colander
Food Colouring (optional)
Bowls
How to make taste-safe water beads
Bring 10 cups of water to the boil
Add dry tapioca pearls
Cook tapioca pearls until transparent, approximately 20 minutes
Strain the cooked tapioca pearls in the colander
Rinse cooked tapioca pearls in cool water in a colander
Divide the cooked tapioca pearls between the bowls to prepare them for colouring.
Cover the cooked pearls with cool water
Add the food colouring to the bowls
Stir the colouring until the mixture is of even colour
Leave for the colours to infuse for approximately 1 hour
Rinse the excess water from the coloured tapioca pearls
Time to play!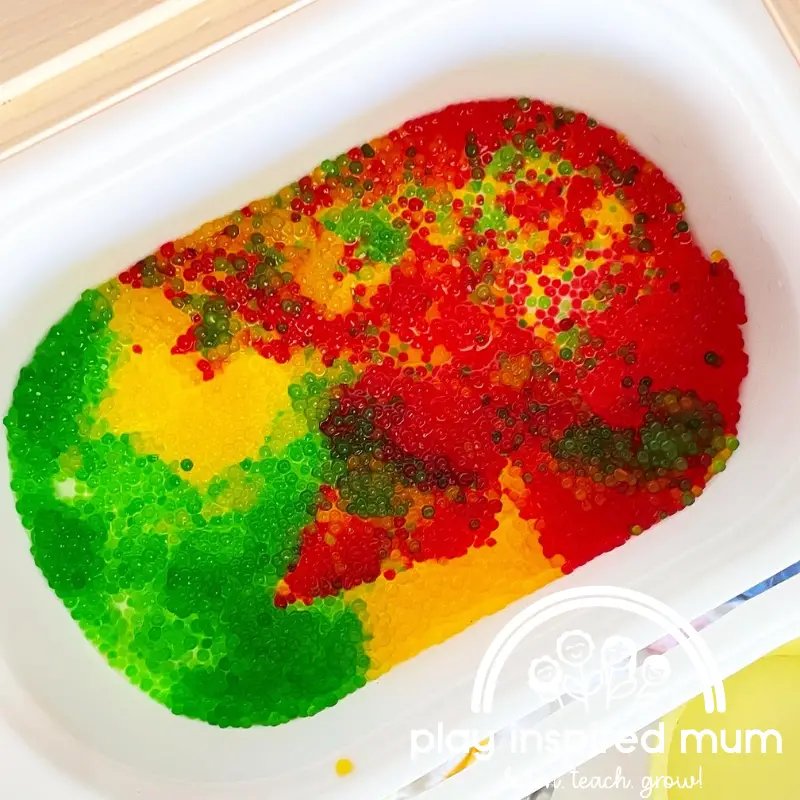 Where can tapioca pearls be purchased?
We purchased our Tapioca Pearls from our local Woolworths supermarket.
Asian grocery stores often have a large range of different sizes and colours too.
Are tapioca pearls gluten-free?
Yes, tapioca pearls are gluten-free. This makes them a great sensory play choice for children with gluten sensitivities. They are also free of dairy and nuts.
What are taste safe tapioca pearls made of?
Tapioca pearls are made from tapioca starch derived from cassava root. Being plant-based, tapioca pearls are vegan.
What is the difference between tapioca pearls and boba pearls?
Both tapioca pearls and boba pearls are derived from the cassava root.
Boba pearls are darker in colouring due to the addition of either brown sugar or black food colouring or both.
Tapioca pearls are translucent when cooked.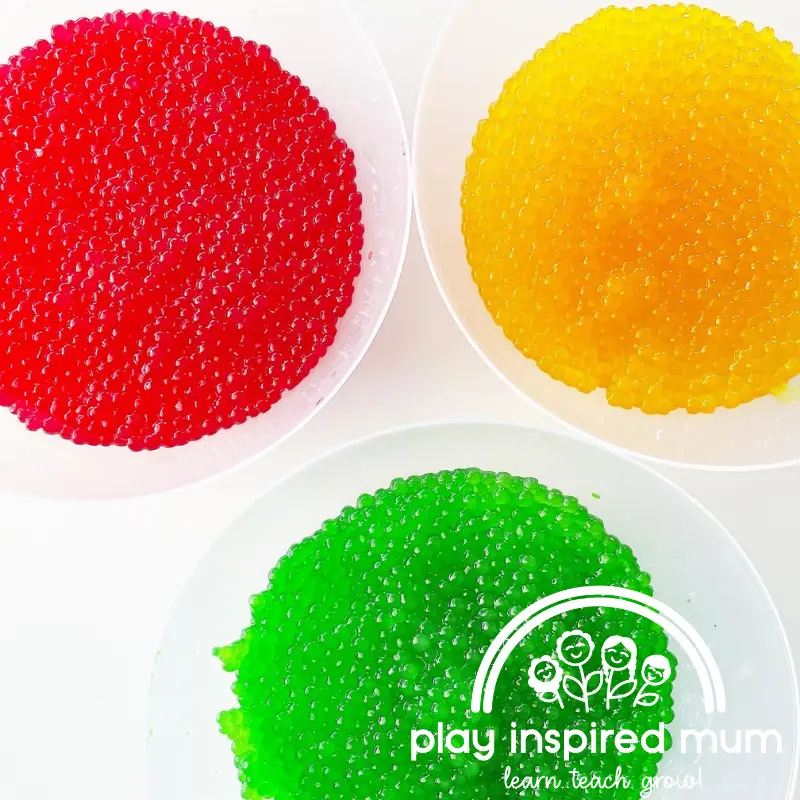 Can tapioca pearls be prepared the day before?
Yes, tapioca pearls can be prepared the day before. Simply cover the cooked, coloured pearls with cool water and store in the fridge for up to 2 days.
Are tapioca pearls safe for babies and toddlers?
Like all food things, please make a judgment based on your child's abilities. Generally speaking, tapioca pearls are suitable for babies from 8 months of age.
When preparing brightly coloured tapioca pearls, they do retain a lot of the colouring. For this reason, it is recommended that your child not eat too many of them.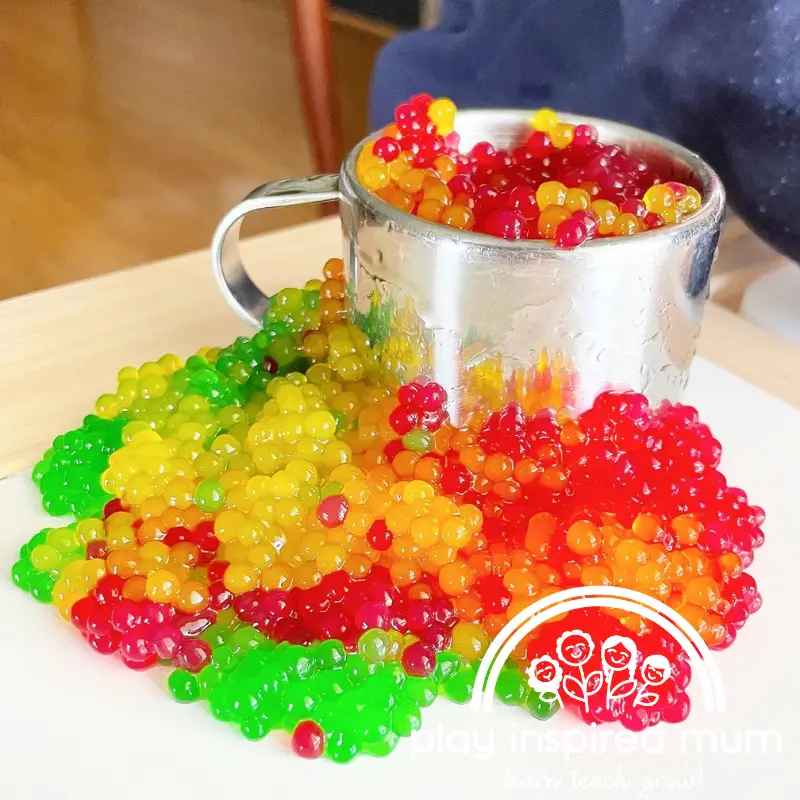 Does the colour stain hands?
Once rinsed with cool water the amount of colour that comes out of the taste safe water beads or tapioca pearls while playing is minimal. I find the colour leaches out into the water more than it stains hands compared to other sensory play mediums such as oobleck.
If you are concerned about coloured hands, tapioca pearls are still loads of fun uncoloured!
I find the Queens food colouring liquids can stain hands when used heavily however after some play in soapy water, the colour typically lifts quickly.
How do you use water beads for play
These edible tapioca water beads are fabulous for sensory play experiences.
When used with a splash of water, they are slippery however when used out of the water they are gloriously sticky and squishy.
Scoop and transfer: Add them to a shallow tray with some spoons and cups for a simple transfer activity
Small world play: Use the edible water beads to create rivers, lava, muddles and so much more. Simply colour to suit your play!
Science experiment: Place some tapioca water beads into a tall vase with water and add a dissolvable aspirin into the water to watch the beads bop about in the water – Note: This is not a taste-safe experiment!
Colour recognition: Create a loose part colour tray using tapioca pearls and loose parts of all the same colour. Simply present the invitation to play to your toddler and allow their curiosity to take the lead.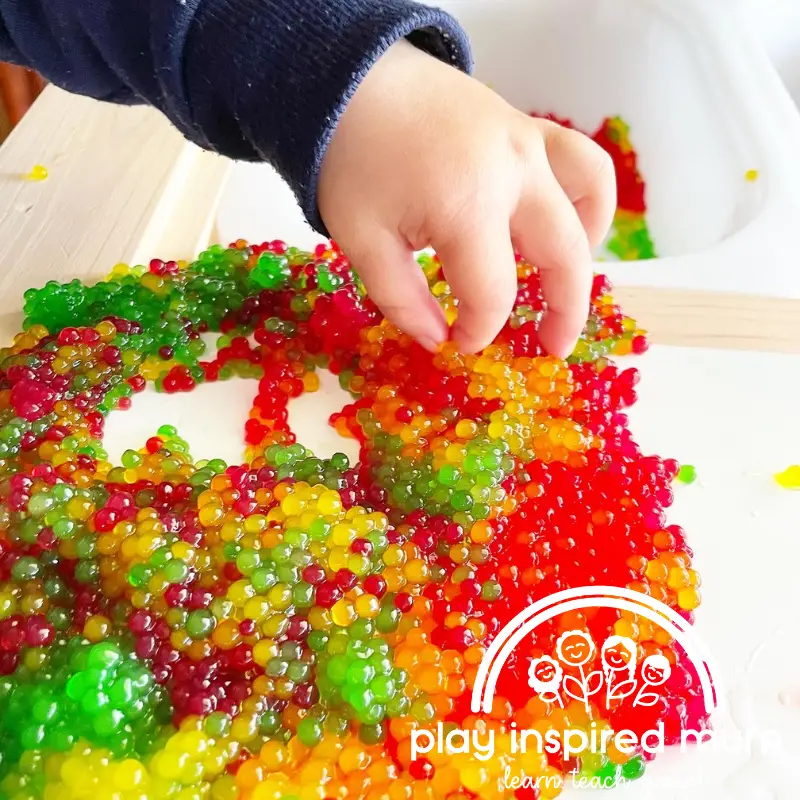 What can children learn through play with water beads?
Fine motor skills
Grounding strategies
Inquiry-based learning
Scientific concepts such as absorption and osmosis
Colour recognition
Hand eye coordination
Bilateral coordination
Crossing the midline
Creativity
Vocabulary building
Sensory play
Mathematical concepts such as full, empty, heavy, light