Disclosure: This blog contains affiliate links which I may earn a small commission from if you purchase through them, at no extra cost to you.
If you have pom poms lying around then pom pom soup is a must-do activity!
If you don't have any pom pom… get some!
Pom poms are such versatile resources that can be used and reused repeatedly. We have been using the same pom poms (plus some) since Miss 8 was a toddler. They have been through so much but just get washed and before too long, they are ready for play again.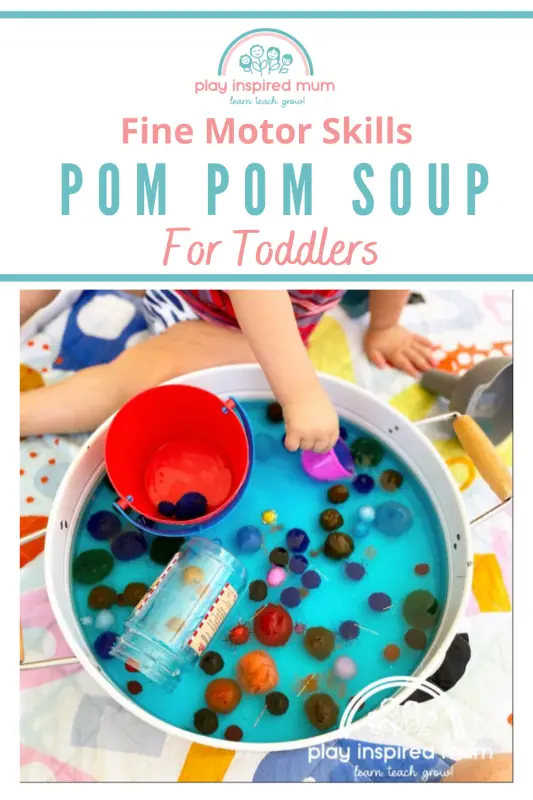 Pom Pom Soup Fine Motor Sensory Play
Water play is a hit on any given day. Adding pom poms is a guaranteed cup of coffee drunk for Mumma! The kids love it. Primarily our Pom Pom soups are generally set up for the little ones however even the bigger kids come and get in on the action.
What you need to make Pom Pom Soup
Shallow tray or plastic storage tub
Water
Scoops, funnels, spoons etc
Food colouring (optional but fabulous)
We often get asked where we got our white tray from. Many moons ago we picked it up from Kmart.
It is a metal serving tray and in the six years that we have had it, there isn't a week that goes by when it isn't being used.
In regards to the scoops etc that are listed above, think of the second drawdown in the kitchen. That is, where all your kitchen ladles, slotted spoons, funnels, and so on are hiding out.
There is no need to get specialised equipment for this simple sensory play activity. Use what you have and you will be blown away to learn all the educational benefits these basic kitchen utensils can bring to your child's play.
We use a Rudie Nudie Playmat. This mat is waterproof which is fabulous for those days when inside play is a must but you need to add water. I love how it started off being a tummy time mat (reflux baby must have) however its role is forever changing as the children are growing.
It has protected our carpet during water play, messy taste safe water bead play, muddy animals, and been a savior in cleaning up coloured rice from small world play.
While the food colouring is optional, the splash of colour really does make the entire set up more inviting.
A tiny drop is usually enough to colour the water without risking staining of pom poms or hands.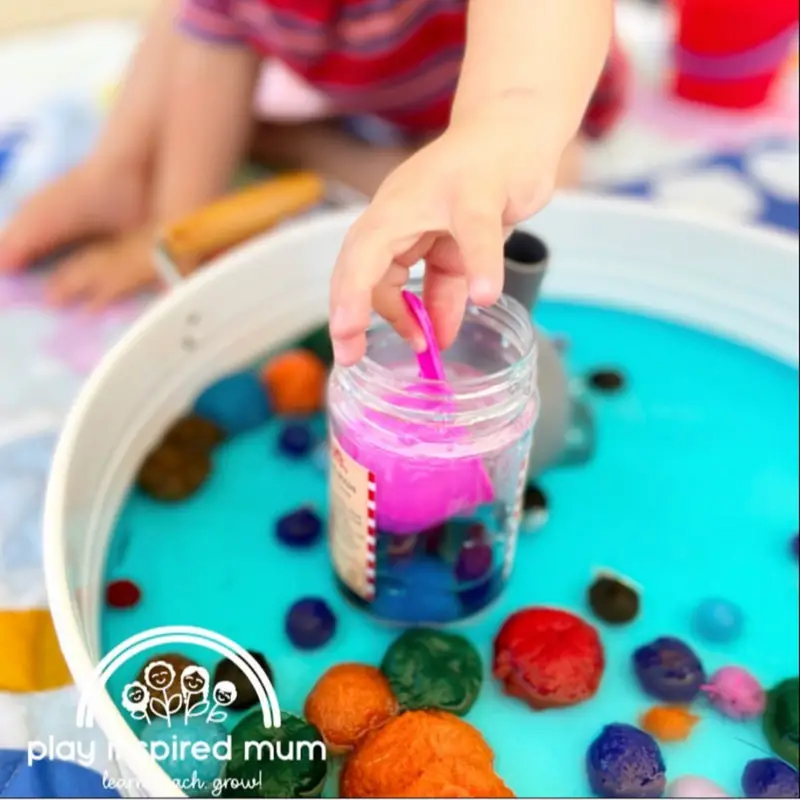 How to set up your Pom Pom Soup Fine Motor Sensory Play activity
You are going to just love this.
Put the tray on the waterproof play mat
Add water to the tray
Add food colouring (if using)
Add pom poms
PLAY!
How simple is that? This activity literally takes minutes to set up.
Let your children's natural curiosity guide their play.
They can explore, discover, experiment, and invent their own little games.
Pom poms are such an incredibly open-ended resource.
There are no rights or wrong with how to play.
Their minds and bodies will be busy scooping, transferring, inventing recipes, and acting out events they have experienced.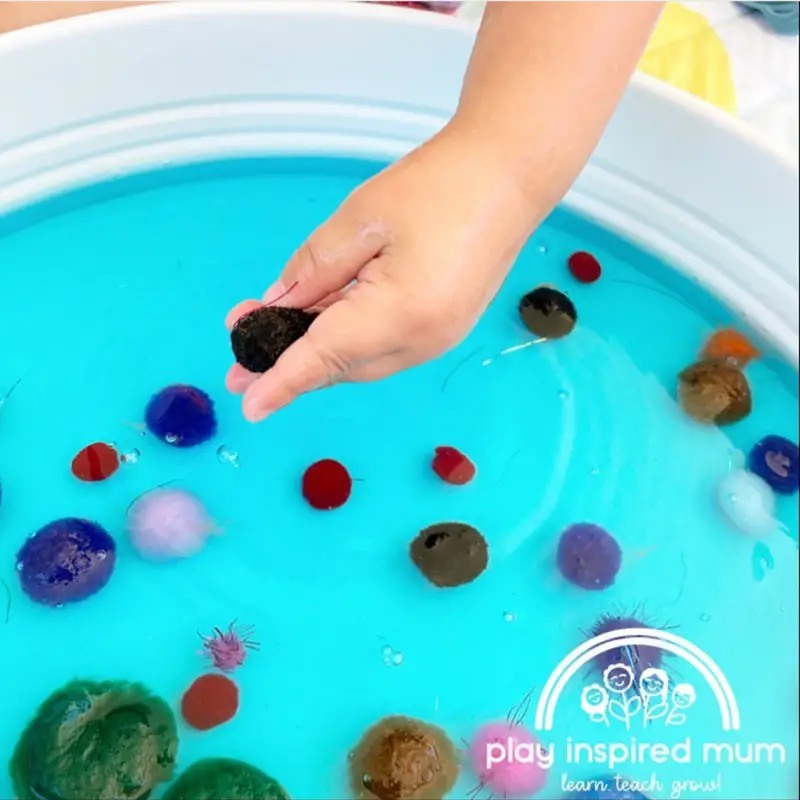 How is pom pom soup a sensory activity?
Sensory play is a play style that engages the senses. That is the sense of
Taste
Smell
Sound
Sight
Touch
While your toddlers are making their pom pom soup, they will be
Listening to the sounds of the water moving
Smelling the water and wet pom poms
Feeling the difference between wet and dry pom pom
Watching the water transfer from one vessel to another
Feeling the squeak of the pom poms when squeezed
Watching vessels overflow
Tracking the colourful pop poms with their eyes
Listening to the pom poms splash into the water
Feeling the temperature of the water
What are the benefits of sensory play
Sensory play delivers too much information to a developing brain. Offering play experiences that encourage learning through exploration and discovery is a powerful means of encouraging nerve connections in a developing brain.
There is so much to be said about the benefits of sensory play in early childhood.
Improved memory and recall
Fine motor skills
Hand-eye coordination
Cognitive development
Resilience
Vocabulary building
Higher order thinking
Bilateral coordiantion
Crossing the midline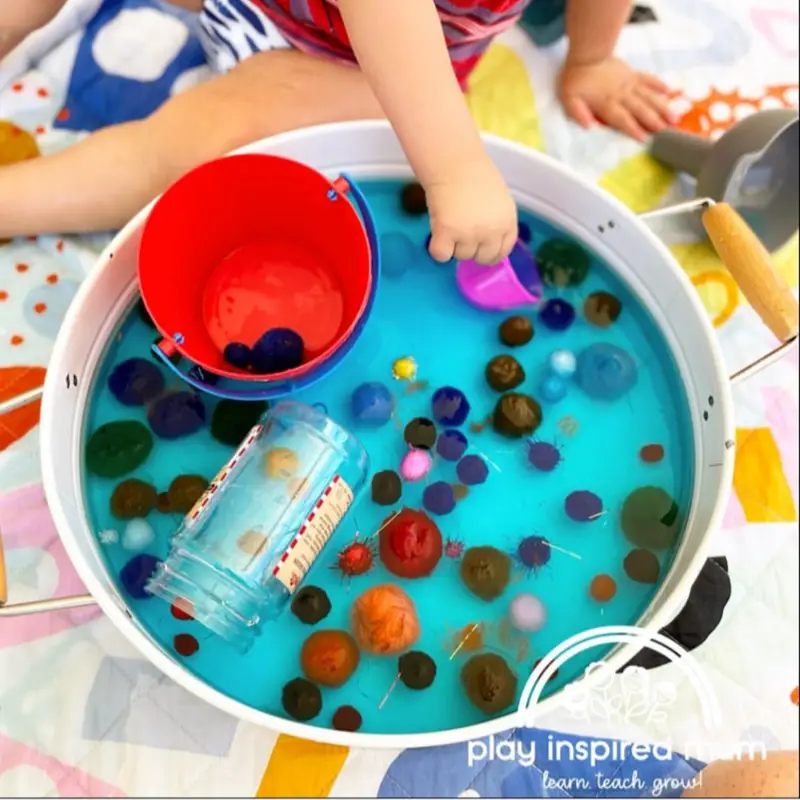 How to increase opportunities for the development of skills
Often parents can make simple adjustments that can make a huge difference to the opportunities an activity can present.
By all means, there is nothing wrong with throwing some pom poms in the water and just letting them go for it. In all fairness, there is a lot to be gained by letting children take the lead in their own learning journey and exploration.
That being said, here are a few tweaks that can be made to offer additional opportunities
Crossing the midline
Crossing the midline refers to moving one side of the body across to the other.
For example, moving the left hand to the right side of the body.
This is a learned skill that can be practised and refined through play.
Place pom poms opposite your child dominant hand. From here, your child will need to cross their midline in order to reach for the pom poms. The same can be said for utensils too.
Hand Eye Coordination
Hand eye coordination refers to the simultaneous use of a child eyes and hands to complete a task. ANy task that involves vision and hand movements involves hand eye coordination. Tasks such as grasping, pulling, catching, throwing, and drawing all require hand eye coordination.
Provide your child with funnels or bottles with narrow openings to post the pom poms into while they are making their pom pom soup to help them develop this vital skill.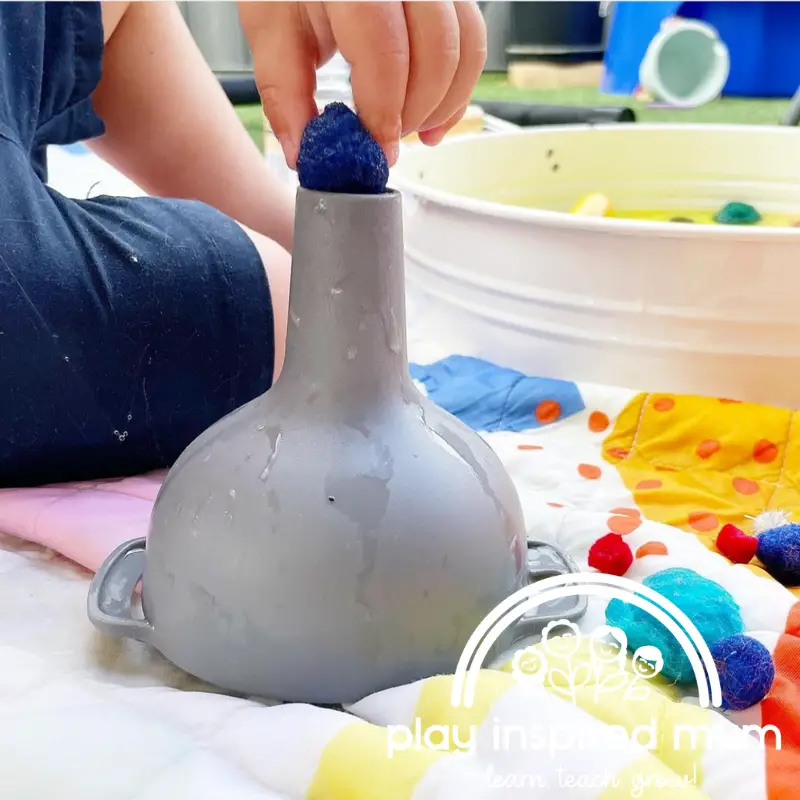 How to clean pom poms after play
The pom poms are going to be saturated.
Returning your pom poms to their pre-water play state is super simple.
Put them in a wash bag.
Wash them with your next load of brights
Put them in the dryer or lay them in the sun until dry
If you don't have a wash bag, simply throw them into a pillow slip and tie a knot securely to close the slip.
Just quietly, this is also a great way to clean Mega Blocks and Duplo. The washbag in the washing machine that is – please do not put plastic blocks in the dryer!