Disclosure: This blog contains affiliate links which I may earn a small commission from if you purchase through them, at no extra cost to you.
This article is an ultimate comprehensive Whatsie Play Couch review expressing why we chose and love our Whatsie play couch.
So you are searching for a flexible and adaptable play solution that enhances your child's gross motor skills, gets them active (other than bouncing on your couch), inspires their imagination and creativity and encourages busy minds and bodies.
If you're familiar with play couches or are curious to learn more about the Whatsie and its possibilities this is the article for you.
Play couches have finally become available to Australian families after years of swooning them isolated in the US market.
In saying that, our friends in the USA can now also get their hands on these fun fuelling play couches with Whatsie Play Couches now launched in USA!
This article will demonstrate why a Whatsie (or two) is an excellent addition to any playroom or lounge room for that matter!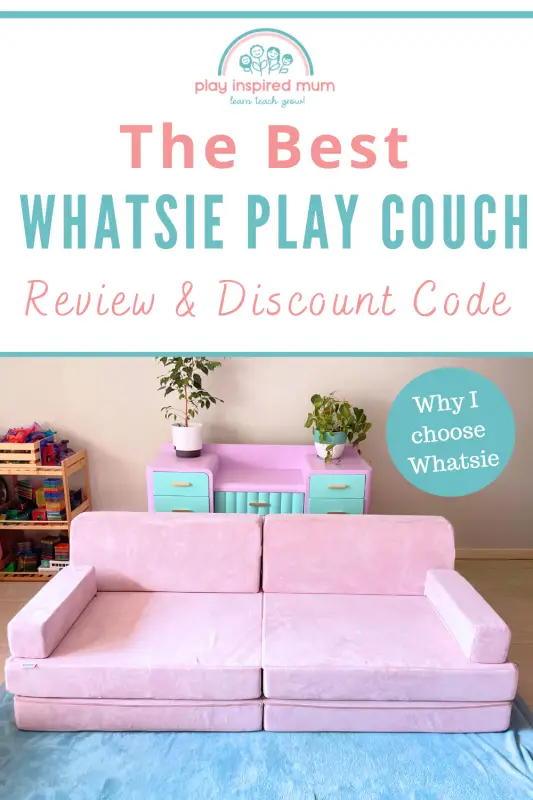 Whatsie play couch review
Kids are designed to be active.
Children thrive off active engagement with their environment during their early years.
Kids are not designed to be still.
In fact, children learn best through active play. Adding movement to their play has been associated with increased school readiness and effectiveness for learning.
I quote Erin K Kenny when I say, "Children can't bounce off the walls if we take away the walls". Getting active outside is more often the remedy to release energy however events of recent years have made this difficult.
Going down to the local park or exploring nature reserves hasn't been accessible as it previously had been.
Houses are getting smaller as are yards.
Well there is a solution that allows our kids to channel all that energy ( where do they get all that bounce from??) in a way that leads to happy Mumma and happy kiddies.
A way to get kids active, climbing, crawling, jumping, and creating inside at home.
There is a way.
There had been for years however out of reach for Australians.
Not anymore.
The play couch has come to Australia and Aussie families love them!
Since my oldest was a baby I swooned over Instagram accounts, admiring the famous Nugget. Without paying ridiculous shipping fees, that is after winning their lottery to win the chance to purchase one, the Nugget was a playroom… no … let me rephrase. The Nugget was an incredible resource for any room.
Fast forward to the present day. Play couches have hit the Aussie shores and families love them for many good reasons.
Our first Whatsie play couch joined our family at the end of 2021 and there has not been a day that has gone by that it has not been a part of our day.
So many amazing memories have been made.
It has inspired so much play.
The cushions have been a soft landing for jumps and tumbles.
The base pieces have been climbed over like a mountain and ridden like a brachiosaurus.
The modular couch has been transformed into a robot friend and then an underwater cave.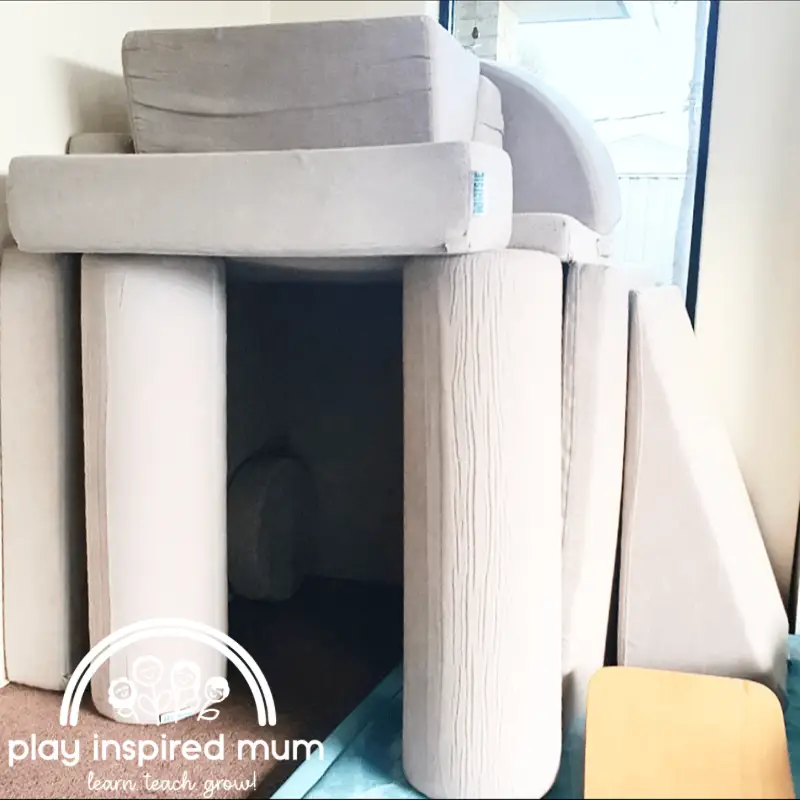 What exactly is a Whatsie play couch?
A Whatsie is whatever you would like it to be.
Essentially the Whatsie play coouch is soft play furniture that can be configured in limitless designs. Six individual foam pieces are covered in durable materials that present opportunities for open-ended play.
The Whatsie has been designed with everyone in the family in mind.
Baby can practice sitting up against the supports of the pieces.
This is before shuffling their stocky wobbly legs in place and lifting themselves into the standing position for the first time.
From here they can scoot along, holding onto the edge for support as they take their first steps.
Obstacles can be built for beginner climbers with soft landings at the ready.
As toddlers' abilities improve, the build can become more advanced to suit.
Before too long, your Whatsie play couch will be transformed into dinosaurs of the past, ice cream shops of summer, and bear caves in the dark dark forest.
Your Whatsie will become a place to snuggle up and read a book or laugh while acting out a puppet show. They can be a place to share or have some quiet downtime.
The six foam pieces that make the original Whatsie play couch can be used to configure endless designs. These can be transformed even further with the aid of add-ons also available separately.
Why we chose Whatsie play couch
When having a play couch at home in Australia became a reality for us, I was overwhelmed.
There was a sudden surge in the market and within what seemed no time at all there were so many brands available for families.
This, for some, is a blessing.
So many choices!
I personally was overwhelmed.
From a little research, I discovered a huge number of brands all claiming to be the best.
Now, I am all about the research.
So, for this reason. I took a big breath and jumped down the rabbit hole.
This is how the article 'Best Play Couch In Australia' was born.
For me, it was learning the ins and outs of the brands and then determining what was best for my family.
After a huge amount of deliberation and research, pro and con lists (Yup, I'm a Rory. Snaps for you if you understand what that means!), and identifying what I value for my family.
The determining factors were
Functionality Whatsie had the six cushions in the original play couch combination, in different sizes, and shapes.
Safety The fabrics and foam are all of high standards, free of toxins
Cleaning Kids make a mess. It's a given. Our play couch needed to be easy to clean
Affordability The balance between quality and price met beautifully with Whatsie. This was affirmed when friends with both a Whatsie and a higher-priced play couch expressed their love for both equally. Whatsie also ships Australia-wide for free while other brands have a shipping fee for each item shipped.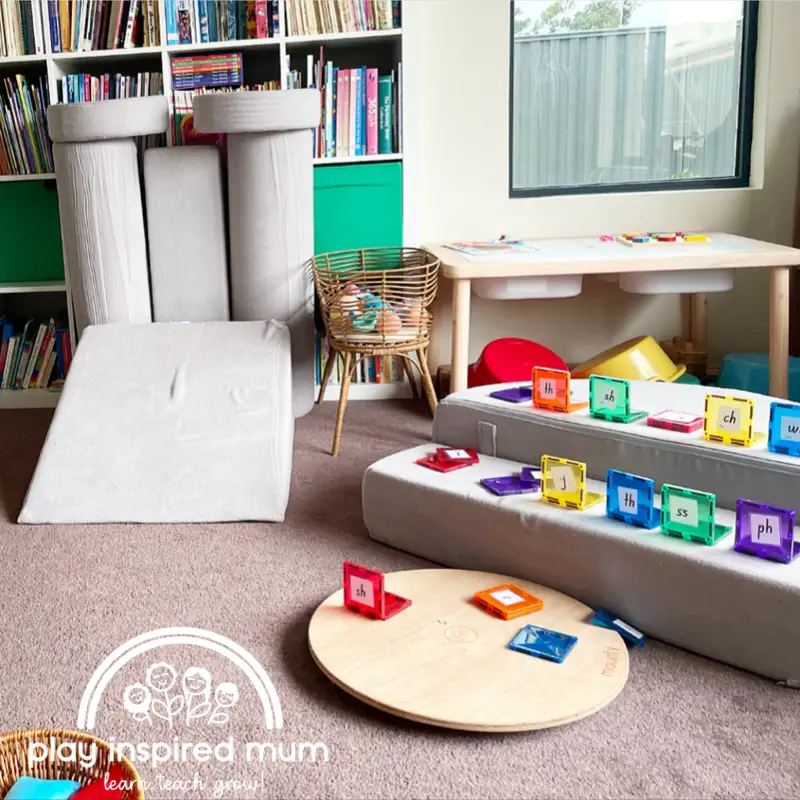 Is a Whatsie play couch worth it?
Our Whatsie has been the best investment I have made for my children's play space and development. I write this with a trio between the ages of 21 months and 8 1/2 years.
Each child gains from interaction with our play couch each and every day.
They are three unique personalities, each with different needs and abilities.
Yet, they all benefit from this versatile piece of play equipment.
How we Whatsie
Mr 21 months uses the pieces to climb, relying on the builds to support himself. He loves hiding in builds. This includes little cubbies, castles, cafes, and shops. One of his favourite builds is a castle with the wedge in position for him to roll down.
Miss 5 is our go-go bunny who craves movement. She has more bounce in her than there are stars in the sky. She loves using the base cushions as landing zones doing jumps and flips off her mini-trampoline. Her favourite builds are obstacle courses and landings for her rough-and-tumble play style.
It has been a relief to help her channel her energy into appropriate uses rather than bouncing on furniture.
Miss 8 enjoys setting up cafes, shops, and comfortable spots to read. It is also really rewarding watching her set up builds that she thinks her siblings will enjoy.
We have had our Whatsie play couches for the better part of 18 months now. It has taken a whole lot of use and still looks as good as new.
Miss 5 and Miss 8 are both able to maneuver the cushions into place as they please.
Our fabric choice
The cotton fabric is grippy enough that it holds the builds well while still being comfortable to sit upon.
Since getting the second microsuede Whatsie play couch, if I had to choose between the cotton and microsuede, microsuede would get my vote.
While I still love our cotton play couch, the microsuede is holding up to the cat and his prickly toes and seems more resilient to our play than the cotton which has light pilling and pulls.
I have had moments of questioning whether the lighter colours were the best choice with kids however even cleaning our Whatsie play couches has been a breeze.
When I am vacuuming, I quickly slide the vacuum over the play couch pieces to remove pet hair and fluff easily.
Most sticky finger marks have been removed by spot cleaning with a damp cloth.
When I have machine washed the covers, they have dried quickly and slip back over the foam pieces with ease. The biggest struggle was keeping the kids off the foam pieces while they had no covers. I definetly understand the value of having a spare set of covers.
One for wear and one for the wash.
I was concerned when a little Miss practiced writing her name on a few cushions with a ballpoint pen.
This is the only mark I have had trouble lifting.
Then a friend suggested Glen 20.
I kid you not, it worked.
A quick spray and rub with a dry tea towel and the biro lifted almost effortlessly.
Our Whatsie has been all that I had hoped it would be and more. It is exciting to think of what this incredible resource is going to bring in the future.
I will just add that while I have tried to capture accurate colours in our photos, the true colours really don't come through. Lighting makes a huge difference in how these colours present in photos. I have spent more time than im willing to admint to try and snap the rightful colours however please refer the Whatsie play couch website for more accurate representations of the colours.
Below is a side by side comparison of the cotton and mircosuede fabrics.
The left shows Cotton in Koala Grey and the right shows microsuede in Lilac.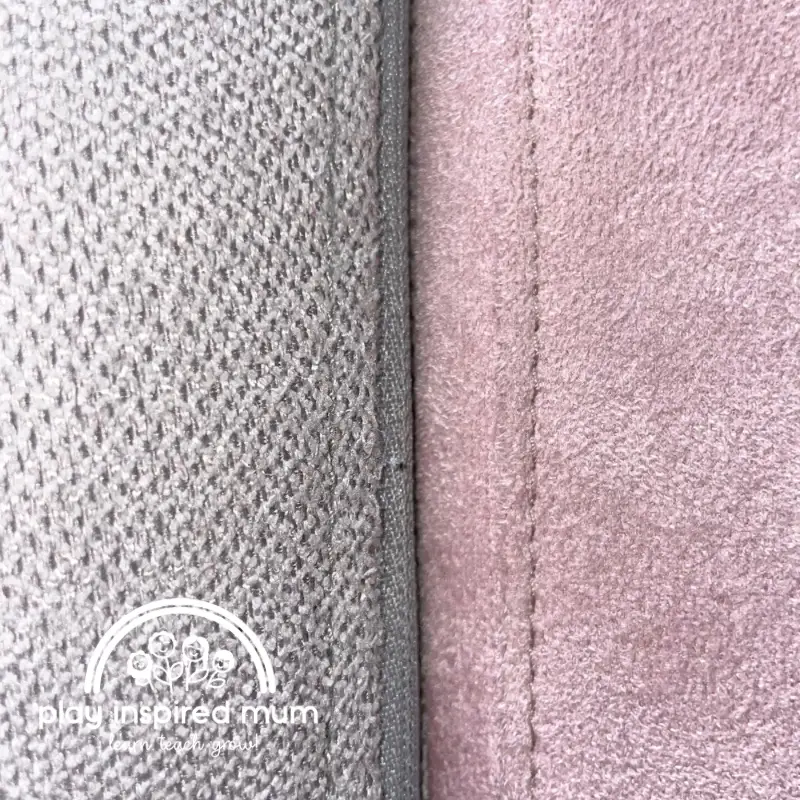 Available Fabrics
Microsuede
The Whatsie play couch microsuede covers are durable, incredibly soft, stain-resistant, and child-friendly.
They are beautifully lush and running your hands across the fabric can be calming and great for sensory seekers.
The super-soft pile of the fabric shows a touch darker when moved in one way and then lighter in the other.
The Whatsie microsuede covers are cool in summer and cozy and warm in winter.
Microsuede covers are a great option for families with cats. Given there are no loops in the fabric, the microsuede is more resistant to pulls.
The microsuede play couch covers are available in:
Stormy Grey
Blush Pink
Forrest Green
Midnight Blue
Gingerbread
Lilac
Sage
Sky Blue
Cotton
The cotton blend covers are created with a blend of natural materials. That is 40% ramie and 60% cotton.
These covers are highly sustainable and eco-friendly choice. This earthborn fiber blend is naturally resistant to bacteria, durable, spill-resistant, beautiful, and resembles the look and feel of a high-end fabric couch.
The Whatsie cotton covers are the prime choice for families looking for a play couch that is long-wearing, and durable, while still being modern and stylish.
The cotton play couch covers are available in:
Koala Grey
Turtle Teal
French Navy
Elephant Grey
Sea Mist
Sandcastle
2023 Whatsie Redesign
Whatsie play couches evolved!
After much deliberation, and testing, the team at Whatsie play couch leveled up their Original Play Couch plus introduced two more designs to create a something for everyone range.
Although we bought our first Whatsie play couch, our second one was gifted to us by Whatsie. Despite this, our opinions and views remain entirely our own.
I requested microsuede so we could do a comparison of the two fabrics.
Just quietly, the cotton has been great but if you have a cat, the microsuede has been amazing!
While our cat is generally quite good with our furniture, our beloved kitty has put a few runs in the cotton covers.
The microsuede however, has been with us for coming up for 6 months now and still looks immaculate.
No pilling or pulls at all.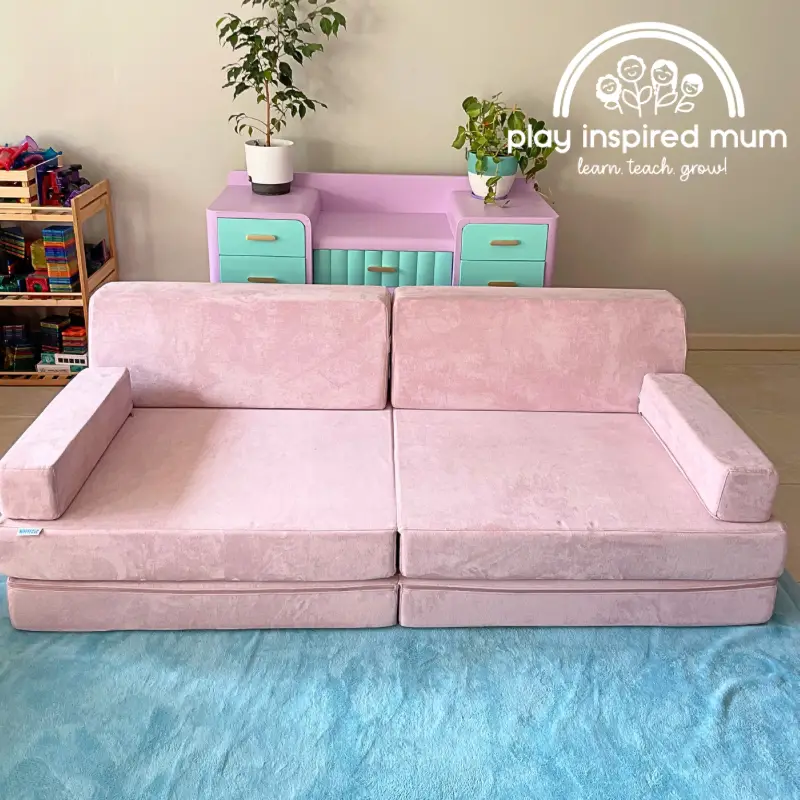 Just quietly, I thought I might add that the photo of this Whatsie build below really makes me smile. The crinkles in the fabric show a little journey. Working their way up the wedge, one step, two steps, three steps, four, and then two hand marks made by little Mr 21 months pulling himself up.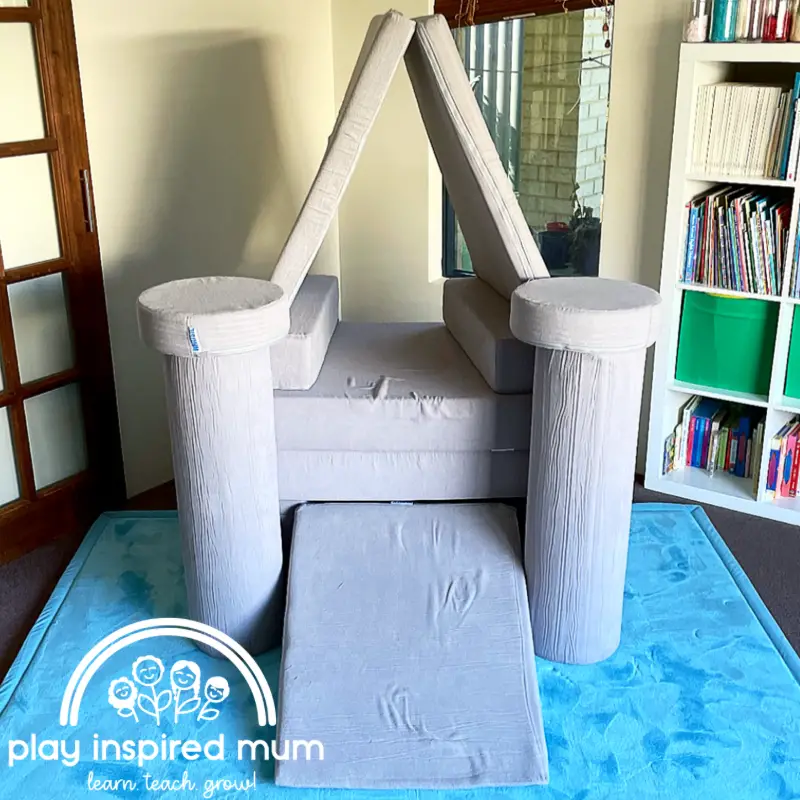 What is the difference between the Whatsie Play Couches
The team at Whatsie has a solid selection of play couches to suit most families' needs. Whether you are tight on space or looking for an outdoor play couch, there is something to suit everyone.
So what are the differences between the Whatsie play couches?
Original Whatsie Play Couch
This is where the Whatsie story began.
What comes in the box?
These are the dimensions of the updated sparkly 2023 new design
2 x Bases: Two large connected pieces of foam 168cm x 84cm x 12.5cm
2 x Half Trapezium Prism Cushions: 84cm x 30cm x 25cm 
2 x Rectangular Prism Cushions: Rectangular cushions 55cm x 12.5cm x 12.5cm
The updated half trapezium prism cushions offer so much more versatility.
They offer full coverage along the entire length of the couch, providing ample space for everyone to lean back.
When used as pillars in a build, they offer increased height.
The trapezium's top has a width of 15 cm, ensuring exceptional stability for building on top and serving as a perfect balance beam for little feet.
One side of the trapezium piece is flat, allowing it to sit seamlessly against a wall or the play couch. It can be used as a plough on a escavator, a seat on a train, a counter on a shopfront, a footrest, and much more.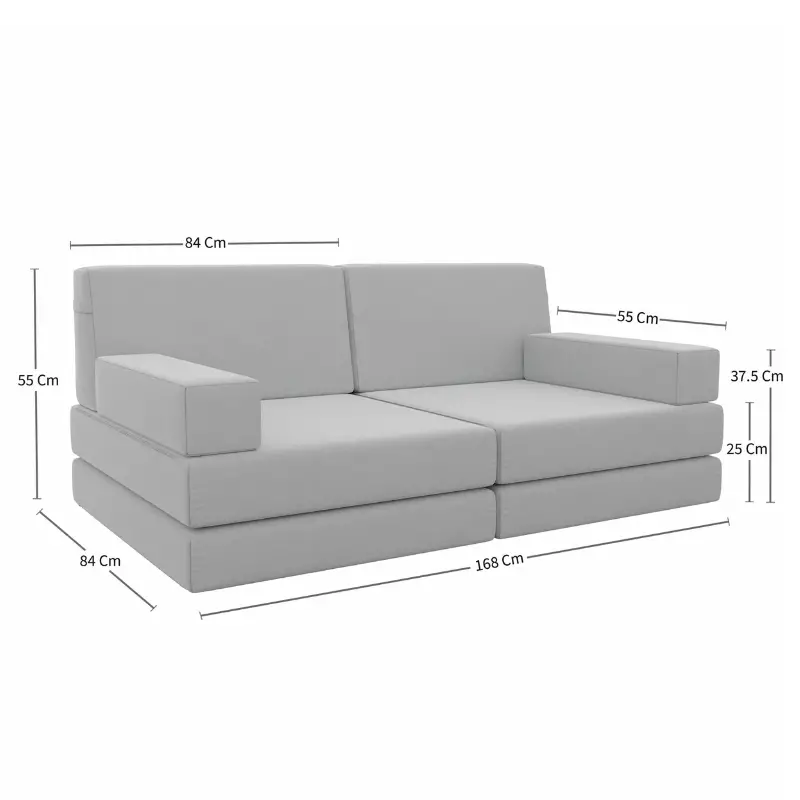 These are the dimensions of the discontinued Original 2021 design.
The Base: Two thick connected pieces of foam 168cm x 15cm x 84cm
The Top: Two thinner, connected pieces of foam 168cm x 7.5cm x 84cm
2 x Trapezium Prism Cushions: Top 15cm/bottom 35cm (w) x 33cm (h) x 60cm (l)
2 x Rectangular Prism Cushions: Two rectangular cushions 15cm x 25cm x 80cm
So Whatsie has captured your heart, but you wish it were shorter.
Well, fear not! Introducing Shortie, the compact companion that brings the fun right to your doorstep!
Despite its shorter length, Shortie is packed with all the fantastic features that have made the Whatsie a best-seller. If your home is cozy but you don't want to miss out on the myriad benefits of the Whatsie, Shortie will quickly become your new best friend.
The design, where a sofa meets a playground, actively encourages open-ended play, fosters creativity, enhances gross motor skills, and boosts children's confidence as they safely explore through climbing and tumbling. Hooray!
With its comfortable and adaptable design, Shortie has been specifically crafted to grow alongside your child, playing an essential role in their development while continually stimulating their evolving minds and changing needs.
Bringing together fun and functionality, Shortie is a must-have for the whole family. It won't be confined to the playroom; instead, it will be cherished for storytelling, cuddles, hide-and-seek, and all things play.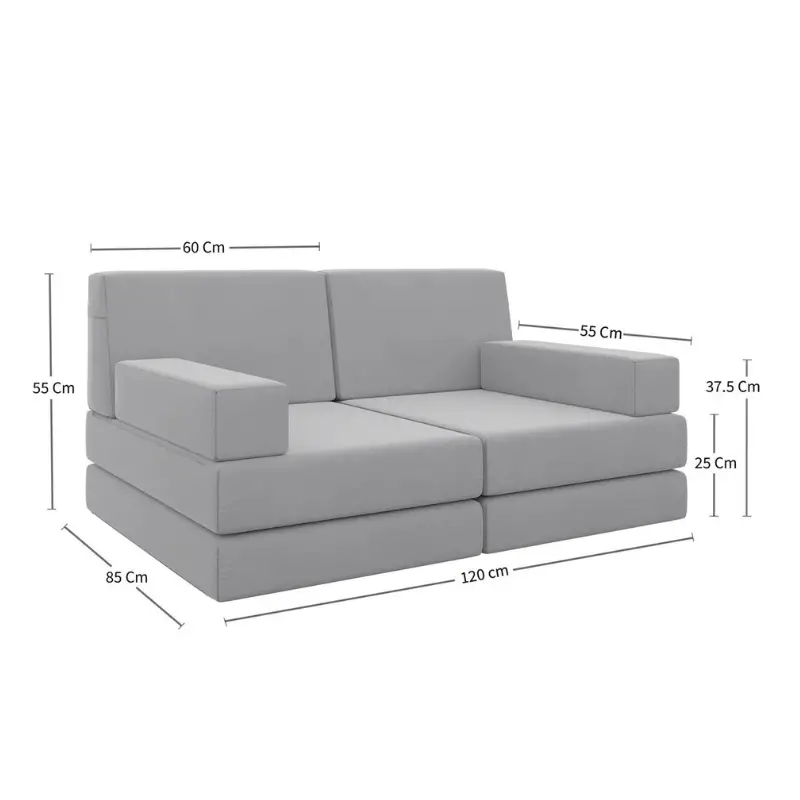 If you adore everything about the Whatsie but find the size doesn't quite suit your needs, we have great news!
Introducing Halfie, the ideal solution for those with limited space who still want to experience the incredible features of the full-sized Whatsie.
Embrace Halfie in your home and enjoy all the fantastic attributes that make the Whatsie so special at half the size.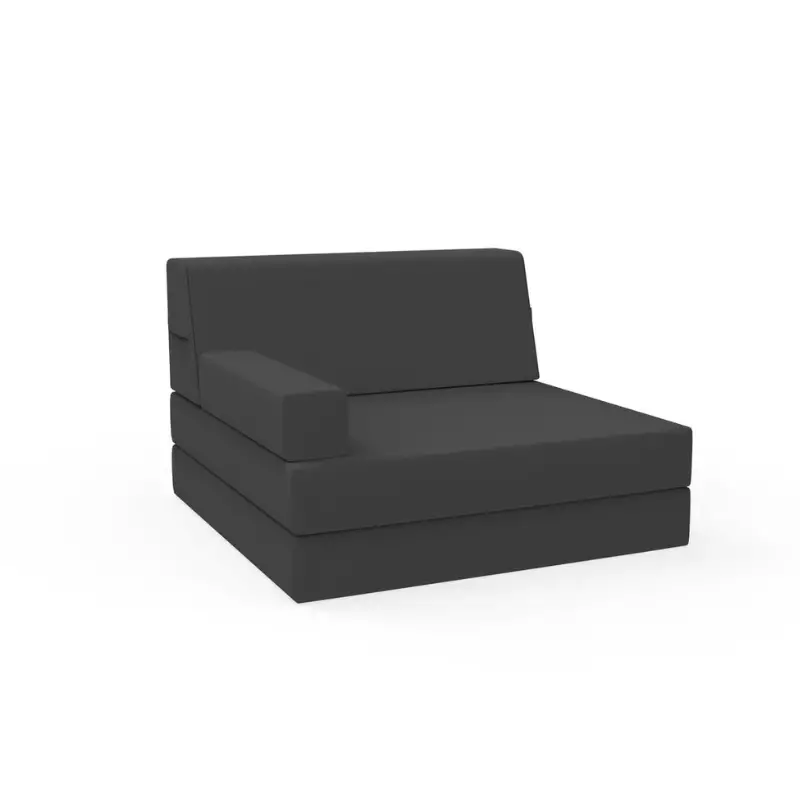 How was Whatsie founded?
Driven to create something that would steer her sons away from screens and into creative and active play, Sydney's Mum Lisa is the heart and brains behind Whatsie.
With a background in Medical Physics and a passion for helping children learn through open-ended play, Lisa was searching for a special something. That is, a special something her children could invest their boundless energy and imaginations into. And so the Whatsie was born.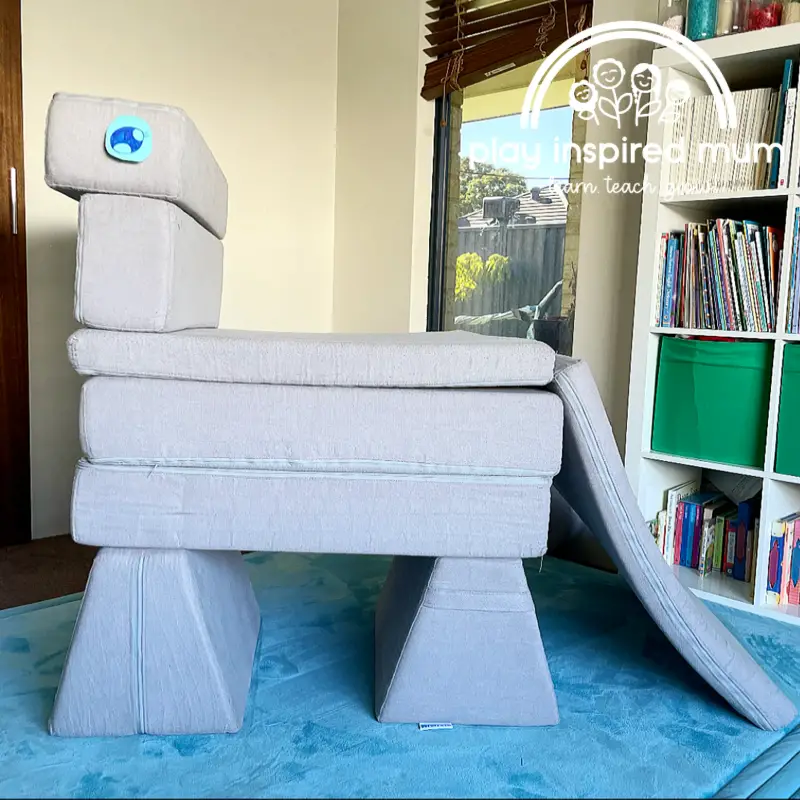 Is Whatsie Australian owned?
Whatsie is an Australian-owned small business based in Sydney, New South Wales.
What colours does Whatsie come in?
Whatsies come in a huge range of colours to suit any decor. Whether you are looking for neutrals, earthy tones or brights, there is a Whatsie colour to blend in or stand out for you.
What are the differences between the Whatsie fabrics?
Microsuede
The Whatsie microsuede covers are durable, incredibly soft, stain-resistant, and child-friendly.
They are beautifully lush and running your hands across the fabric can be calming and great for sensory seekers.
The super-soft pile of the fabric shows a touch darker when moved in one way and then lighter in the other.
The Whatsie microsuede covers are cool in summer and cozy and warm in winter.
Microsuede covers are a great option for families with cats. Given there are no loops in the fabric, the microsuede is more resistant to pulls.
Cotton
The cotton blend covers are created with a blend of natural materials. That is 40% ramie and 60% cotton.
These covers are highly sustainable and eco-friendly choice. This earthborn fiber blend is naturally resistant to bacteria, durable, spill-resistant, beautiful, and resembles the look and feel of a high-end fabric couch.
The Whatsie cotton covers are the prime choice for families looking for a play couch that is long-wearing, and durable, while still being modern and stylish.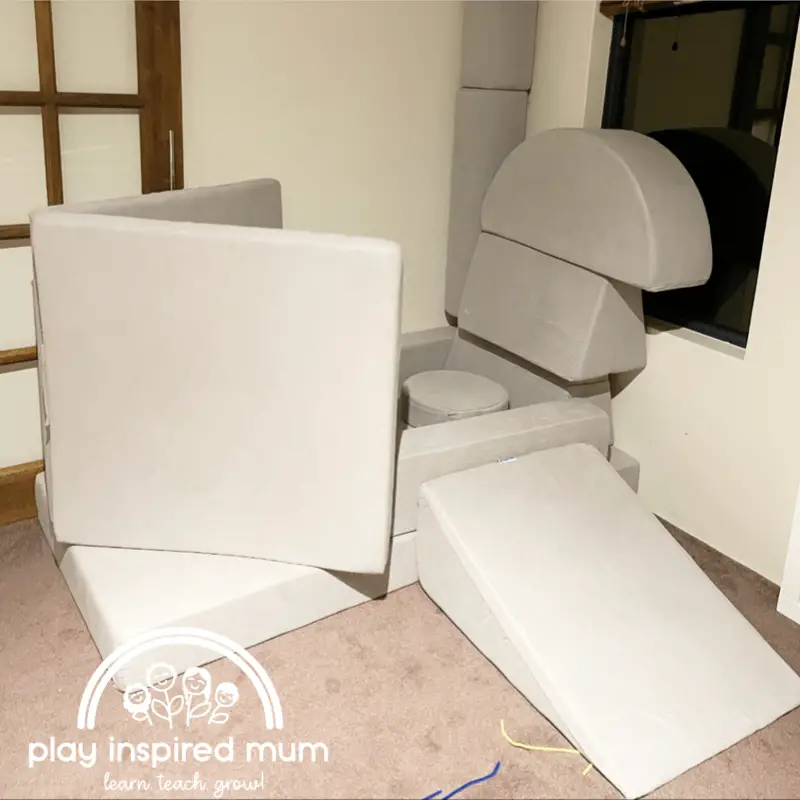 Whatsie Play Couch Zip Covers
To prevent scratches while playing and curious fingers exploring the zips, Whatsie play couches have a tiny pocket at the end of the zip line to conceal the zipper.
The zip slips in easily and with a bit of coordination can be retrieved easily too.
The zips run smoothly across the teeth.
I have washed our covers a few times now and have never had a problem with the zips catching. They work seamlessly.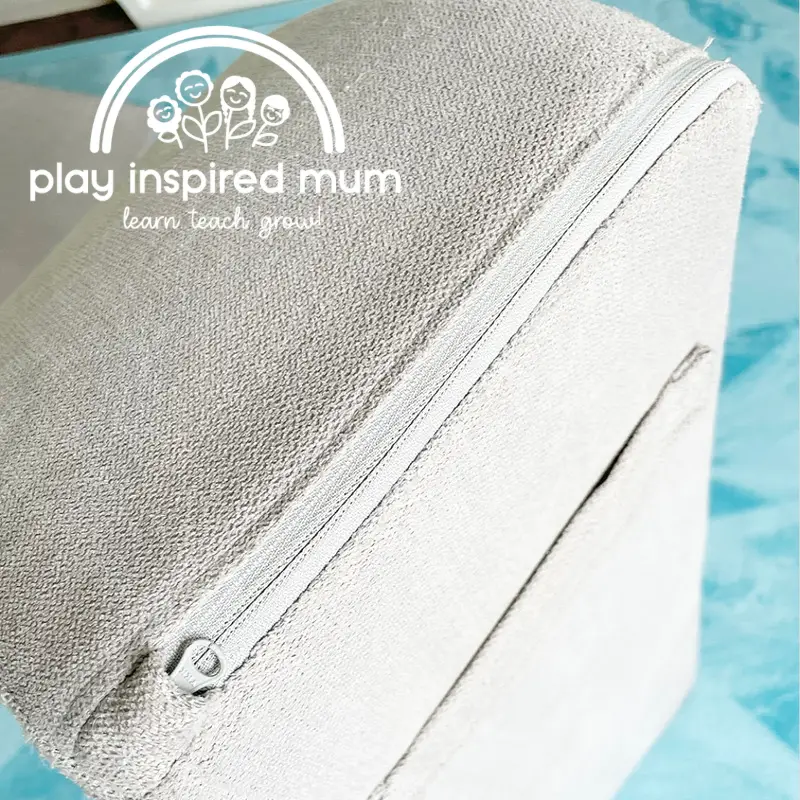 Whatsie Play Couch Handles
The handles on the Whatsie play couch pieces are another stand out feature. They make coordinating the pieces much easier for both children and adults. The handles make moving the pieces from one room into the next much easier too.
Whether it is children are moving the pieces to create a new build or setting up a slumber party in another room, the handles are the perfect size for little (and bigger) hands to manovor the play couch pieces.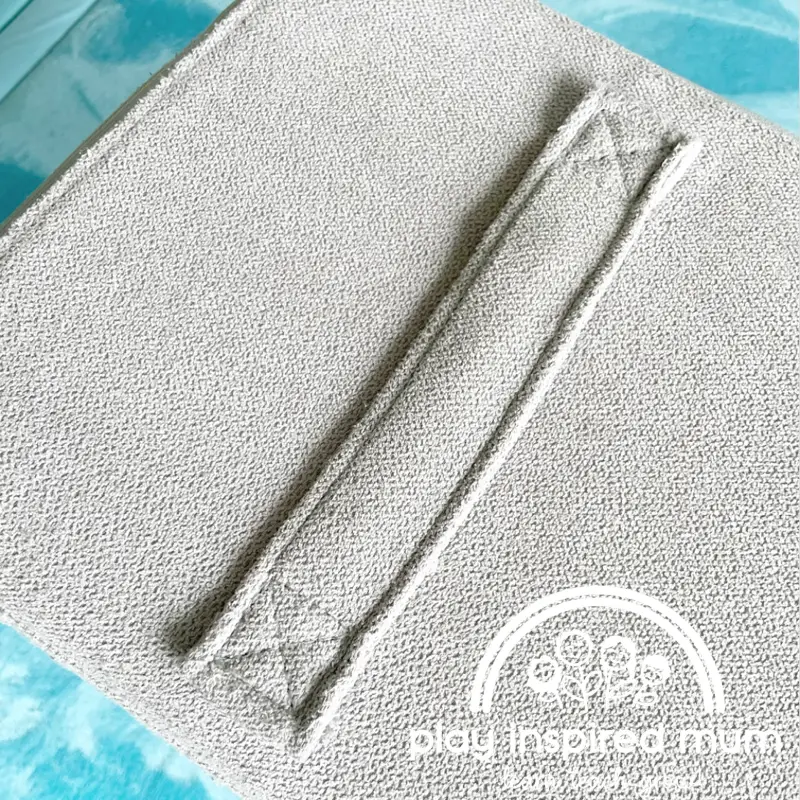 Is Whatsie waterproof?
To protect the inner foam pieces, waterproof liners are available.
These waterproof liners are designed to use under the fabric covers. They protect the foam pieces from liquid spills (toilet training anyone?) and dust mites.
Each set contains covers for the base pieces, trapeziums, and rectangular armrests.
What age children are playing couches for?
Play couches have no restrictions!
Whether your baby is having tummy time or your teen is slumping with a comic and music, the Whatsie play couch really is for the whole family.
In saying that, please do not sleep baby on any play couch and always supervise your baby.
When family have come to visit, the Whatsies have been useful for making seats for those who have struggled to stand after sitting on our traditional couches or been recovering from an operation needing to keep their legs elevated.
We were easily bale to configure the perfect height chairs to keep them comfortable.
What Whatsie add-ons are available?
Whatsie has an amazing range of additional shapes to add extra elements of play and creativity to your builds.
Roller and Spot Set
Two rollers and two spots come in this mini set of best seller add-ons. The rollers are amazing for balancing, using as supports for builds, rolling back and forth and so much more!
Spots are versatile steering wheels, stepping stones, eyes, and steps!
Rollers measure 80cm (l) x 25cm (d)
Spots measure 10 cm (h) x 35cm (d)
Crash Mat
At 120 cm long by 120 cm wide and 30 cm high the Crash Mat is perfect for both landing and lounging on.
Filled with lots of small foam pieces, the crash mat makes for a soft and safe landing target for your daring jumpers.
The foam pieces are encased in a waterproof cover. This is then encased within a separate fabric cover.
Spots
The spots are a set of two round cushions. They measure 35cm in width and 8cm high. They are perfect to add extra to imaginative play and as decor. Our spots have been the wheels of trucks, the eyes of a chameleon, and stepping stones across an obstacle course.
Spots are available in microsuede, outdoor, boucle, and cotton fabrics.
Crawl Wall
The Crawl Wall can be used on its own as a stand-alone piece or to enhance builds with your play couch.
The Crawl Wall is made up of 2 separate pieces:
The Wall: The wall is a trifold thick base piece measuring 168 cm in length and 15 cm thick. The central section has an arch door cut out which is 42 cm wide and 60 cm high.
The door: An arch piece measuring 42 cm wide and 60 cm high.
This versatile add-on is the same thickness as the thicker base of the Original and the Duo.
It can be used to add a door to your knights' fort, garden pixies tree house, or as a portal to another dimension.
The crawl wall is currently available in cotton.
Rainbow
As a nest of three arches, the Rainbow is a versatile add-on that can be used in so many different ways. Stack them, climb them, rock on them, or ride them. The rainbow can be transformed from a mountain to a pony, or a boat to the speediest slug in the south!
The largest rainbow arch: 105cm (L) x 52.5cm (H) x 40cm (W) 
The middle rainbow arch: 67cm (L) x 40cm (W)
The smallest rainbow arch: 29cm (L) x 40cm (W)
The Whatsie rainbow is made with cotton blend fabric with each rainbow being a different colour.
There are two earthy colour collections to choose from; beige or green.
Stackable Stairs
Two separate pieces that can be stacked upon each other to create the perfect set of stairs!
Use the Stackable Stairs as a stand-alone play piece or incorporate them into your next play couch build.
Perfect for displaying cars, becoming a monster's teeth, or the step to the royal queen's throne. What will it be like at your place?
Longer steps: Consists of 2 steps 12.5 cm (h) x 80 cm (l) x 60 cm (w)
Shorter steps: Consists of 2 steps 12.5 cm (h) x 40 cm (l) x 60 cm (w)
The Stackable Steps are available in cotton or microsuede.
Mega Flip Slide
Is it a rectangular cushion or a wedge-shaped cushion? The Mega Flip Slide is both!
This versatile add-on can be used as a stand-alone piece of equipment or enhance your play couch build. When folded, it takes on the shape of a rectangular prism. However once opened out, it makes the perfect shape for creating a ramp, bridge, ball run, slide and so much more!
The Mega Flip Slide measures
Triangle: 50 cm (h) x 80 cm (l) x 60 cm (w).
Rectangle: 50 cm (h) x 40 cm (l) x 60 cm (w)
The Mega Flip Slide is available in cotton and microsuede fabrics.
Arch
The Arch is made of denser foam to provide even more opportunities to build and play. The handle gives extra support to its rider and makes moving it around a breeze.
The Arch measures: 80cm (L) x 40cm (W) x 25cm (H) and is available in cotton and microsuede fabrics.
How to clean your play couch
It is no secret that with kids come grubby little mittens and accidents are bound to happen. The team at Whatsie is aware of this and has created covers that are machine washable and a breeze to clean.
Spot clean small marks with a damp cloth.
For bigger messes or maintenance, simply remove the covers and place them into your washing machine on a gentle cold water cycle. Once clean, hang the covers in the shade for them to dry.
To provide even more protection, waterproof covers can be put onto the cushions underneath the fabric covers.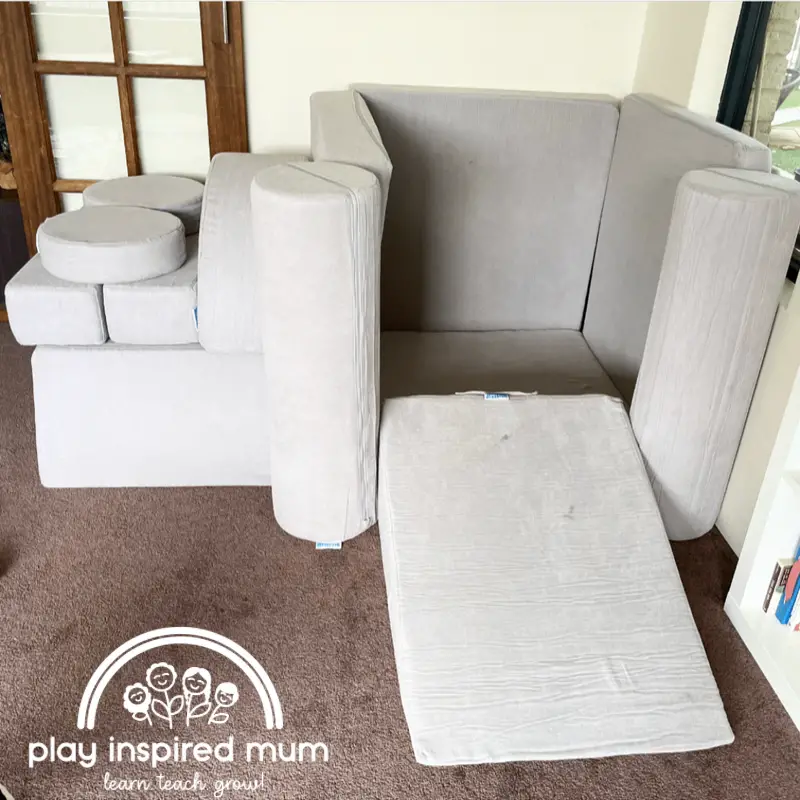 Pets and Whatsie
Our pets are a huge part of our family.
No, really. There are so many of them!
That being said, they are more often than not, a part of our everyday. The kids love reading to their cat and snuggling their guinea pigs.
Thankfully the Whatsie covers are so easy to clean.
Vacuuming pet hair is a breeze, and in case of an accidental tinkle, the covers can be easily slipped off for a rinse and machine wash.
We orignially just had cotton covers. Our cat had made a couple of pulls in the fabric however he more often uses the play couch to snooze on rather than as a scratching area.
If you are concerned about how your cat scratching may affect your play couch, the microsuede covers are reportedly more resilient as the fabric contains no loops.
As said earlier, we have had our microsuede play couch for around 6 months now. There is not a single pull.
Pet hair cleans off easily with a vacuum and the covers look the same as the day we first pulled them from the box.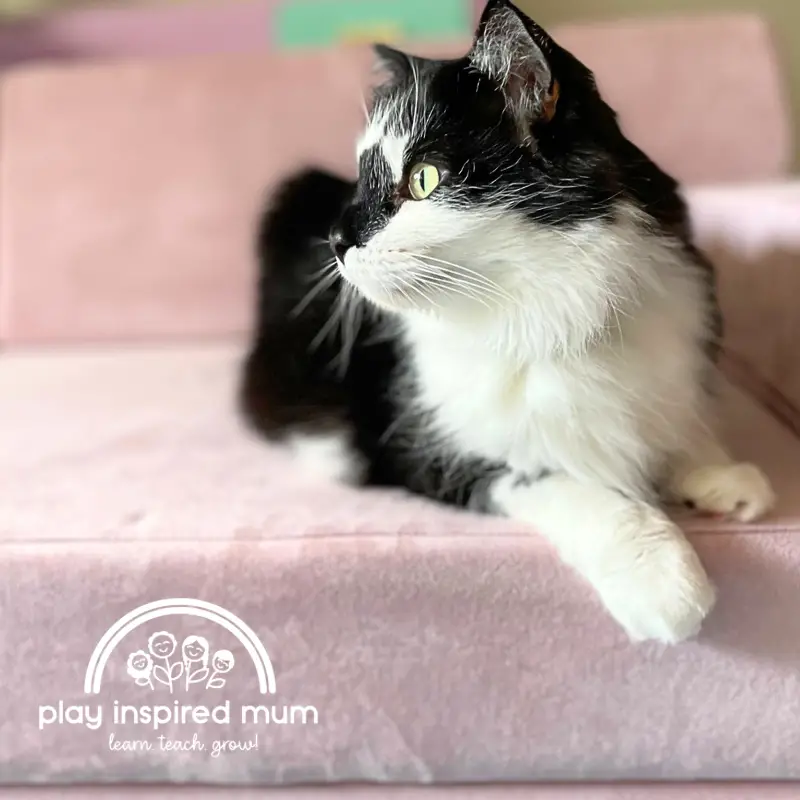 To encourage your problematic feline to stay off your play couch, perhaps consider laying sheets of aluminum foil across it when the couch first arrives.
Cats do not like foil.
They don't like the way it sounds.
They don't like the way it feels.
Foil is not going to hurt them, it is merely a deterrent.
Creating an unpleasing association with the new addition to the home could be a way to prevent your cat from claiming the play couch as theirs.
After a couple of weeks, reuse the foil to transform your play couch into a futuristic space adventurer!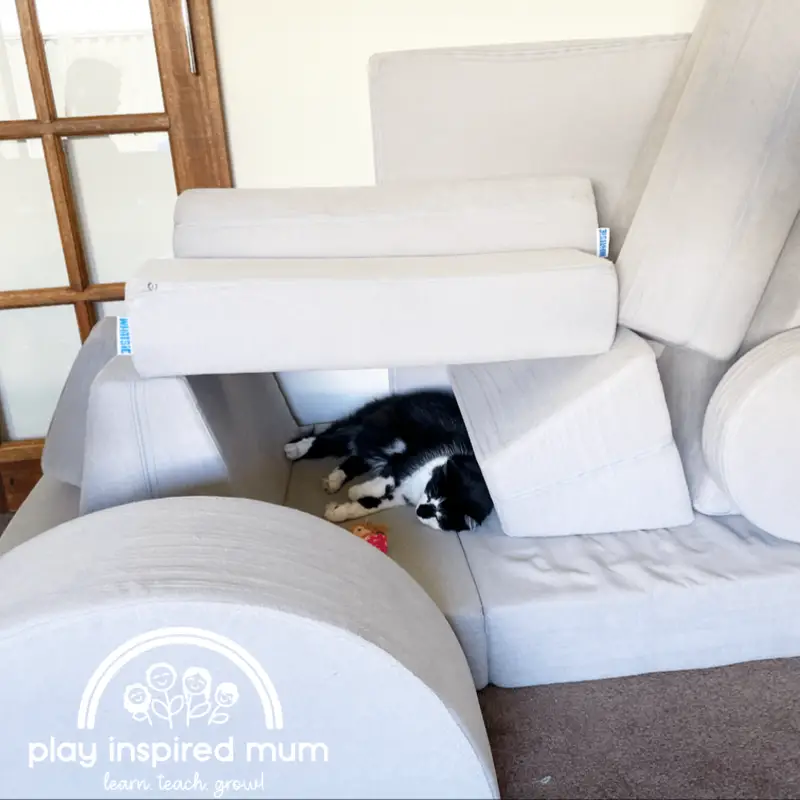 What materials are used to make a Whatsie
All foam used in Whatsies is certified CertiPUR-US®, which is a premium benchmark for foam safety.
Since it's certified, you can safely know that your Whatsie play couch is free of
formaldehyde
phthalates
mercury
lead
PBDEs, TDCPP or TCEPC flame retardants
The foam is environmentally innovative and made without ozone deleters.
Is the foam safe?
Absolutely- yes the foam is safe.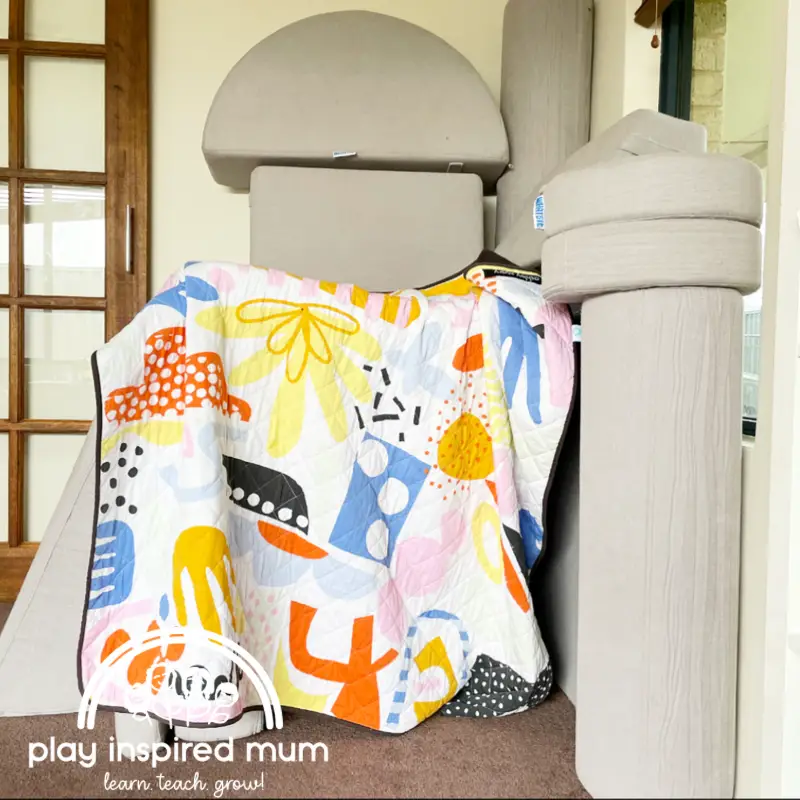 What sizes are Whatsie Play Couches 2023 available in?
Essentially, Whatsies are available in three designs.
| | | | |
| --- | --- | --- | --- |
| Play Couch | Base | Arm Rest | Trapezium |
| Original | Two large bases that measure 168 cm long / 84 cm wide / 12.5 cm deep | Two armrests perfectly sized for little hands that measure 55 cm long / 12.5 cm high /12.5 cm deep | Two full-length half trapezium pieces that measure 84 cm long / 30 cm high / 25 cm deep |
| Shortie | Two large bases that measure 168 cm long / 60 cm wide / 12.5 cm deep. The total length of the couch is 120 cm and 84 deep with each base piece side by side. | Two armrests perfectly sized for little hands that measure 55 cm long / 12.5 cm high / 12.5 cm deep | Two full-length half trapezium pieces that measure 60 cm long / 30 cm high / 25 cm deep. |
| Halfie | Two large base pieces that measure 84 cm long / 84 cm wide / 12.5 cm deep and can be zipped together. | One armrest that measures 12.5 cm high / 12.5 cm wide / 55 cm  | One full-length half trapezium pieces that measure 84 cm long / 30 cm high / 25 cm deep. |
Are Whatsies NDIS approved?
Whatsies have helped so many children across Australia develop vital skills, reach milestones and stimulate movement through play through their NDIS plan.
To explore the possibility of claiming a Whatsie through your child's NDIS plan, reach out to your NDIS plan manager for further discussion. The Whatsie team has a dedicated form for parents and caregivers to complete, which enables them to issue an invoice for NDIS prior to the purchase.
Access the form here.
What to do when your Whatsie arrives
Play with it!
The sooner your Whatsie is released from its box and more importantly, its vacuumed state, the better.
Upon its arrival, the vacuumed-packed play couch simply slips free from the box. Take care when removing the plastic so as not to damage the foam or covers.
When the play couch is removed from the box, it is not going to look pretty – this is normal!
It takes time to expand and reach its true shape.
If you are purchasing as a birthday gift, perhaps give it time to expand before the big day. Ask a friend or family member if they can store it to allow the couch to rise before the big day.
Remove the plastic and the foam will start to expand straight away.
While the Whatsie is ready to play straight away, it can take approximately two weeks for it to fully expand. The same can be said for the creases in the covers. These will fade over time.
A hairdryer on low heat can be used to speed up this process.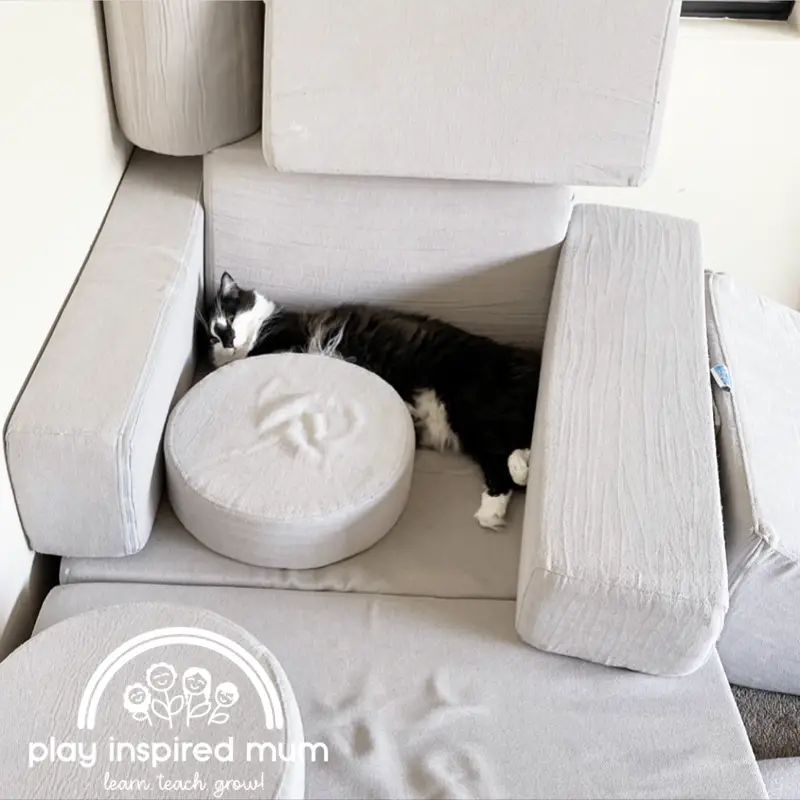 How to use a Whatsie play couch
Play couches are an opened ended resource. There are no set rules on how they are to be used or limits to their use. They provide children with limitless opportunities for
Imaginative play
Gross Motor Development
Developing Resilience
Creative Thinking
Sensory input
Role Play
Ordering Events
They inspire movement
Play couches are made to be jumped on, climbed up and over, crawled underneath, and balanced upon.
For many children, play couches have proven to be a pivotal therapy tool for whole-body learning.
Play couches can present opportunities for whole-body play which can, in turn, promote
Core strength
Stability
Endurance
Spatial Awareness
Coordination
Proprioception
Vestibular Input
Balance
They are a comfortable space for some quiet time.
Within minutes, a play couch can be transformed from an obstacle course to a snuggly hammock with a backrest at that perfect angle to support a reader being taken on a magical journey.
They can be a spare bed for sleepovers.
Whether it's a weekend sleepover with friends or just crashing into their parent's room during a scary storm, a play couch can become a space for a good night's rest.
A Whatsie is a functional, stylish piece of furniture. And then, it is also practical, durable play equipment.
Whether your Whatsie is in a designated playroom or camouflaged in the main living area of your home, this Aussie favourite combines the refined aesthetics of modern furniture with the fun and dependability of soft play equipment.
Can you use a play couch as a bed?
Yes, a Whatsie can be used as a temporary bed. They are roughly 20cm shorter than a single mattress.
Simply slip a single bed sheet over the top and you are good to go!
Play couch bases make for great landing mats for when transitioning little ones from their cots into their first bed. Even with the safety rails, some kids still manage to end up on the floor. The soft base cushions would break their fall by night before heading back to their day job back in the playroom.
Benefits of having a Whatsie play couch
Downtime is important.
The recipe for healthy kids has long been
Eat healthy foods
Drink water
Be Active
Get Rest
Whatsie is the perfect space to enjoy quiet time either with the company, remembering their day or having alone time with a favourite book, or listening to music. The fabrics offer a soft and comfortable feel, while the cushions can be arranged to provide optimal support.
Whatsie does relax time well.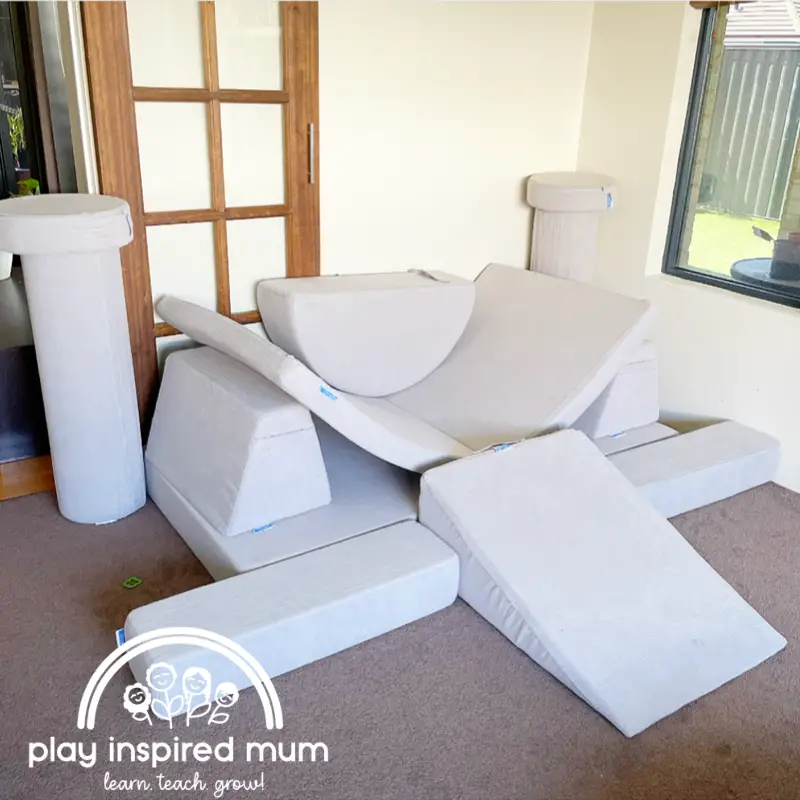 Benefits of active play at home
As a Mum of active children, I do tend to celebrate the benefits a Whatsie has on active play.
For a few reasons too.
Children have a natural inclination to learn through movement. Learning through active play offers numerous benefits. Engaging in active play causes the hippocampus, the learning center of the brain, to increase in size. Additionally, whole-body activity stimulates the pre-frontal cortex. Why is this relevant? Gross motor engagement increases improved academic performance. Getting kids moving enhances attention and memory both of which are vital for learning.
Provides opportunities. Research has demonstrated that some children may not develop motor coordination as a skill set with maturation. Environmental factors and the people children spend time with can have a determining role in the development of important motor skills. Providing your child with the tools to develop these skills is a huge part of their journey. A play couch offers so much potential for developing so many motor skills and other foundational skill sets.
Physical health and wellbeing. Children who engage in active play in their early years are more likely to retain an active lifestyle as adults. Children who adopt a low physical activity or sedentary play style are more likely to become inactive adults. This, in turn, increases the risks of heart disease, diabetes, and obesity. Encouraging active play at home is a step to creating healthy, sustainable patterns of activity for your children to carry with them into adulthood.
Where can a Whatsie be purchased?
Whatsie play couches are available exclusively through their website – with free shipping Australia-wide!
Whatsie play couch discount code
The team at Whatsie has kindly given us a coupon code to share!
Use 'PLAYINSPIREDMUM' at the checkout to save 5% off the website wide including play couches, add-ons, and covers!