Disclosure: This blog contains affiliate links which I may earn a small commission from if you purchase through them, at no extra cost to you.
A celebration ring is a simple yet meaningful, unique, and beautiful way to bring focus to a special event. Whether it may be celebrating a birthday or changing seasons, this Waldorf inspired wooden ring is a timeless tradition that the whole family can enjoy.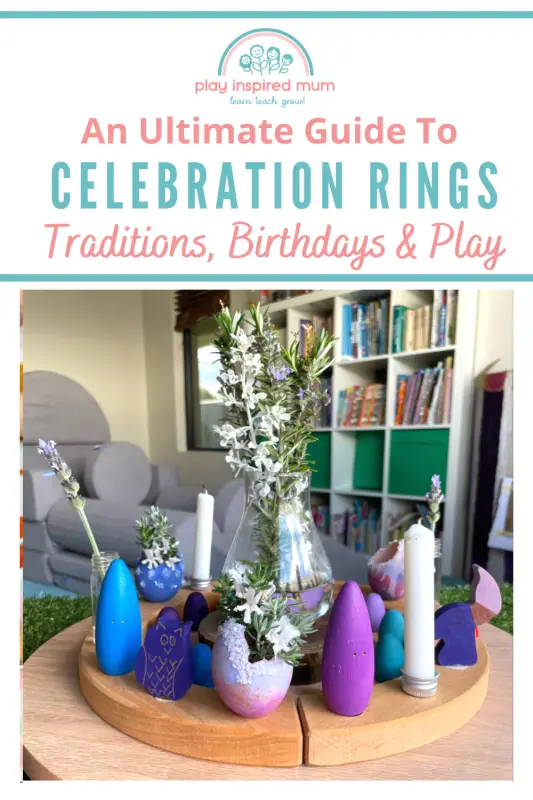 Wooden Celebration Ring Guide
If you are searching for a new tradition to start with your family, a celebration ring may be what you have been searching for. Wooden celebration rings are open-ended, versatile, and unique for each family. The ornaments can be generational. That is, they can be passed from one generation to the next. A beautiful tradition and heirloom to be cherished.
What is a celebration ring?
A celebration ring is a German tradition that is favoured by Waldorf-inspired families.
Traditionally made from wood, celebration rings are decorated to celebrate birthdays. They have holes across the top to hold materials such as
wooden decorations
beeswax candles
silks
nature items
loose parts
Nowadays, celebration rings have been adopted by many families around the entire world to celebrate many holidays, events, and changes in seasons.
Rings are said to represent a journey with each decoration representing an element of the venture.
What can a celebration ring be used to recognise?
Birthdays
First times
Last times
Anniversaries
The arrival of a new pet
The demise of a loved one
New moon
Achievement of a goal
Holiday or travel
Christmas
Easter
Halloween
What is a German birthday ring?
Beautifully decorated wooden celebration rings are traditionally known as Geburtstagskränze.
They often contain between ten and 12 holes to hold a candle for each year of a child's age.
Some families will use the ring instead of placing candles on the cake.
Different families carry different traditions in how they adorn their celebration rings.
While some prefer to use candles alone, others decorate with wooden gnomes, felt dolls, fresh flowers, natural branches, and silks.
Flowers can be standing in vases or laid to rest against the wooden ring.
Ornaments can adorn the holes or be resting in the centre of the ring.
Silks can be weaved around the frame or can act as a cloth for it to be sat upon.
There are no right or wrong ways to decorate a celebration ring.
What is the tradition behind a wooden celebration ring?
Traditionally, wooden celebration rings were used to celebrate a birthday.
A candle would be placed on the ring for each year of age. For example, a ring celebrating the 4th birthday would have four candles placed on it.
The family would sit around the ring and recall a story or event from each year as they light a candle.
The rest of the ring would be decorated with decorations representing the child's interests or events throughout the year.
This is one way of using the ring.
Some will place ornaments in each of the holes to symbolise the year's journey. Accompanying the ornaments would be a candle holder in the middle of the ring.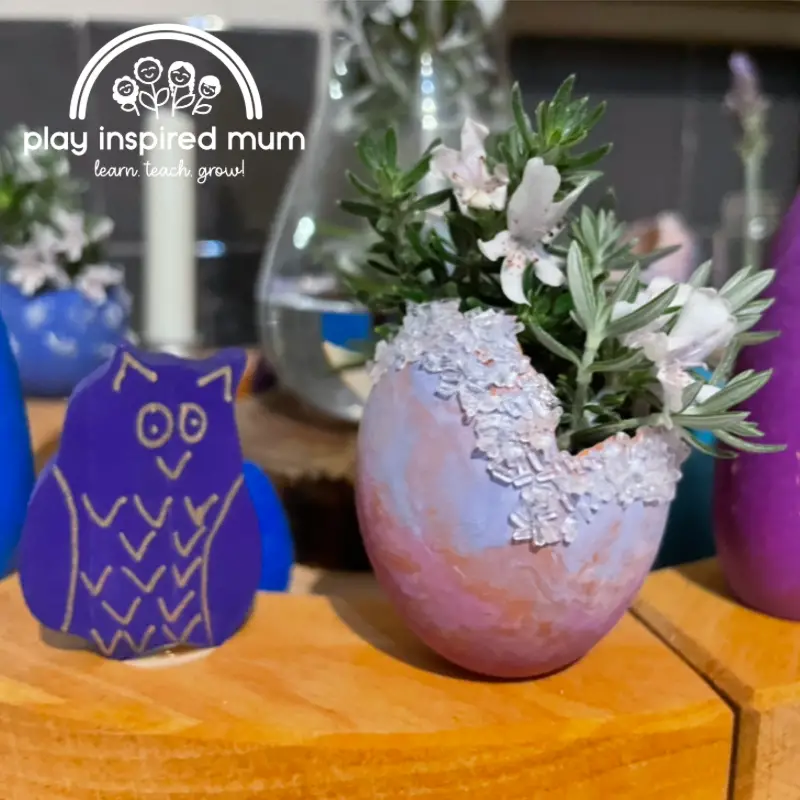 What is a Waldorf birthday ring?
Waldorf birthdays focus on honouring a child's passing year and celebrating their presence in our lives. The Waldorf traditions and rituals are calming, mindful, and uniquely crafted.
Part of the Waldorf philosophy is the importance of building a connection between a child and their environment, with an emphasis on imagination and fantasy.
A Waldorf celebration ring is a wooden ring often decorated with natural items, candles, and decorations with minimal detail to inspire children to use their imaginations and creativity.
Waldorf birthday poem
Before bed on the eve of a child's birthday, they would be recited this little poem while a candle is lit in their honour.
It is a way to honour their previous year and last night the child will be of that age while also creating excitement for the special day to come.
When I have said my evening prayer,
And my clothes are folded on the chair,
And mother switches off the light,
I'll still be *insert current age* years old tonight.
But from the very break of day,
Before the children rise and play,
Before the darkness turns to gold,
Tomorrow, I'll be *insert birthday age* years old.
*insert birthday age* kisses when I wake,
*insert birthday age* candles on my cake.
Why choose a Grimm's birthday celebration ring
Grimm's Spiel and Holz Design is a German family-owned company that is guided by the principle of Waldorf education to create natural, high-quality, and safe wooden toys.
The minimal design of the toys inspires a child's innate creativity.
Each piece is always unique with one-of-a-kind traces of nature. Almost the entire collection is sanded and sawn by hand.
Decorative figures and rainbow friends are each hand-painted and decorated with individual care.
All comply with the European Toy Safety Standards – global leaders in toy safety.
Grimm's is recognised around the globe as a brand that can be trusted to provide quality, beautifully finished wooden toys and learning resources.
Their celebration rings are no different.
Grimm's Celebration Rings
Grimm's birthday ring decorations
Grimm's offers a huge range of beautifully crafted celebration ring ornaments or decorations.
These can be collected over time and used for years to come before being passed to the next generation to carry on the cherished family tradition.
Elephant
Penguin
Two Dolphins
Dolphin
Flamingo
Autumn Dwarf
Summer Dwarf
Winter Dwarf
Spring Dwarf
Tree
Windmill
Turtle
Star
Snowman
Mushroom
Kite
Goose
Fox
Duck
Dog
Crown
Yellow Butterfly
Black Cat
Sailing Boat
Rocking Horse
Yellow Tulip
Yellow Car
Blue Car
Orange Squirrel
Red Horse
Pink Sheep
Pink Pig
Fir Tree
Matryoschka
Rabbit with Basket of Eggs
Pink Butterfly
Swan
Sportscar
Bear Standing
Blue Clown
Orange Butterfly
Blue Train Carriage
Red Train Carriage
Amethyst Mermaid
Amber Mermaid
Aqua Mermaid
Orange Ballerina
Pink Ballerina
Lilac Ballerina
Sea Breeze Ballerina
Lion
Bee
Bat
Watermelon
Swan
Lighthouse
Seal
Seahorse
Moon
Rainbow
Pumpkin
Owl
Octopus
Blue Vase
White Vase
Conical Tower
Rooster
Frog #1
Frog #2
Sitting Monkey
Orange Pig
Purple Flower
Pink Flower
Red Cow
Cow with Flecks
Blue Horse
Birch Tree
Orange Clown with Trumpet
Green Juggling Clown
Red Fairy
Pink Mouse
Orange Snail
Seagull
Green Nesting Doll
Purple Nesting Doll
Angel
Hedgehog
Snail
Magician
Ghost
Starfish
Cherry
Rocket
Pineapple
Monkey
Shark
Locomotive: Red Train
Ladybird
Fish
Toadstool
Worm
Whale
Teddy
Daffodil
Singing Bird
Sitting Bird
Standing Sheep
Rose Tower
Red Tulip
Blue Flower
Red Rabbit
Pecking Bird
Palm Tree
Leaf House
Blue House
Grey mouse
Eagle Owl
Orange Tulip
Four Leaf Clover
Calendula
Aster
Sitting Rabbit
Jumping Rabbit
Snow Drop
Yellow House
Drop Tower
Dream Tree
Blue Fairy
Orange Juggling Clown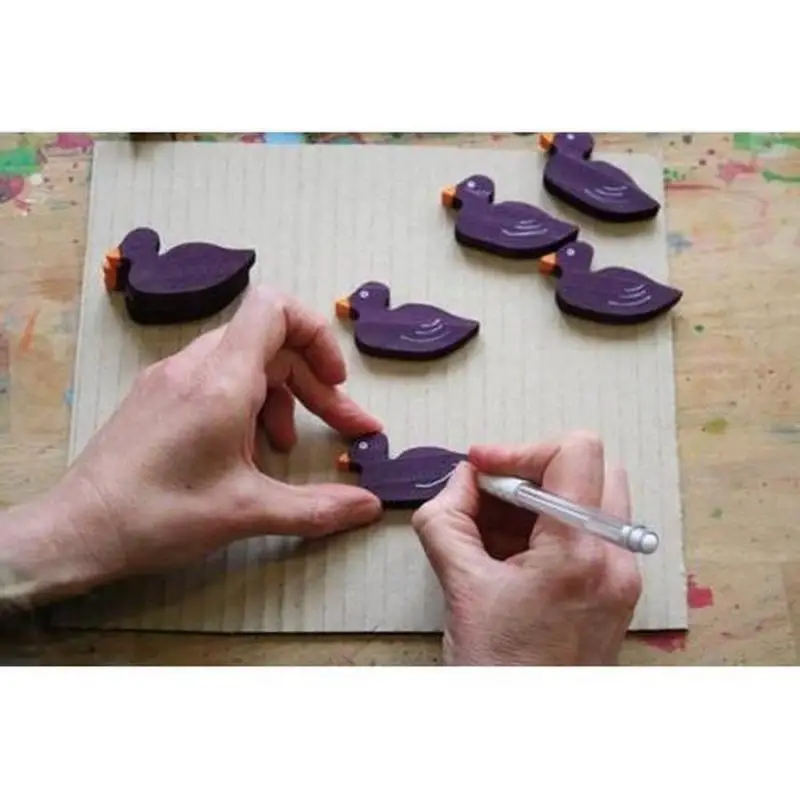 How to use a Waldorf birthday ring
Celebration rings are open-ended, versatile resources.
Traditionally, position a candle for each birthday year on the ring. From there, fill the rest of the holes with festive decorations representing the child's interests or events throughout the past year.
That being said, there are many more ways to use a celebration ring outside of conventional means.
Using a celebration ring for storytelling
A celebration ring can be a useful resource for developing storytelling skills or retelling a story to assist with comprehension.
That is a new story inspired by the ornaments or bringing classics to life with the visual representations of the ornaments.
Lucky Dip Story
Place the celebration ring ornaments into a cloth bag. Without looking, reach into the bag to retrieve an ornament. Place this ornament on the ring and begin the tale inspired by the ornament. Repeat the process, choosing an ornament, positioning it on the ring, and expanding the story to work the new ornament into the tale. This is a fun, unpredictable way to inspire imagination, build vocabulary and have fun with creative storytelling without the pressure of developing a plot or physically writing.
Story Mapping
Use your celebration ring to build a deeper comprehension of a book and the elements of a narrative using a story map.
Match ornaments to represent
Characters
Plot
Settings
Problem
Solution
How to use a celebration ring to celebrate the change of seasons
The change of seasons can be represented in so many ways. These can be collective across the broad community or unique to one family.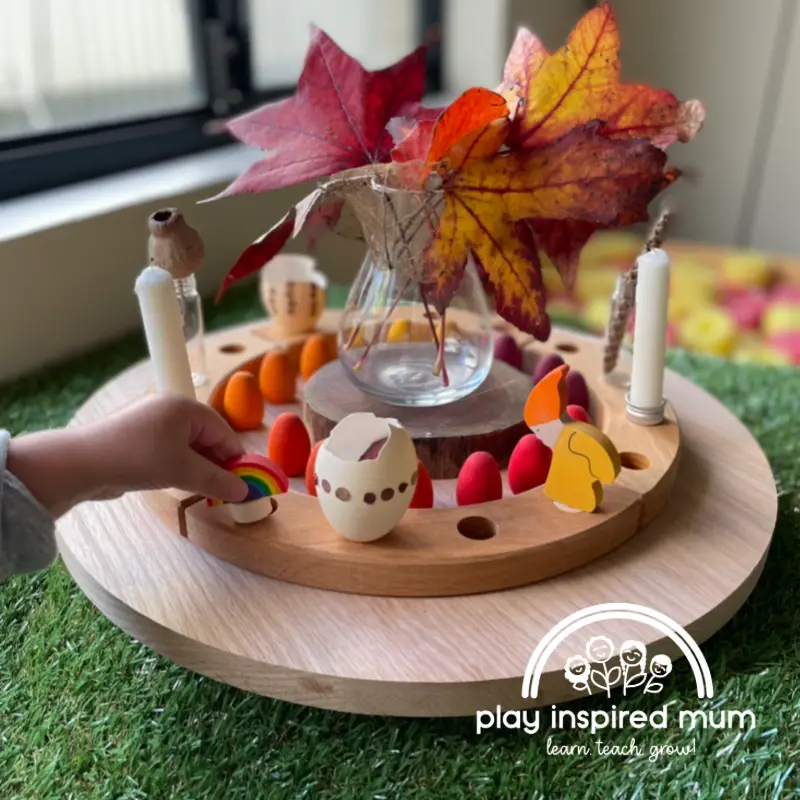 What is the importance of learning about the change of seasons
The change of seasons is a valuable topic to discuss with children to allow them to learn about the passage of time and change. The tilt of the Earth causing changes of seasons can present apparent differences. That being said, other variations are more discreet.
While dressing your celebration ring, some conversations or inspiration may be linked to:
Change of weather: Temperature, rain, humidity
Change to daylight hours: Shorter or longer days
Availability of different fruits and vegetables: Some fruits become scarce whereas others become available
Changes in animal behaviour: Birds may begin to nest, snakes may emerge
Fluctuations in plant growth: Deciduous trees dropping leaves, plants blooming into flower
Different activities: Building sandcastles in sun hats, collecting shells after a storm in a coat and beanie
Suitable clothing and footwear: Warmer days call for t-shirts and shorts, and cooler days require long pants and a jumper.
Different holidays or birthdays approaching: Christmas, Easter, Diwali
Summer Celebration Ring Influences
Colours: Yellow, turquoise, fushia
Fruits: Watermelon, mango, strawberries
Vegetables: Cucumbers, tomatoes, zucchini
Weather: Sunny, clear sky show allow stars to shine bright, hot
Fabrics: Chiffon, silks, cotton
Scents: Seasonal flowers, vanilla, coconut, lemon
Autumn Celebration Ring Influences
Colours: Orange, red, yellow
Fruits: Apples, pears, mandarins,
Vegetables: Corn, pumpkin, beets
Weather: Windy, cooler days, overcast skies
Fabrics: Tweed, felt, poplin
Scents: Seasonal flowers, cinnamon, warm apple, nutmeg
Winter Celebration Ring Influences
Colours: White, blue, purple
Fruits: Oranges, pears, apples
Vegetables: Carrots, parsnips, swedes
Weather: Cold, raining, storms
Fabrics: Wools, tweed, velvets
Scents: Seasonal flowers, orange, cinnamon
Spring Celebration Ring Influences
Colours: Pinks, greens, rainbows
Fruits: Cherries, strawberries, melons
Vegetables: Broccoli, cauliflower, peas
Weather: Warm, sunny days, light showers
Fabrics: Silk, cotton, chiffon
Scents: Seasonal flowers, berry, vanilla
How to configure a wooden celebration ring as a table centerpiece
Using a celebration ring to commemorate a loved one who has passed
Losing a loved one can be a wave of so many emotions.
A celebration ring can be used to commemorate a loved one's life journey or the memories that you have.
Decorations can be chosen while reminiscing memories with loved ones or in private. It can be set up as a group or individually.
We all grieve differently.
On a real personal note here, I chose to focus on celebrating the memory of our loved ones rather than mourning their demise.
When we have lost, I have told my children that our bodies go back to the Earth as part of the natural cycle of life and that our souls go to the stars to forever be with loved ones, and watch over those left behind.
Early in the morning, wrapped in dressing gowns and snuggly socks, the children and I will go outside to see if we can spot our loved ones' stars- they are the ones that glow the brightest.
Something that brings comfort is knowing that the stars are always there – even during the day. The sun may be shining too bright so we do not see them. However, just because we can't see them, doesn't mean they are not there.
Miss 8 asked if it was real.
I replied that 'science has not proven it is however I am choosing to believe in the magic and you are welcome to choose for yourself.'
She chose magic too.
Our tribute to my late Grandad
This was our first celebration ring.
This celebration ring was displayed at my late Grandad's commemoration earlier this year.
I selected decorations that symbolised meaning for me that represented memories, interests, and values.
When discussing what each of the pieces represented, it was really lovely to hear what others perceived them to represent and how the same decorations carried different meanings however were still entirely relevant.
Sailing Boat: His love of the ocean and sailing
Rocking Horse: Memories of playing if us as children, pretending to be a horse so we could ride upon his back
Butterfly: Symbolic of the next stage of the natural cycle of life
Monkey: His cheeky, mischievous, and playful nature
Owl: He was the brightest, most intelligent person I have met with a curious nature and lifelong love of learning
Elephant: In representation of his family values and physical strength and determination
Lighthouse: He and my grandmother have been pillars of strength, safety, and comfort our whole lives.
Red and yellow flowers: The love of his garden
Rainbow: Representing his dear fur friends who would be awaiting his arrival over the rainbow bridge along with our late beloved Keito. Upon learning of his passing, my own children found comfort knowing that he would not be alone and that Grandad was lucky to be able to give Keito pats.
Rose tower: His love for our grandmother
Fresh flowers: Chosen by his great-grandchildren from his own garden
'May he rest in peace'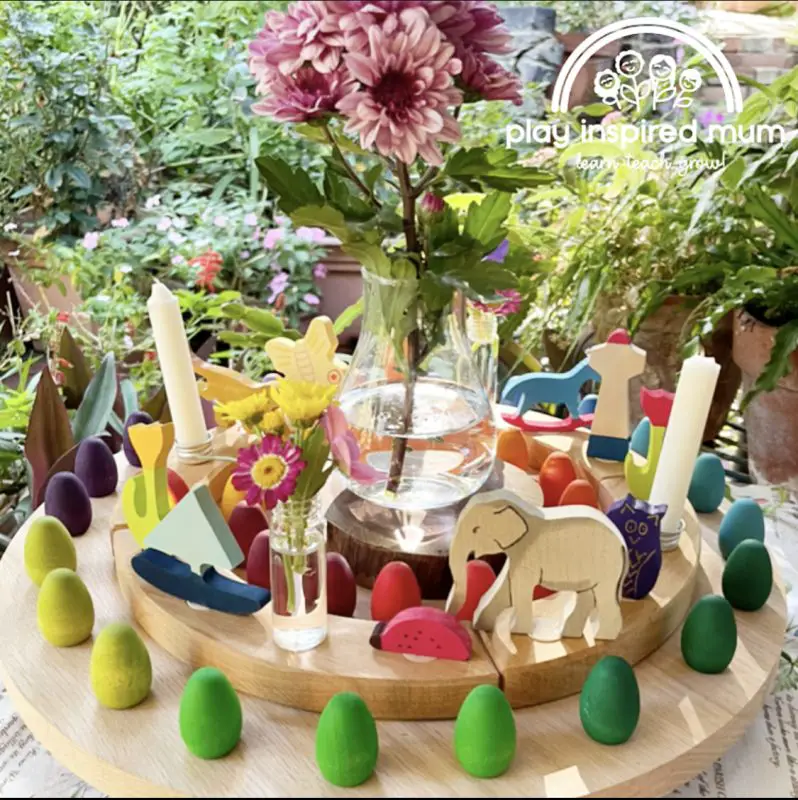 Using a celebration ring for creative play
Create your own small world using the ornaments to create a setting and characters.
The minimal design of the Grimm's ornaments purposefully inspires creativity and imagination.
The little decorations can be used to create endless themes.
Farm: Cow, rooster, sheep and goose
Under the sea: Shark, fish, starfish, mermaid
Country side: Train, carriages, horse, trees
Zoo: Monkey, lion, bird, trees
Jungle: Elephant, bird, tree
Garden: Worm, snail, flowers
Fairy Village: Rose tower, fairy, bee, flower, blue house
Fruit Market: Car, cherry, pineapple, watermelon
Space: Star, moon, rocket
What can be used to decorate a celebration ring?
The limits to the resources you can use on your celebration ring are bound by your imagination.
Empty egg shells can be dyed and decorated. We have dipped the edges of eggshells with Epsom salts to create a crystal opening. Then we have glued pieces of autumn leaves onto others and made patterns with leaf circles punched with a hole punch.
Gumnuts and pebbles can be painted to create story stones for fiction or to celebrate a real life experience.
Nature Items
Pebbles
Flowers
Branches
Herbs
Shells
Nuts
Seedpods
Eggshells
Wood slices
Gemstones Crystals
Loose Parts
Pom Poms
Buttons
Acrylic Gems
Glass Stones
Wooden Bowls
Vases or small jars
Candles
Toys
Wooden Peg Dolls
Felt Needled Dolls
Lego Mini Figures
Animal Figurines