Disclosure: This blog contains affiliate links which I may earn a small commission from if you purchase through them, at no extra cost to you.
Learn how to make a construction trucks taste-safe dirt sensory bin for your toddler.
Construction trucks are all the rage in our house at the moment. This super simple sensory play idea was quick to set up. It kept Mr 2 engaged in learning with a busy mind and busy hands for the better part of the morning.
Here is how we set up and played with our construction truck taste-safe dirt sensory bin.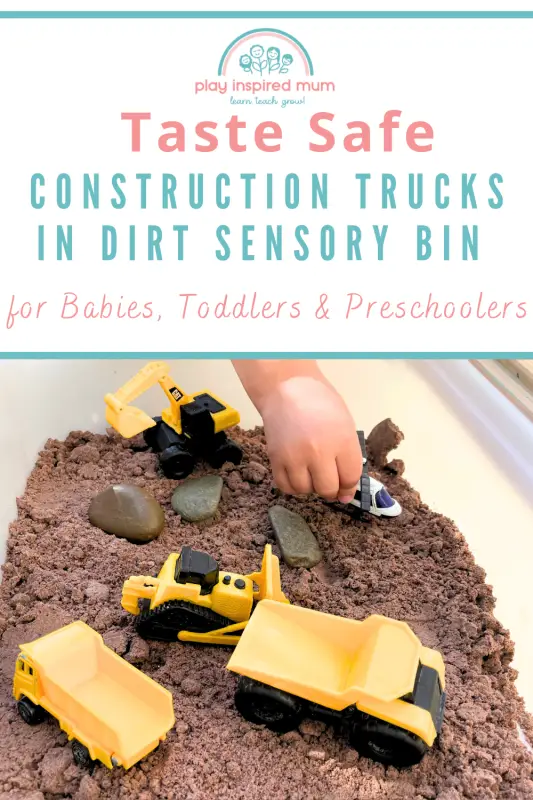 Construction Truck Taste Safe Dirt Sensory Bin
Embracing Mr 2's interest in construction trucks had us setting up this simple sensory play activity.
It was a lovely morning so some messy play outside was a must.
Within 5 minutes, we were able to have a fresh batch of taste-safe dirt made and in the sensory bin.
A few extra loose parts added some extra sensory elements and inspiration and we were ready to play.
What you need to make a construction trucks taste safe dirt sensory bin
Container or shallow tray
Taste-safe dirt (one portion)
Construction trucks (these were from Kmart a few years back)
River rocks
Small stones
Play mat (optional)
Soapy water
Scrubbing brush
Cloth
We used our flisat table trays as our sensory bin.
Storage containers or baking trays are great for creating sensory bins.
We set up our sensory play over our Rudie Nudie play mat to make clean-up easier. Once we were done, it is easy to shake off the excess dirt into the garden bed. We love this mat! It is waterproof for play indoors. It washes and dries quickly too.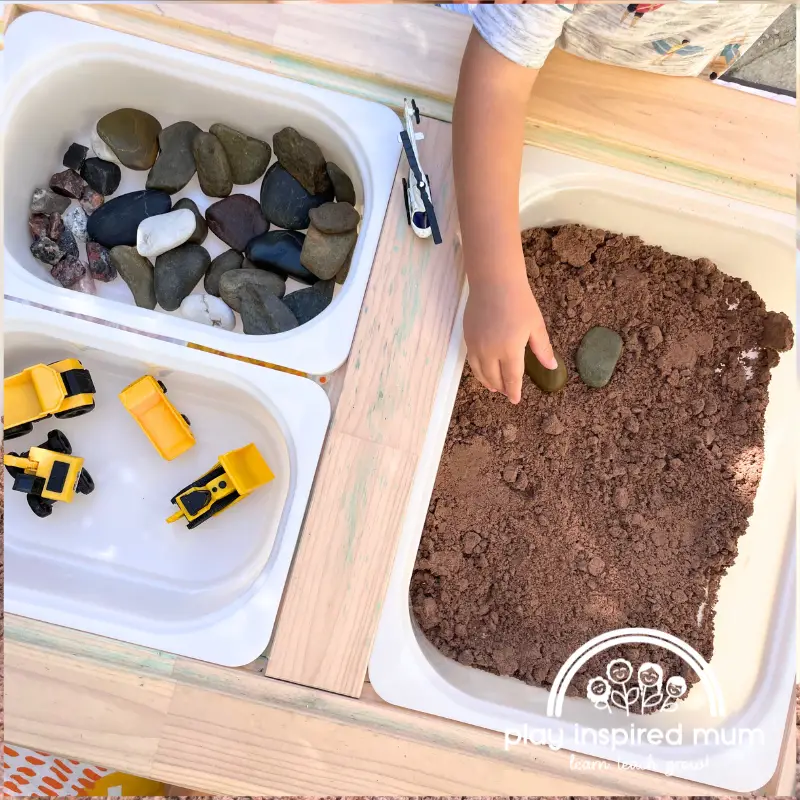 How to make a construction trucks taste safe dirt sensory bin
Place taste-safe dirt into the container
Position stones and construction toys
Let your toddler's imagination and curiosity lead the play!
One of the perks of open-ended play is that there are no specific boundaries or rules. Follow your child's lead and sit back and enjoy the show.
How to play with a constructions trucks taste safe dirt sensory bin
The only rule we have around this type of play is "keep the play in the tray" to encourage the children to keep the dirt in the container so we can keep it to play another day.
Mr 2 started his play by poking the dirt and exploring the texture.
He then proceeded to set up the scene by positioning the river stones and pebbles in the taste-safe dirt.
After adding the construction vehicles, he decided that his little toy helicopter needed some game time too.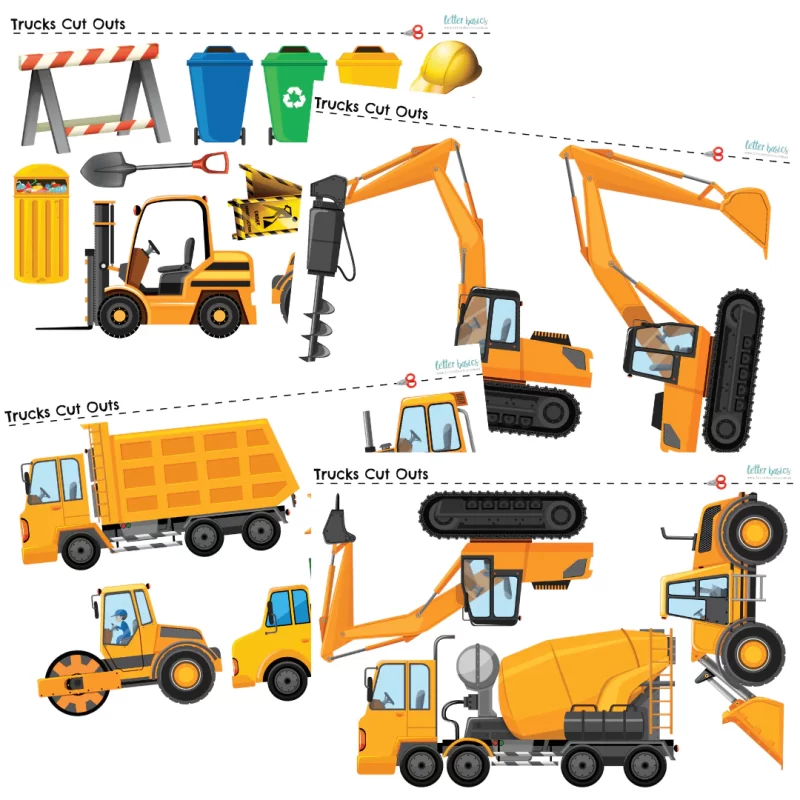 Have loads of fun playing, tipping, spinning, scooping, counting, matching, and more with sensory play and fine motor skills activities!
Activities Included: 110 pages
Sensory Play Ideas
Sensory Play Recipes
ABC and 123 Posters
Counting to 10 with 10 Frame
Cutting & Tracing Puzzles
Cut & Paste Activities
Moving Parts Activities
Pre-writing Patterns
Shadow Matching
Truck Scenes & CutOuts
It didn't take long before he was using the buckets of his excavator to pile the dirt into his dump truck and get totally lost in play.
It was amazing to sit back and just watch him in his little world. Every now and then he would ask me a question or have me join in. Every now and then I would add a comment or question something to further expand on his experience. These moments are the best. You never know what they are going to reply with. I just love this age!
Over the time of play, Mr 2 explored the impact of different amount of pressure has on the dirt. Patting the dirt makes it crumble. Applying gentle but firm pressure makes it compact. That is, compact enough that the mounds can be lifted and he even was able to conceal rocks and his trucks within the mounds to make eggs.
Making his eggs and then smashing them was definitely a highlight of his play.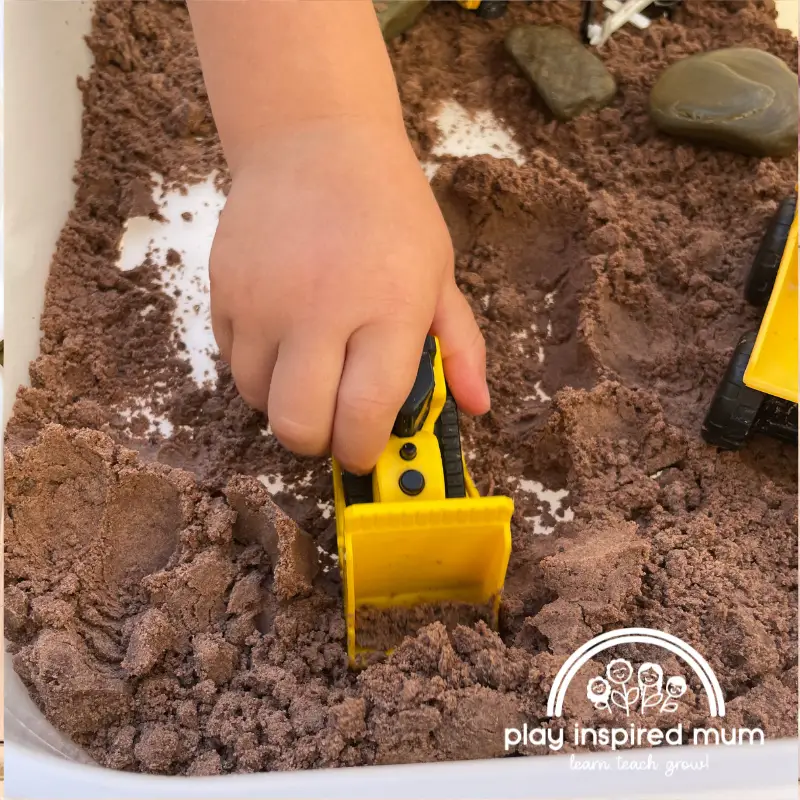 Cleaning up after play
The clean up was just as fun as the play itself. With a container of warm soapy water and a scrubbing brush, our construction truck play turned into water play.
With the taste safe dirt safely packed away in a zip lock bag, we worked together to clean the remaining dirt off the toys and other equipment. Bubbles were everywhere and it was great!
Coordinating the scrubbing brush to get the dirt out of the nooks and cranys prove to be the challenge and with some perservence, we got the job done. Plenty of trial and error and problem solving came into play to get there.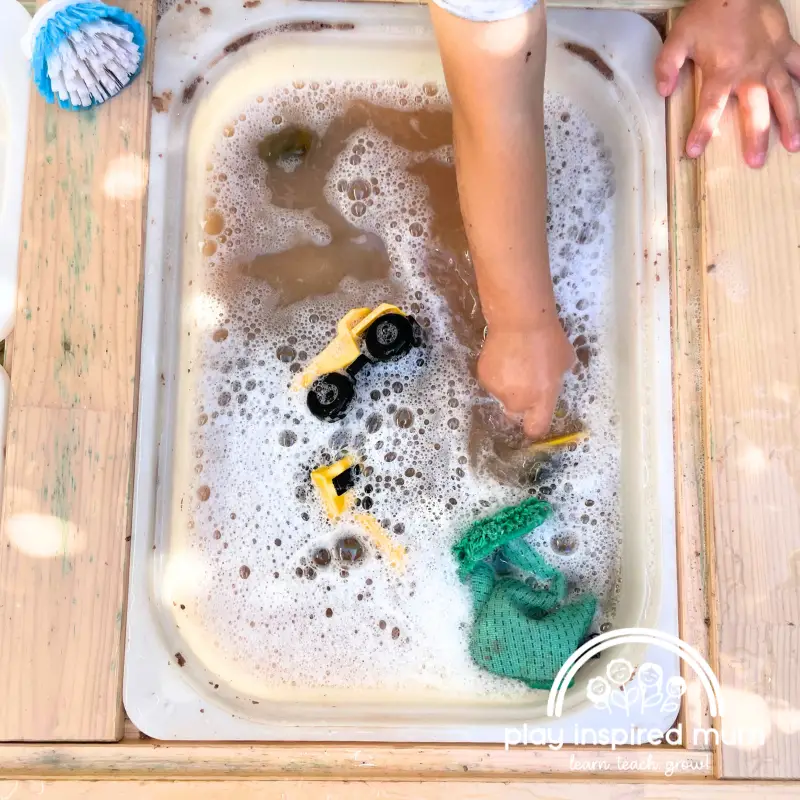 Benefits of play with construction trucks
Playing with construction trucks offers numerous benefits for children, from developing their fine motor skills to fostering their creativity and imagination. Here are some of the specific benefits of play with construction trucks:
Develops fine motor skills: Playing with construction trucks requires children to manipulate small objects and use their fingers and hands to operate the trucks. This helps to develop their fine motor skills, which are essential for activities like writing, drawing, and using utensils.
Encourages imaginative play: Construction trucks provide children with the opportunity to engage in imaginative play. They can create their own scenarios and stories, using the trucks to transport materials, build structures, and complete other construction tasks.
Fosters problem-solving skills: Playing with construction trucks encourages children to solve problems and overcome obstacles. They can experiment with different approaches to complete construction tasks, developing their problem-solving and critical thinking skills.
Promotes social skills: Playing with construction trucks with others can help children to develop social skills such as communication, sharing, and cooperation. They can work together to complete construction tasks, learning how to collaborate and take turns.
Provides sensory input: Operating the construction trucks and feeling the different textures and materials used in the play can provide children with important sensory input. This can help to develop their sensory processing skills and improve their overall sensory integration.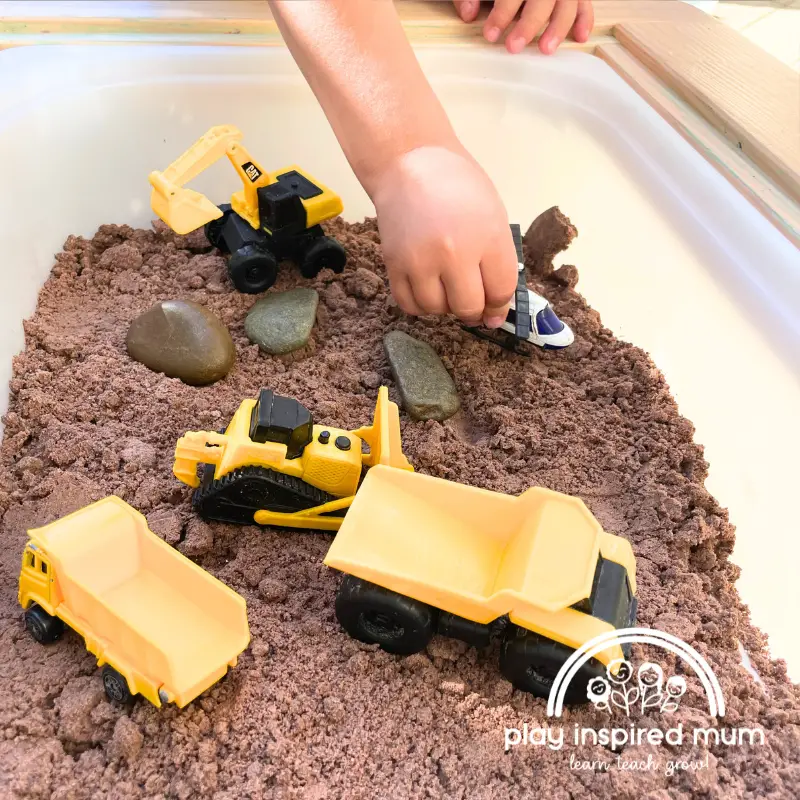 Overall, play with construction trucks is a fun and engaging way for children to learn and develop important skills.
By providing opportunities for children to engage in imaginative play with construction trucks, parents and caregivers can help to support their child's overall development and encourage a love of learning and exploration.