Disclosure: This blog contains affiliate links which I may earn a small commission from if you purchase through them, at no extra cost to you.
gtag('config', 'UA-136794034-1');

Colour Matching Craft Sticks and Pegs is a fun activity that you can do at home with your toddler. Learning about colours is a lesson that you can start discussing from a very young age. Colours are all around us. Learning to distinguish between them can begin with pointing them out in a book, around your home and when out and about. Exploring different primary and secondary colours can also be fun at home with this easy DIY colour matching craft stick and pegs activity!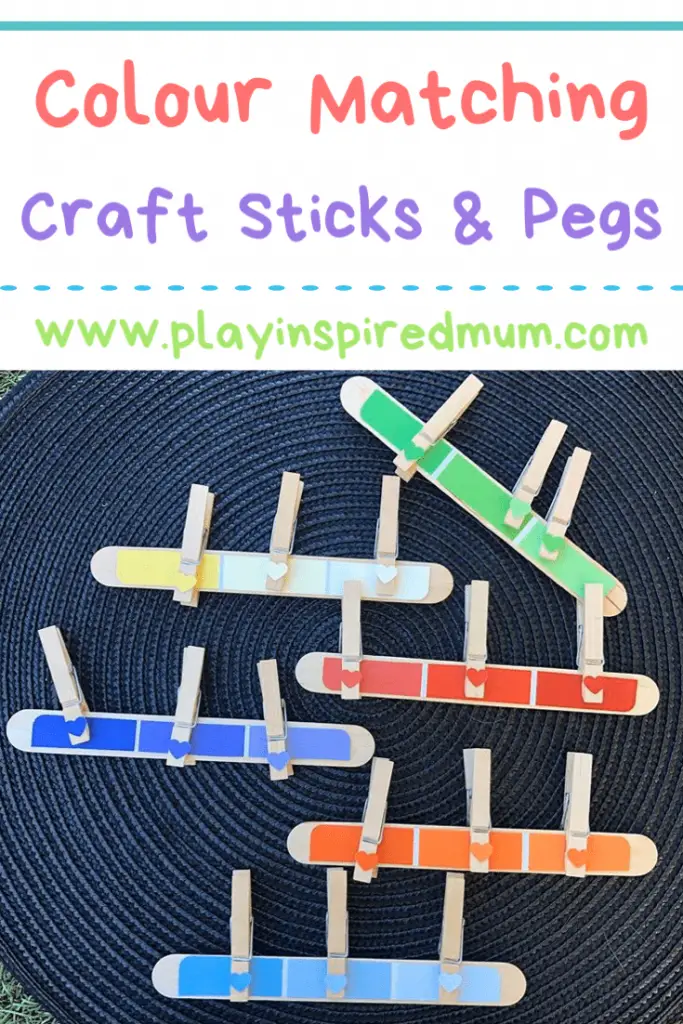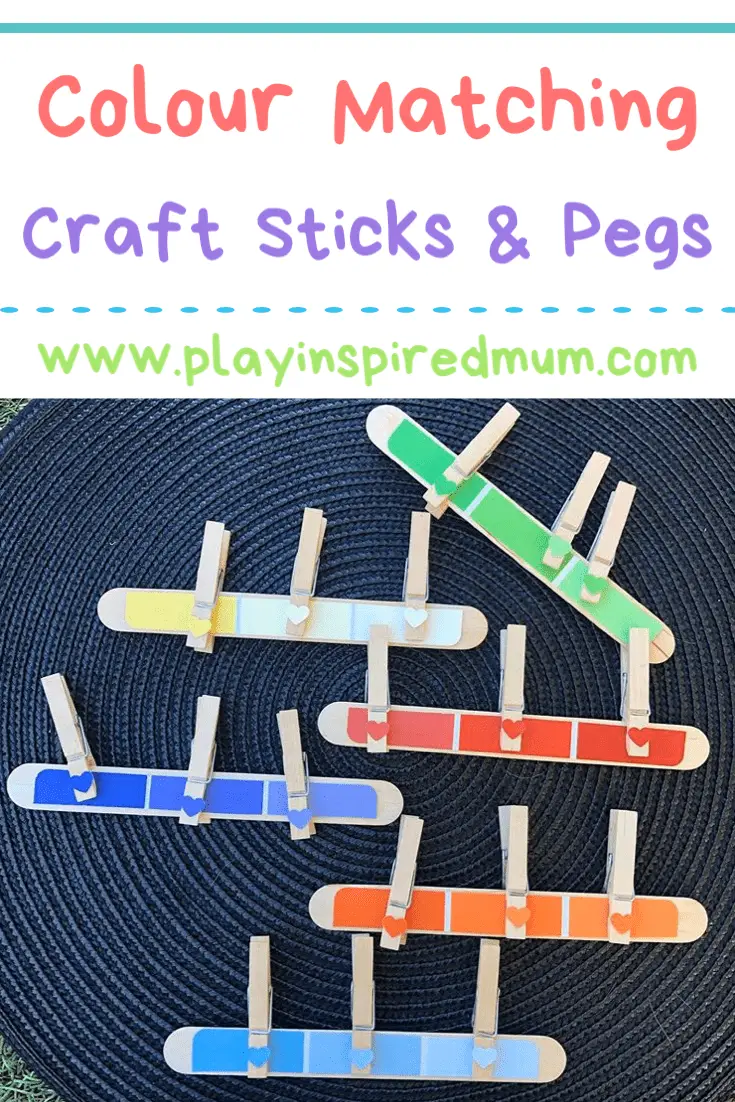 DIY Colour Matching Craft Sticks and Pegs
While popping into our local hardware store, we walked past a beautiful wall of paint chips. There were so many colours, from brights to pastels, warm tones to cooler tones! After a few moments, a fun colour matching activity popped into my head. With help from the girls, we chose some paint chips and continued our shopping. When we got home, I had two eager little people wondering what we were going to do with the paint chips. They were excited to learn that we were going to make a colour matching activity AND that they were able to help with the preparations.
What you need to create your Colour Matching Craft Sticks and Pegs
Paint Chips
Scissors
PVA Glue
Pop Sticks/ Craft Sticks
Pegs
We chose 6 different coloured paint chip strips, each with different shades of the same colours. This may be overwhelming for younger children as they are so similar. If you think your child may not enjoy the challenge, make the activity more achievable for them by choosing different colours. The shades can be saved for once they have perfected the basic colours. Remember, learning should be fun – not a frustrating experience. Children learn so much more when they are having fun!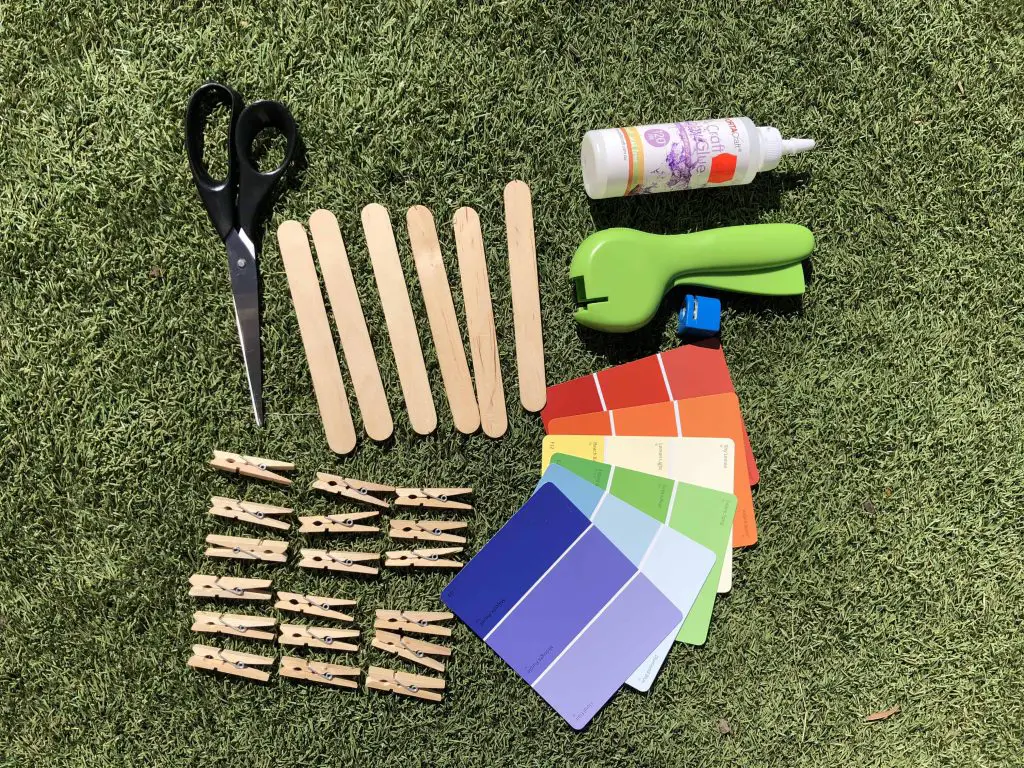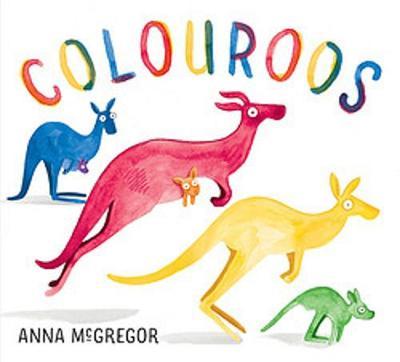 How to create your Colour Matching Craft Sticks and Pegs
Trim a length off each of your paint chips, the same width of your craft sticks. Secure the offcut to a craft stick with a slick of glue and pop aside for them to dry. Repeat with each of the paint chips.
Use your craft punch to punch out a shape from each of the colours or shades to match the paint chip craft sticks you created. Secure each shape to the end of the peg. Try and secure the shape low enough, so that when the peg is pegged to the craft stick, the coloured shape is easy to compare with the colour on the craft stick. Allow the pegs to dry before playing.
If you don't have a shape punch, simply use your scissors to cut out a shape instead – easy!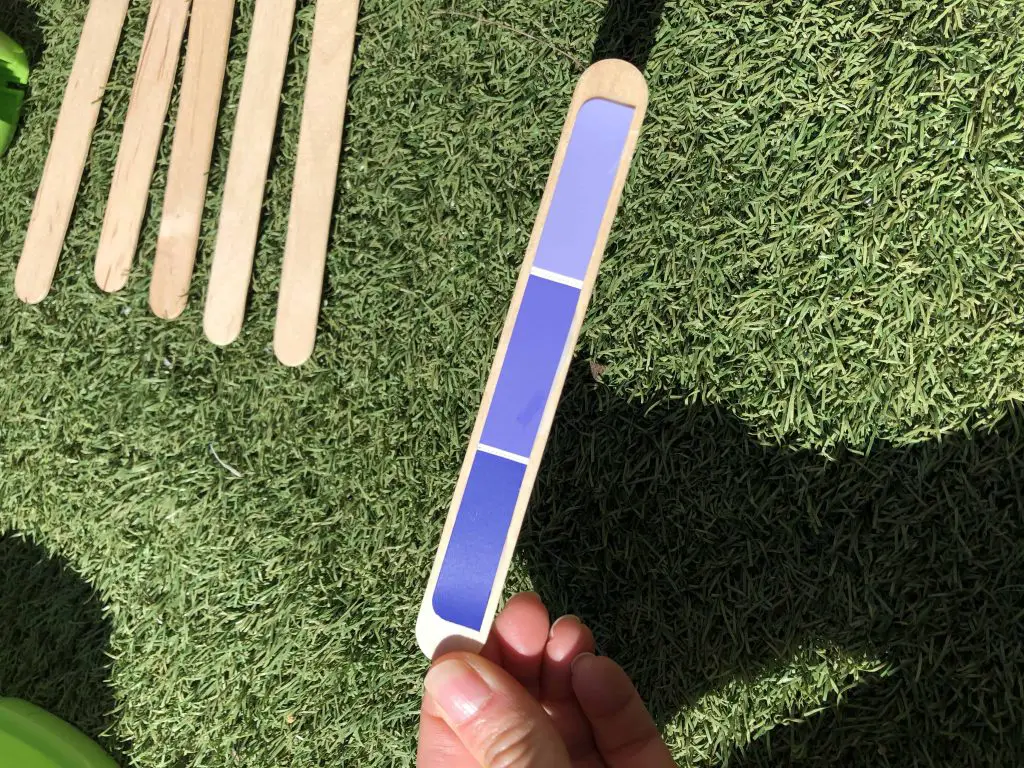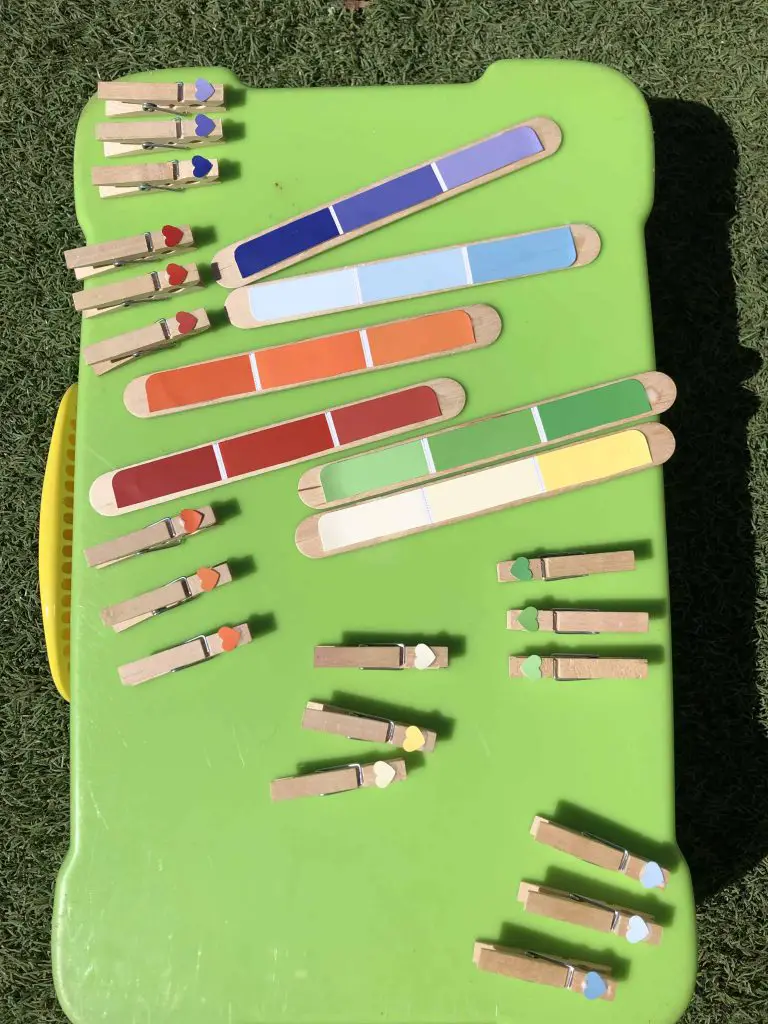 How to play with your Colour Matching Craft Sticks and Pegs
The play brief with your freshly made Colour Matching Craft Sticks and Pegs is super easy! Simply match the colour on the peg with that on the craft stick! Secure the peg by using those small fingers to open the peg and position it on the colour craft stick – hello fine motor skills!
Colour matching is a great skill to engage your toddler in. There are colours all around us. This makes providing your child with little colour spotting extensions to activities like your Colour Matching Craft Stick and Pegs, really achievable and only concretes their little lessons even deeper as part of their new knowledge.
For younger children, try not to overwhelm them with lots of sticks and pegs. There are a lot of skills that are required to be able to complete this activity. Here are a few skills your child will be refining while they are matching their colours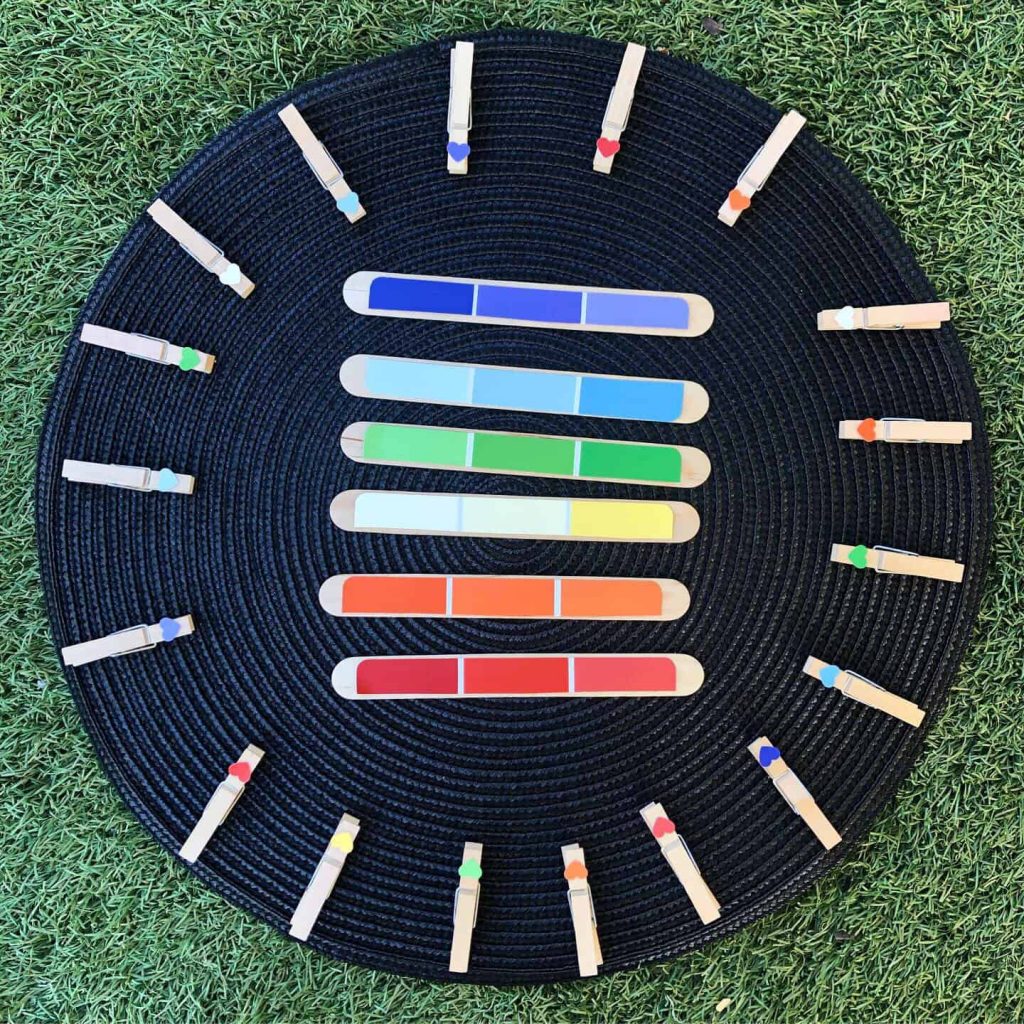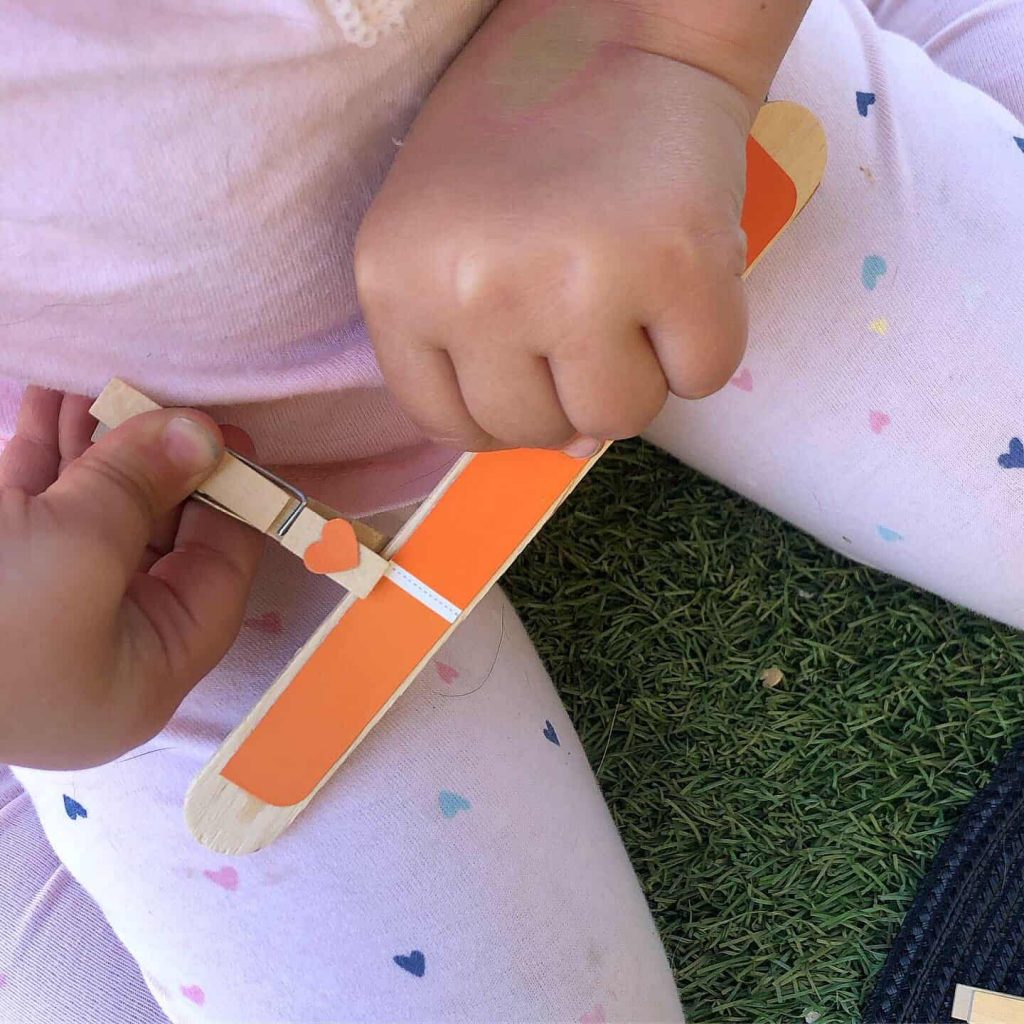 Developmental skills practised while playing
Fine Motor Skills
Colour Recognition
Cognitive Development
Bilateral Coordination
Crossing the Midline (depending on how you have your activity set up)
Sequencing Events
Hand-Eye Coordination
Just a little add on info regarding crossing the midline… do you know what we are referring too here? Imagine there is an invisible line running from your nose to your belly button. It is a skill that needs to be practised moving part of your body (ie. arm or leg), across that line. Some children can find this quite challenging! Try positioning your pegs on the side opposite to your child's dominant hand. For a right-handed child, position the pegs on their left side and for a left-handed child, position the pegs on their right side. Your child will need to reach across their invisible line, aka their midline, to pick up the peg and secure it to their craft stick – winning!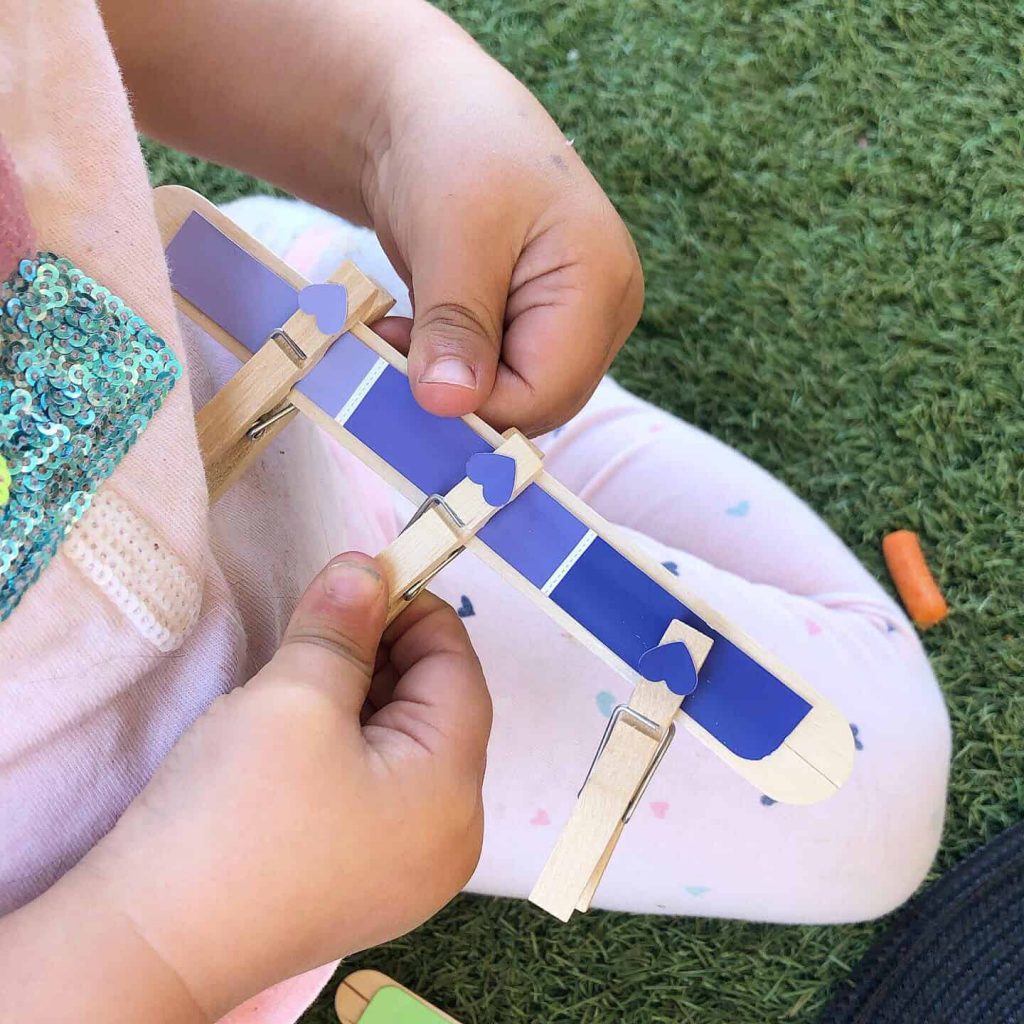 Comprehension Questions
Asking open-ended questions before, during and after your child is playing is a great way to gauge their understanding and grow their known knowledge. They can be used to further their understanding of the activity, build their vocabulary and promote higher-order thinking.
Here are a few open-ended question suggestions that you could use to support your child's understanding and create a richer learning experience.

How many colours do you think you will be able to match up?
What do you think is going to be the most challenging part of the activity?
When have you matched colours before?
If you could choose the world to be any colour, which one would you choose and why?
Which colour is the lightest?
Who do you know that might like to make this activity too?
Which colour is the darkest?
How does it feel when you are putting the peg onto the pop stick?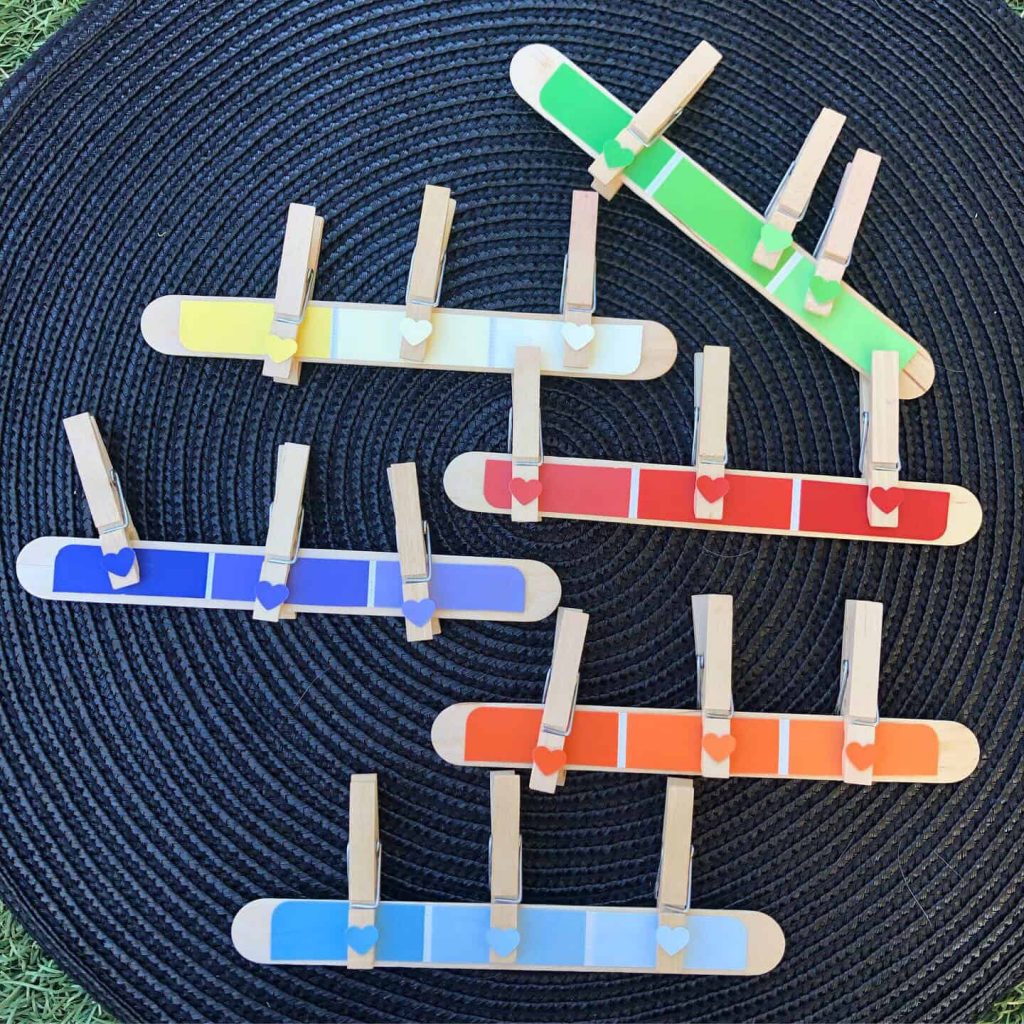 This is an activity that we have pulled out many times over the last few months. One of the amazing things about this activity is that you can make it more challenging by adding shades between the colours or even turning it into a memory game!
We would love to hear about your experience with these Colour Matching Craft Sticks! Please feel welcome to join our Play Inspired Mum community on Facebook and share your play ideas!
Dani D x
Disclosure: This Blog does contain affiliate links which I may earn a small commission from if you purchase through them, at no extra cost to you.
More learning at home ideas made easy with this amazing print at home ABC Collection!