Disclosure: This blog contains affiliate links which I may earn a small commission from if you purchase through them, at no extra cost to you.
Heading into winter, we are well aware that food can become more scarce for our native birds. After collecting a surplus of pine cones, it only made sense for us to create a way to help out our feathered friends by creating some Pine Cone Bird Feeders!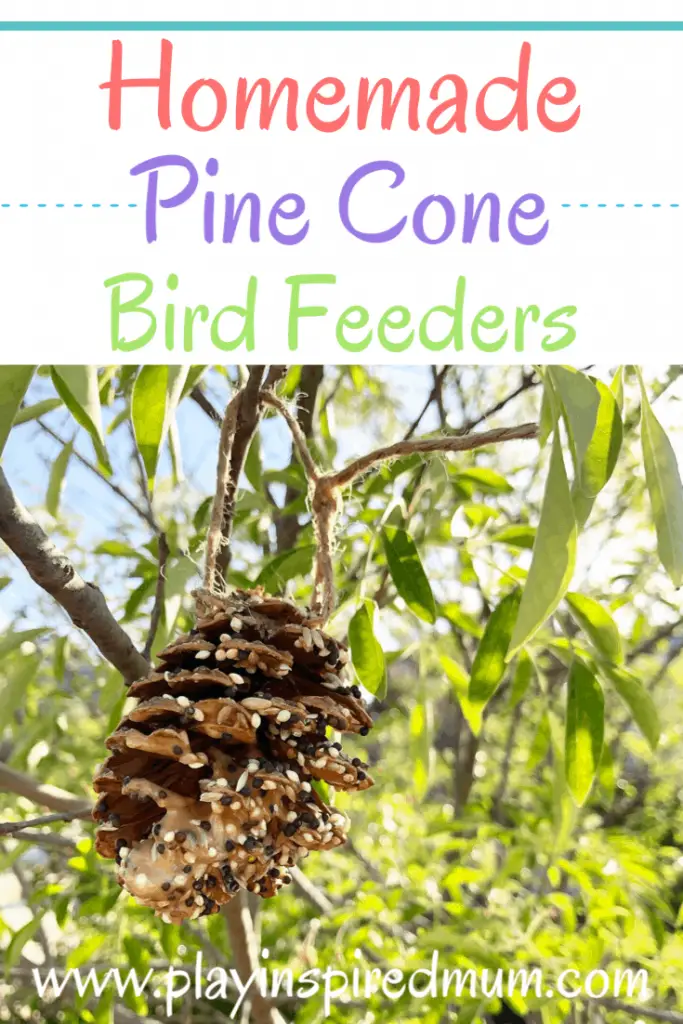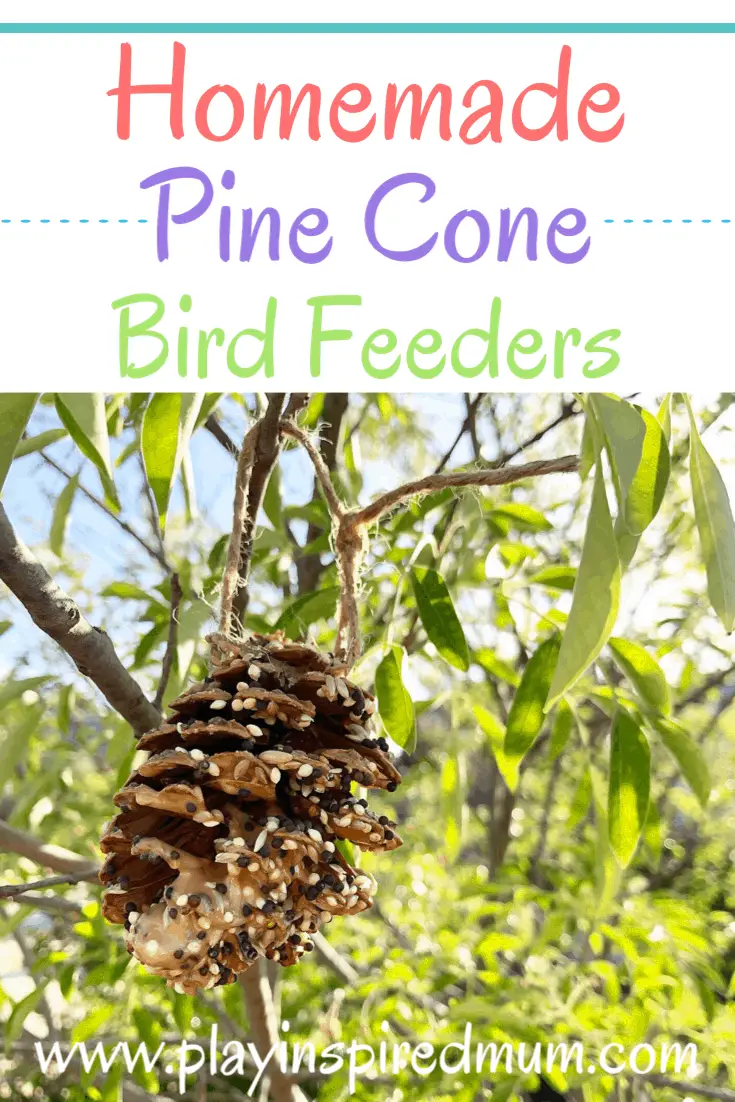 Pine Cone Bird Feeders
We love using nature in our play and these pine cones were the perfect base for our bird feeders. After exploring the different textures and details of the pine cones, we got busy smothering them with some high-energy foods to help our native birds through the upcoming cooler months.
What you need to make your Pine Cone Bird Feeders
Pine Cones
Bowl
Spoon
Natural Peanut Butter
Paint Brush
Bird Seed ( we used some of our pet canary's seed)
Twine
Scissors
For those with peanut allergies or sensitivities to nuts, I have heard of families using sunflower butter as a safer alternative. If you give it a shot, please let us know how you go!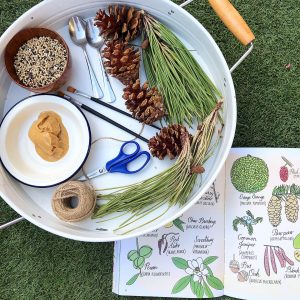 How to make your Pine Cone Bird Feeder
Create a little hanger for your bird feeder, cut a length of twine from the reel. Create a loop and tie it onto your pine cone. This will allow it to be hung from the branch of your tree.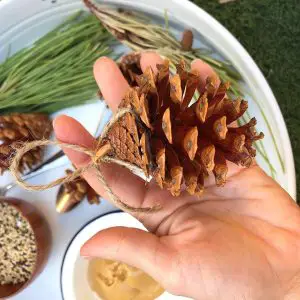 Spoon some of your natural peanut butter into your bowl – remember less is more! You can always add more to your bowl if you need more however, I'm not to keen on putting excess back into the jar if my messy tribe have been playing with it!
Adding your adhesive
Using your paintbrush, paint the peanut butter thickly. Miss 2 and Miss 5 loved this step! It was messy and interesting the way the peanut butter stuck to the pine cone, slowly dripping as it warmed in the morning sun.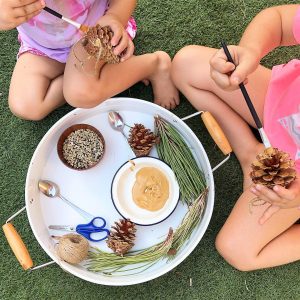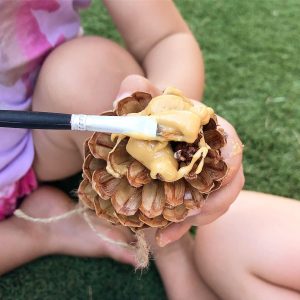 Adding your seeds
Once the pine cone is covered in the peanut butter, using your spoon, sprinkle the seeds over the peanut butter until it is completely covered. This is a great sensory experience, watching some seeds stick and listening to the others roll back into the bowl.
Once your pine cone is covered in seeds, it is ready to hang in your tree or off where ever you think the birds will be able to see them.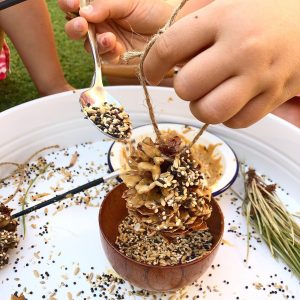 Fast Facts
Seeds and peanut butter are high in fat. This is perfect for those cooler months when seed-eating birds need extra energy. This helps them create more body heat to keep warm.
The next few days following ours being hung from our tree were really warm days. When checking on our homemade bird feeders, I had been expecting to find the peanut butter turned into a slippery, sloppy mess however, they were still intact! This made us super happy!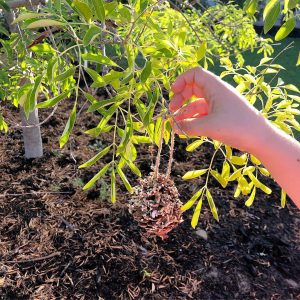 Educational Benefits
Creating your own pine cone bird feeders is a really sensory experience. Your child is exposed to different textures, smells and sounds. The smell of peanut butter that is typically associated with a warm slice of buttery toast is all of a sudden put into a different context!
Other skills your child can practise to refine includes
Hand eye coordination
Bilateral coordination
Crossing the midline
Fine motor skills
Sequencing events
Cause and effect
Cognitive thinking
Following instructions
Empathy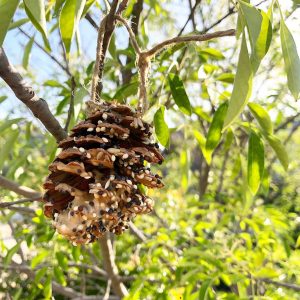 Conversation Starters
Discussing the activity while engaging in putting it together, completing the tasks, and reflecting on what happened are all amazing to help your child. These conversations enable your child to develop a full understanding of what they were involved with and can act as a great vocabulary-building exercise.
Here are some open-ended questions that you could work into your play
What do you think we could make with these materials
When have we used peanut butter before
What do you think the pine tree makes pine cones
How do the pine cones feel
Who else do you think might like to do this activity
When have you done something similar to this before
How do you think the peanut butter will feel to paint on to the pine cone
What do you think the pine cone bird feeders will look like once we have finished
What type of bird do you think will enjoy eating the seeds
How long do you think the feeder will last in the tree
What else do you think a bird will need over winter
What other native animals do you think would be affected by the winter
If you were to make another homemade bird feeder, what would you do differently next time
What was something you weren't expecting to happen during that activity that did happen
Learning through play
Remember that kids have a richer learning experience when they are having fun! Given this, try to build new information on top of information they already know.
They may know what peanut butter is but do they know that there are different types? Let them know that this is smooth peanut butter, and there are more types available and one of them is crunchy. The crunchy has chunks of peanut mixed into the smooth mixture!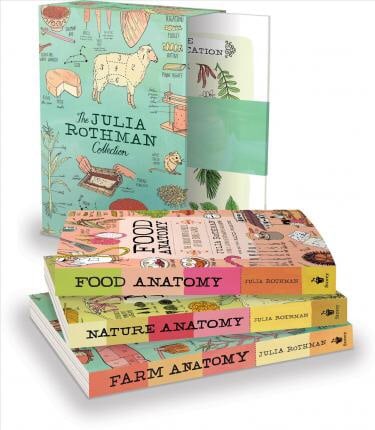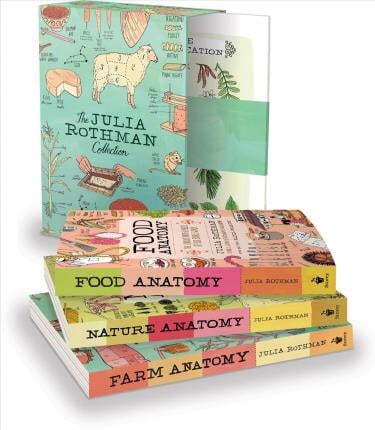 We hope your family have as much fun creating your own Pine Cone Bird Feeders as what we did! Please come and join our Play Inspired Mum Facebook Community!