Disclosure: This blog contains affiliate links which I may earn a small commission from if you purchase through them, at no extra cost to you.
What is your toddlers favourite toy at the moment? Dinosaurs, bugs, cars or zoo animals? Either way, this Fine Motor Jelly Rescue is so versatile, you can combine it with so many of your child's interests to create an engaging sensory experience!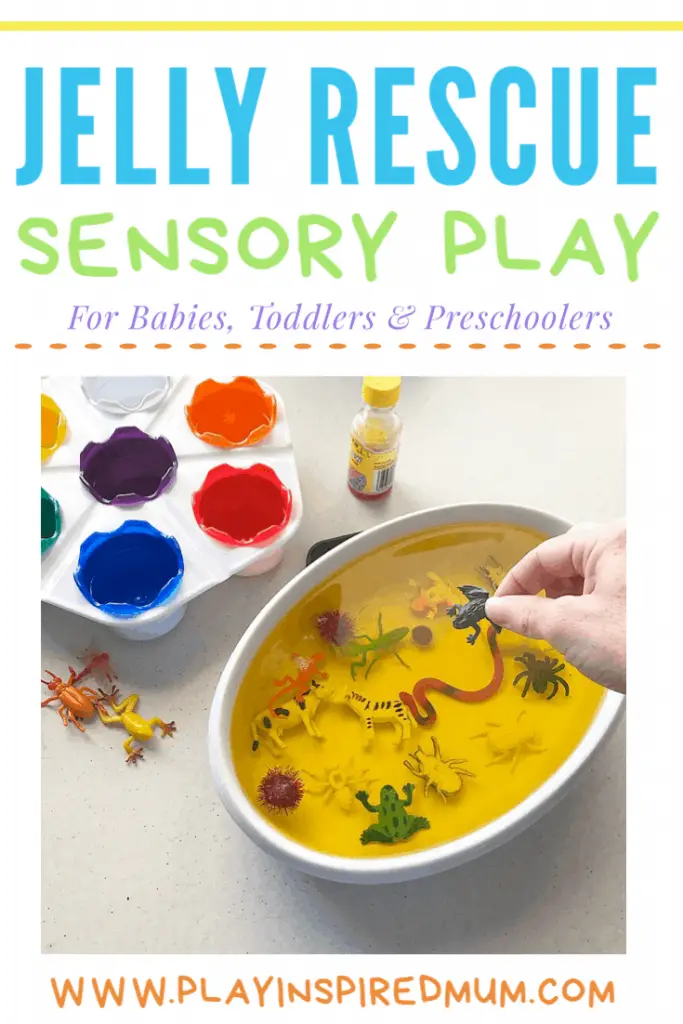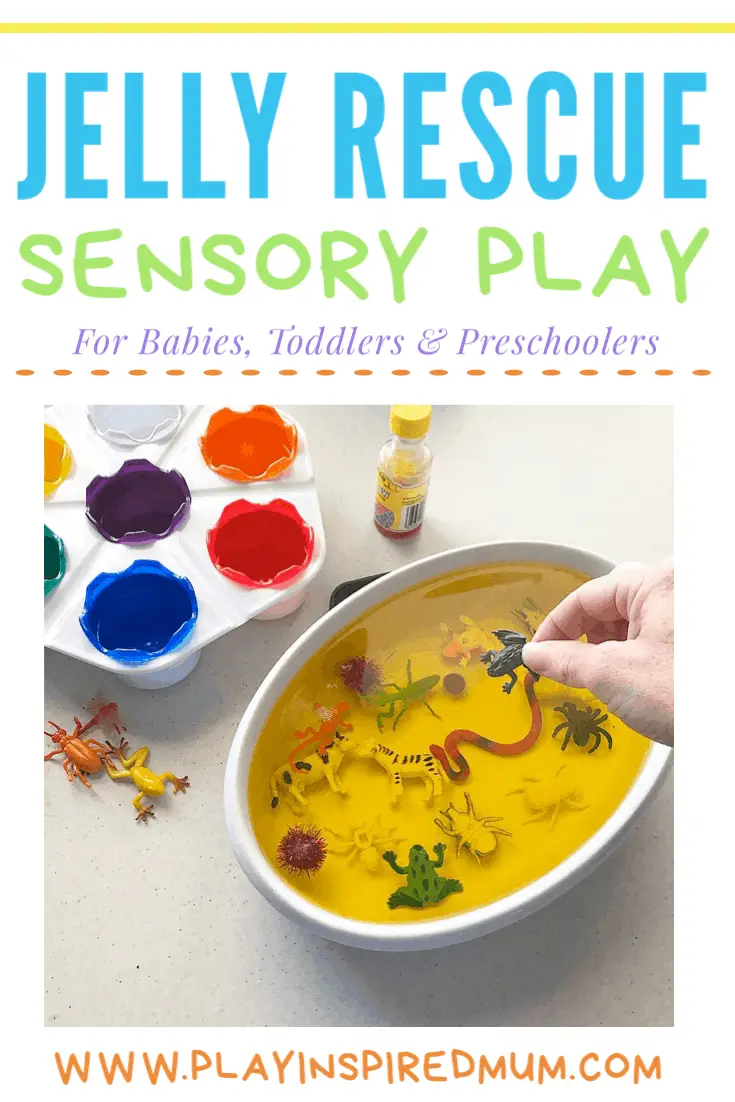 Fine Motor Jelly Rescue
It wobbles and wiggles, and jiggles and shimmies. You can make it in an endless rainbow of colours and you could even add your favourite scent if you would like to take it to the next level. What is this versatile substance? Jelly!
This is one of those amazing activities which is so well suited for both younger and older toddlers, preschoolers and even school-age children – it has been a hit across the ages at our place!
Now, in these uncertain times (thank you Coronavirus), I am a little hesitant to use food for play. For any of you that have been following our play over the years, you would know how much we love including food-based sensory experiences into our play. Food play offers a taste safe, multi-sensory element to any activity. This being said, during times when our basic supplies are so limited, the supermarket shelves are bare and staple items have purchase restrictions on them, I was keen to improvise with what we had at home, creating minimal waste and maximum wow factor.
We are calling it jelly, however, this jiggly substance is, in fact, a potion of gelatine and water. Somehow I ended up with a few canisters of powdered gelatine. Rather than wasting valuable jelly, we used this setting agent to replicate the real deal. Just quietly, I am also celebrating this as a sugar-free activity that if consumed a little, contains some of that amazing gelatine for gut health!
Things you need to create your Jelly Rescue
Large Bowl
1 litre boiling water
4 teaspoons of powdered gelatine (or just following the directions on the packet you have)
Food colouring, optional
Whisk
Baking dish or tray
Tongs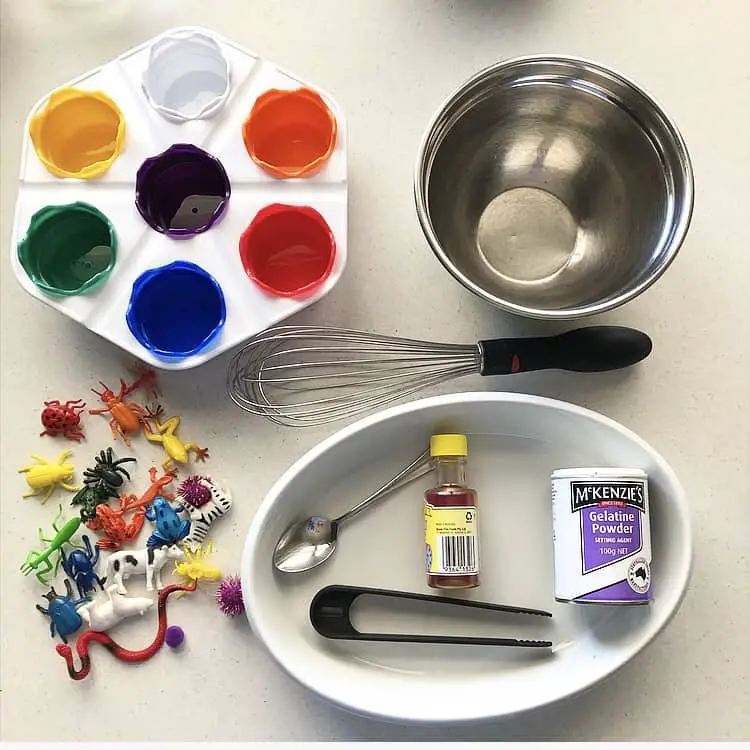 These portions will make just over a litre of jelly. You can adjust the amounts to suit the size of your vessel.
To add another level of play, I chose to use zoo animals in our Jelly Rescue. I chose three of each colour represented by our paint tray as shown in the pictures (and three purple pom poms as we don't have any purple animals…).
How to set up your Jelly Rescue
While this may seem like a time consuming activity to set up, it really only takes a few minutes in the morning to prepare the jelly before it needs to set. This can easily be prepared days before hand too. Perfect to prepare in advance for when grandparents are minding the children or even for a birthday party activity!
With care, pour your boiling water into your large bowl. Add your food colouring if you are using it. Sprinkle the gelatine in the bowl then promptly whisk the mixture. Continuing whisking until all lumps of gelatine are removed.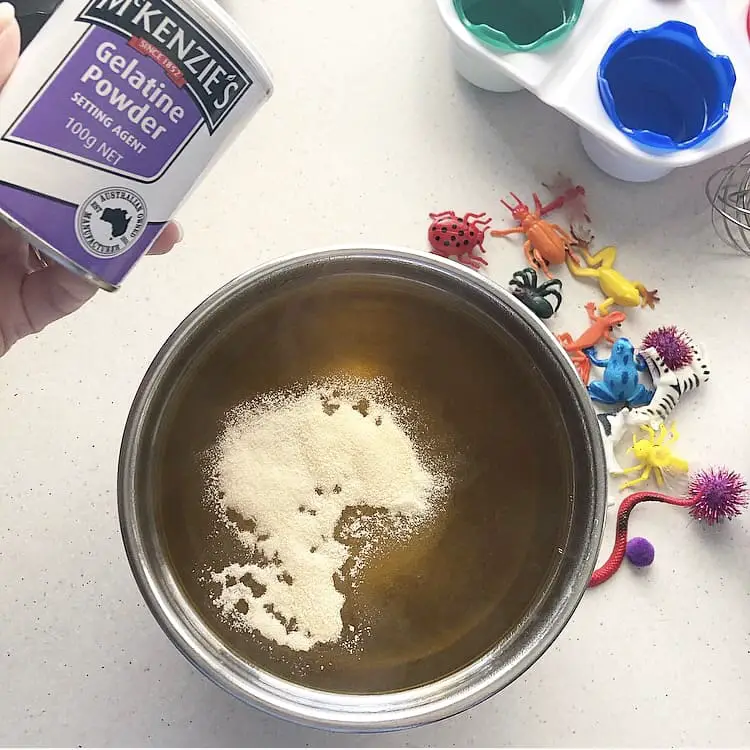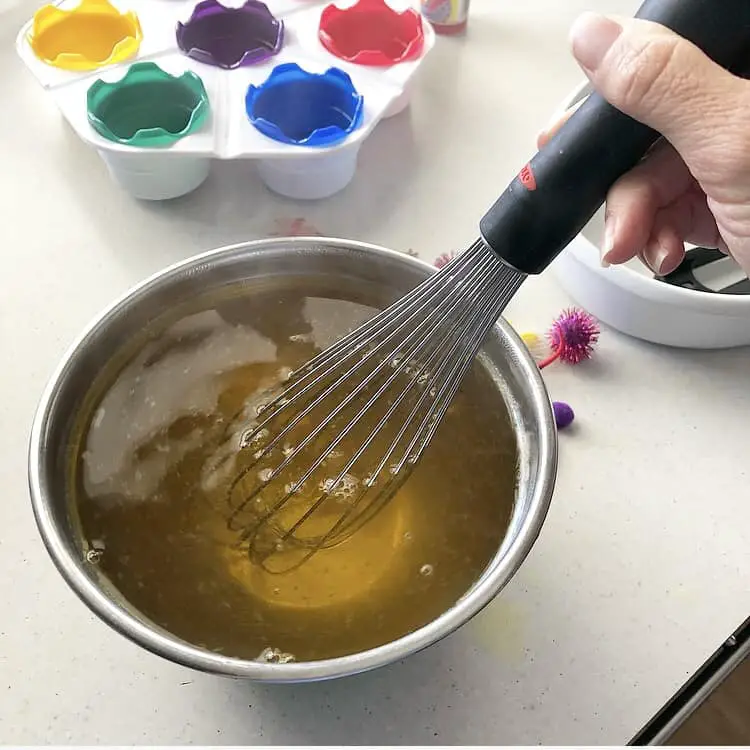 Pour the mixture into your baking dish or tray. Position your toys and then place the dish into the fridge to set. Our shallow dish took approximately five hours to set – perfect timing to help this Mumma out through witching hour!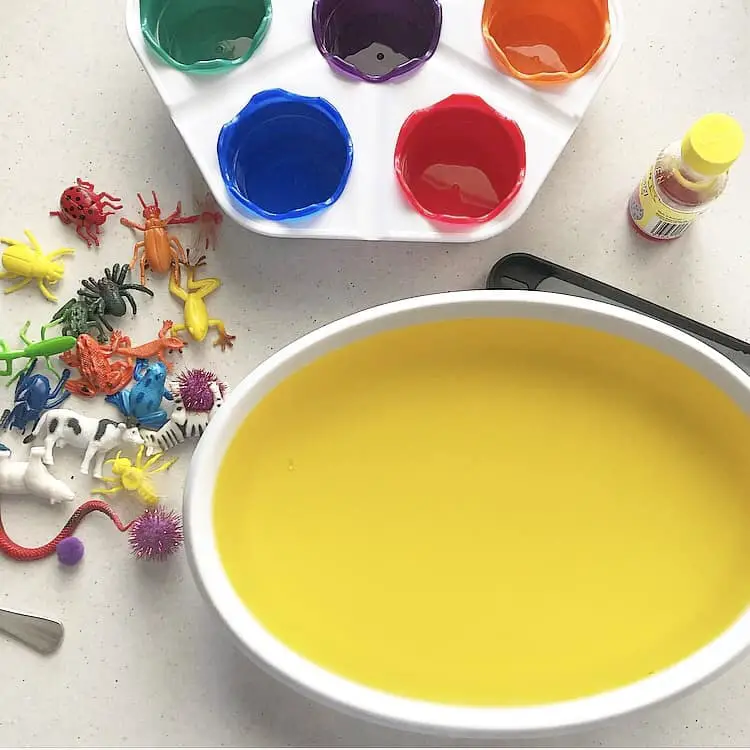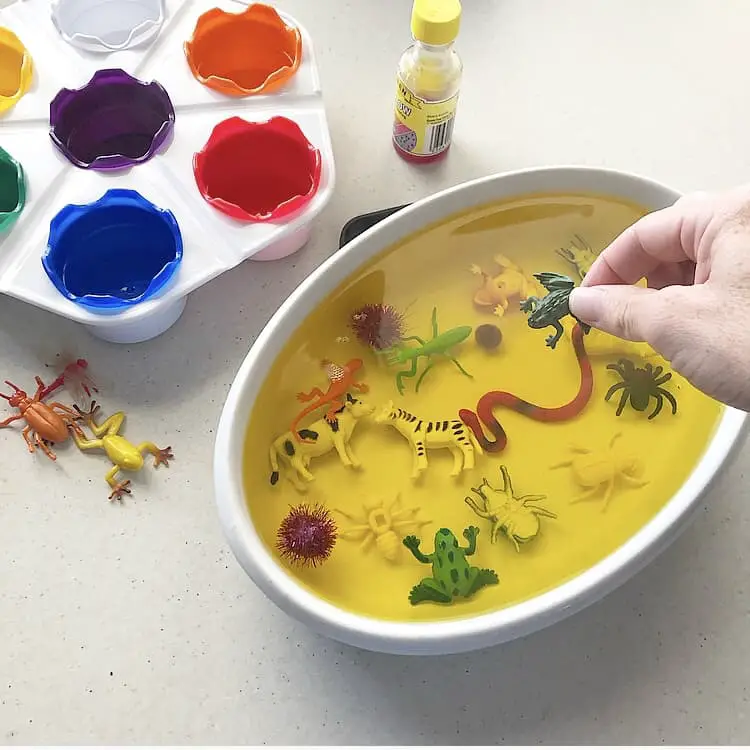 How to play with your Jelly Rescue
This activity is so versatile! You can keep it as open-ended or as structured as you would like. Please keep in mind your toddler's attention span and capabilities. Learning has to be fun rather than a task!
Miss 3 was given the task to use the tongs to remove the animals, identify which colour they are and then place the animal into the corresponding pot. This was a challenge she took to in an instance!
For younger toddlers, simple open-ended exploring and discussing the experience offers so many learning opportunities. It can help develop their comprehension and vocabulary. You can use this opportunity to learn about what they understand about the activity and use this as a foundation to build on their knowledge.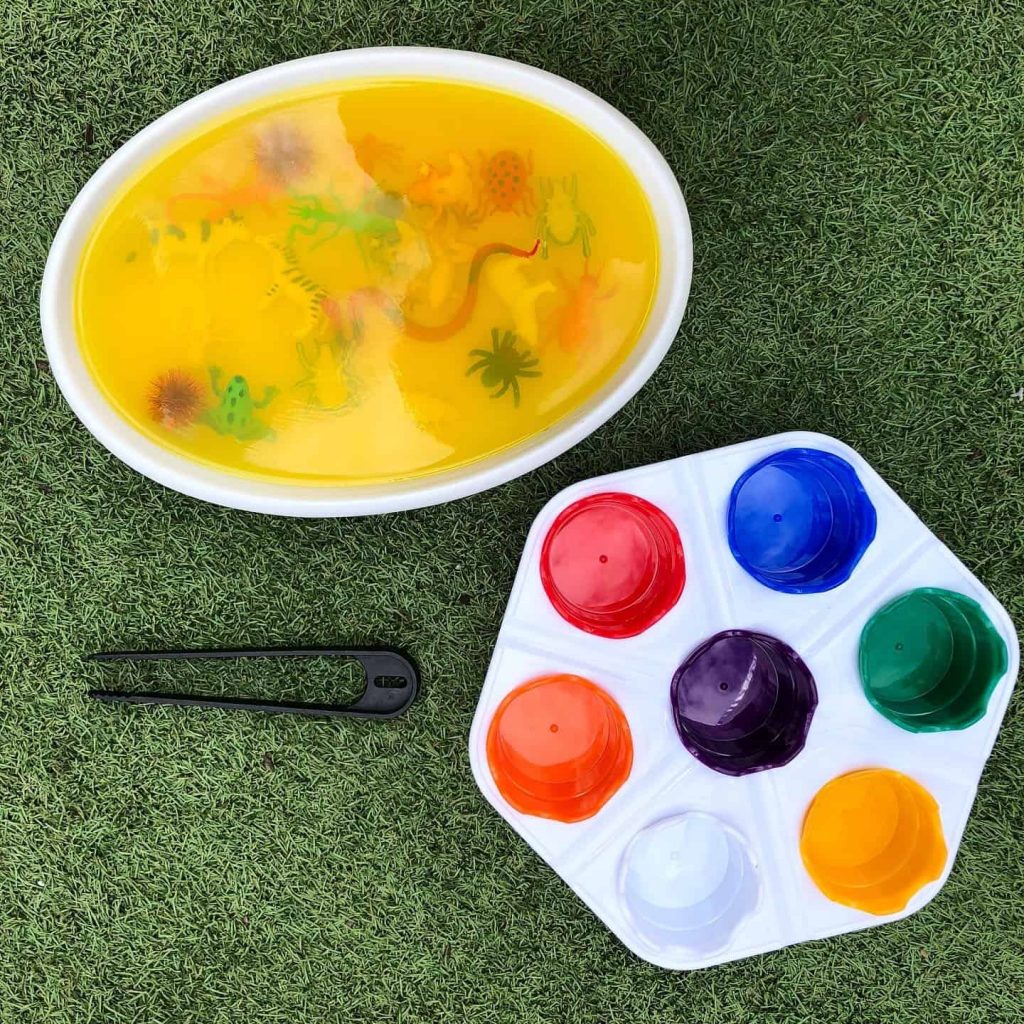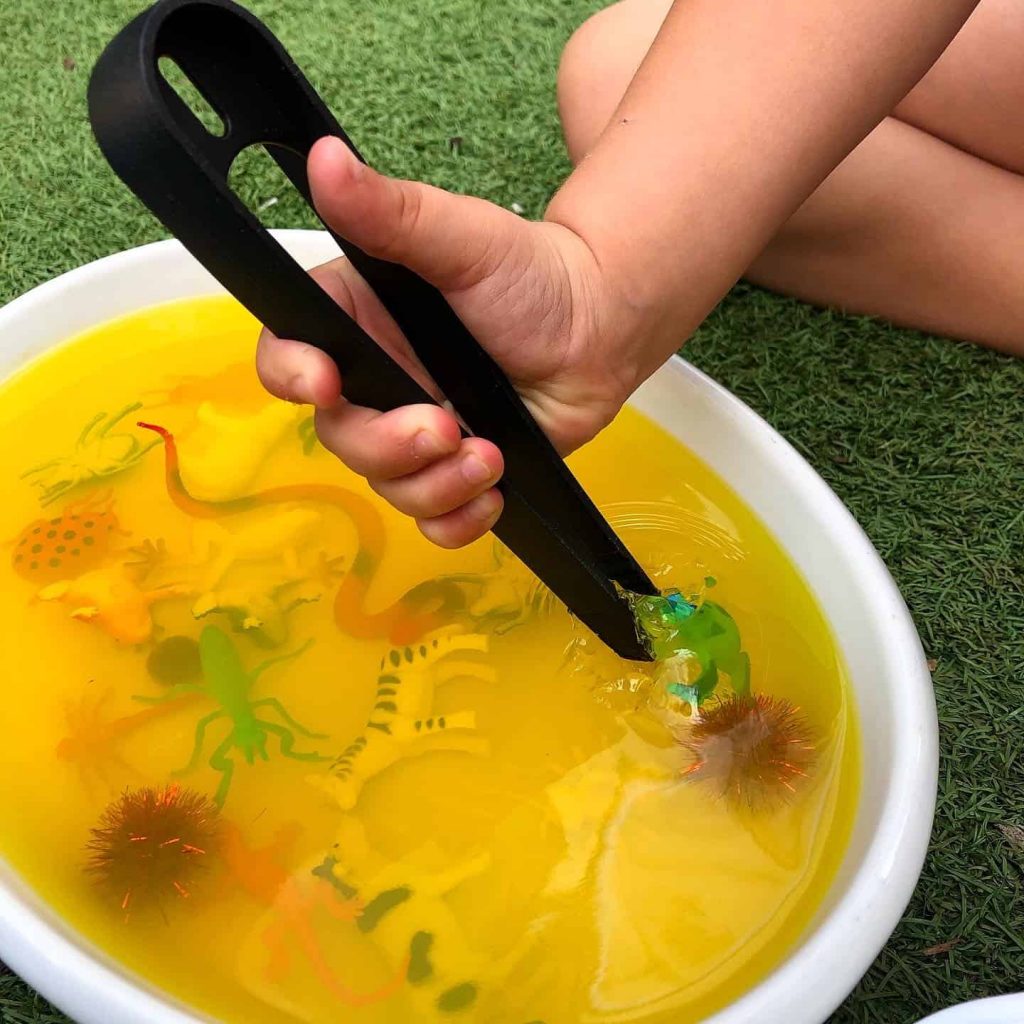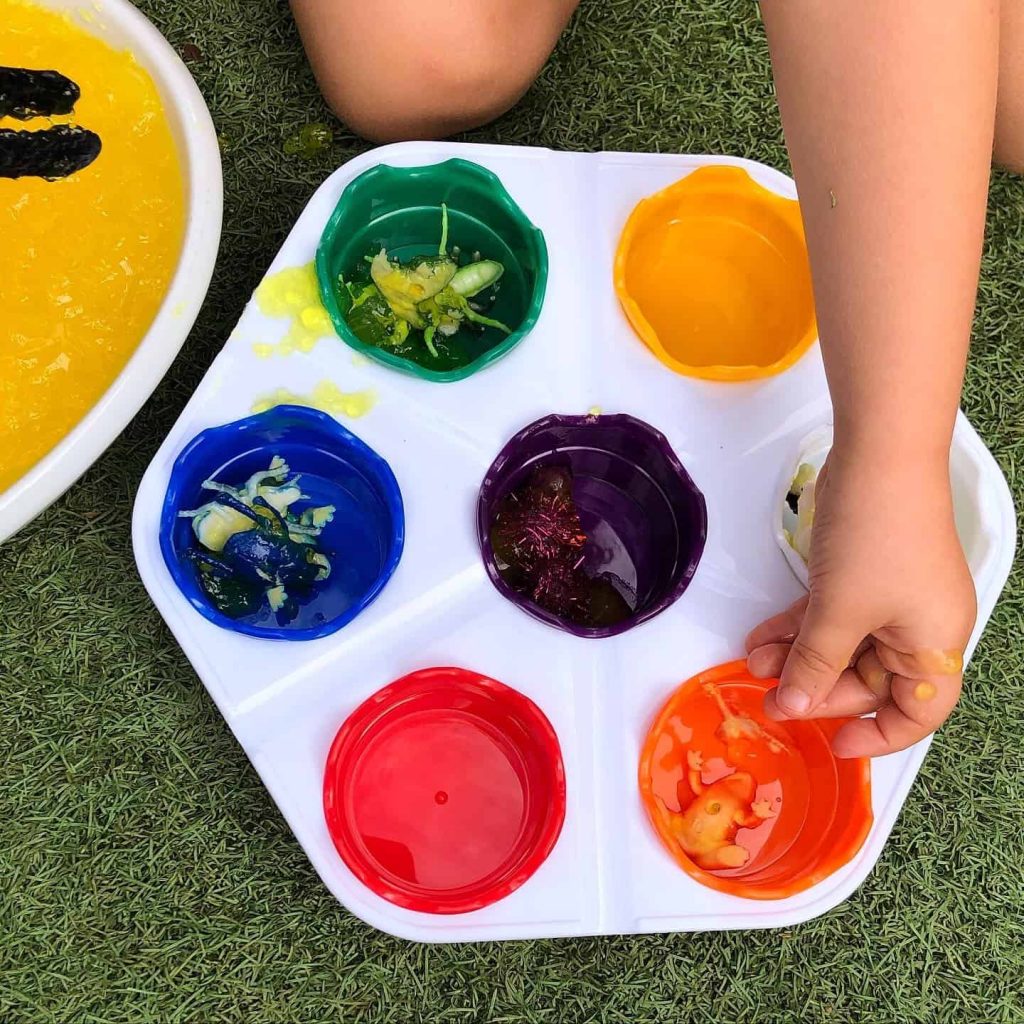 Comprehension Questions
Open-ended questions are brilliant to use to identify your child's understanding and then build on their knowledge. Here are some questions you could ask your child to help build their comprehension
What do you think will happen to the mix after it has been in the fridge for a few hours?
How do you think the Jelly is going to feel?
Who else do you think might like this activity?
What is something that you think is similar to this activity?
How do you think the toys are going to look once they are removed from the jelly?
How would you describe the jelly?
What do you think would happen if we left the jelly out of the fridge for a long time?
What other tools could you use to scoop the jelly?
Which toy do you think will be the most challenging to remove from the jelly?
Next time we make a jelly rescue, what would you like to do differently?
What did you enjoy the most about the jelly rescue?
What did you find challenging about the jelly rescue?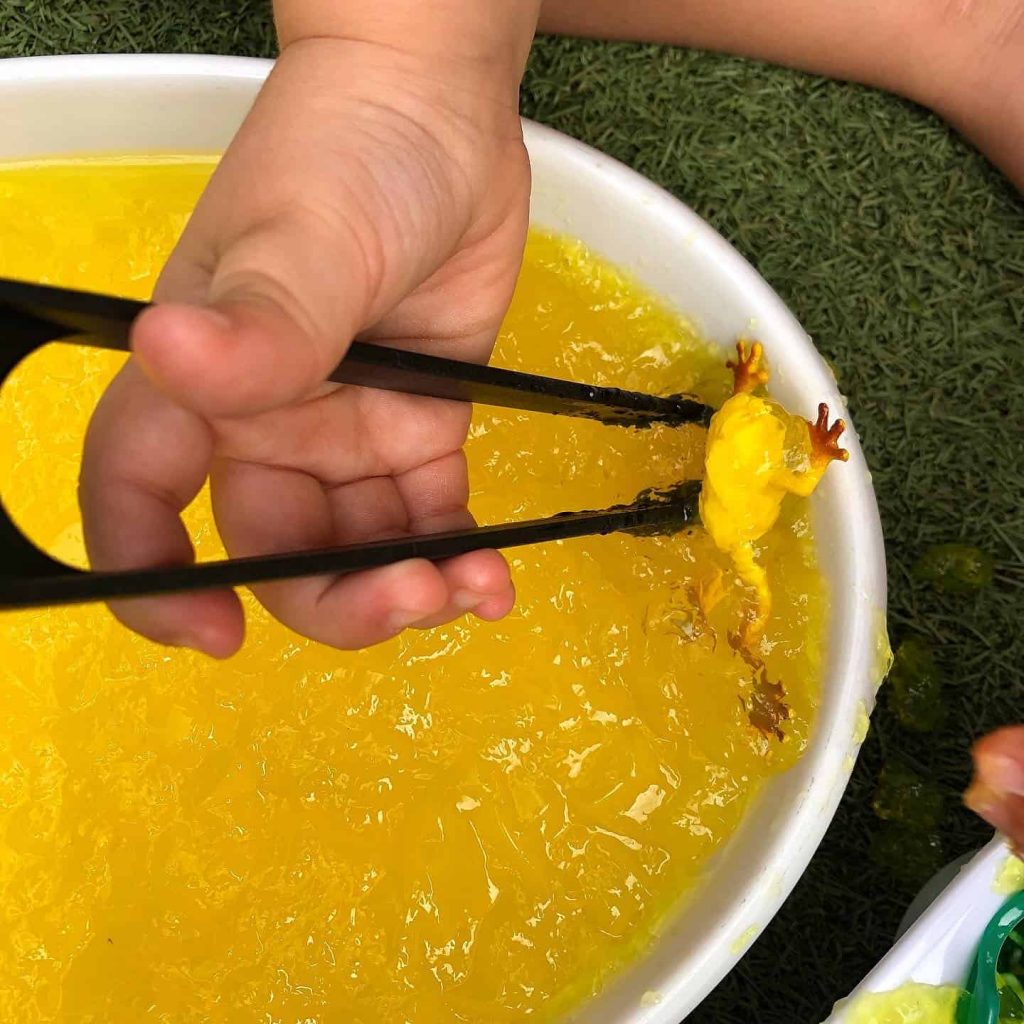 Educational Benefits
Learning through play is the best way! Now, I am not just referring to ABC's and 123's but other important developmental skills. ABC's and 123's can be incorporated into pretty much any daily task, including activities. Here are some other educational benefits that your child could be exposed to while completing their jelly rescue
Fine motor skills
Crossing the midline
Experimental play
Cognitive development
Vocabulary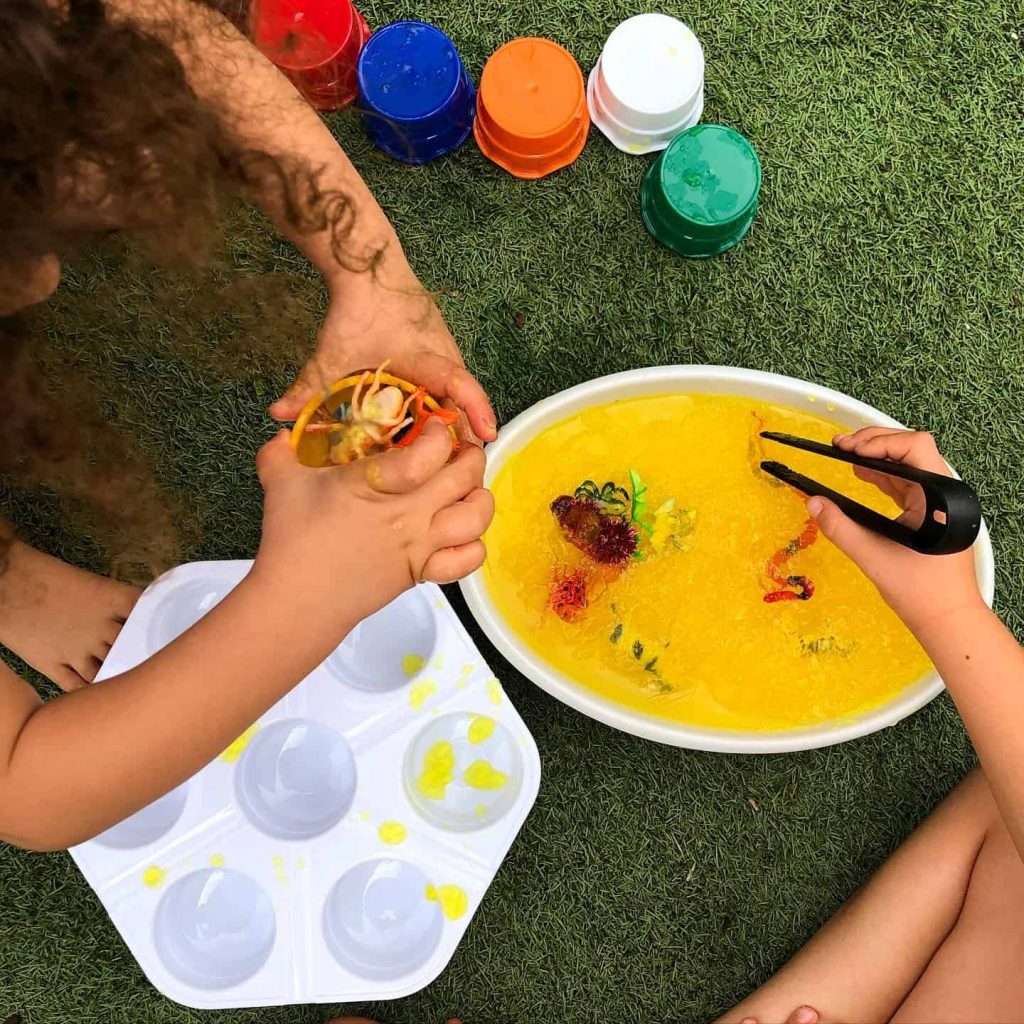 When you give this activity a go, we would love to see how your little one enjoyed the experience! Feel welcome to share your play in our Play Inspired Mum Facebook Group!
Does your toddler love a rescue? Check out our Vertical Tape Rescue!
I hope your family enjoy your Jelly Rescue as much as we have! I'm excited to add some dinosaurs to our next Jelly Rescue, what are you going to add to yours?
Dani D x