Disclosure: This blog contains affiliate links which I may earn a small commission from if you purchase through them, at no extra cost to you.
Here is an ultimate list of the best Easter Baskets ideas for kids and over 120 non-lolly Easter Egg fillers that kids love.
Whether you are looking for Easter Basket craft ideas, steps to creating the perfect Easter basket, or non-candy Easter egg filler inspiration, you will find all that here plus more!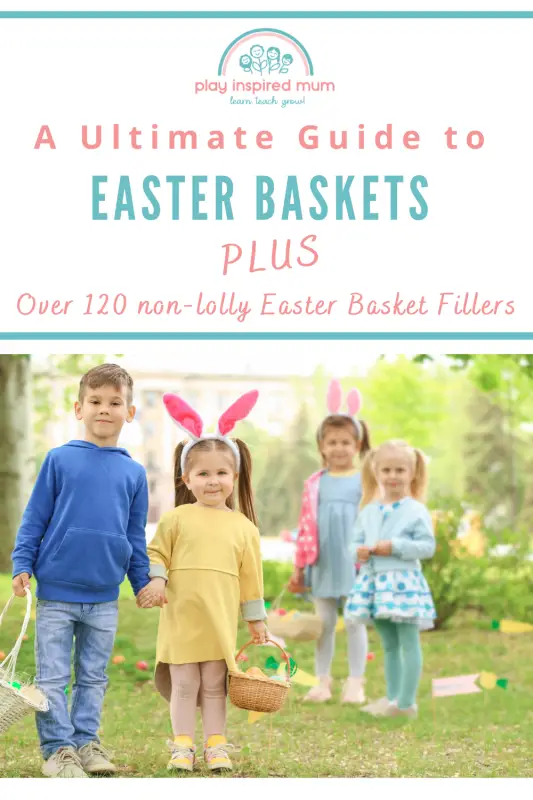 Best Easter Basket Ideas for Kids plus over 120 non-lolly Easter Egg Fillers
Along with Birthdays and Christmas, Easter is a time that holds so many fun times for children.
Part of Easter celebrations is creating, gifting, and receiving Easter Baskets.
It is exciting for our children to put together the perfect basket for the special people in their lives.
It is equally exciting to receive one, peel back the tissue paper and peek at the surprises inside.
What are some non-lolly ideas that you can fill your toddler and preschooler's Easter Basket?
While for years many have reached for candy eggs and chocolate bunnies to fill their Easter Baskets, more and more parents are seeking other alternatives to sugar-filled sweets.
So if not chocolate bunnies and candy eggs, what else is there to put into an Easter Basket?
Plenty.
There are so many alternatives that won't result in the post-sugar rush crash, that your kids will love.
Play to your child's interests and you can be assured that they will love their Easter Basket as much as you have enjoyed collating and setting it up for them.
It's such a rewarding feeling isn't it?
Watching curious eyes and fingers reaching into their basket, exploring what's within.
At that moment, there is no other care in the world.
The wonder of the Easter Basket and the feeling they experience as they dive in are memories that your children will carry with them forever.
If you are trying to minimise the number of sweets your little ones have over the Easter period, there are plenty of sugar-free alternatives for all ages.
Read on to discover our list of over 120 non-lolly Easter basket alternatives.
120 plus Non – Lolly Easter Basket Fillers
20 Easter Basket Ideas for 1-Year-Olds
Pajamas
Cookie Cutters
Bubbles
Sensory Bottle
Clothes
Apple Sauce Pouch
Bibs
Fruit Leather
Water Bottle
Stuffed Animals
Socks
Teething Toy
Money Box
39 Easter Basket Ideas for Toddlers
Play Dough
Snacks
Art Supplies
Squishy Sensory Toys
Bathers
Toy Cars
Toothbrush
Toothpaste
Hair Bow
Beauty Blending Sponges (use with paint!)
Stamps
Finger Puppets
Kids Kitchen Tools
Cooking Apron
Foam Letters
Colouring Books
Easter Dinnerware
Sidewalk Chalk
Craft Kits
Sun Hat
Wikki Sticks
Doll
Animal Magnets
Hair Clips
Purse
Beach Toys
Crayons
Plant Seeds
Bento Accessories
Popsicle Mold
Paint Sticks
Hoodie Swim Towel
Paint Brushes
Toy Dinosaur
Zoo Pass
Cup
Bubble Bath
Water Wow
44 Easter Basket Ideas for Preschoolers
Stickers
Erasers
Jump Rope
Silly String
Goggles
Paddle Ball
Pencils
Fun Bandaids
Drawing Pad
Slinky
Hair Accessories
Kinetic Sand
Scratch Art
Mandala Pieces
Kite
Markers
Coins
Snake Cube Twist
Torch
Puzzle
Water Balloons
Silly Putty
Temporary Tattoos
Pop Fidget Toys
Lego
Beanie
Beads
Fingerling
Sticky Hands
Umbrella
Grass head
Magnetic Tiles
Wind Up Toys
Tiara / Crown
Magnifying Glass
Yoyo
Water Beads
Pool Toys
Binoculars
Walkie Talkies
Tangram Puzzle
Sports Collectable Cards
31 Easter Basket Ideas for Tweens and Teens
Nail Polish
Sunglasses
Stationary Clips
Crossword Puzzle Books
Bath Bombs
Lawn Games
Headphones
Travel Mug
Scented Pens
Cuticle Oil
Freeze Dried Fruit
Ear Rings
Bubble Bath
Flip Flops
Bath Salts
Lip Gloss / ChapStick
Soaps
Coaster
Potion Kit
Bed Socks
Scarf
Gloves
Jerky
Beach Towel
DIY Jewellery Kit
Washi Tape
Slippers
Glow Sticks
Easter Jokes
Diffuser
Nail Stickers
What is an Easter Basket?
An Easter basket is said to represent new life and fertility. It is thought that the word 'Easter' is derived from the pagan goddess of spring and fertility, 'Eostre'.
The woven basket itself represents a nest, a vessel of new life.
Eggs have been considered a symbol of new life in many cultures worldwide.
Drawings of the goddess Eostre show her holding woven baskets laden with eggs.
The 17th-century stories of the Easter Hare were being told by parents to German children. It was said that the Osterhase, Easter Hare, would leave coloured eggs in the baskets of well-behaved children. The children would leave woven baskets or small nests outside overnight for the Osterhase to leave eggs in.
Some theorists say that the Easter Basket originated as part of the celebration of the end of lent. In times of the early medieval Catholic church, worshippers would bring baskets of food to the church to be blessed by the priest at the end of lent.
Many of the Easter traditions that we know today such as Easter egg hunts, candy eggs, and Easter parade, began in the Victorian era.
While many families embrace the giving of Easter baskets, the contents of the baskets are varied reflecting the traditions of individual families.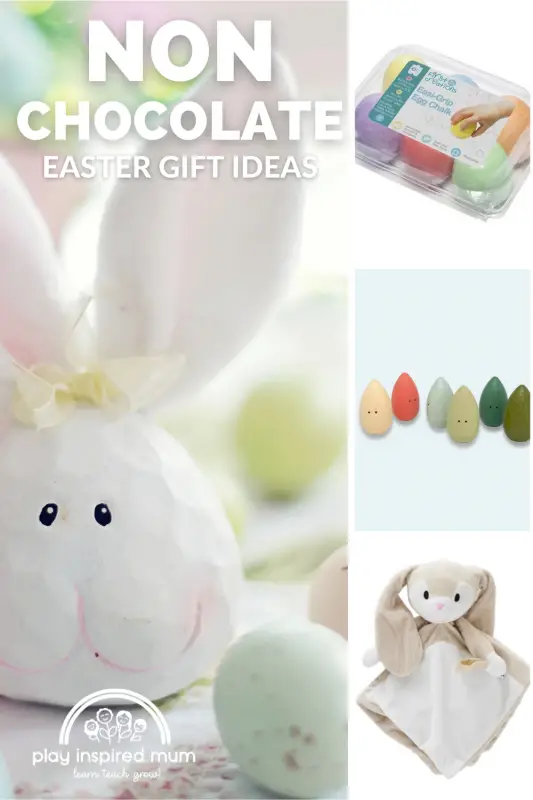 5 Steps for Making the Perfect Easter Basket
1. Choose an Easter Basket theme
Just as children are diverse and unique, so should be their Easter Baskets.
Play to your child's interests when planning their Easter Basket and you can be assured that they will love what you collect for them.
If your little one is obsessed with dinosaurs, get all Jurassic happening.
If your child is loving crafting, paint sticks are a must-have addition.
Celebrate their interests with spring-themed paper and it will be a hit.
When choosing a theme for your Easter Baskets you can sort by a few variables.
Colour
Interests
Season
Moment
Colour Themed Easter Baskets
Decorate and fill your Easter baskets with a favourite colour. Choose the basket and fillers all with a similar tone or shade to create a wow factor impact.
Interest Themed Easter Baskets
Theme the easter basket targeting your child's interest. Personally, my children's baskets would be themed with cars, hermit crabs, and unicorns if I followed this strategy between the three.
Season Themed Easter Baskets
Another strategy for choosing a theme for your Easter Baskets is to play with things your children actually need rather than random gifts.
For those in the Southern hemisphere, we are entering the cooler, wet and windy seasons of Autumn and Winter. These go hand in hand with warm, wooly scarves and beanies, gumboots, and umbrellas.
For those in the North, warm days of Spring and Summer are coming so a new sun hat, goggles, sandals, and beach towel could be just the perfect thing.
Moment Themed Easter Baskets
Lastly, focus on events or phases your child is experiencing right now to design their Easter Basket.
Yes, we are sort of playing close to interests here but hear me out.
Is your child heading off to a school camp?
Perhaps a camp pack Easter Basket would expand their excitement?
Are they getting a new pet? An Easter basket with accessories and trinkets to help them care for their new pet could be very useful.
Is your toddler starting to potty train?
How about some wipe-clean books and stickers to pass the time while waiting for a toilet moment – wink, wink, splash!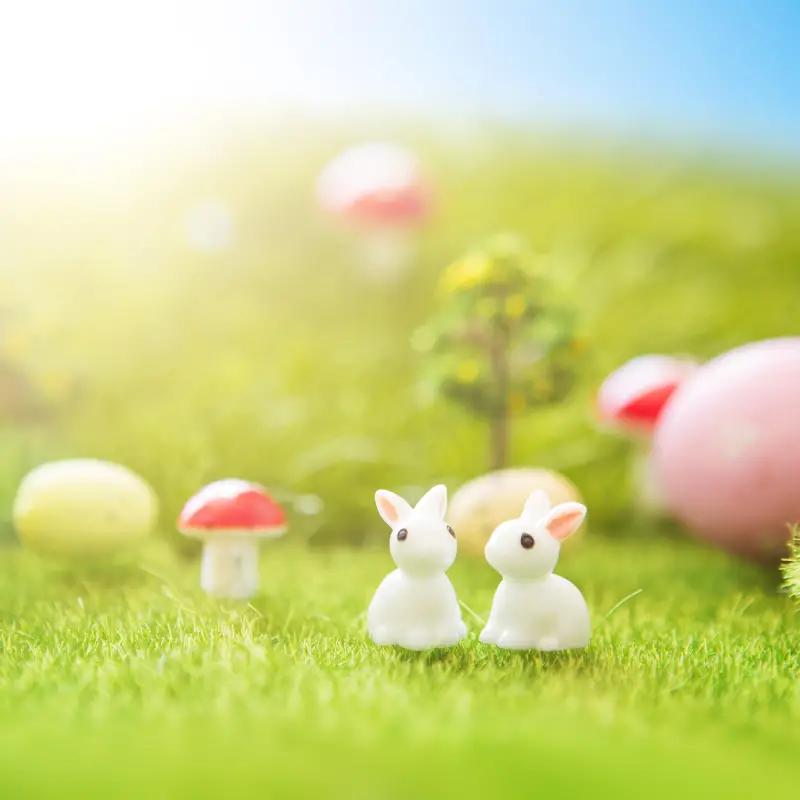 2. Plan the Easter Basket Fillers
Once you have the theme set in stone, it's time to start planning the fillers.
When choosing fillers consider the sensory elements they are going to bring for your child, as well as the fun factor!
What does it sound like?
Is there a scent?
Are there different textures?
Is there something to taste?
Is there visual stimulation to spark curiosity?
Still not feeling inspired?
Fall back onto the four gift rule:
Want
Need
Wear
Read
3. Buy the Easter Basket
Traditionally woven baskets were used to represent a nest carrying new life.
Modern times have seen Easter Baskets evolve into all sorts of vessels being used to hold the special tributes for their recipients.
Gift boxes
Baskets
Bunny head baskets
Gift bags
Helmets
Hats
Gumboots
Bowls
Baking Trays
Youre imagination holds the limits to what you can use.
4. Line the Easter Basket
It is the little extras that can level up a humble basket into a masterpiece.
Line your basket to add that extra detail or to had some height to display the Easter basket fillers.
Cellophane
Gift Wrap
Fabric
Socks
Clothes
Hand Towel
Tissue Paper
Felt
Hay
5. Add the Easter Basket Fillers
Once your basket has been lined, add the fillers.
Be mindful of the height of the contents to create a balanced display.
I find it easier to position the larger items before filling in the spaces for the smaller ones.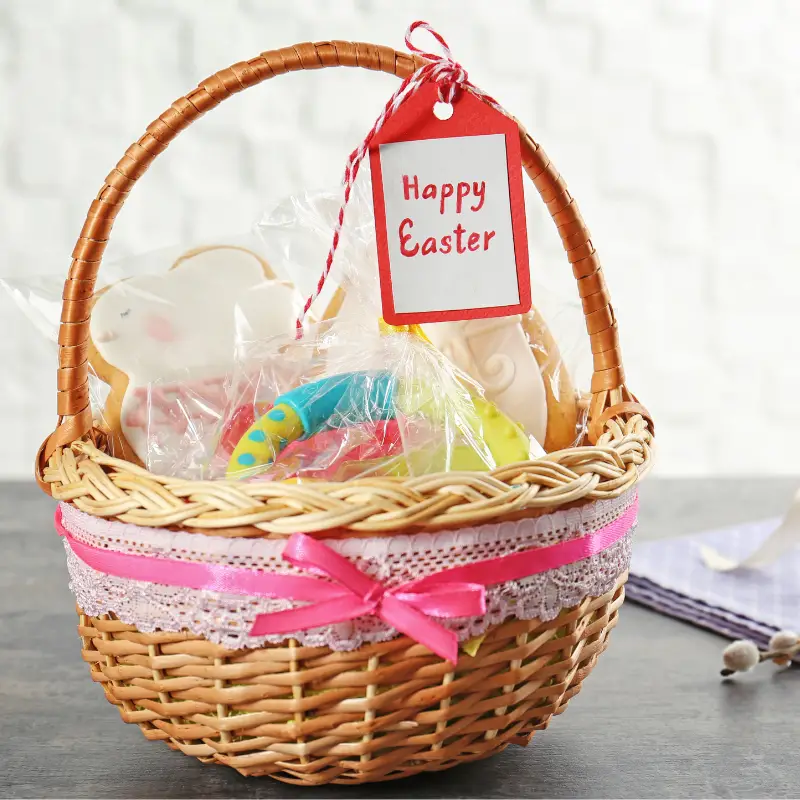 20+ Easter Baskets Craft Ideas
Easter basket-themed crafts are a great way to celebrate this special day.
Here is a list of amazing Easter Basket Crafts created by some incredibly creative bloggers.
Most can be made at home with resources you likely have at home already. Some even offer free printable templates- yesss!