Disclosure: This blog contains affiliate links which I may earn a small commission from if you purchase through them, at no extra cost to you.
Super bubble foam is a super fun way to get kids moving and having fun!
Bubble play has been known as a fun activity for kids for years. For generations even!
Here is a fun, and active way, to make super bubble foam sensory play!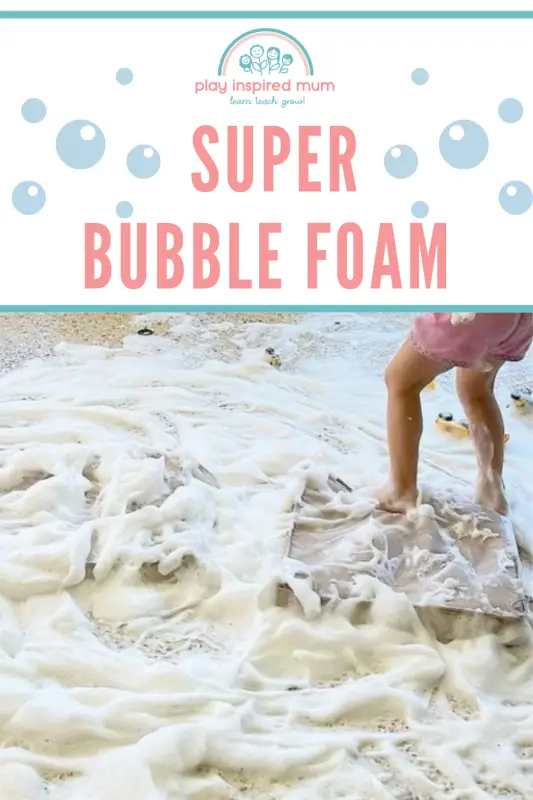 Super Bubble Foam
Play foam has been a favourite sensory play medium at our house for years. We accidentally stumbled upon this way of making bubbles purely by chance. By golly are we glad we did too!
This sensory play idea has been handy go-to many afternoons to get us through the day. Both of my girls find sensory play grounding come the end of a busy day. Whether they are overwhelmed or just tired, this activity has proven to be a welcomed reset time and time again.
What you need to make super bubble foam
Dishwashing liquid (we use Earth Concentrate)
Outdoor Cushion or cushion with foam insert
Water
Truck toys (optional)
How to make super bubble foam
Wet cushions
Add dishwashing liquid to the cushion
Run the trucks through the dishwashing liquid to develop a foam
Add more water and dishwashing liquid until the desired amount of bubble foam has been made
Yup, it's that easy! Well, in saying that, that is how this activity began for us.
The faster the trucks are moved over the foam, the quicker the bubbles will build up.
From here, busy hands developed more bubbles.
When the girl's hands weren't working the foam up fast enough, they got their feet involved!
Running on the spot on the cushions made more bubbles.
Jumping up and down on the spot made more bubbles.
Every movement on the cushions made more bubbles!
When the bubbles started to lessen, add a splash of more water and they would return in no time!
What started off as being a bubbly truck activity, quickly turned into a cloud of super bubble foam across our alfresco area!
The kids had so much fun running through all the bubbles.
Their whole bodies were being active and the activity was definitely adding some steps to their day.
There was super bubble foam everywhere however this was all very easy to clean up. A quick hose off was all that was needed to remove the foam.
This was a great way to entertain and ground the kids, all while having our cushions freshened up too.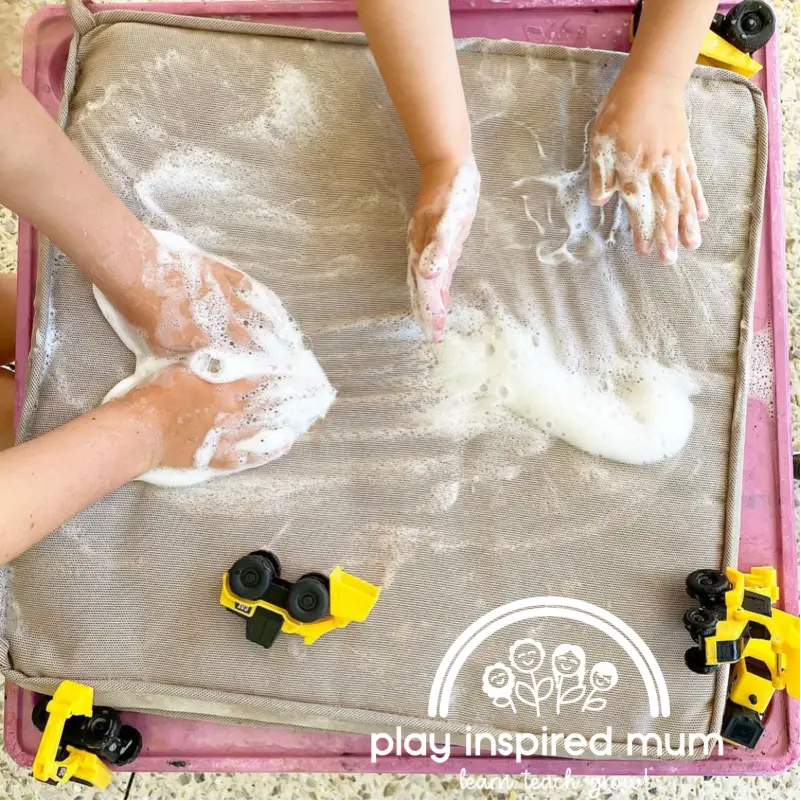 How do you make a lot of bubble foam?
The more the dishwashing liquid is worked into the foam cushions, the more bubbles will come. As they dry, simply add a bit more water or dishwashing liquid as needed.
We found that once the cushions were saturated, the foam inserts didn't bounce back as well. This is when we add more water to agitate which made for more bubbles. Once you develop a feel for the optimal ratio, you will have bubbles galore in no time!
There are a few variables for finding the correct ratios. This includes the density of the foam in your cushions and the type of dishwashing liquid you use.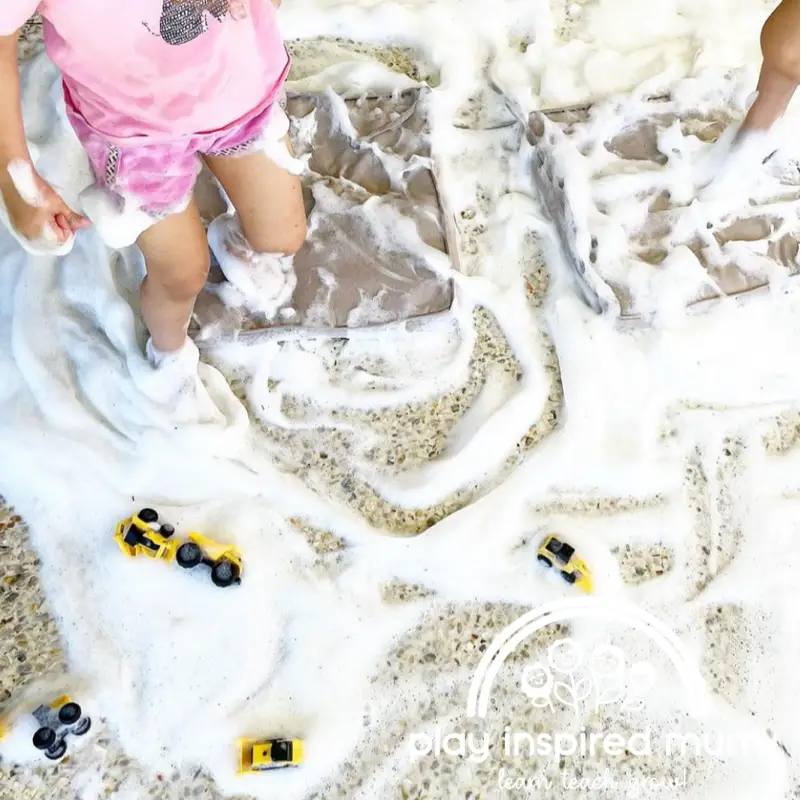 What if I don't have foam inserts in my cushions
If you don't have cushions with foam inserts, household sponges make for a great alternative to making super bubble foam. Follow all the steps above and you will have lots of bubbles in no time!
The giant sponges used to wash cars would also work well.
How long will bubble foam last?
These bubbles are much the same as would form in the sink when you do the dishes.
they will last for a little while however, the bubble foam will start to reduce straight away.
In saying that, while your children are busy engaging in making the bubbles, there are going to be more made faster than they will perish. While they play, there will be plenty of bubbles! Just keep adding water and dishwashing liquid.
What is dishwashing liquid?
In Australia (where we are based) dishwashing liquid is the term used to describe the soap added to water to wash household kitchen dishes.
Around the world, this is also known as
Dish Soap
Dishwashing Soap
Kitchen detergent
Dish detergent
Washing up liquid
Fairy Liquid
How to make coloured super bubble foam
To make your super bubble foam in different colours, simply add food colouring to the water!
Keep in mind that this may stain the cushions. Test for staining before letting the kids go nuts to avoid disappointment.
Sensitive Skin
This super bubble foam recipe is based on using dishingwashing liquid as the catalyst to make the bubbles. For children with sensitive skin this may irritate their skin.
Consider trying their shampoo or body soap instead of the dishwashing liquid.
How to make foam taste safe for babies
As a safer alternative to soap foam, aquafaba foam is a taste safe option for children who may try to taste or eat the foam.
Aquafaba foam is made from chickpea juice and is totally taste safe. It smells terrible however there is no reason to worry about your mouthing baby consuming any at all.
Just to confirm, super bubble foam is NOT taste safe.
Aquafaba play foam is taste safe.
How to make super bubble foam fast
If you are short on time and need lots of bubbles really quickly, then check out our rainbow soap foam recipe! You can have a mountain of bubbles set up in no time!