Disclosure: This blog contains affiliate links which I may earn a small commission from if you purchase through them, at no extra cost to you.
Cloud Dough is one of the softest, deliciously scented homemade playdoughs we have made and it's so simple to make.
How excited would you get if I told you this was a no-cook recipe?
This is truly, such an amazing, and easy-to-make playdough recipe.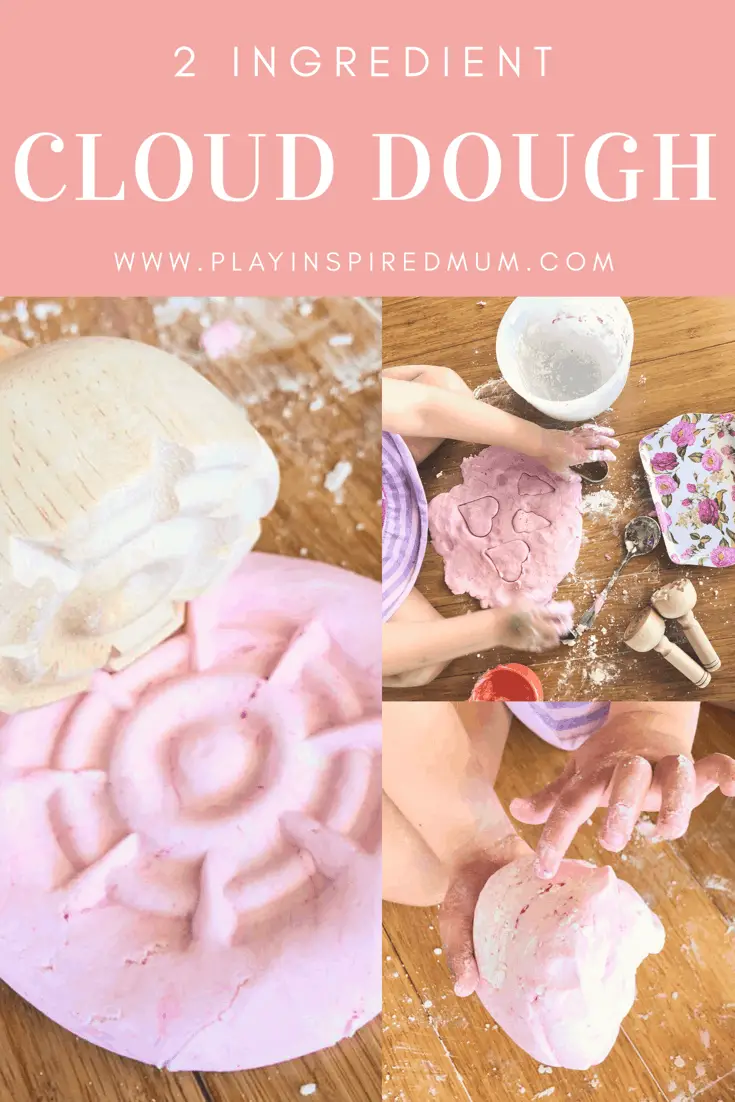 How to Make Cloud Dough
Sensory play is always a hit and after a late night with baby, I needed an activity that was quick to set up to keep Miss 5 entertained while I tried to settle her sister.
A trip to the pantry and then the bathroom and we had all we needed to make our own homemade cloud dough.
What you need to Make Cloud Dough
Ingredients
2 cups of Corn Flour
1 cup of Hair Conditioner
Food colouring (optional)
Equipment
Corn Flour vs Corn Starch
I understand that we have readers from around the world reading our articles. One question that regularly pops up is the difference between corn flour and corn starch.
Basically, corn flour is the entire kernal milled to a flour. Corn starch is essentially just the ground endosperm.
For this recipe, both corn flour and corn starch can be used to make your dough.
How to make 2 ingredient Cloud Dough
To make your own Cloud Dough, all you need to do is
Stir the flour in with the conditioner
Knead until smooth
Now your dough is ready for play!
If your mixture is too wet and sticky, add more cornflour. We find that as we play, it changes consistency, so we just add extra flour as we need it.
The result should be a super soft, deliciously scented dough.
So you may have noticed that I have called this 2 ingredient cloud dough but there are three ingredients in the 'list of things you need'.
Truth be told, this dough is amazing stand-alone. That being said, a splash of food colouring can take it to the next level.
If you're using colouring, simply throw a splash in and knead the dough until you reach your desired colour. if you would like an even colour throughout the dough, add the colour to the conditioner and mix until even before adding it to the flour.
Personally, I like the little flecks that come with mixing the colour separately.
Glitter works well too – just saying!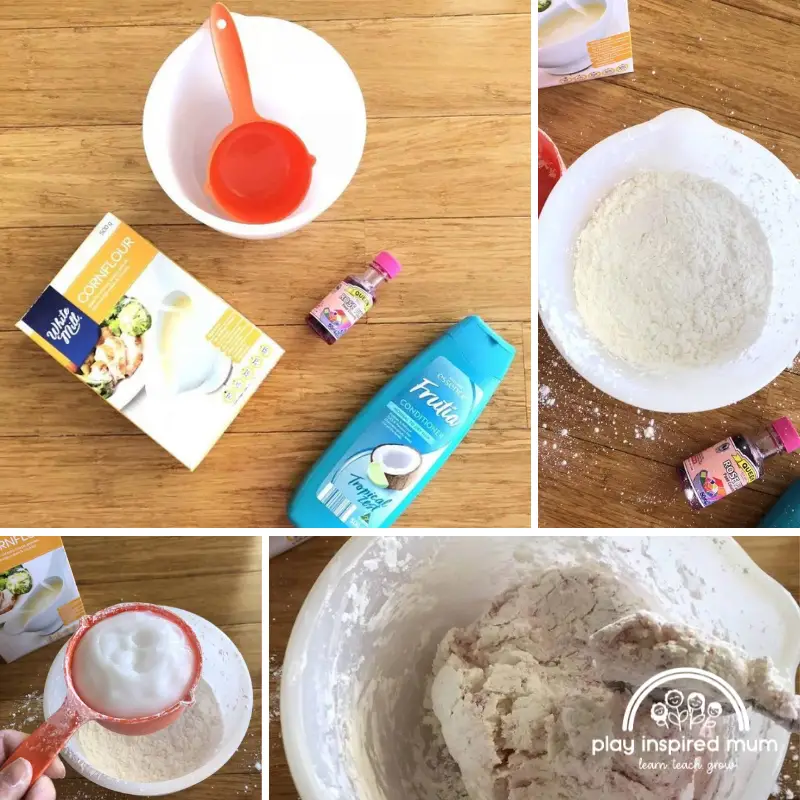 Can you make cloud dough with just hair conditioner and corn flour?
Yes, you can make cloud dough with hair conditioner and corn flour. We have made this no cook play dough recipe so many times over the years and it is always a welcomed success!
The dough is super smooth, soft and smells amazing! Add more flour to make it crumbly. This can be perfect for small world play. Keep it firm for using it with cookie cutters to create shapes or characters.
How to make cloud dough without glue
Wait, pardon me?
There is no need for glue for this recipe. Or borax for that matter. Yes – it is totally glue free!
To make the basic recipe, all you need is corn flour and hair conditioner. No glue required!
Is this playdough gluten free?
Yes, this recipe is gluten free!
Check your corn flour as some are made with wheat – yeah, go figure right?
If your corn flour is genuinely just made of corn, then it is safe to say this playdough recipe is gluten free.
How to Play with Cloud Dough
Cloud Dough is a great sensory play medium that will encourage your child to strengthen the muscles in their fingers and hands with every poke and squeeze.
You can let them explore with open-ended play or set them on a little quest.
Shapes
Snakes / sausages
Write their name
Handprint
Animal shapes
Providing your child with loose parts to play with can give them the opportunity to demonstrate their creative side.
Some loose parts may include
Match sticks
Buttons
Gumnuts
Beads
Cookie cutters
Cutlery
Pop sticks
Wool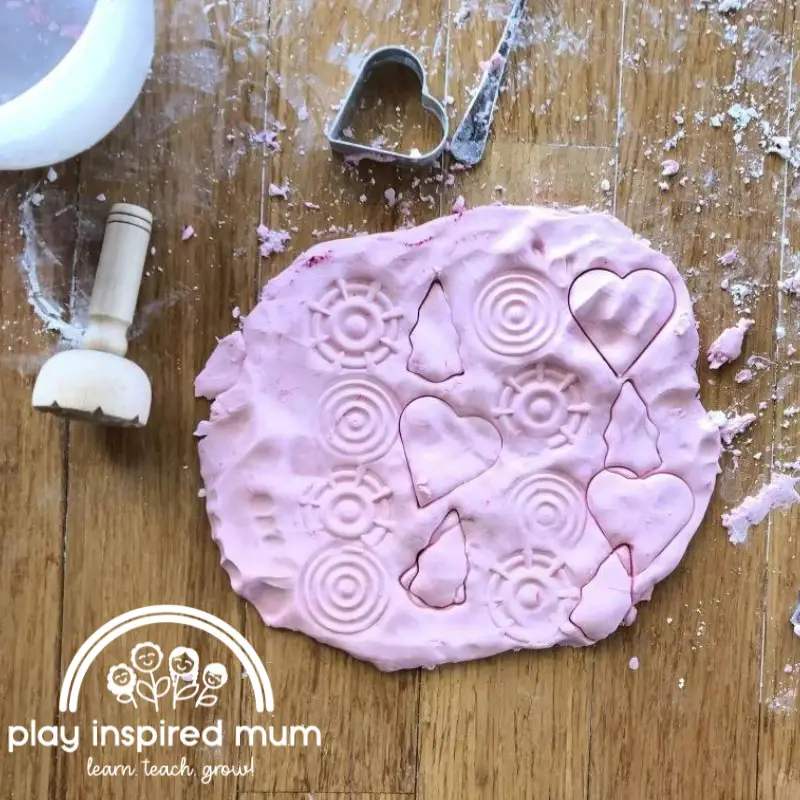 Comprehension Boosting Questions
Asking open-ended questions while playing will broaden your child's understanding of the activity. It will also push the limitations of their play and help guide them on their play journey.
Some questions you could ask your child while they are playing could be
What does the cloud dough smell like toy
How does the dough feel?
What do you think you could use cloud dough for?
Who else do you think may enjoy playing with cloud dough?
What's something you would like to use cloud dough with?
Have you used anything similar to cloud dough before?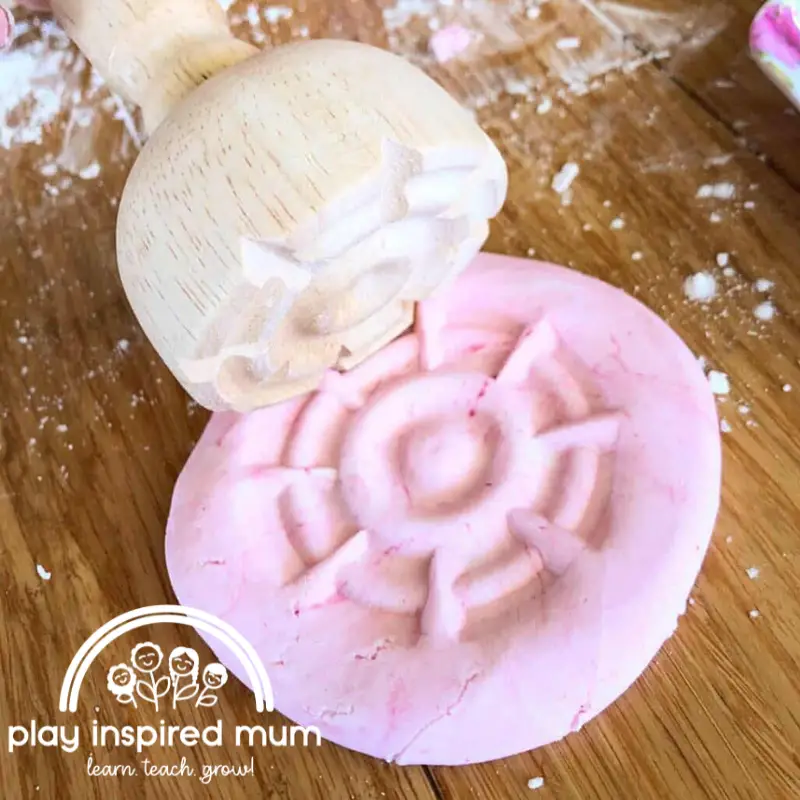 Join in too!
Cloud dough really is a lovely substance to play with. Why not be inspired by your child and join in too!
You are only as old as you feel and you can never be too old to play?
Love this sensory play medium? Check out these other corn flour based recipes!