Disclosure: This blog contains affiliate links which I may earn a small commission from if you purchase through them, at no extra cost to you.
Do you have a fan of trucks and vehicles at your place?
This Construction themed small world, sensory play tray, is going to be right up their alley!
Are you worried about your toddler eating the 'dirt'?
Fret not- It is completely taste-safe!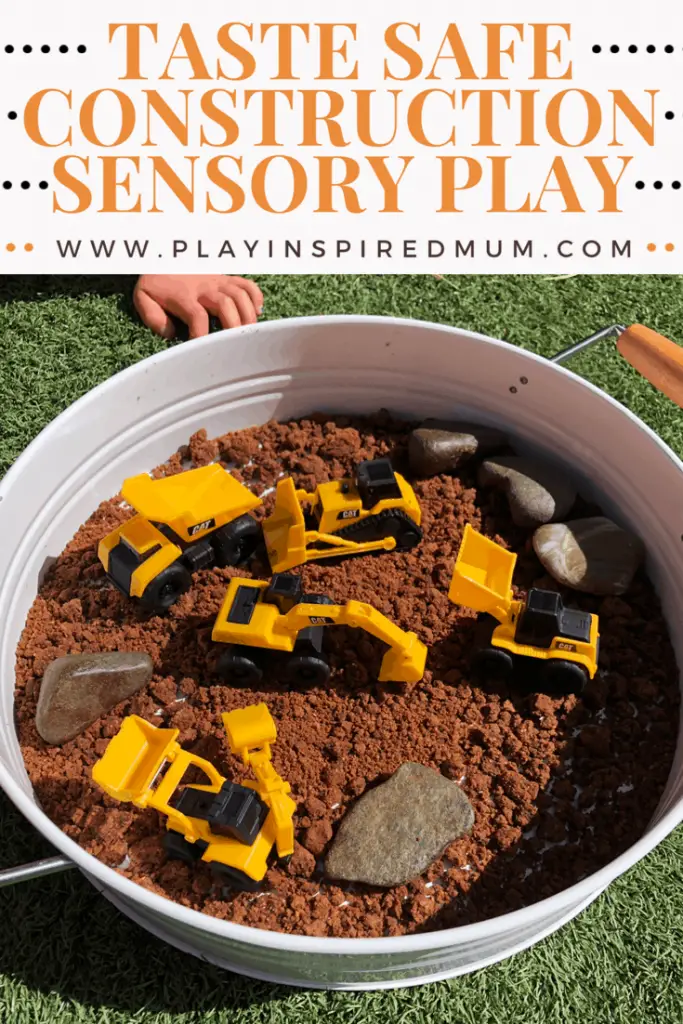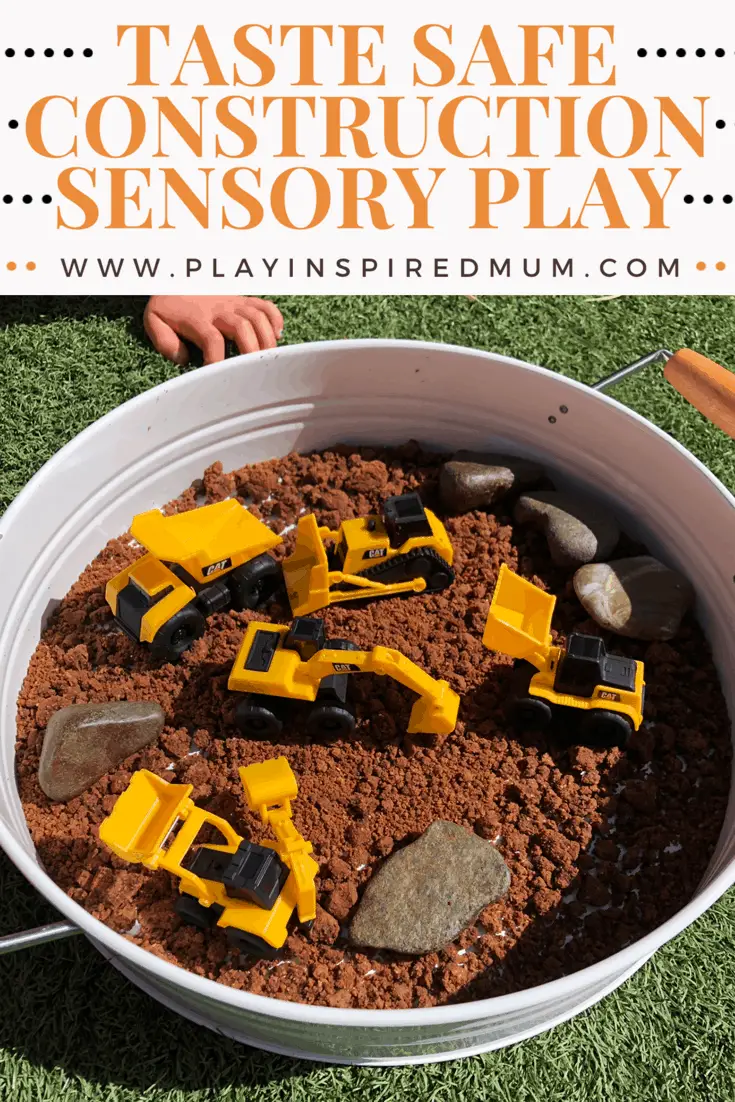 Taste Safe Construction Sensory Play
We have a new development happening at our local shop.
It only commenced the week before last and has become a hot topic each time we drive past.
We have even pulled over and just sat in the car to watch the large dump trucks and other heavy machinery digging, loading and dumping the earth.
It was actually really fascinating to watch and the girls were mesmerized observing the events unfolding before them.
When the opportunity presented itself, we just had to take it to set up our own interpretation of a Construction Site.
What you need to set up your sensory play
Play Tray (this one is from Kmart)
Cookies
Rocks
Construction Vehicles ( these are from Kmart)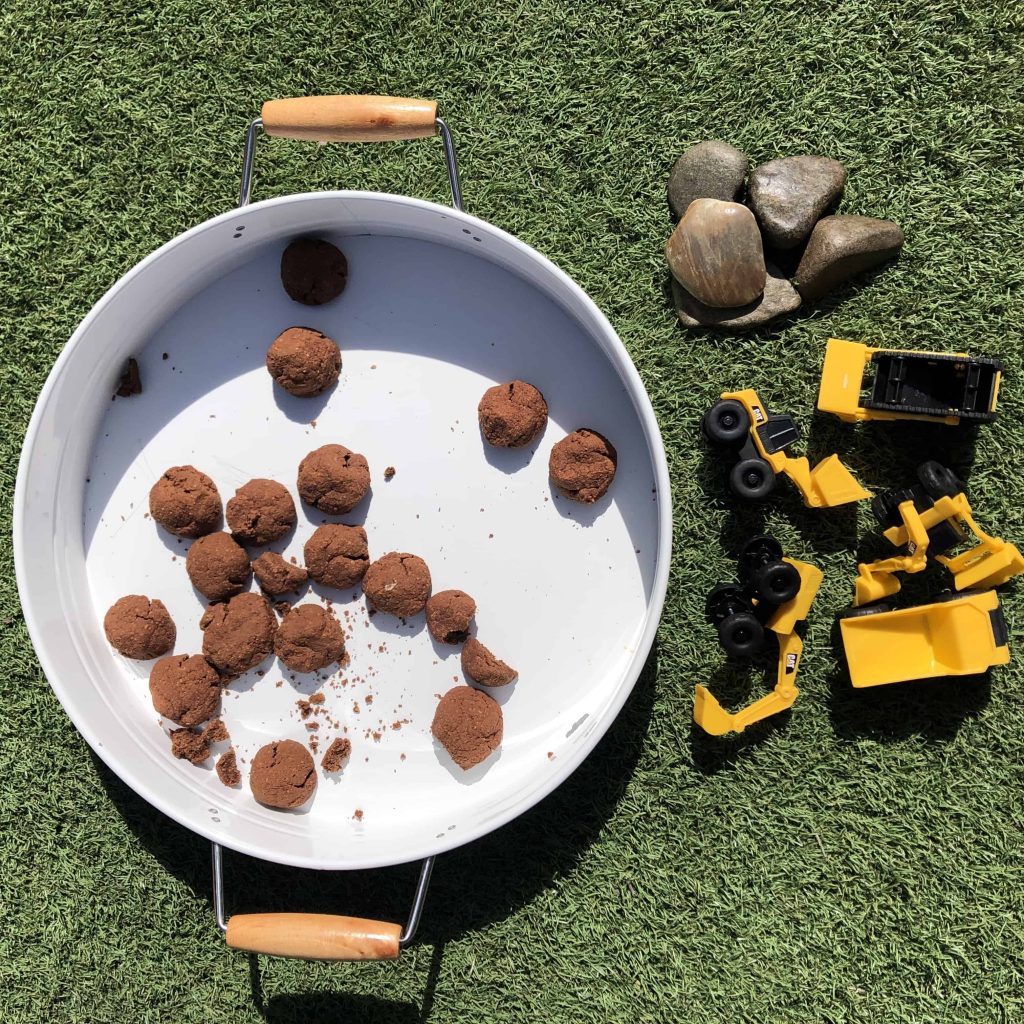 This little setup came about by an unpredicted turn of events. Mother of the year here forgot to add the sweetener in a batch or normally yummy chickpea cookies. The typically delightful treats were extremely bitter and inedible – trust me when I say, I had a very disappointed two-year-old on my hands that day!
Rather than dispose of our little balls of bitter bleh, we repurposed them!
Here is another way we used our Chickpea Cookie Crumb!
How to set up your small world
To create the 'dirt' for our construction scene, the girls got busy crushing the biscuits. Busy fingers broke the chunks into fine crumbs. I let them gauge how fine to make 'dirt'.
While Miss 2 preferred to make the crumb really fine, Miss 5 preferred for it to be a bit chunkier.
We came to a compromise and agreed that once Miss 5 had finished, Miss 2 could continue crumbling the cookies to her heart's content.
This Construction Small World was inspired by the scene we had watched the other day. Once the girls completed the crumb 'dirt', I positioned the trucks and rocks before letting the girls loose on the scene.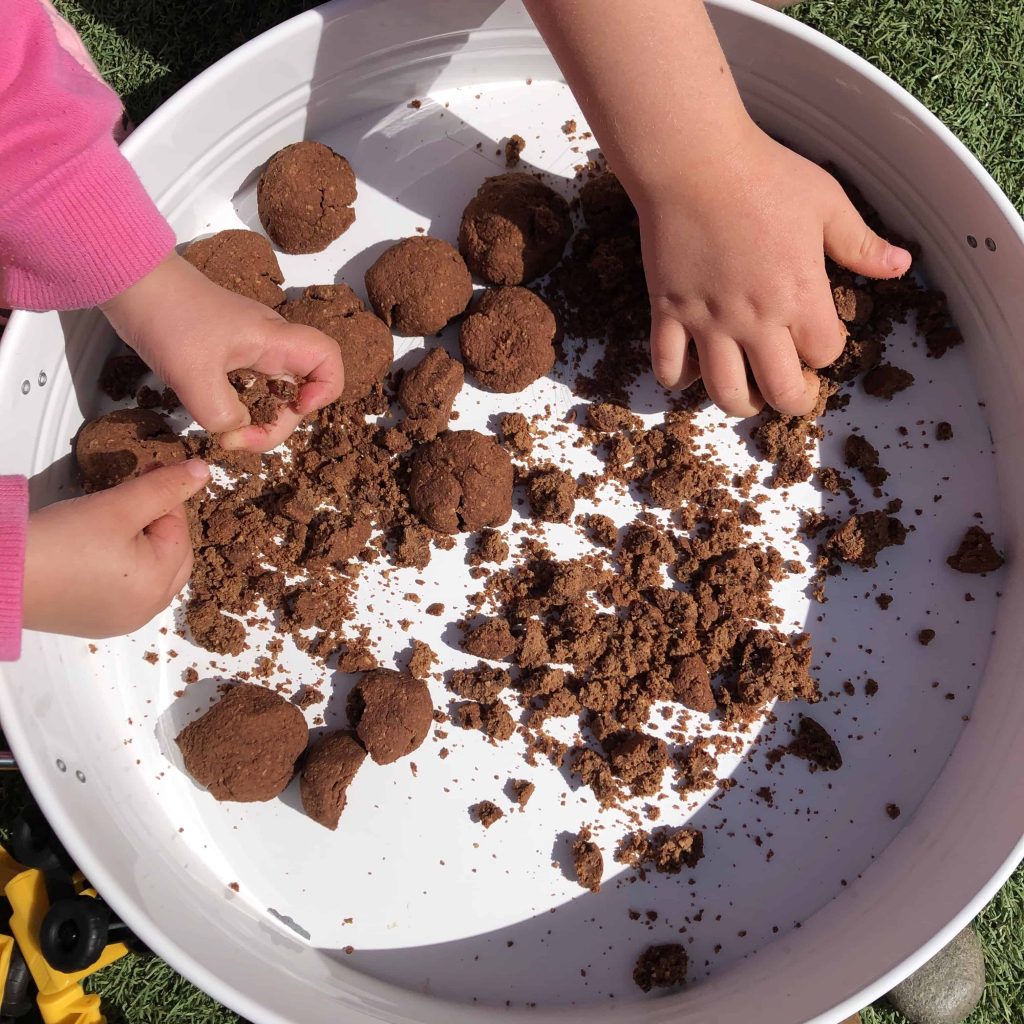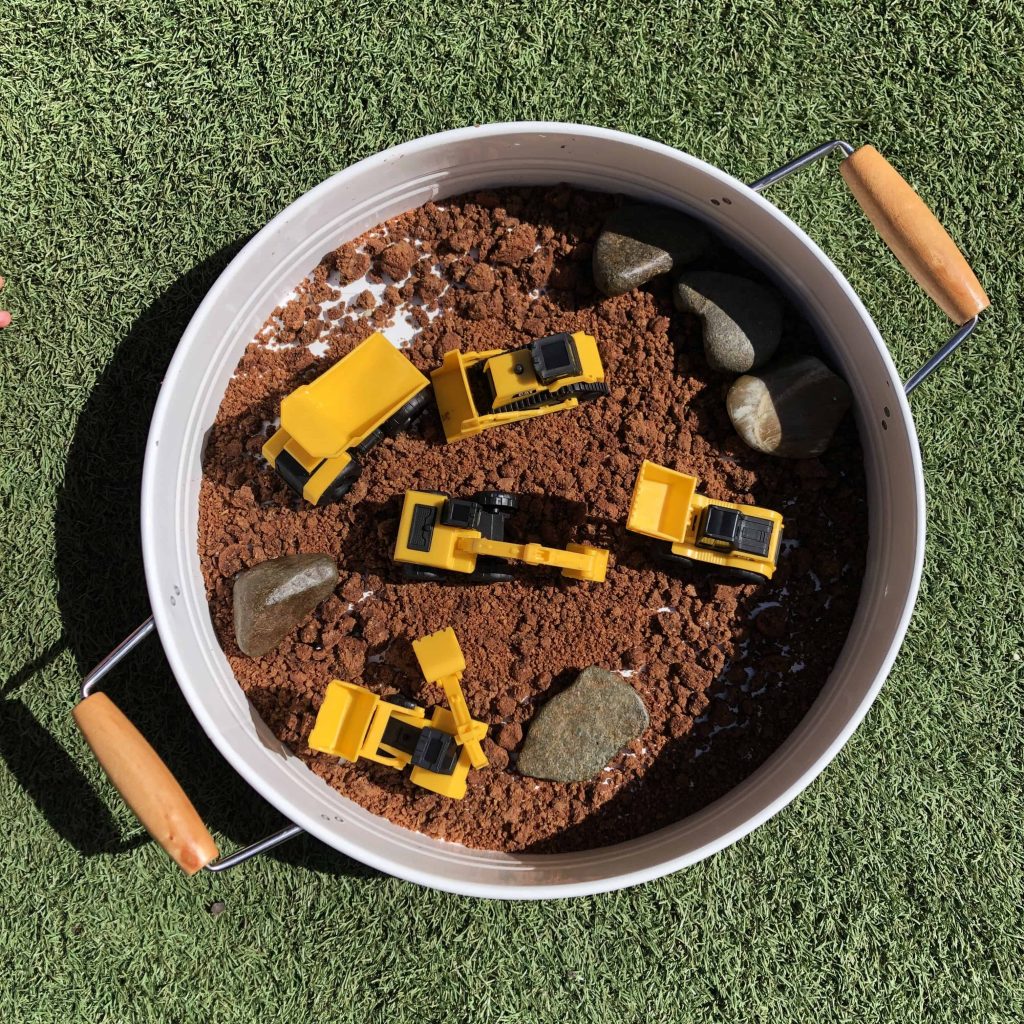 How to play with your Construction sensory small world
The beauty of small-world play is that there are no right or wrongs.
Let the child be inspired by the materials that you provide them and let their imaginations and curiosity lead their play.
Miss 5 was busy getting the trucks to work.
As she was filling the buckets and moving them through the 'dirt' to dump their contents behind the rock wall. She got lost in her own little world very quickly. Her hands were busy manipulating the dirt into the loaders buckets, tipping it into the dump truck, and all while mimicking the sounds she had heard on site.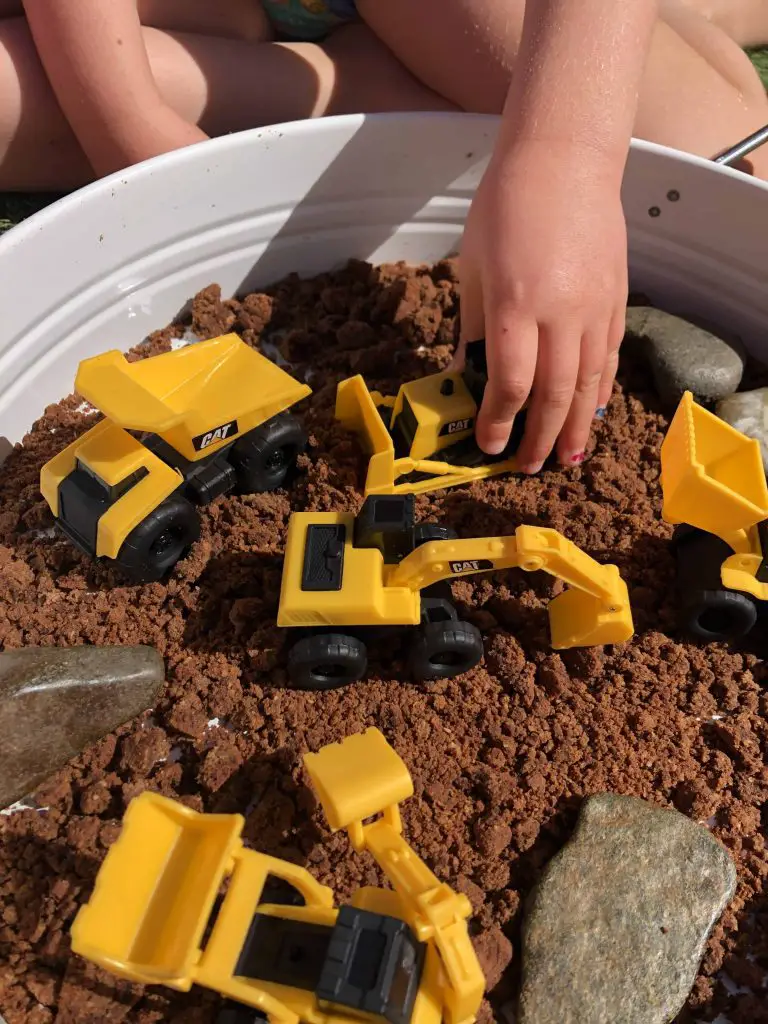 Miss 2s interests gravitated around the sensory side of the activity rather than the 'role play'. Her hands continued to manipulate the grains. She squeezed them into small balls before crushing them again. Her hands were lifting a handful of 'dirt' above the tray and curious eyes watched it fall, while her ears were listening to the sound of fine brown crumbs pitter-patter back into the tray.
It didn't take long ( well it never really does) before shoes and socks were slipped off, and thrown to the side. Her toes were dropped into the mix and started to wiggle through the sun-warmed crumbs to the bottom of the tray. In spite of Miss 5s protests, Miss 2 was stamping the crumbs flat before cracking through with the weight of a stomp.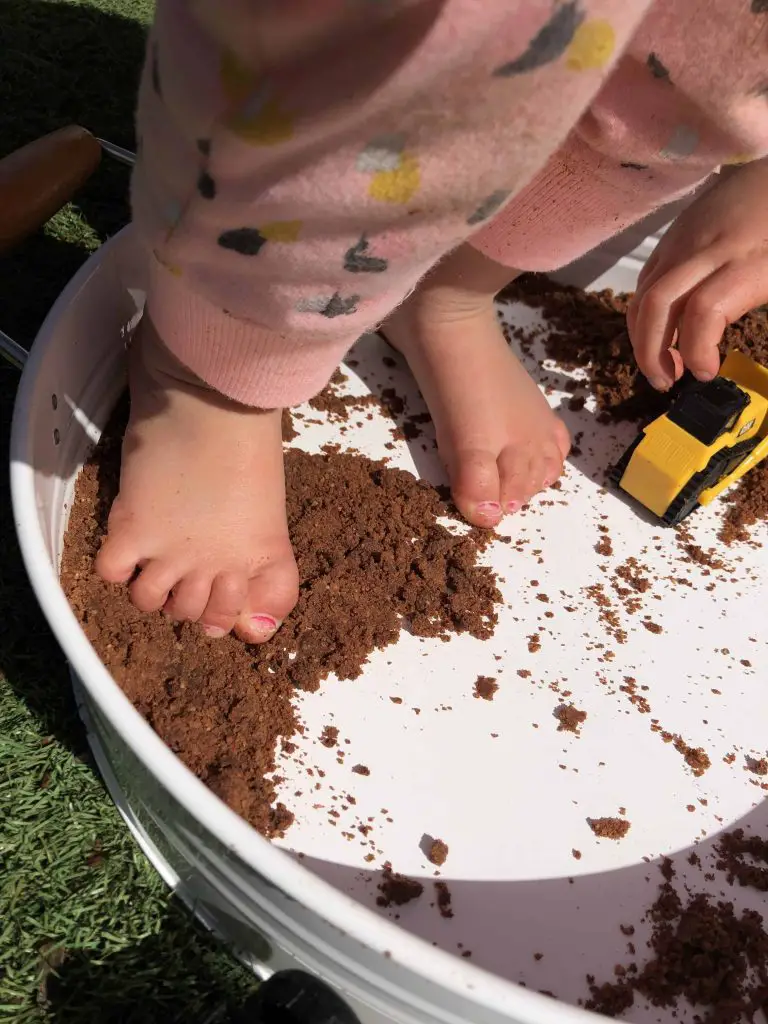 Comprehension questions to ask while playing
Asking your child open-ended questions while they are playing has many benefits. Not only does asking questions demonstrate your interest in the activity, but it can help broaden their understanding, build their vocabulary and grow their creativity.
Here are some questions that you could ask while your child is playing to help them build these vital life skills:
Why are you moving the loader there?
Do you remember when we saw a scene that looked like this?
How do you think construction workers feel when they are moving all the earth?
Who do you think may like to join us with this activity
How does the crumb feel to you?
If it started to rain, what do you think would happen to our dirt?
What are your trucks preparing to build today?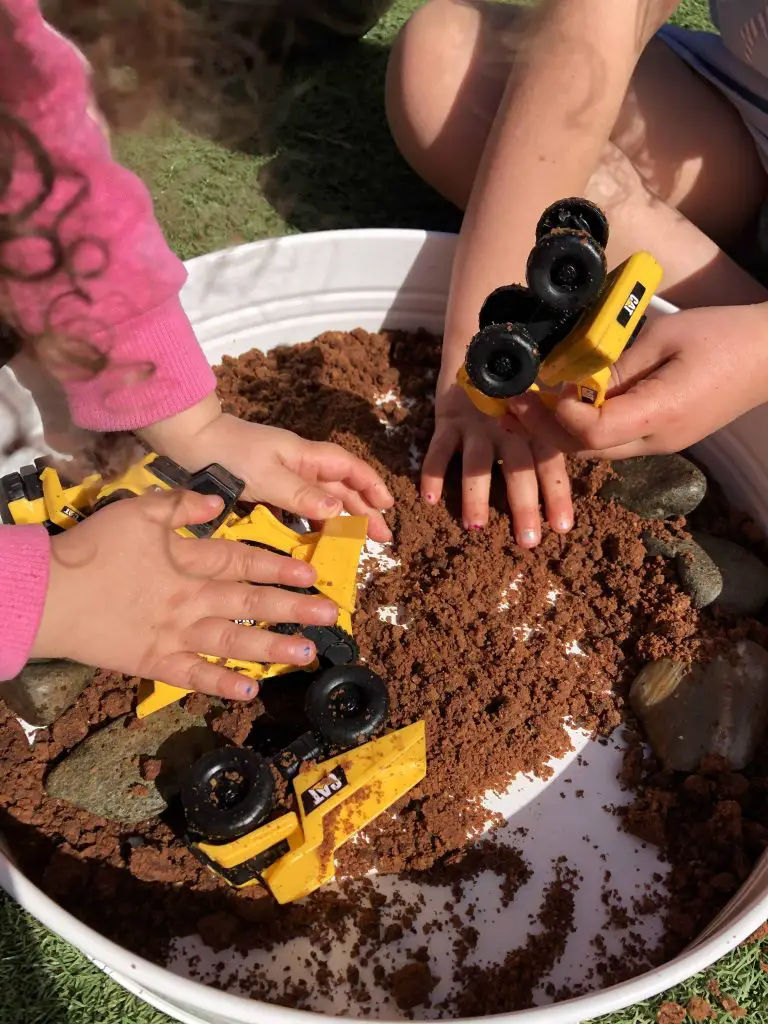 Educational benefits
Sensory play offers all kinds of learning opportunities. These are not just limited to ABCs and 123s either; we are referring to real life skills that can be developed in early childhood and will continued to be refined throughout their life.
Our Sensory Construction Small World opens opportunities for your child to engage and learn skills such as the following:
Fine Motor Skills
Bilateral Coordination
Crossing the Midline
Experimental Play
Cause and Effect
Logical Thinking
Problem-Solving Skills
Patience
Cognitive Thinking
Memory Recall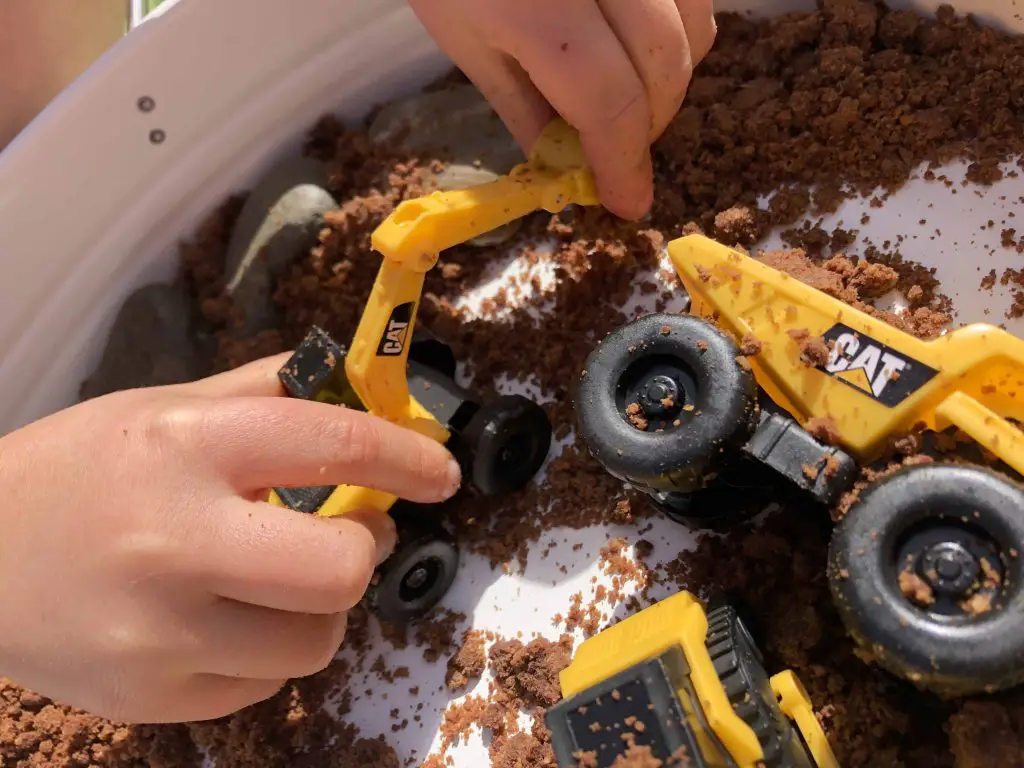 Considering this small world activity was born as a result of a shy 50g of Natvia in a batch of cookies, a fail has never been such a success! Both the girls loved exploring this Taste Safe Construction Small World activity.