Disclosure: This blog contains affiliate links which I may earn a small commission from if you purchase through them, at no extra cost to you.
Are you looking for printable book activities to do with your children? Look no further! This printable We're Going on a Bear Hunt activities play pack will keep your little ones entertained and engaged while they work on their reading comprehension.
This printable bookish play pack is the perfect way for kids to have fun while reading and further expand their comprehension of the story.
Whether you are looking for a creative activity to do with your child or just need something to keep them occupied during storytime, this collection of comprehension activities will fit the bill.
You can download, print, and play today while spending quality time with your little ones!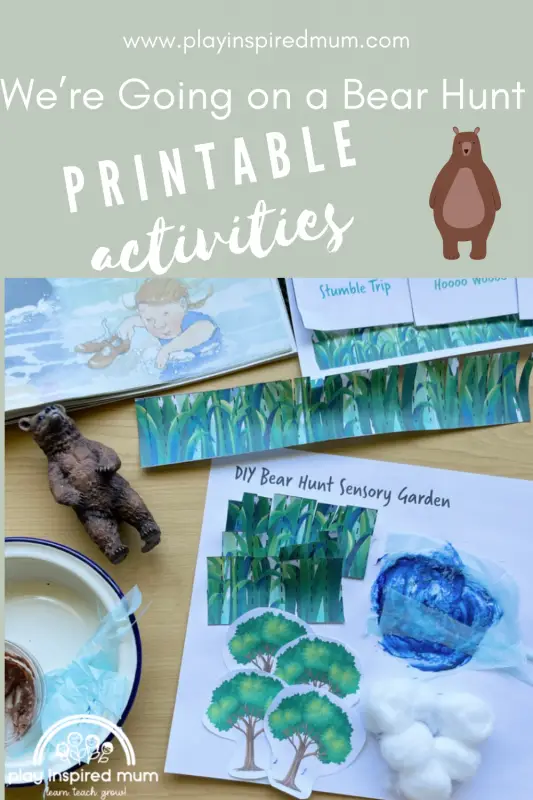 "We're Going on a Bear Hunt" Activities
This printable "We're going on a bear hunt" activity set includes multiple printables that are designed around the popular children's picture book. Your little ones will enjoy a range of activities to support their learning and have fun!
These include story sequencing cards and completing an adorable sensory garden craft which allows them to create their own version of the biomes in the book as they search for bears!
If your child likes playing pretend or enjoys mimicking what they've read, then these printable activities are just up their alley! They are going to love the obstacle course and printable prompt cards too.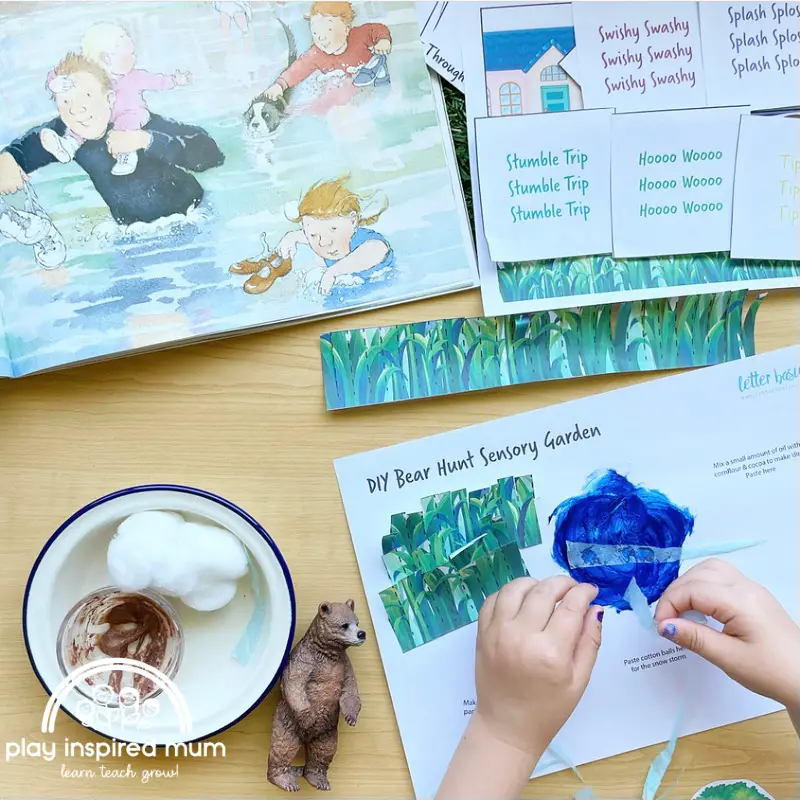 Perfect printable bookish activities for kids during story time or at home.
Do your kids struggle to stay focused during storytime?
Would you like to further expand on their favourite stories to develop comprehension?
If so, these printable play packs are perfect for you!
Each title has 5 printable activities, each expanding on the storybook while encouraging play-based learning.
These play packs are perfect for parents who are trying to engage in quality time with their children and encourage learning through play.
Keeps busy little readers occupied so that they don't get bored.
Don't let storytime get in the way of your child's imagination. With printable book activities, you can encourage kids to read and be creative at the same time!
While the activities are printables, they encourage whole-body learning. Children learn through movement so let's get them moving!
This printable pack is perfect for parents and teachers looking to engage their children and students through quality reading time while encouraging them to develop important life skills all at once.
If this sounds like something that would keep your little ones occupied during school or home playtime, then wait no longer and download today.
You'll love using these printables with your child- they're easy enough even for young readers (ages two and up)!
Shop all things We're Going on a Bear Hunt
We're Going on a Bear Hunt Printable Activities
This book ticks all the boxes associated with a quality children's book.
Page after page, We're Going on a Bear Hunt by Michael Rosen is a popular children's book with plenty of repetition, rhyme, and a musical rhythm.
The illustrations build so much more information into the story and act as cues for further questions to intensify the comprehension of the text.
Go for an adventurous walk with a family through a range of different habitats on their search for a bear.
For teachers, this is a great book to work into your science class when discussing biomes and habitats!
How many pages are in the printable We're Going on a Bear Hunt activities play pack?
There are five activities per book. The total number of activity pages is 9 pages.
What printable activities are included?
The We're Going on a Bear Hunt printable activities within the Book Play Pack Bundle include:
DIY Bear Mask
DIY Bear Hunt Sensory Garden
Match the Noises
Comprehension and Sequencing
Gross Motor Obstacle Course
DIY Bear Mask
Making a bear mask has never been easier. Simply print, laminate, cut, and tape elastic or string to the back to secure the mask so it may be worn.
Your child can switch straight into bear mode! This mask can inspire all sorts of creative role play. Act out the story or take the humble game of hide and seek to the next level.
DIY Bear Hunt Sensory Garden
Use the printable cutouts and some additional sensory elements from around the home to create a sensory garden.
We collected
Printable garden template and cut out page
Scissors
Glue Stick
Tissue Paper
Cotton Balls
Miss 4 loved snipping the printable grass with her scissors. Using the guidelines, she took the challenge of cutting along the lines to create her wavy grass for her garden. She took a lot of pride in controlling the scissors without snipping too far past the guideline.
She secured the different elements to each section with care. Her favourite was definitely the chocolate-scented taste-safe mud. Miss 4 certainly voiced her requests to have a play tray of mud on the weekend!
Quick Tip: Teaching Your Child How to Use Scissors
Teaching children how to use scissors can be challenging for parents. I am often asked what is the best way to teach children how to use scissors properly and safely in order to start practicing this skill at home.
Navigating scissors requires the use of many developmental skills. A few include
Fine Motor Skills
Bilateral Coordination
Crossing the Midline
Hand Eye Coordination
When it comes to teaching kids about using safety scissors correctly, you need steps that is easy enough for them to understand quickly while still being fun so they don't become bored with learning this new skill.
We focus on thumbs up, elbows in, and "watch out for your helping hand".
Drawing a little smiley face on your child's thumbnail can be a fun reminder to keep their thumb up and happy. Placing a folded piece of paper between their torso and elbow can be useful in keeping their elbows in.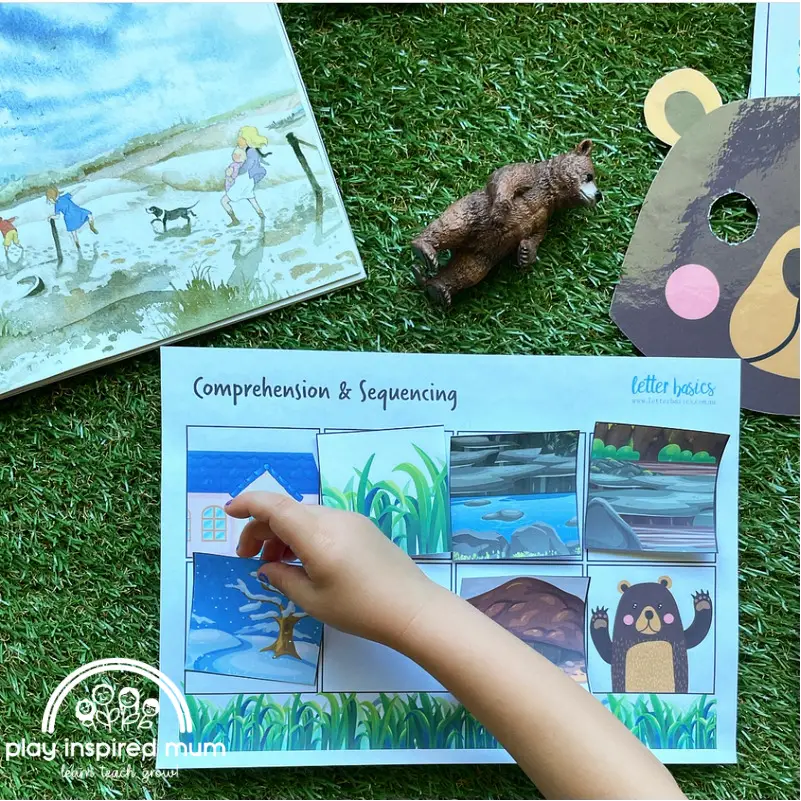 Match the Noises
Using the printable cards, we matched the sounds to the environments in the story.
Firstly, we matched by memory. We then read through the book again to check off our answers as we went.
This memory game fosters so many brain functions such as
Attention Span
Concentration
Focus
Critical Thinking
Attention to Detail
Persistence
Linking the visual prompt cards to audible sounds is a skill that can be transferred to reading and writing. Learning that an image can represent a sound is a vital skill required to read and spell.
Comprehension and Sequencing
Being able to sequence events within a story assists with comprehension of the text. Being able to distinguish and structure the sequences demonstrates an ability to organise and interpret information efficiently. This reading readiness skill provides fundamental support for reading development and scientific inquiry.
This notion can also assist children to develop the ability to recognise the patterns that can bring understanding and predictability to their world.
With the story still fresh in our minds after matching the sounds, Miss 4 sequenced each of the habitats as she recalled them. When she came to some choices she was struggling to identify, I encouraged her to walk back from the end, instead of from the beginning.
"Where did the family go before they got to the bear cave"
Process of elimination worded a treat!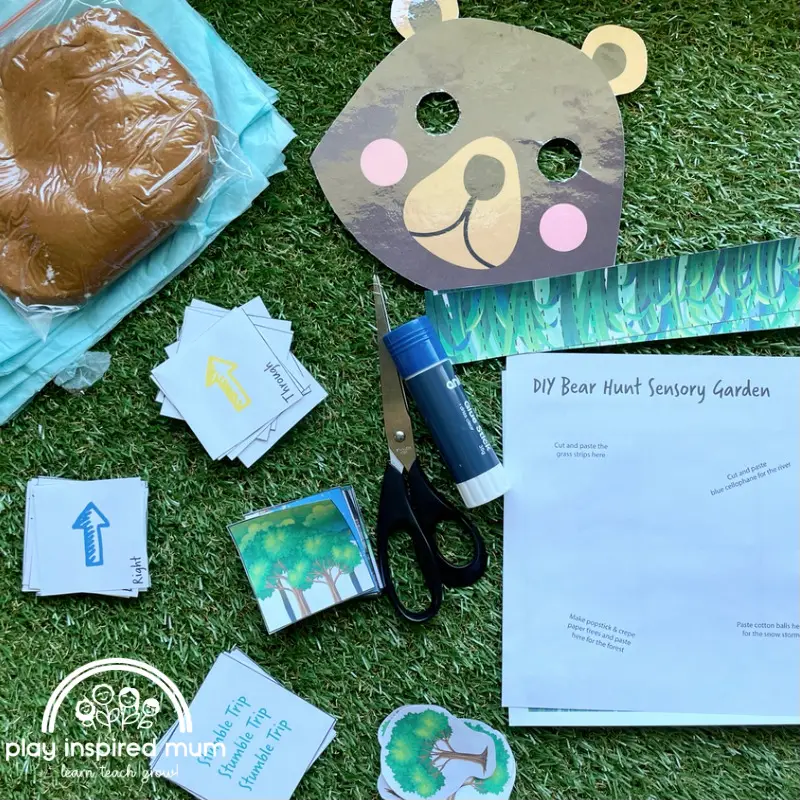 Gross Motor Obstacle Course
Miss 4 does not do 'still'… at all. From the moment she wakes until she falls asleep, she is bouncing, running, and twirling. Wait, what am I saying? She even walks about in her sleep! have you got a sleepwalker too?
It is almost like this obstacle course was made for her – she loved it!
We used different textures and furniture to create the story in our playroom.
This included:
Artifical grass mat
Cushion Stuffing
Corflute
Blanket
Primarily, we acted out the story sequence. She loved darting from one element to the next! She was able to decode the different textures to identify what part of the story each represented.
From there, she acted the bear hunt journey in her own way. There were cushions and legs going in all directions! Before too long, she was flushed in the face with a beaming smile from ear to ear. This type of gross motor play was the perfect way to engage her in a whole-body learning experience.
Once all her wiggles were out, we added the obstacle course printable cards. Before long she was flying from Whatsie cushion to Whatsie cushion like a bat, wobble wading across the corflute river with a duck pout and crawling across the ground like a caterpillar.
It was exciting to add the animal movements to level up a game that we have played so many times!
You could even use this activity during math or science lessons!  Explore different natural habitats and biomes as part of the obstacle course!
It's also great for younger children who may need more help keeping the scenes straight when it comes to directions. This will help them stay focused while they read along too!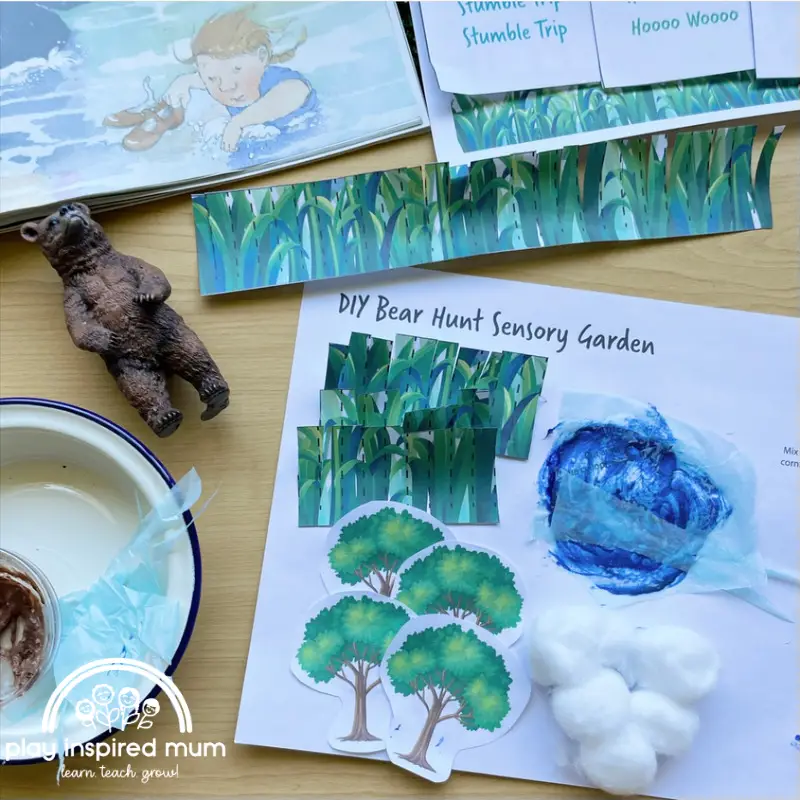 What age group is this printable activity pack appropriate for?
The Bear Hunt activity set is appropriate for children between ages two and up.
If your kids enjoy playing pretend or mimicking what they read then they will love these printables!
What is a bookish play pack?
The bookish play pack bundle is a collection of printables themed to expand on some of Australia's favourite children's books.
Titles include:
Hairy Maclary 
Where's Spot
The Jolly Postman 
Noisy Farm 
Who Sank the Boat 
Going on a Bear Hunt 
I'm Australian Too 
This is a Ball 
Piranhas Don't Eat Bananas 
Diary of a Wombat 
Alpacas with Maracas 
Pig the Pug
Learn more about the benefits of Bookish Play here
What is really exciting is that this is just part of an incredible bundle of Homeschool resources for toddlers. Learn about the bundle here
Additional We're Going on a Bear Hunt Activities
Make Spoon Puppets
Sensory Small World Play Tray
Paper Cup Bear Cave
Teddy Bear Picnic
Paper Plate Bear Face
Bear Hunt Sensory Path
Bear Hunt Story Stones
Paper Bag Bear
Cardboard Tube Binoculars
Bear Hunt Sensory Bottles
Table Cubby Bear Cave
Process Art Story Map