Disclosure: This blog contains affiliate links which I may earn a small commission from if you purchase through them, at no extra cost to you.
Years ago, when Miss 7 was just two, I dreamed of making her the perfect felt quiet book. Fast forward five years and the supplies to make the fore-mentioned homemade activity book still remains in the bag I bought them home from the craft store. This being said, Mr 7 months has a beautiful, quality felt busy book that he uses every day. Thank goodness for Bookywoo!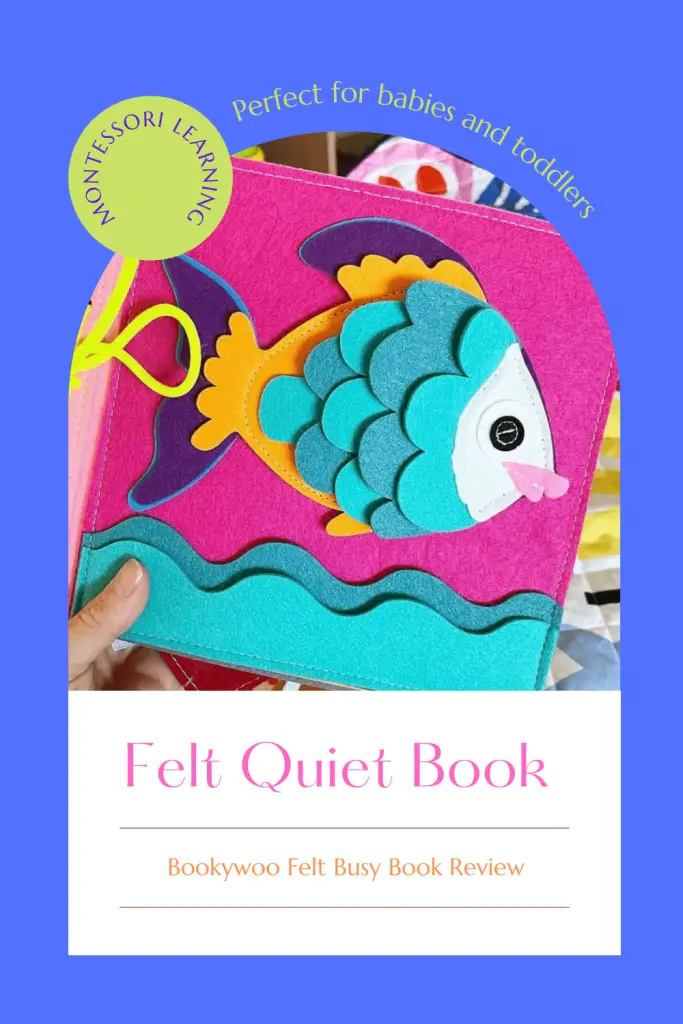 Bookywoo Felt Quiet Book Review
I had heard of these Montessori inspired felt activity books years ago.
It is not going to be said how long I spent curating all my favourite designs on Pinterest, pinning favourite activity pages onto a designated board. From these, the favourite pages were selected.
From here, many lists of materials were made. Hours were spent at our favourite craft store. No real complaints there. The plan was in action! I made two pages – five years ago. Whoops!
Luckily there have been many times over the years when we have 'borrowed' supplies from that bag. It was not a total loss. Fast forward two children and we finally have a felt busy book in the house!
I purchased our book for Mr 7 months first Christmas. It was the perfect Christmas gift for the baby!
Teamed up with a dear little crochet bunny, our Bookywoo Baby and Bunny Bundle has been reached many times over the last six months. So much so, that I just had to share our love for this must-have baby toy!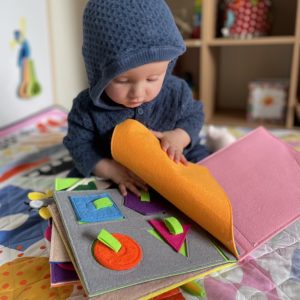 What is Bookywoo Baby Felt Book?
I had begun searching for an Australian felt book for Mr 7 months while I was still pregnant. The decision had been made to have one under the tree for his first Christmas. I was instantly attracted to the bright colours and simple design of the Bookywoo Baby.
There was a perfect balance in the design – engaging without being overstimulating.
Booywoo Baby is a felt activity book that has been designed with your baby's development as a key focus. Over six beautiful pages, there are activities that encourage the development of so many vital skills. Bookywoo Baby is targeting the abilities and developmental skills of a child between 4 months to 12 months.
This certainly does not mean you will be retiring your felt quiet book come baby's first birthday!
In our house, Miss 4 has been known to try and pull the 'my felt book' line when her brother reaches for the pages while she is playing. Our Bookywoo, well his Bookywoo, is loved by everyone!
Each page has a crafted design using brightly coloured elements. Felt, ribbon, laces, and velcro each add a different tactile experience to the book. some felt is stiff, and other pieces are softer.
Present them as a book or individually. This is up to you. The pages are easy to slip off the laces. They can be rethreaded back on easily too.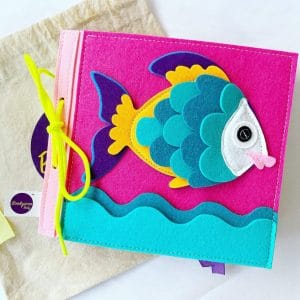 Page 1 – The Fish
The contrasting colours of the fish against the background make for a striking cover page!
The scales may be manipulated by busy hands. Conversations around the darker shades of blue may be started. Counting the scales with correspondence and comparing the shorter lengths with longer (something for older toddlers more so than babies).
Use the friendly fish as inspiration for some fishy songs.
The page could be used as a puppet that swims through the air as part of the songs too!
Page 2 – The Butterfly
This was Mr 7 months' first favourite page. As a tiny tot, babies' eyes are limited to seeing monotone shades. They begin to see colours as they get older.
Isn't it strange that we associate pastels with babies when in fact its strong, vibrant, contrasting colours they see first?
In fact, black, white, and red are the easiest colours for a baby to distinguish for the first few months.
Mr 7 months had loved running his hand along with the butterfly design. Being very tactile, he loved exploring the voids and depths in the felt.
As he got older, he began grasping the rope antennae. Now he is often caught lifting the wings to inspect their underside.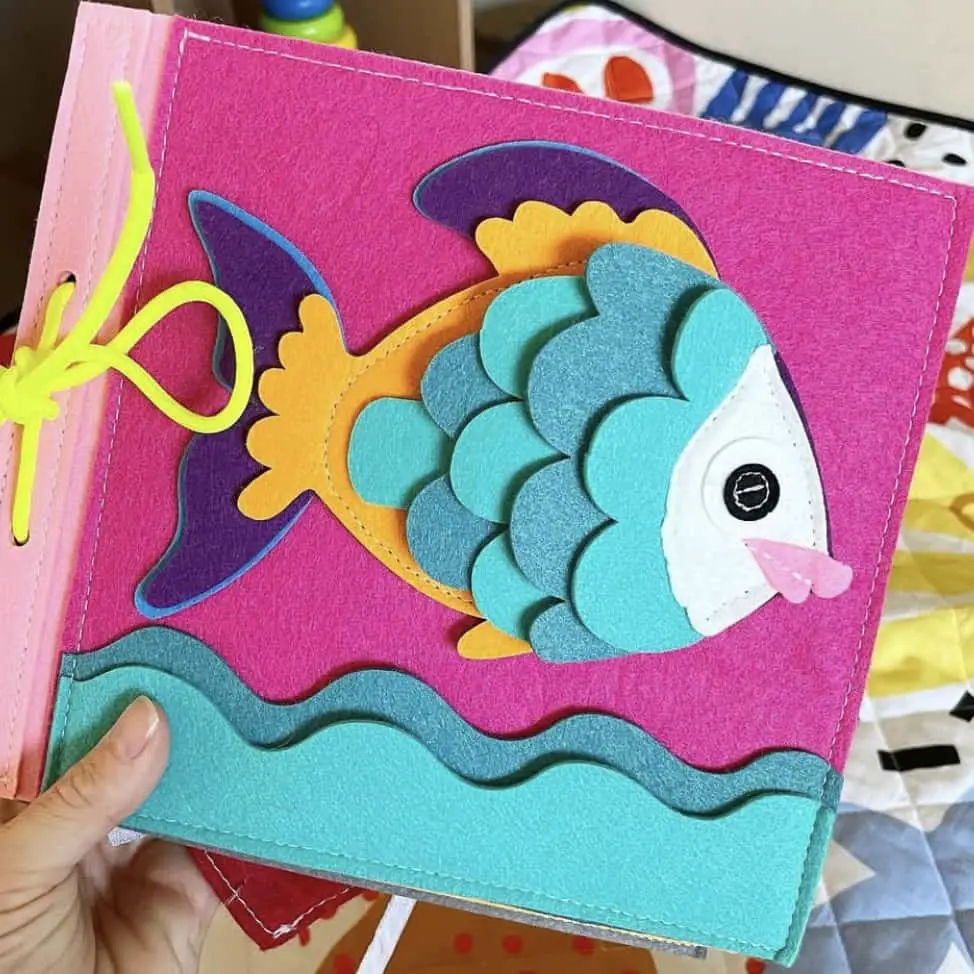 Page 3 – Shapes
Four classic shapes; circle, triangle, hexagon, and square, each with its own little felt handle!
The shapes pull loose from the page. Each has a round of velcro or hook and loop (whichever you may call it depending on where in the world you may be). Mr 7 months loves gripping the felt handle of the shapes to pull them from the page. He hasn't quite got the coordination and strength to manipulate the velcro entirely.
I will usually slip a finger underneath the shape to loosen it for him. These usually end up straight in his mouth. That is after each surface has been thoroughly examined! He loves brushing his fingers along the velcro dots. Sensory seeker much?!
Page 4 – Jellyfish
The Jellyfish page definitely gets loads of game time!
The ribbon, cord, and felt elements all offer so much information for a growing brain! Behind the coloured 'dot' eyes are some actual eyes! These small flaps make for a great game of peek-a-boo when object permanence starts working its way into your day.
The ribbons and cords are perfect for refining those all-important fine motor skills. There are loops and lengths, giving a valuable point of difference. Mr 7 months still loves running his fingers through the lengths, rubbing them with his fingertips.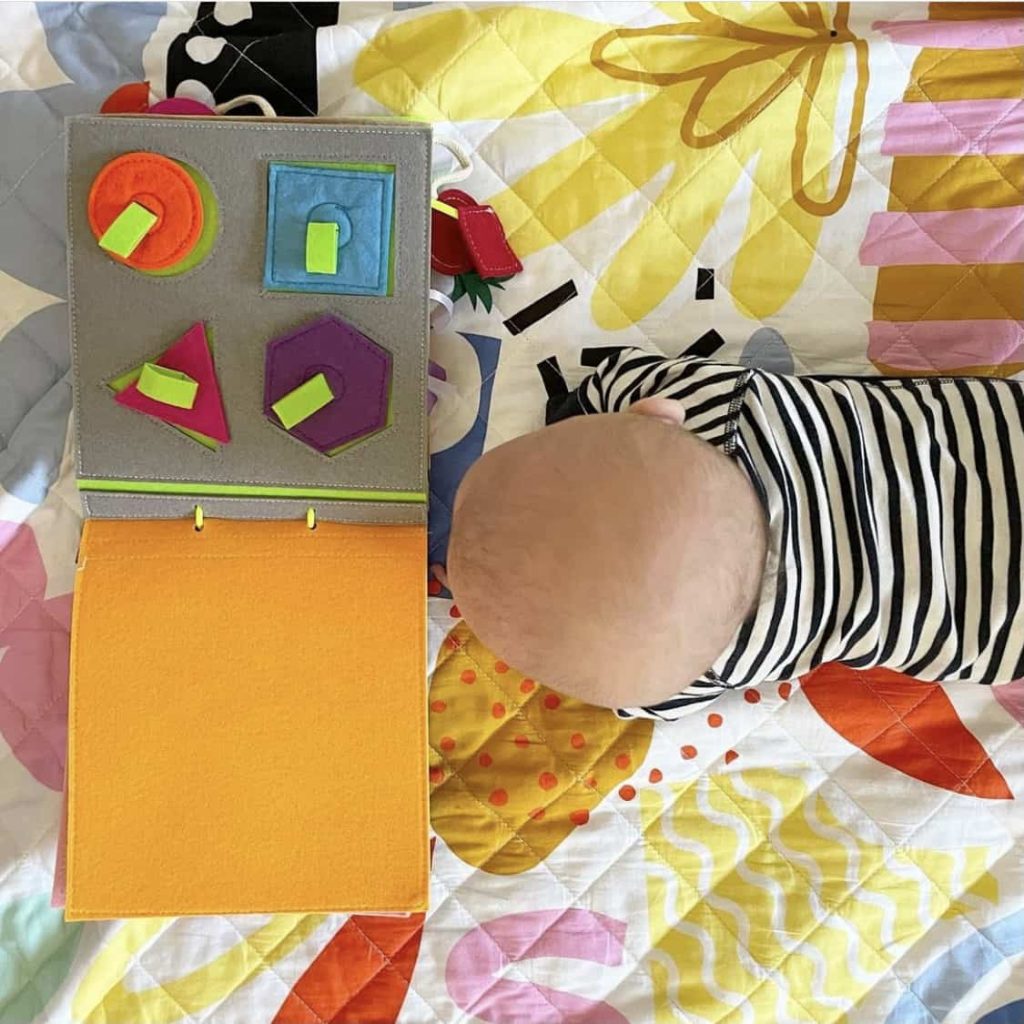 Page 5 – Vegetable Garden
This felt page is perfect for object permanence!
The colourful vegetables can be either partially or fully covered within the garden mounds. The mushroom, carrot, lettuce, and radish are secured to the page with rope.
I love how included are two vegetables that grow above the ground and two that grow below the ground. This certainly opens conversations for toddlers about where their food grows and comes from.
The felt on this busy book page is softer than that on some of the other pages which is a sensory difference.
Page 6 – Bee and Flower
This is another stand out page for Mr 7 months.
The bee is his favourite element on this page! Attached with a rope, the bee fastens to the petal with a velcro dot. The flower head can also be removed from its velcro spot.
Mr 7 months loves turning the bee over between his fingers, inspecting the contrasting colours and velcro spot. He enjoys flicking the leaves too.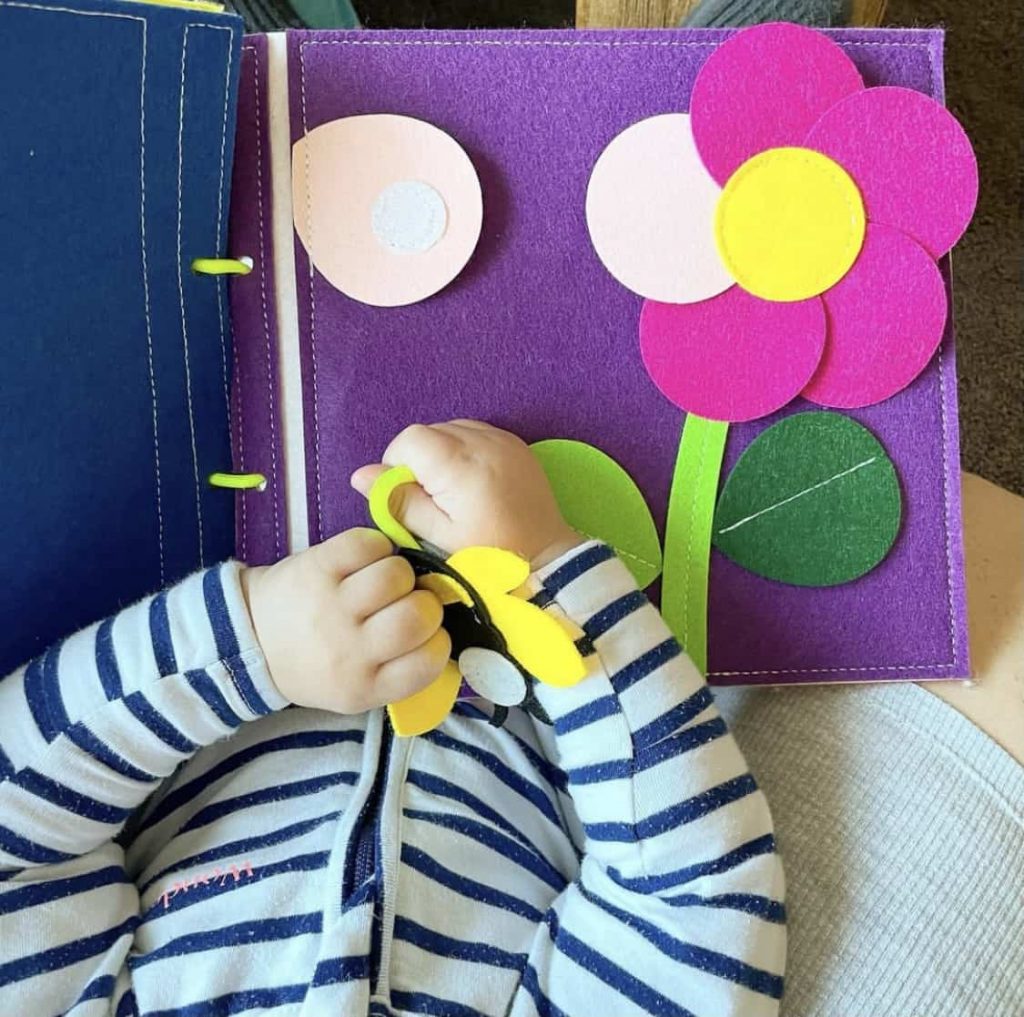 How the Bookywoo Quiet Book is made
Bookywoo is an Australian family-owned and operated small business.
Based in Illawara, New South Wales, it felt great supporting a fellow Mumma in business by purchasing our busy book. Lydia, the founder of Bookywoo has truly created such a great tool for tactile, hands-on learning.
Considering the cost of making one myself, this felt book was affordable too.
The quality of the felt and stitching of our quiet book impressed me.
The felt is remaining sturdy and with lots of use, there is still no signs of pilling. The felt book pages are secured together with a quality shoelace that is plenty long enough to tie in a bow. These laces are frequently played with features.
A stream of concentration dribble will often stream down Mr 7 month's chin when toying with yellow laces! The stitching has held well to being played with too. Six months of use and all is still intact and just as new.
The velcro is still holding strong and showing no signs of the loops wearing as of yet – yay!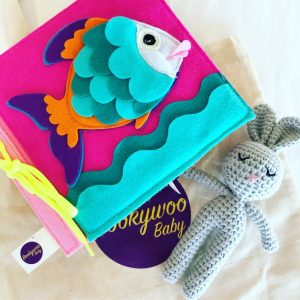 Educational Benefits
This Montessori-aligned busy book offers so many educational opportunities! I'm not limiting this to academic opportunities but also developmental ones too!
There are so many pieces to be manipulated with developing hands and fingers.
Perfect for fine motor skills and grasping development! Those small muscles in babies' hands and fingers are going to get a great workout!
Even at a young age, developing fine motor strength is paramount for completing tasks such as doing up buttons, tieing shoelaces, and handwriting years down the track.
Coordinating the detachable pieces is great for developing hand-eye coordination. Being able to navigate the shapes back to the velcro dots is just one example of how this interactive busy book can offer hand-eye coordination practice. Not to mention the recognition of shapes and matching them on the page! It's a win-win!
This baby and toddler felt book also bring a multi-sensory play experience into your child's play. Sensory play has long been recognised as a valuable way of supporting your child's development.
Babies are like sponges – their brains are screaming out for sensory input. The different textures in this felt quiet book create an engaging play experience for your baby.
Other skills to be developed through interaction with Bookywoo include
Logical thinking
Spatial awareness
Cognitive development
Critical thinking
Increased attention span
Pre-literacy skills
Finger Isolation
Watching Mr 7 months develop and refine these skills has been so rewarding thus far. It is reassuring to be able to identify these skills and see them emerge through his interaction with his little fabric book.
Even in the short few months, his busy book has been a feature in his play, he is interacting more and more with purpose. It just goes to show, that with practice comes progress!
When once he would just brush his hands up against the different elements, he is now grasping them. Instead of grasping with a full hand, his pincer grip is emerging. Watching these new skills develop is exciting!
When to use Bookywoo felt quiet book
Our Bookywoo was the perfect Christmas gift for the baby's first Christmas. In saying that, a felt the busy book would make an amazing baby shower, Easter, or first birthday gift too!
Your felt book will last the test of time. Unlike other baby toys which your baby may outgrow, their felt activity book will continue to be used well into their early years.
Have it as part of your toy rotation or packed for playout and about!
The Bookywoo Baby comes with a lovely cotton carry bag that can slip into your nappy bag or in your pram for cafe lunch dates or appointments.
There are no noisy pieces and most are secured with a rope making it easy to keep track of the loose parts.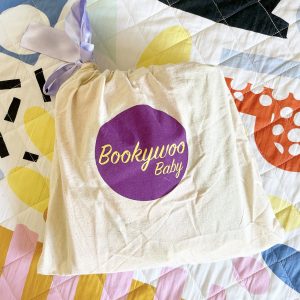 Verdict
In conclusion, we love Bookywoo Baby!
There is so much to gain through play.
This felt activity book is such a valuable toy in our play space. Mr 7 months finds his book engaging and interesting to play with almost daily.
It is so reassuring and satisfying as a parent to either sit back and observe his play or join him to add words to his day inspired by his book.
So many memories have formed around this book. To say that I am satisfied is an understatement – totally impressed would be a better evaluation! That is with the quality and the value our busy book has added to our play. In due time, our Bookywoo collection will continue to grow as he does!
Bring on the Birthday Book!
I am really excited to be able to offer our Play Inspired Mum community a discount code to use on the Bookywoo website!
Are you ready?
Use code 'PLAYINSPIREDMUM15' to save 15% off – yay!