Disclosure: This blog contains affiliate links which I may earn a small commission from if you purchase through them, at no extra cost to you.
gtag('config', 'UA-136794034-1');

Scrolling through social media, I often get caught up in the hype of elaborate activities and play ideas for the kids.
While they are still on the cards, today I thought we would bring our play down a notch and ground ourselves with some simplicity. I love offering different experiences for my children and following the latest trends in play however I need to also remind myself that simple can be just as rewarding.
This mornings activity involved some nude playdough, a rolling pin, chopping board and gifts from Mother Nature. You know what? It was a huge success!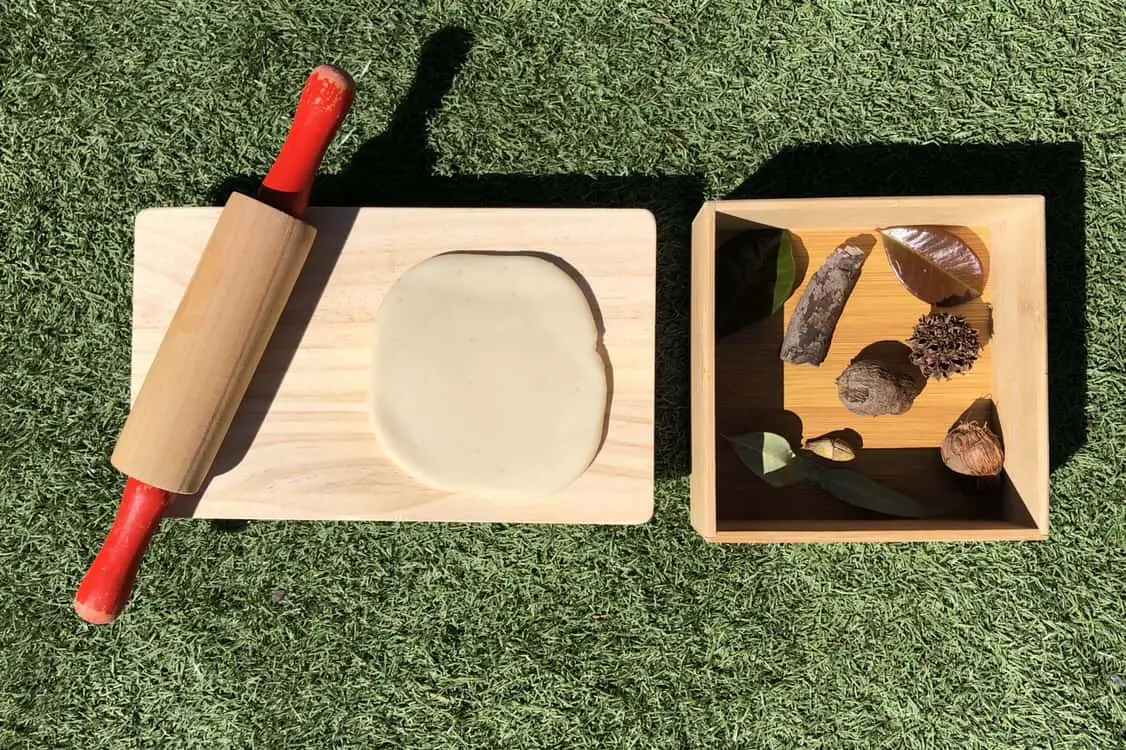 There was no fancy preparation involved, we didn't need to pop down to the shop and Miss 18m loved it!
The playdough was still quite cold from the fridge so I worked it a little to warm it up so it would be a bit easier for Miss 18m to roll it out. Once pliable, I rolled it out flat for her and presented it to her exactly as shown in the image above.
She picked up the flat playdough pancake and asked me to roll it up into a ball for her. Following her coaching, I did as she asked.
She then picked up her rolling pin and tried to roll the round ball flat. I corrected the positioning of her hands, placing them on the handles of the rolling pin and soon enough she had rolled the mound flat enough for it to replicate mine. She was so proud to have done it herself!
After she gave her playdough a few pokes, I lead her attention to the contents of the box.
I chose these items for the textures that they could bring to her play. There was
smooth gumnut
a rough gumnut (it looked like a bird of some type had gone to town on it at some stage in its life!)
prickly, spiky seed pod
smooth new leaf
tougher thicker leaf
dried leaf with little bumps from what I assume an insect of some type has made at some point
small gumnut with its cap on
solitary cap
Piece of branch
I rolled a few of the nuts across the playdough to show her the imprints that they could leave behind. Pressing the leaves into the playdough, I also showed her the patterns made by the veins in the underside of the leaf.
Having planted a few seeds into her mind, I then left her to her own devices with this invitation to play.
She explored a few of the nuts, pressing them into the playdough before digging around in it with her finger.
Her busy fingers were working hard! These nuts are a perfect size for developing fingers and hands. Did you know a child's bones are not even developed in the hands and wrists until about 4 years of age? That is why chunky is best for young hands!
This activity is awesome to build up fine motor skills. Those tiny muscles in those developing fingers, hands and wrists all get a valuable workout with every flex, squish, poke and squeeze.
Coming to the end of this activity, Miss 18m's attention started to drift from her task. Toddlers are not built to stay still for very long but I thought we would have one more attempt to keep her focused by offering another way to use our natural materials.
I placed a few of the items firmly into the playdough, removed them again and invited her to do the same. She wasn't interested but did press a gumnut into the dough opening end first.
She was delighted to see the result! The playdough got stuck in the hole. This is one thing I love about kids. They find joy in the smallest of things sometimes- well what is adults see as small.
Her little hands got busy stamping the nut into the smooth dough, over and over again. She was delighted to turn the nut over and reveal the opening packed with playdough. Her little thumb quickly got busy prying it out.
Simple and effective. Our nude and natural sensory playdough experience was so much fun!
It just goes to show that you don't need to be fancy or have the tools of the latest trends. Simple works for kids. It works really well. Don't be scared of simple.
Dani D
Disclosure: This Blog does contain affiliate links which I may earn a small commission from if you purchase through them, at no extra cost to you.