Disclosure: This blog contains affiliate links which I may earn a small commission from if you purchase through them, at no extra cost to you.
gtag('config', 'UA-136794034-1');

Disclaimer: This is a collaborated post and may contain affiliate links.
Teaching small children some responsibility around the home can be tricky, but there are some age appropriate chores for children, even very small children, can get involved with. Starting early helps young children to consider chores normal as they age, teaching them responsibility, discipline and an appreciation for the work that you do at home.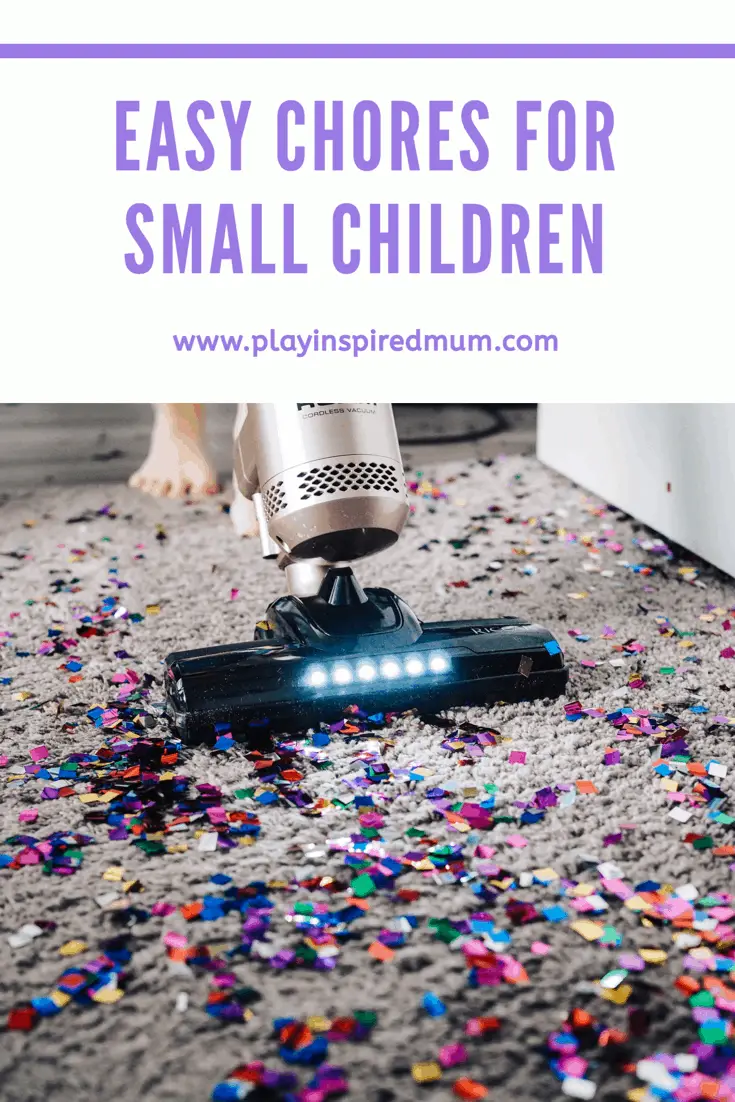 Easy Chores For Small Children
To help them feel appreciated with their chores, don't be stingy with praise. If they're helping out, be sure to acknowledge it. Thank them for their work! Create a chores chart to help them keep track of what they're doing, and be sure to give very clear instructions for what you want them to do. 

Chores for Children Aged 2  – 3
Even the under 3s can help with some simple tasks. Basic tidying is a good option. Start by putting them in charge of putting away their own toys at the end of the day. You could give them a beautiful kids wooden toy box for all their toys to help. 

Small children can also manage tasks like putting laundry in a hamper, filling the food dish of a pet or even wiping up spills. 

Image – free for commercial use

Chores For Children Aged 4 – 5
As well as the above chores, at age 4, your child can begin to manage some more complex tasks. Show them what to do first and do the chore with them the first few times until you're sure they've got the hang of it. At this age, they should be able to make their own bed, bring in the mail from the postbox, clear the table after dinner, water flowers or potted plants and put away cutlery from the dishwasher (leave the sharp things to Mom and Dad). 

Chores For Children Aged 6 – 7
Focus now on helping your children understand how to start doing some tasks for themselves and being more proactive. Instead of putting toys away, they should now be able to keep their own bedroom tidy all the time. They could now also sort laundry, help you to make their packed lunch for school, set the table for dinner and clear afterwards, sweep floors and rake leaves from outside. 

Chores For Children Aged 8 – 9 
At this age, children are more than capable lots more difficult tasks. If they can play computer games, they can manage the dishwasher! Add more tasks to their list, and as before, take the time to show them what to do. 

At age 8, your child could be asked to load the dishwasher, help you to put away grocery shopping or vaccum. Get them involved with cooking dinner to start them on learning cooking skills. They can put away their own laundry, make their own breakfast, walk the dog and mop floors. Teach them more skills by showing them how to sew a button back on their clothes. 

Setting chores helps children to learn to contribute around the home. Household chores can be a great way to help them to learn useful skills they use as they get older. 
Disclosure: This Blog does contain affiliate links which I may earn a small commission from if you purchase through them, at no extra cost to you.