Disclosure: This blog contains affiliate links which I may earn a small commission from if you purchase through them, at no extra cost to you.
We love reusing resources that would otherwise end up contributing to landfills. Bottle tops are a favourite amongst other resources such as cardboard boxes, egg cartons, fruit netting, and toilet tubes. Armed with a bag of bottle tops, we built an interactive play resource that has proven useful combined with a range of activities. We made a DIY Bottle Top Alphabet Board.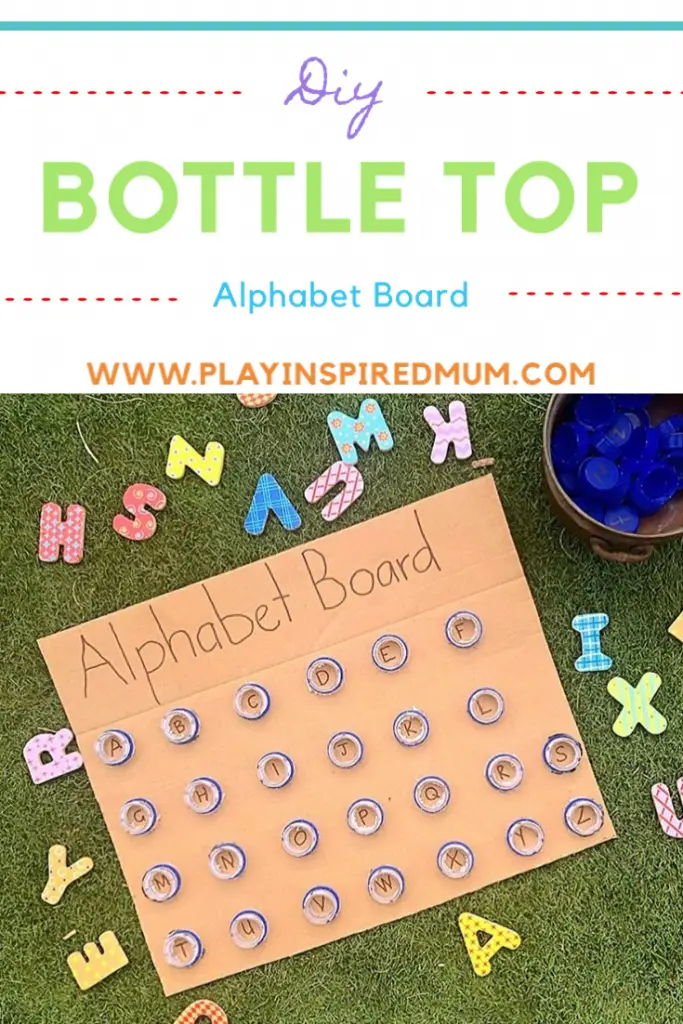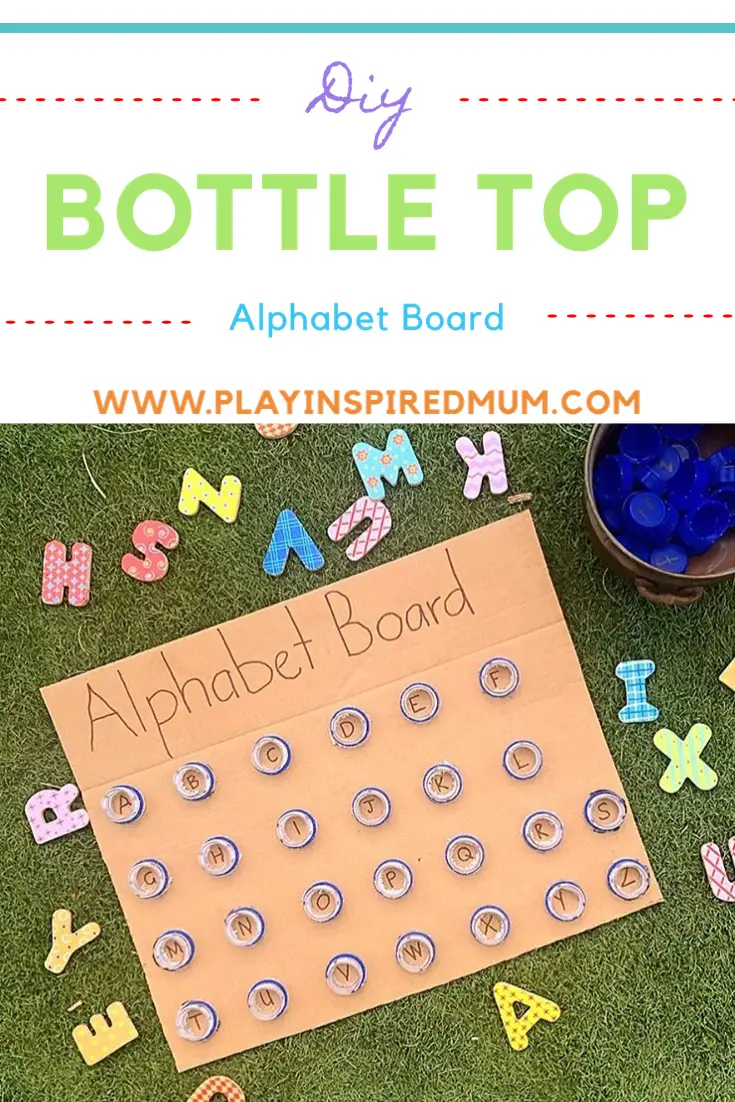 DIY Bottle Top Alphabet Board
Play-based learning is such a valuable and effective way of learning and practicing new skills and knowledge. We are always exploring new ways of introducing different little lessons, that are interactive and fun. This DIY Bottle Top Alphabet Board not only reinforces identifying and matching of symbols aka letters but also encourages the development of other important life skills- winning!
What you need to build your DIY Bottle Top Alphabet Board
26 Lids and tops of the bottles
Sheet of cardboard
Hot glue gun
Permanent marker
We were very fortunate enough to have our lovely Nonna and Nonno collect these bottle tops for us. Nonno kindly removed the tops of the bottles using an angle grinder to get the task done quickly. Hooray for grandparents!
We used the side of a cardboard box as the base of our alphabet board. The cardboard is slightly corrugated making it strong enough to support the weight of the glue and bottle tops.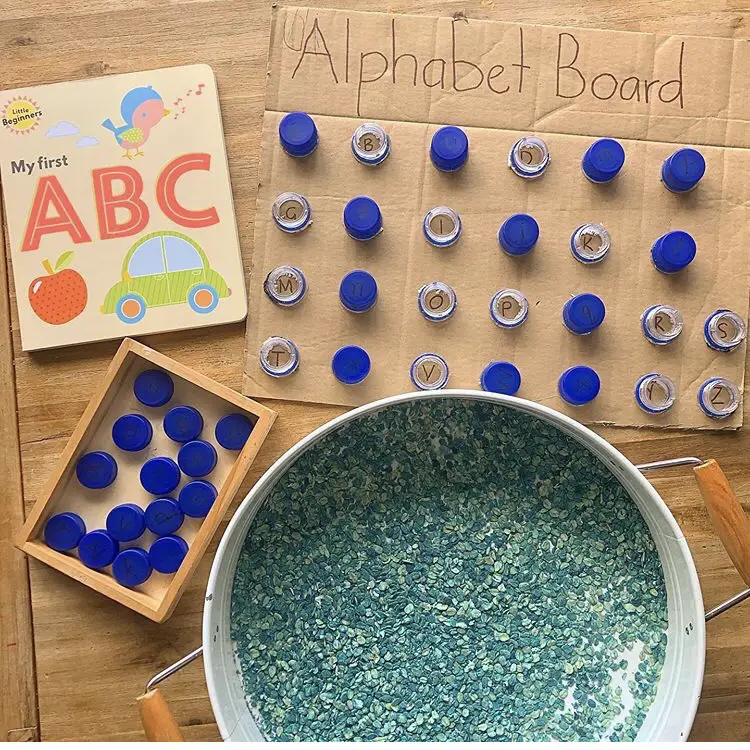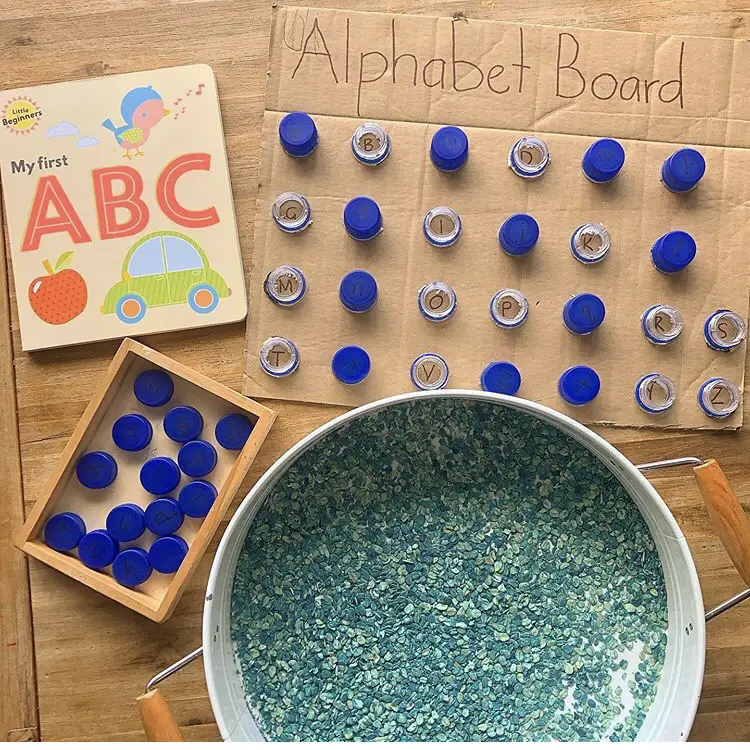 How to make your DIY Bottle Top Alphabet Board
Constructing your alphabet board is not complicated. Simply layout your bottle tops to fit onto the board before securing them using your hot glue.
I love using hot glue guns for our DIY projects. The glue sets so quickly. Less time waiting for things to dry and more time to play!
Once your bottle tops have been secured, it is time to write our letters on the lids and board.
Now, this is where you have some choices. There are a few combinations that you could choose between upper and lower case letters. I chose to have upper case letters on the board, with lower case letters on the lids.
We have spent some time bringing letter recognition into our play so the concept of lower case and upper case letters is not anything new. If you are just starting your letter discussions, perhaps consider introducing just lower case letters before moving onto capitals.
You could have:
Lower case only
Uppercase only
Lower case on the board, the upper case on the lids
Upper case on the board, the lower case on the lids
Whichever you choose, write your letters on the lids and then in the rounds of the bottle tops with your permanent marker.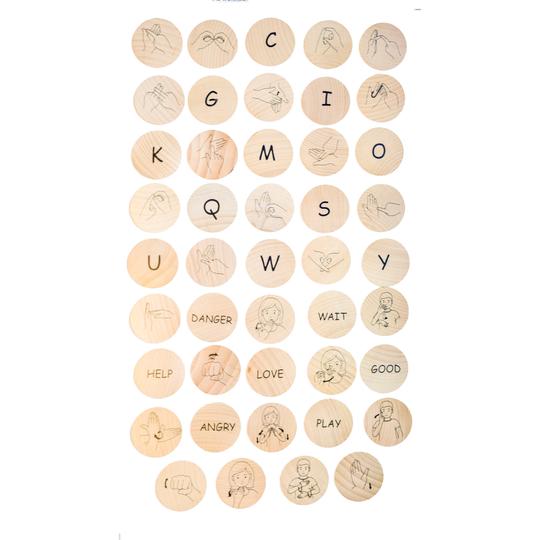 How to play with your DIY Bottle Top Alphabet Board
Learning through play
Learning through play needs to be fun! If learning becomes a chore, especially in early childhood, little lessons could leave a negative association with schooling. Toddlers and preschoolers thrive from enjoying activities and absorbing information as a residual effect of fun.
They are busy little creatures with a mind and body that craves stimulus. This being said, they can be overwhelmed easily too. This DIY Bottle Top Alphabet Board offers interaction without being overstimulating.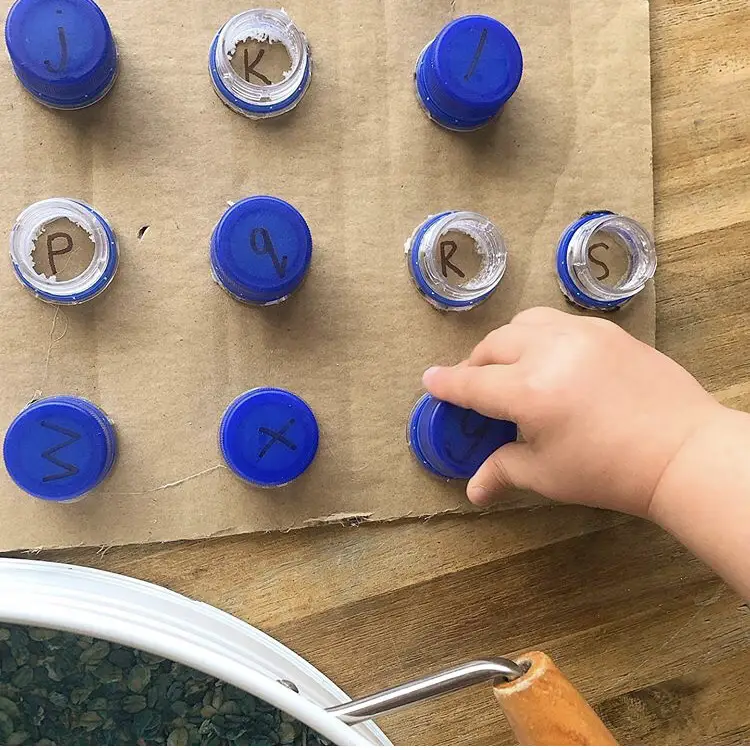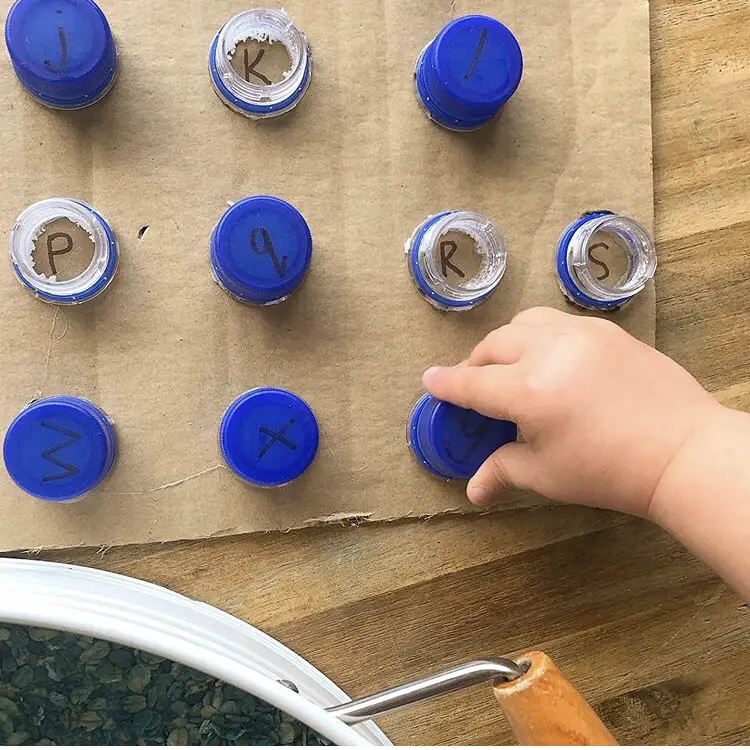 Playing to strengths
An effective way of maintaining engagement with an activity is by starting of with concepts that are familiar. Use familiarity as a foundation to build upon and add new information.
To start with, why not present your child with a little bowl of the lids from your newly constructed alphabet board alongside the board itself. Your child can practice putting the lids onto the bottle tops (which involves quite a few skills in itself!). Once they have had some free play, choose a handful of lids to discuss and match up with the corresponding bottle tops. I like to start off with the letters of their name. Name recognition is very handy at kindy and even daycare too. Maybe your child already recognises some letters- ask them if they know any!
Ways to play
Sing ABC song will pointing to letters
Practise phonics while screwing the lids on
Make up your own song as you play: L is for Lion L-L- Lion. This allows your child to extend on the knowledge they already know
Hide lids in a sensory bin before screwing them onto the board eg. Coloured rice, shredded paper or dried legumes
Have an alphabet hunt before screwing them onto the board: hide some lids around your toddlers play space (in achievable places)
Team your board up with some coloured salt drawing: pour a thin layer of coloured salt into a shallow tray or dish. With the lids in a bowl, select one, trace the letter into the salt before screwing the lid onto the board
Blind bag: Hide the lids in a tissue box or little bag. Encourage your toddler to reach into the bag to retrieve a lid before screwing it onto the board
Hide the letters: spoon coloured rice into the bottle tops on the board as they are called out
So many ways to play and to make learning fun! Do you have more ideas to add to the list? Please feel welcome to share them in our Play Inspired Mum Facebook Community!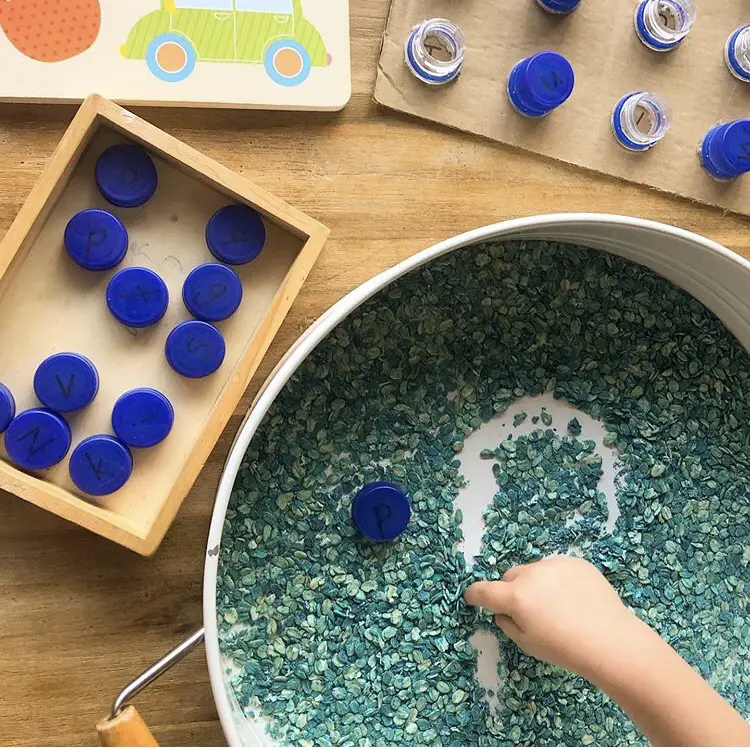 Educational Benefits
There are so many skills that may be developed and practiced during play with this DIY Bottle Top Alphabet Board. Here are a few
Fine motor skills
Hand-eye coordination
Cognitive development
Interpreting symbols
Early literacy skills
Sequencing events
Language development
Resilience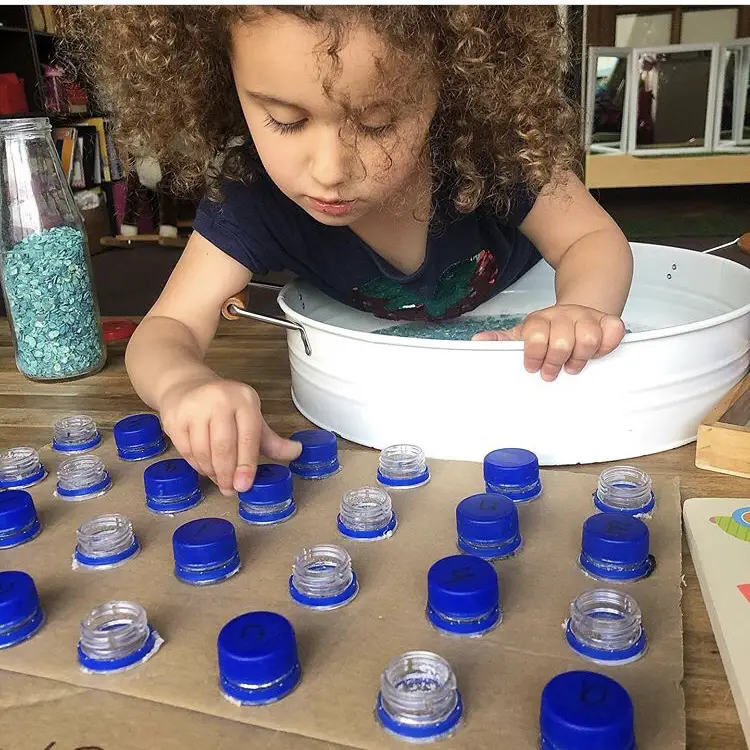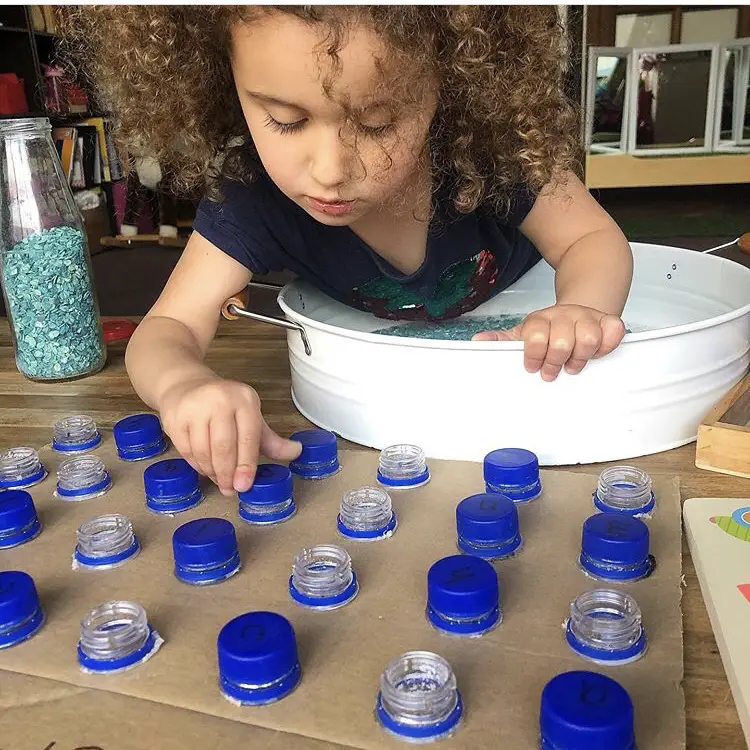 Comprehension questions
Open-ended questions are so useful to build and reinforce your toddler's comprehension. Again, using what they know as a foundation to develop new knowledge and understanding, open-ended questions can offer a fresh perspective and guide your toddler's awareness.
How did we use these bottle tops before today
Whats something else that you would like to make with bottle tops
Which letters of the alphabet do you already know
How do you think we could make the bottle tops stick to the cardboard
When have you seen something similar to this before
Where else have you seen these letters
Which is your favourite letter
What do you think will be easy about this activity
What do you think will be challenging
Who else would enjoy this activity
How else could we use our Alphabet Board
What would you do differently next time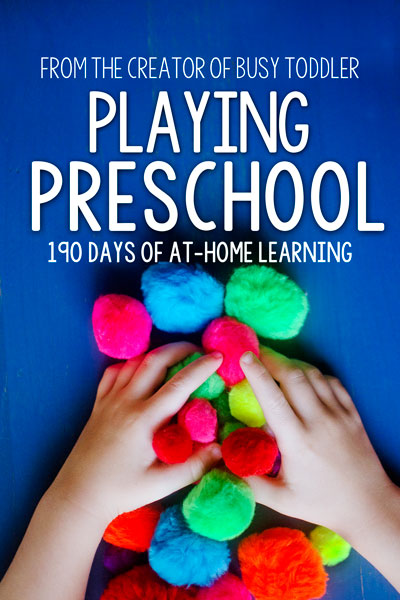 I really hope this DIY Bottle Top Alphabet Board proves to be a valuable resource for your toddler as it has been for us. Isn't it great to demonstrate to the younger generation how we can reuse these versatile recyclables?
Dani D x