Disclosure: This blog contains affiliate links which I may earn a small commission from if you purchase through them, at no extra cost to you.
gtag('config', 'UA-136794034-1');

Truth be told, I am a little embarrassed as to how long it has taken me to write this post! It has been sitting on the back burner for close to six months now. We have even since replicated this play activity a few times and each time I think to myself, I really do need to write about this one as the kids really do love it!
Anyways, better late then never yeah? Im rolling with that anyway…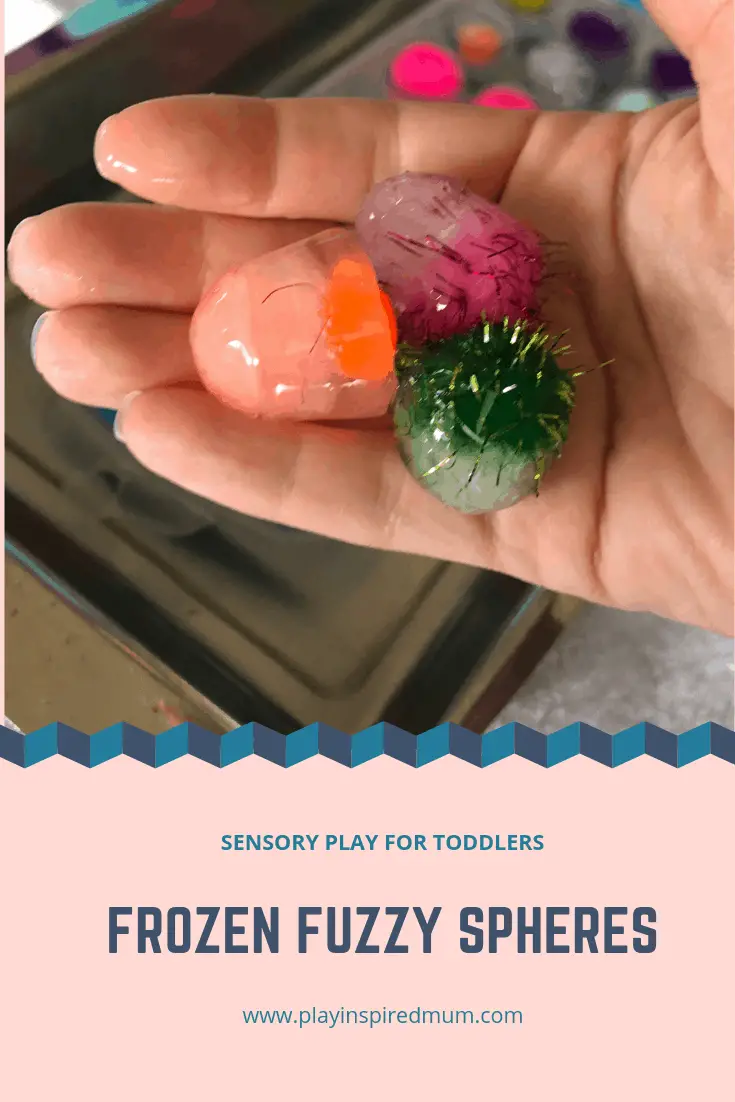 So about six months ago, Miss Mouse sorted some coloured pom poms into an ice cube tray with a little set of tongs. She picked each one up and sorted them into the wells of the ice cube tray with care and precision. I love how toddlers take so much pride in tasks us adults deem simple!
Setting up your Frozen Pom Pom Play
With pom poms in each well, she filled the tray with water and then popped them into the freezer. I cant even remember how long they were in there for but I imagine it would have only been a day or so later, we pulled them out for another activity.
Teamed up with a baking tray, funnel, measuring cup and jug of warm water, we began to explore our frozen pom poms. The bottom of this ice cube tray is a silicone so the ice cubes did pop out easily ( I have since broke this ice cube tray…. I really do need to get another just like it as it was the best!)
As we poured the warm water over the ice cubes, they started to bob about in their wells. We poked them and played, talking about the colours and how they felt.
The tops melted first revealing enough fluff for us to pick them up. Under the pressure of the push of a finger, the super fuzzy pom poms almost squeaked when they were manipulated in the ice which was an interesting element to this simple activity. Lastly, the sparkly pom poms little shards stood out as the ice melted.
Typical to most of our sensory activities, exploring with feet was a must. After collecting her sister from school, Miss Mouse didn't waste time in taking off her shoes and dropping a toe into the chilled water.
What other activities could you use frozen pom poms in?
This little sensory activity is a great introduction to science and cause and effect. Here are a few ways that you could change it up for some more frozen pom pom sensory fun
Add colour to your ice and watch the colours blend
Add your frozen pom poms to a tub of water and scoop them into a tub with a slotted spoon
Add corn flour and some colour to turn them into little frozen paint blocks
Sorting them by colour
Put a bucket on the grass and try to throw them into the bucket
Add some bicarb to your water and then use vinegar in a dropper to 'melt' the ice
Dani D x
Disclosure: This Blog does contain affiliate links which I may earn a small commission from if you purchase through them, at no extra cost to you.

Do you love creative play but struggle with where to begin? Check out 'Recipes for Creative Play' eBook by Tash Kritter