Disclosure: This blog contains affiliate links which I may earn a small commission from if you purchase through them, at no extra cost to you.
gtag('config', 'UA-136794034-1');

The immediate result of giving some plastic straws and pair of scissors to four and nine year old quickly is a whole lot of teeny tiny coloured tubular pieces!
To be honest, Miss 4 was being the ultimate pest to everyone in the family and I needed a quick activity that would keep her busy while I prepared dinner… and it worked a treat!
She set to work on those straws and remained focused. Whether it was the bright colours, satisfaction of destroying something or the rewarding sound of the rainbow fragments landing in the tray – who knows – but her troublesome fingers and mind were entertained.
I'm not one for wasting materials so once Miss 4 and Mr had expended their attention on the task, I stored the pieces in jars along with the rest of our sensory tray medium for another day.
These coloured straw fragments have been useful in more than one occasion! The one I'm going to discuss in this post is our Rainbow Jellyfish!
All you need is:
– Paper Plate
– Pipe Cleaners
– Hole Punch
– Straw Fragments
– Crayons/ Pencils/ Textas
Start by choosing how many tentacles your jellyfish is going to have. We chose eight as Miss 4 was undecided between creating a Jellyfish or Octopus until we got to the wire.
Using your hole punch, make holes evenly spaced along the lower rim of your paper plate.
Bend a bobble at the end of your pipe cleaners (to stop your straw pieces from sliding off).
Thread the straw fragments onto the length of your pipe cleaner leaving 2cm at the end to allow for attachment onto your Jellyfishes body.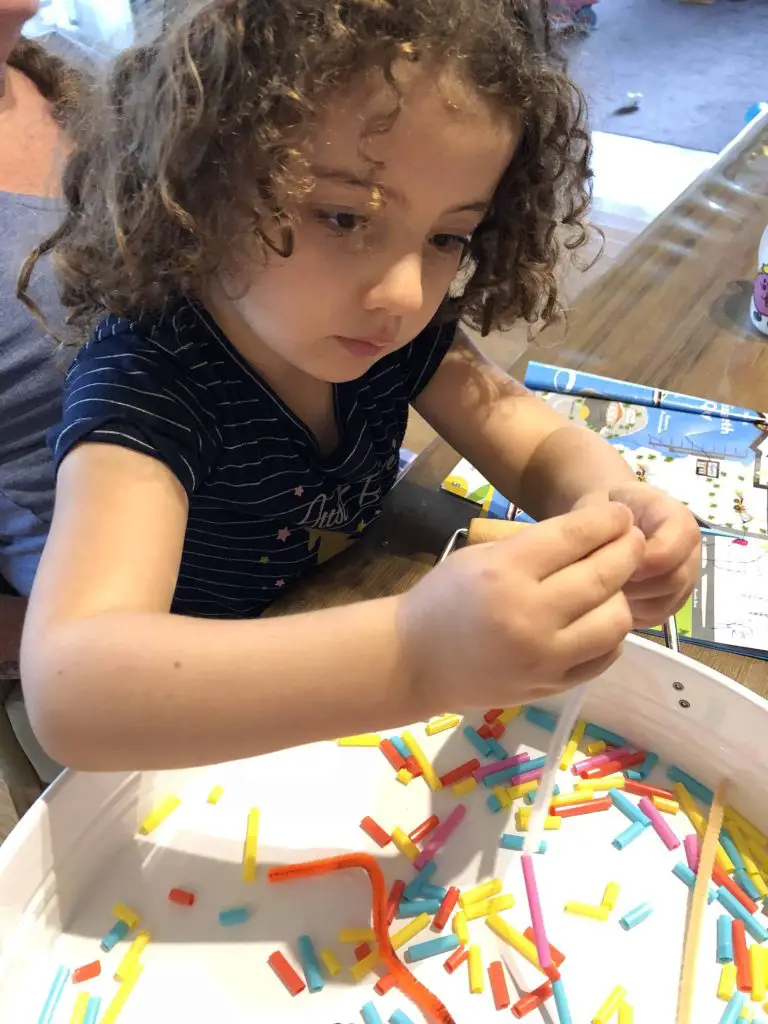 Carefully thread the bare end of the strung pipe cleaner through a hole in the paper plate. Twist the pipe cleaner around itself to secure it to the plate.
Continue to complete all of your dangly tentacles!
Using your markers, crayons or pencils decorate your beautiful Jellyfish's body to make him perfect for you. There are no right or wrongs when it comes to creativity!
You can open up conversations while completing this activity around:
– colours
– sounds
– textures
– what jellyfish eat
– where jellyfish swim
– how we can reduce the impact we have on the jellyfish's home
– how jellyfish swim
– water safety
This not only helps build your child's vocabulary but also helps build their understanding of the topic and encourages them to ask questions too!
This seemingly simple activity requires many skills to complete it.
– Hand eye Coordination
– Bilateral Coordination
– Fine Motor Skills
– Creativity
– Patience
– Perseverance
– Memory Recall
These valuable life skills will be put to their test, strengthened and refined while your child enjoys creating their new marine friend.
The end result will be a great reward for their determination. The beauty of creating craft is that it is so very unique. It is so very special because there is nothing else like it in the entire world!
Dani D x
Disclosure: This Blog does contain affiliate links which I may earn a small commission from if you purchase through them, at no extra cost to you.