Disclosure: This blog contains affiliate links which I may earn a small commission from if you purchase through them, at no extra cost to you.
gtag('config', 'UA-136794034-1');

Image Source. Licensed under Creative Commons.
Looking after your kids' teeth is important. By instilling good dental habits early, you can encourage your kids to look after their teeth as they grow up. Here are just 10 tips for looking after your kids' teeth.  
Disclaimer: This is a collaborated post and may contain affiliate links
Start brushing their teeth as infants
When should you start brushing your kids' teeth? Ideally as soon as they start eating solid foods. This is likely to be before they reach 12 months at which point teeth may still be coming through. Whilst this may seem early, it's at this point that your little one will start to develop plaque. This is why it is important to start brushing.
Use the right toothpaste and toothbrush for your kids' teeth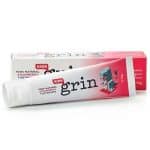 You should make sure to use kids' toothpaste until your children's adult teeth start coming through. From this point, you can move onto regular toothpaste. Kids' toothpaste is low in fluoride and healthier for your kids. Infants may only need a pea-size amount. When it comes to toothbrushes, there are special infant toothbrushes for infants. These are smaller and much better suited for going into their mouths. Once your kid can start using a toothbrush themselves, you may want to encourage you kid to choose their own toothbrush. Kids toothbrushes come in all creative shapes with some shaped to look like Disney characters and others shaped to look like cars – your child may be more motivated to use a toothbrush if they had a part in choosing it.
Brush your teeth with your kids
Once your kids start brushing their own teeth, you may find that you need to provide some form of motivation – whilst some kids love brushing their teeth, others find it a chore. One way to keep your kids motivated is to brush your teeth with your kids. You'll be leading by example and your kids will see it as a group activity helping to give it an element of fun. You can even instruct each other and play brushing games.
Make brushing fun with their favourite song
You can encourage your kids to brush thoroughly by a teeth brushing song for two minutes. The length of time which your kids should brush their teeth for morning and night. They can boogy while they brush!
Organise regular dentist check-ups
It's worth organising regular trips to the dentist for your kids in order to catch any dental problems early. You may be able to find a specialist children's dentist who may be able to make visits less scary (it's often a bad experience with a dentist as a kid that develops a life-long fear). Dentist will be able to not only spot problems but recommend better brushing techniques if areas have been missed.  
Image Source. Licensed under Creative Commons.
Delay introducing juice
You should also consider the foods and drinks that your kids' consume. Fruit juice is one of the biggest causes of tooth decay in young kids and should be limited. Many kids stop drinking milk and water the moment they are introduced to juice. You can stop your kids from getting a taste for juice early by holding off. Try only giving them milk and water until they're a toddler. At which point you can gradually introduce it as a treat.
Choose sugar-free/low-sugar soft drink options
You can also reduce the negative impact of sugary drinks by replacing them with sugar-free and low-sugar options. This is particularly important when it comes to fizzy drinks like coca cola and lemonade – in their regular form these drinks are full of sugar and they will quickly rot your kids' teeth. Many sugar-free soft drinks use artificial sweeteners which have been known to have other side effects – you may want to read into these before buying these drinks.
Encourage milk to strengthen your kids' teeth
Other than water – milk is one of the healthiest drinks you can consume in terms of protecting your teeth. Milk is rich in calcium, which can help to strengthen your kids' teeth as they are developing. Many parents stop giving their kids milk once they move out of the infant stage, but your kids should ideally be drinking milk throughout their childhood.
Give out sweets only as treats
Most of us know the danger of feeding a kid too many sweets. Try to limit sweets only as occasional treats so that your kid understands that they're not foods to be consumed regularly. Sweets shouldn't be given out as a comforter – if every time you kid cries, you comfort them by giving them sweets, they may
use this as a manipulation tactic to get sweets
start associating sugar as a comfort food when unhappy.
Be wary of hidden sugars
A lot of foods contain hidden sugars, which can be just as bad your children's teeth. Kids' cereals are a big source of sugar. A single bowl of Honey Nut Cheerios contains more than the recommended daily intake. Whilst this doesn't mean you should stop giving your kids cereal, you may want to try introducing other breakfast options to vary things up. Hidden sugars can also exist in many foods that may seem savoury on the surface. Bread often contains lots of sugar to hide the bitterness of the yeast, whilst many kids' lunch hams are even sweetened with sugar.
Disclosure: This blog does contain affiliate links which I may earn a small commission from if you purchase through them, at no extra cost to you.