Disclosure: This blog contains affiliate links which I may earn a small commission from if you purchase through them, at no extra cost to you.
gtag('config', 'UA-136794034-1');

We read a LOT of books. Reading is one of the first things we do in the morning and one of the last things we do each evening before bed.
We met young Harry only recently. His love for his dinosaur friends was contagious from the very first reading!
We have revisited and joined him on his journey many times now. 'Harry and the Bucketful of Dinosaurs' by Ian Whybrow and Adrian Reynolds is a story with many layers.
It begins with Harry finding an old box of dinosaurs when helping his grandmother clean out her attic. He repaired the broken ones, cleaned them and then popped them into his bucket as a felt that a box was no place for them.
He learnt their names and took them everywhere with him. Occasionally, Harry would lose one but would find it again. That is until one day when he took a ride on a train.
Harry had left his bucket of dinosaurs on a train. They were lost and he was most upset. His grandmother tried distracting him from his sorrows by giving Harry a new video.
When this proved unsuccessful, they ventured back to the train station to see if the bucket of dinosaurs was at the Lost and Found.
Upon proving his ownership by reciting their names, Harry's dinosaurs were returned to him.
There are so many conversation starters in this book. Each time we read it, there is something new to discuss or point out.
The first time we read it, we took advantage of the illustrations on the inner covers. There are fun dinosaurs with their scientific names plus pronunciation prompts (thank goodness!). We matched up duplicates, practised saying their names and felt like Dino pros by the end of it!
Another time we read 'Harry and the Bucketful of Dinosaurs' we spoke about the importance of looking after your belongings and being attentive to them especially when out and about.
The last time we joined Harry on his dino adventure, I focused my attention on pointing out the different emotions and feelings portrayed in the book.
The illustrations captured the feelings of the characters beautifully. The drawings put the text into perspective and highlighted different emotions.
Throughout the story, Harry found himself reacting in different ways to different situations – often in ways that I have seen my girls react in very similar situations.
Miss 4 and I spoke about these emotions and in some cases alternative behaviours that Harry could demonstrate himself.
Sometimes it is easier to recognise and suggest alternative behaviour from the outside looking in. This can make it easier in the moment to act out the alternative as it has already been practised theoretically.
This is known as being a social story.
Outlining the expected behaviour through play can help a child develop a stronger social understanding.
There is a scene where Harry tips his cereal bowl over his sisters head as he doesn't like what she said to him. Miss 4 came up with a few alternatives to this behaviour that Harry could have demonstrated.
Another little something special that stood out for me was how Harry valued his toys over a video. Something we can hold, carry, smell, take on adventures and interact with is so much more valuable than a video.
Harry and the Bucketful of Dinosaurs really is a wonderful story, full of conversation starters. I am certainly grateful to have it in our little library.
Dani D x
Disclosure: This Blog does contain affiliate links which I may earn a small commission from if you purchase through them, at no extra cost to you.
Checkout these Dinosaur themed learning resources!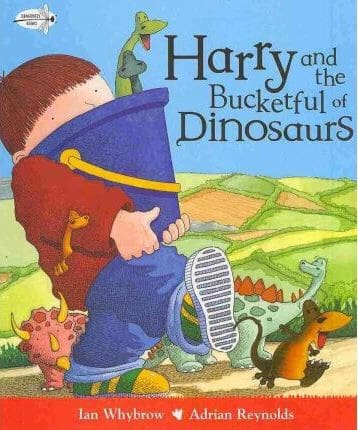 Continue your conversation about Emotions and Feelings with this Emotions Activity Pack!