Why we choose wooden toys
It has been over three years since I joined Little Wooden Toybox as a Toy Representative.
As I am sure you can imagine, we have a lot of toys in our play space (my children love my job).
What is in our play space
Along with wooden toys we also have lots of books (some are even from the 1950s passed down three generations – we love books), stuffed toys, craft materials, foam blocks, lego, dress up clothes, board games and dolls.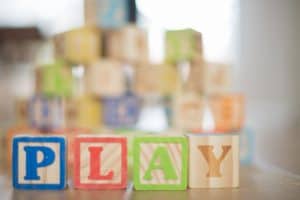 One thing that we have dont have many of are battery operated toys.
When playing with our toys, my children need to actively pick up and interact with the toy. No pushing buttons and simply sitting back observing here!
Why wooden toys?
Wooden toys spark a childs natural curiosity and inspire creative play. They encourage your child to develop a long list of skill sets all while playing!
– fine and gross motor skills
– problem solving
– hand eye coordination
– bilateral coordination
– language and speech development
– cause and effect
– social skills
– cognitive skills
Sometimes Miss 4 will pick a toy up and ask me "How do I play with this?" My response will often be "What do you think we could do with it?"
I like to think that she will grow up being confident when coming up with her own ideas, being resourceful and be able to identify problems and then solve them and use her imagination!
Learning to communicate
One thing that is rarely in our play space is silence.
Master 9, Miss 4 and Miss 1 play well together most of the time but kids being kids they also have their moments. Sometimes it takes a lot for me to sit back and let them work it out themselves (believe me, sometimes it gets noisy) but they are communicating. They are learning to empathise, read each others emotions, compromise here and there and come up with solutions which they are both happy with.
When they get "bored", they squawk about it and then they get creative. They play along side each other, they play games together and they come up with some pretty amazing tales at times (remind me later to tell you about our magical rabbit ).
Their bodies and minds are active.
Wherever and whenever it may be that you are choosing your loved ones next toy, I would like for you to consider what your child is going to gain through play with the toy in question.
Is your child going to play with the toy or are they pushing a button and simply watching a predetermined response from the toy?
All that being said, the best "toy" a child can have is their family and loved ones. You cannot spoil a child with your attention!!
Dani D x
Disclosure: This Blog does contain affiliate links which I may earn a small commission from if you purchase through them, at no extra cost to you.