Rainbow Foam is so easy to make and you probably already have all you need in your kitchen!Within minutes, you can create a beautiful rainbow or simply a couple of shades to create an engaging sensory activity for your toddler.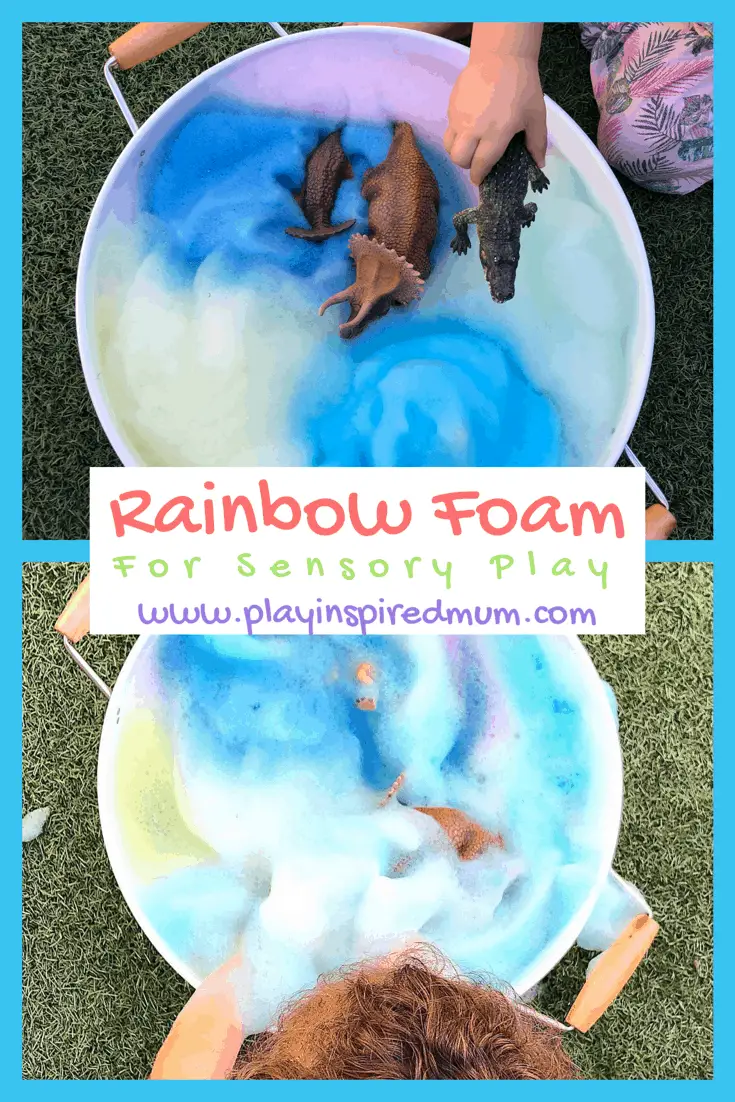 Rainbow Foam for Sensory Play
Sensory play engages the senses to create an activity which encourages your child to explore, discover and learn. We aren't talking ABCs and 123s but other important valuable life lessons.Your child can learn about how their actions effect their environment, how different textures feel, what happens when they blend different colours, how things smell and sound.This simple to set up activity ticks all those boxes for meaningful sensory play.
What you need to make Rainbow Foam
Bowl
Electric beaters/ stick mixer / whisk
1 tablespoon of dishwashing liquid
1/4 cup of water
Food colouring
1/2 teaspoon corn flour (optional)
Play tray
We used these ratios for each colour created in our play tray. If you would like to make a rainbow of colours simply repeat the steps for each colour.
How to make Rainbow Foam
Making your homemade Rainbow Foam really is easy.Place your dishwashing liquid, food colouring and water into your bowl.
Adding corn flour to this mix does create bubbles that have a bit more stability and aren't going to turn into a coloured slurry as quickly.Once your ingredients are in your bowl beat, mix or whisk until you have a lovely cloud of bubbles!
Pour yourself your bubbles into your play tray then make your next colour. Slide these carefully next to your other colour into your tray.Perhaps you would like a gradient of colours or pour them into the middle of the tray to watch them move with each new addition!
How to play with Rainbow Foam
There are endless possibilities to play with your Rainbow Foam.
Gently layer a piece of paper on top of the bubbles then allow it to dry to make your own wrapping paper
Hide laminated memory game cards under the Foam
Create new colours by mixing primary colours
Pretend it's red lava in a sensory small world activity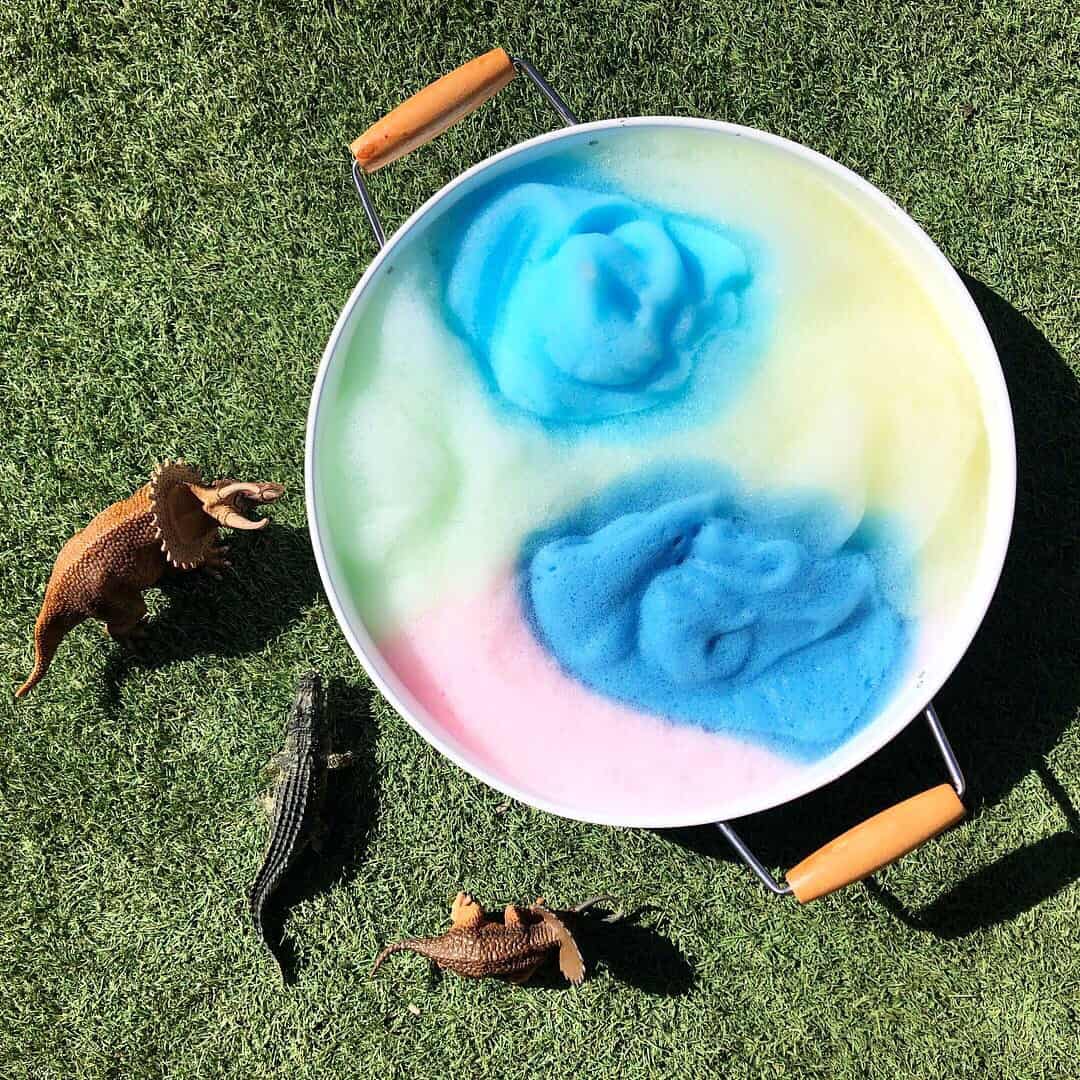 Today kept out play simple. To add another element to of fun into our play, Miss 2 chose some of her animal figurines to join her in exploring her Rainbow Foam.Accompanied by a tub of clean water, I let Miss 2 create her own play brief and decide for herself how she would like to play with her Rainbow Foam.
For the better part of the next hour, Miss 2 was hiding her animals, creating her own narrative and blending the colours.I noted a few things just to bring her attention to them but other than left her to freelance her own play.
Comprehension Questions
Asking your toddler questions while they are playing is a great way to build their vocabulary, comprehension and extend the boundaries of their play.
Why did you put the crocodile under the bubbles?
What sound do the bubbles make?
How do you think the bubbles feel on your triceratops tummy?
If you were a dinosaur how would you play in a giant tub of bubbles?
What else do you think may enjoy playing in bubbles?
When was the last time you played with bubbles?
What happens when the different colours mix together?
Why is there a liquid at the bottom of the tray?
How do the bubbles feel on your hands?
Educational Benefits
Going back to those life skills I mentioned earlier, there is certainly a lot to be learnt and developed through play with Rainbow Foam. A few skills that could be developed while playing include:
Fine motor skills
Hand eye coordination
Cause and effect
Speech and language development
Imaginative play
Logical Thinking
Problem Solving
Creativity
Bilateral coordination
Crossing the midline
Story telling
Sequencing events
Experimental play
This quick to set up activity is great to fill in a spare hour or have play focused around it for the whole day.I hope your little ones love it as much as we do! When you make your own Rainbow Foam, we would love to see it!Feel welcome to share your experience on our Facebook group.
Dani D x
Disclosure: This Blog does contain affiliate links which I may earn a small commission from if you purchase through them, at no extra cost to you.
Love Sensory Play? Check out these other Sensory Play Ideas!